Buckle up, because we're about to take off into the world of awesome airline promos that will make you want to pack your bags and hit the skies! Whether you're a seasoned traveller or someone who's been bitten by the wanderlust bug recently, these promotions will have you plotting when to take your next leave days.
AirAsia's back with 'free' seats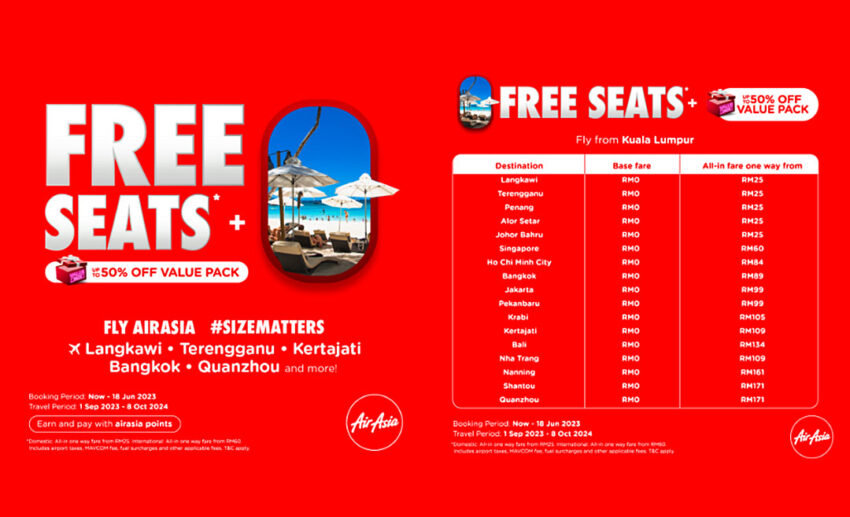 AirAsia returns with their ever-popular Free Seats* promo! With 130 destinations on sale now, fly from RM25 all-in** one-way with AirAsia Malaysia (AK) to beautiful domestic locations like Penang, Kuala Terengganu, Langkawi, Alor Setar, Johor Bahru, and more. Want to take things further? Alternatively, fly to exciting international hubs like Singapore, Jakarta, Bangkok, Ho Chi Minh City, Krabi, and other stunning ASEAN locations for as little as RM60.
Meanwhile, AirAsia X (D7) offers extended-range flights to popular cities including Busan, Hangzhou, Melbourne, Osaka, and Taipei, starting from just RM279 for an Economy seat and RM899 for a Premium Flatbed seat, all including taxes and fees.
Hurry, because you have until 18 June 2023 to book your seats at these great fares for travel between 1 September 2023 and 8 October 2024.
*Airport tax, MAVCOM fee, fuel surcharge, and other fees are excluded from Free Seats special rates.
Journify's got some ideas for a great escape
Great Escape Deals, the largest travel experience sale ever hosted by Journify, the travel experience and lifestyle platform by Malaysia Aviation Group (MAG), is finally happening. Journify offers exceptional discounts on travel passes, attraction tickets, tour packages, airport services, and more until 30 June 2023.
The top spenders throughout this campaign will also have a chance to win over 300 amazing prizes, such as flight tickets to Bali, Indonesia and domestic destinations within Malaysia Airlines' network, a flight simulator experience at MAB Academy, and more!
Journify is also offering a weekend-only RM100 discount on Malaysia Airlines' MHflypass, which allows three return travels to various destinations in Malaysia and Southeast Asia. MHflypass Malaysia Zone 2 and 3 clients can also get limited Rainforest World Music Festival 2023 tickets on a first-come, first-serve basis.
Besides these, the more holidays you take with Journify, the higher your chances of receiving flight tickets, a private sunset cruise in Langkawi, a Mount Kinabalu climb tour, a night at Tiarasa Escapes Glamping Resort, and other awesome travel experiences.
Balik kampung this Aidiladha with MAG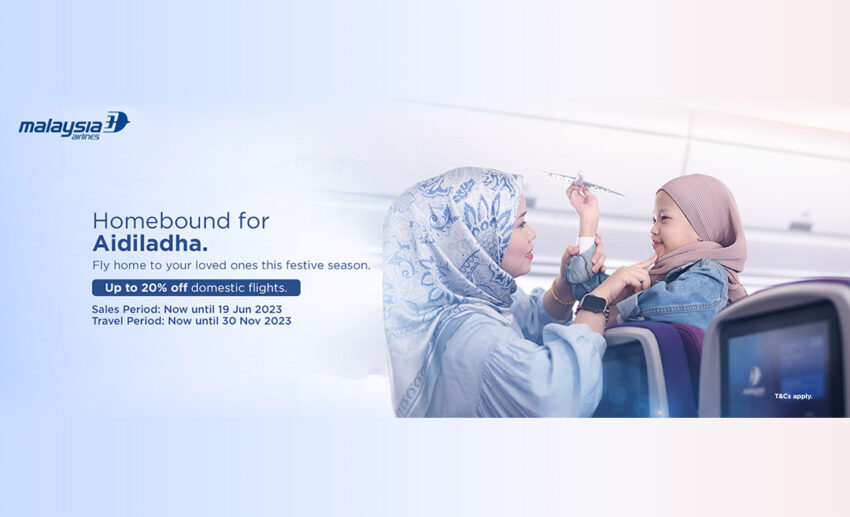 From 23 June to 6 July 2023, the MAG airlines (Malaysia Airlines, MASwings, and Firefly) will operate more flights than usual due to the high demand for holiday travel. It's Hari Raya Aidiladha, after all!
Malaysia Airlines will add 37 flights and upgrade 12 of them to the Airbus 330s for Kota Kinabalu and Kuching. Meanwhile, Firefly will add six flights between Kota Bharu and Subang and Penang to Langkawi during the peak travel season.
The airlines are also giving tempting discounts to all domestic and selected overseas destinations from now until 19 June 2023 for immediate travel up to 30 November 2023, so clients may travel easily during the holiday season.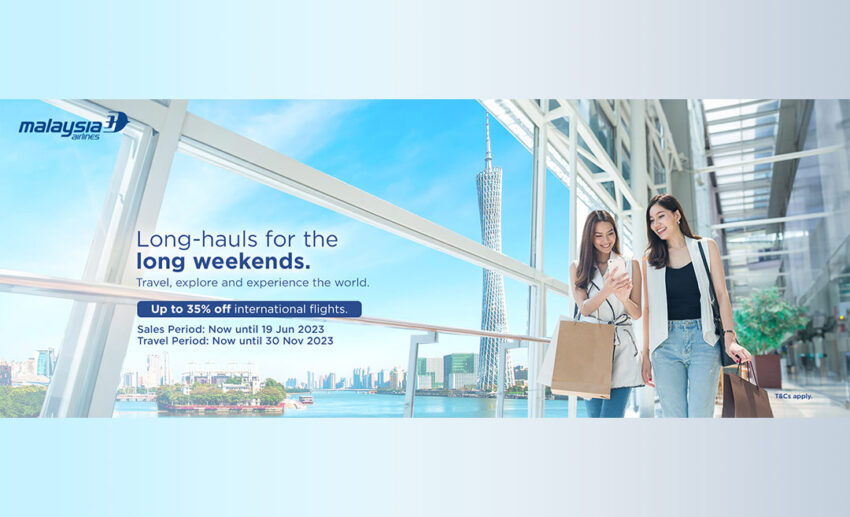 For Aidiladha, Malaysia Airlines offers up to 20% off domestic prices and up to 35% off international fares in Economy and Business Class. Flights to Medan, Ho Chi Minh City, Surabaya, Guangzhou, and more are available on Economy Basic for RM249 all-in one-way.
Meanwhile, Firefly is celebrating its 16th year in business by providing 18% off fares for Firefly members and 16% off fares for non-members, valid for travel between now and 18 June 2023, and good for travel anytime before 31 December 2023. This period also offers 16% off seat selection, checked baggage, sports equipment, and travel insurance.
Finally, MASwings is offering 20% discounts on selected Sabah, Sarawak, and Labuan FT flights.
Malaysia Airlines
Firefly
MASwings
Live it up this summer with Vietjet's discounted airfares
The summer season has arrived, and to help you celebrate and live it up, Vietjet is offering 25% off all plane tickets and e-vouchers to all their customers.
E-vouchers ranging in value from VND500,000 (roughly RM98) to VND2,000,000 (roughly RM391) are now available for purchase, with discounts of up to 25%. They're perfect for if you know you want to go on holiday, but aren't sure exactly when or where to yet. These e-vouchers can be redeemed here from 15 July to 31 December 2023, giving you so much flexibility. The discount applies to the full payment, including taxes and fees, for all Vietjet flights.
Additionally, a 72-hour super-deal programme will run on Wednesdays, Thursdays, and Fridays until 31 December 2023. This weekly deal is valid for travel between 10 August 2023 and 31 March 2024. So, be sure to standby on your computers!
Do note that these promotions are subject to availability and is excluding public holidays and peak season.
With a little bit of luck and good timing, you can score incredible deals and make your travel dreams a reality! Go on and get that holiday out of the group chat.