It comes as no surprise that Bali is a favourite destination amongst travellers. It was, after all, named Best Island in Asia by Condé Nast Traveller's Readers Choice Awards 2023, with a score of 91.08. What's not to love about Bali? With its sunny weather, friendly locals, ancient traditions, and modern luxury all rolled into one, no wonder it's a go-to destination.
But this enchanting island is more than just Instagram-worthy sunsets and lush greenery–it's a place where you can swim in rich history, indulge in world-class cuisine, and dance the night away. So, pack your bags and get ready for the ultimate island vacation as we unravel this Bali travel guide together!
First things first… a little bit of history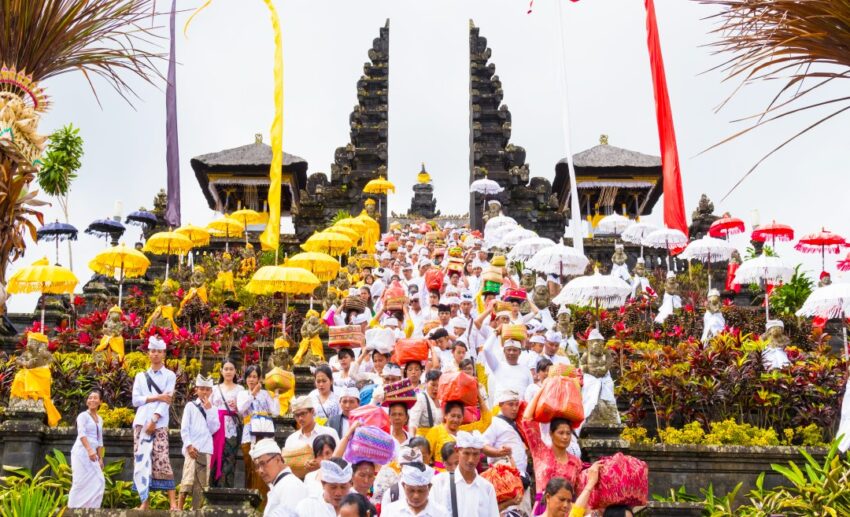 Affectionately known as the 'Island of the Gods', Bali has a history as colourful as its breathtaking landscapes and culture. Its roots go back over 2,000 years, with the earliest settlers being Austronesian seafarers. In the eighth century, Hinduism was introduced to the island, shaping the unique Balinese Hinduism we see today.
Fast forward to the 16th century, Dutch colonial rule impacted Bali, leading to resistance and periods of conflict. It was in 1945 when Bali, along with the rest of Indonesia, declared independence from Dutch rule. Since then, it has become a beloved destination where tradition and tourism blend seamlessly.
Bali's rich history is evident in its ancient temples, traditional dance performances, and cultural rituals. Visitors of this island can explore temples like Uluwatu and Besakih, offering a glimpse into the island's deep spiritual heritage.
Though it's become one of the top tourist destinations, Bali has maintained its one-of-a-kind charm, where history isn't confined to books but is a living part of everyday life.
Getting in & around with scooters, taxis, and more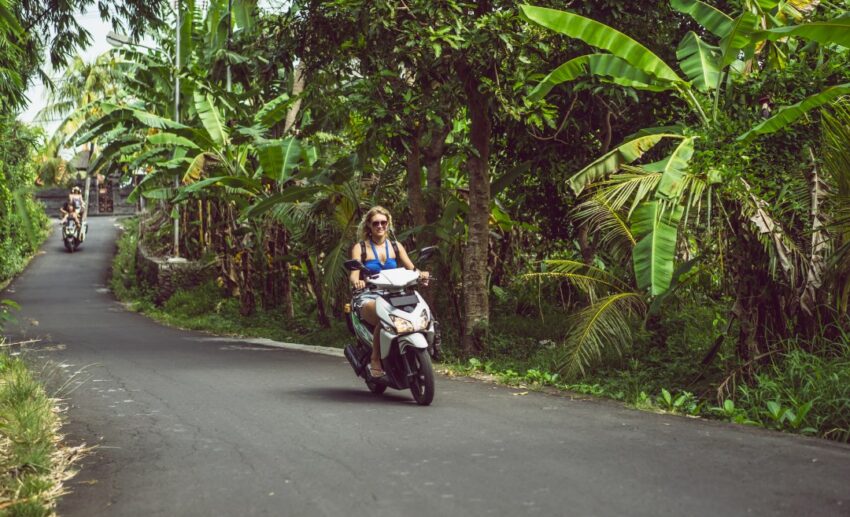 Navigating Bali is super easy, and you have many choices. For those who prefer to drive themselves around, car rental services like Balimatic Car Rental are great––their customer service is top-notch, prices are reasonable, and the booking process is as easy as ABC.
Renting scooters is another popular choice, especially for adventurous souls and those who dare brave the robust Bali traffic. There are also reliable taxi and ride-sharing apps like Gojek, Grab, and BlueBird that can take you everywhere. If you're an eco-conscious traveller, you can rent a bicycle and explore at your own pace. Just remember, the traffic in Bali gets heavy, so stay vigilant!
Where to stay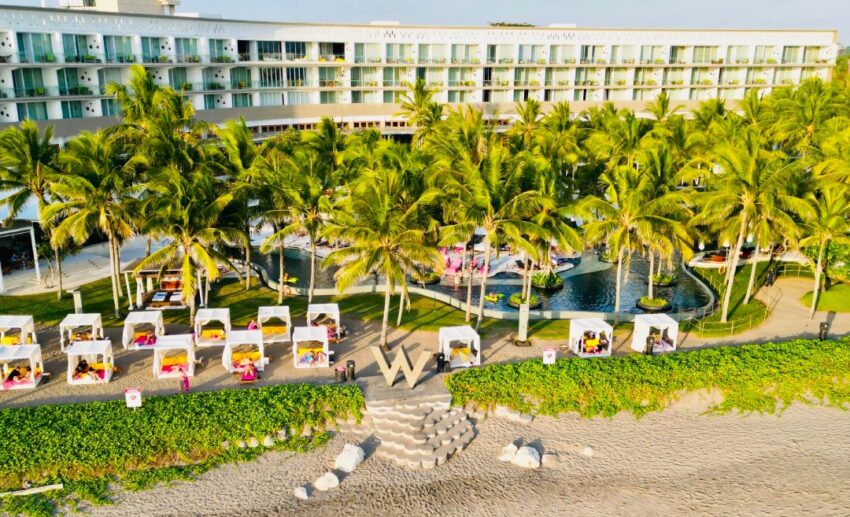 For a taste of luxury, Seminyak offers endless chic beachfront resorts. If you prefer something homey, Airbnb villa listings are helpful as well. But you can't go wrong with resorts like W Bali, Potato Head, and Courtyard by Marriott Bali Seminyak Resort.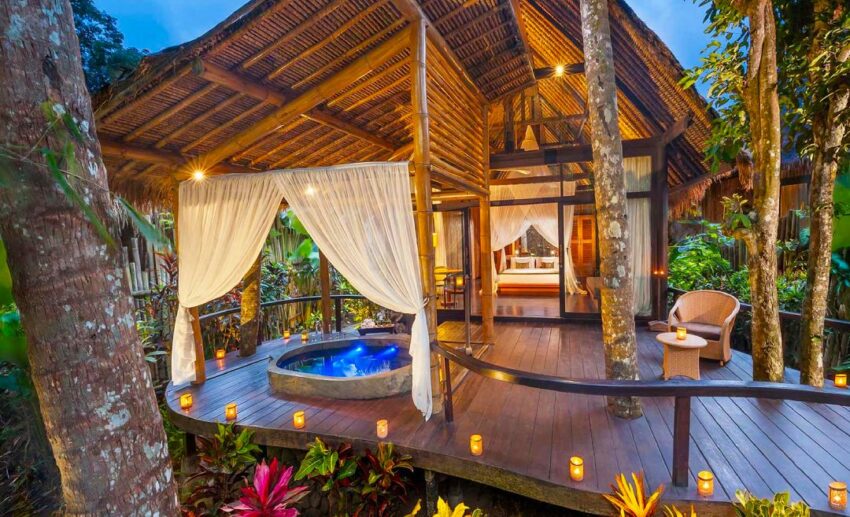 Ubud, on the other hand, offers tranquil retreats such as the Fivelements Retreat. For the budget-conscious, guesthouses and boutique hotels in Canggu and Sanur offer cosy comforts.
Must-see spots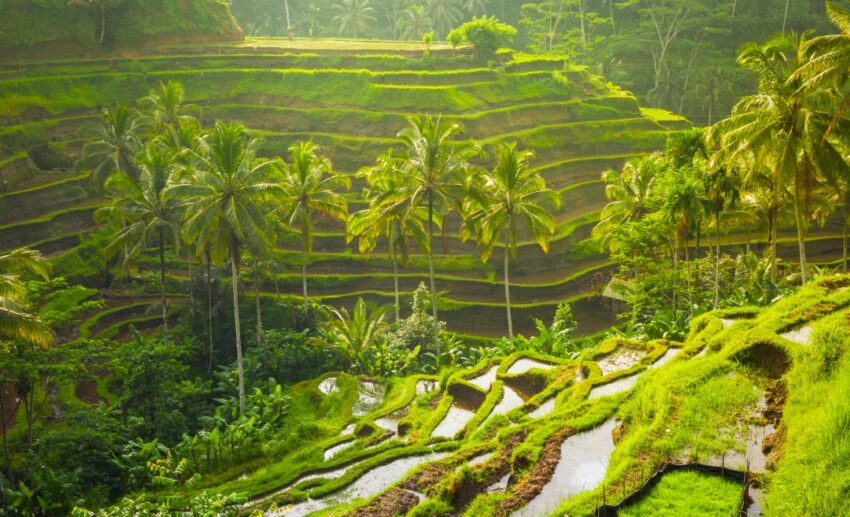 1. Tegalalang Rice Terrace: These emerald green rice paddies are a sight to behold, and they're even more surreal in person. Treat yourself to a leisurely walk or enjoy a coffee at a nearby cafe while soaking in nature's glory.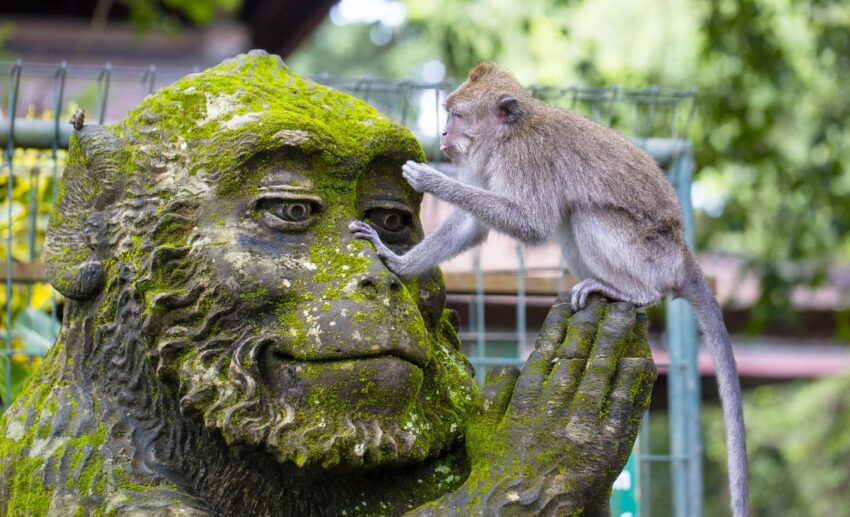 2. Monkey Forest, Ubud: Get up close and personal with Bali's cheeky residents, but don't say we didn't warn you. The monkeys may be cute, but they can be little troublemakers. Just be sure to secure your belongings and follow the rules; these furry rascals love shiny things!
3. Tirta Empul Temple: Experience a traditional purification ritual at this sacred water temple–it's both spiritual and invigorating.
4. Nusa Penida: A beautiful island located just a short boat ride from Bali, it's a must-visit destination for travellers seeking pristine natural beauty and unique experiences. Worth braving the rough seas for.
Must-dos
1. Surfing: Bali is a surfer's paradise. Whether you're a pro or just starting out, hit the waves in Kuta, Uluwatu, or Seminyak. For beginners, it's worth investing some time in the sport by signing up with surf schools like Surfing In Canggu, Bali Green, and Bali Surf.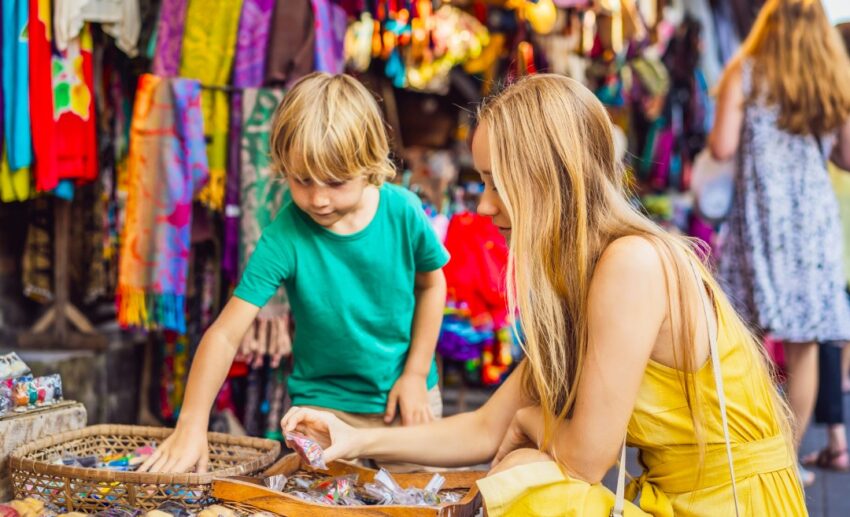 2. Shopping: Ubud's markets are a treasure trove of handmade crafts, from batik textiles to intricate silver jewellery. Bargain with a smile, and you'll score some great deals. Another great place to shop is at La Brisa's Sunday market, where you can find one-of-a-kind pieces and maybe even souvenirs for your family and friends.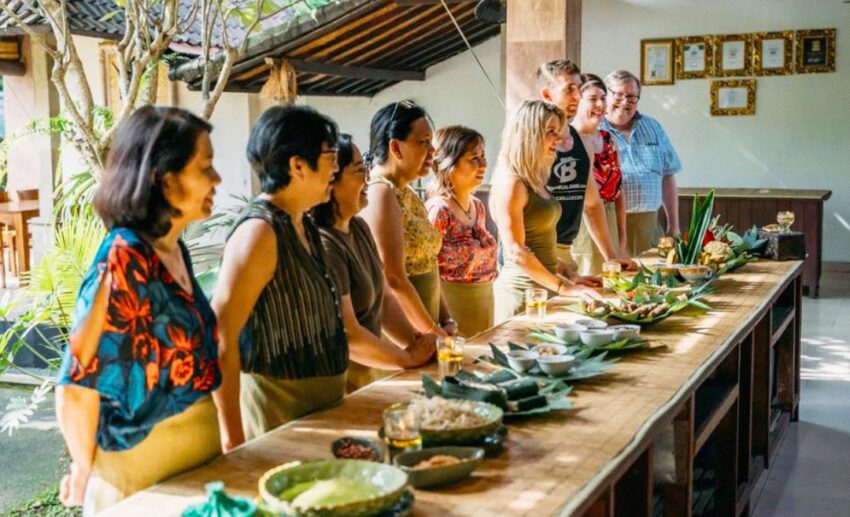 3. Balinese cooking class: Learn to whip up traditional dishes like nasi goreng and rendang. It's a tasty way to take pieces of Bali home with you. We recommend checking out Paon Bali Cooking Class or Ketut Bali Cooking Class. These guys have been around for a fair bit, so they know a thing or two about cooking.
Places to eat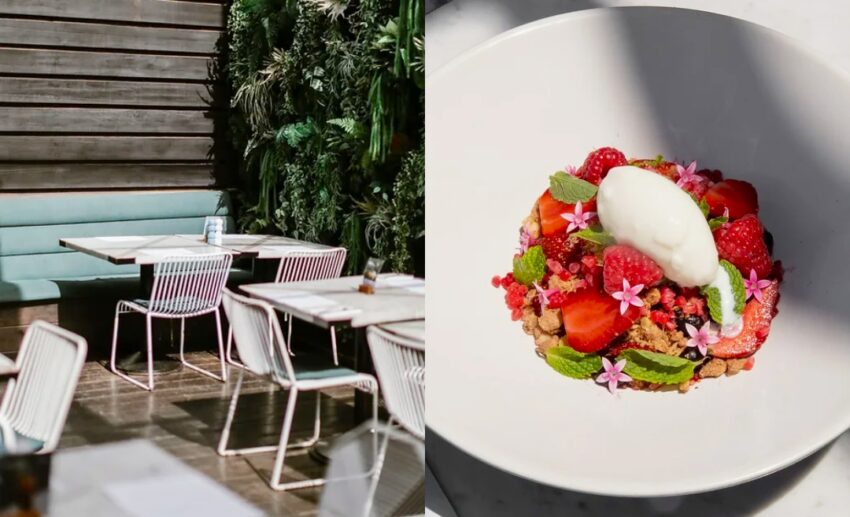 1. Sisterfields, Seminyak: If you're looking for a mixture of healthy and indulgent, Sisterfields is the place to go. It is brunch heaven, where avocado toast and açai bowls are taken very seriously.
Must-tries: Rhubarb & Strawberry Pancake, Roasted Pumpkin Salad, Truffle Scrambled Egg, and their Bloody Mary served with a sliver of bacon on top.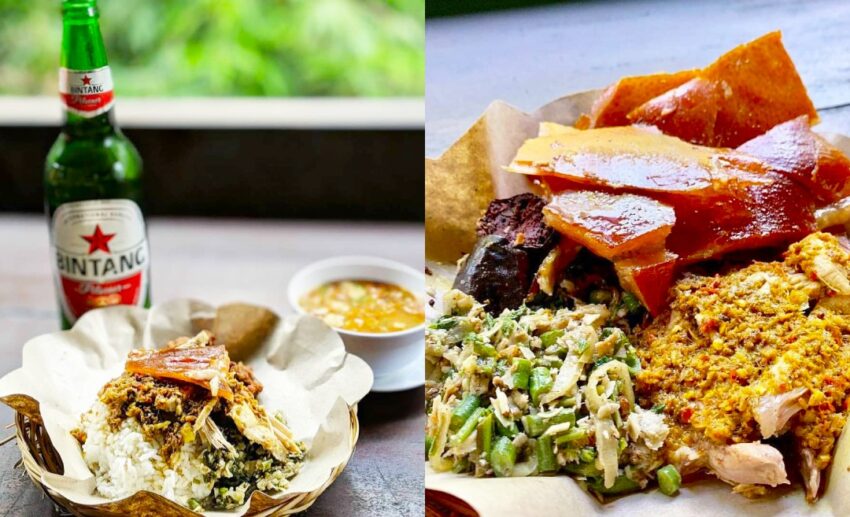 2. Warung Ibu Oka, Ubud: Warung Ibu Oka, located in Ubud, Bali, is a renowned and beloved eatery famous for its delicious and authentic Balinese cuisine, with a particular focus on its speciality, Babi Guling (roasted suckling pig). This charming and humble warung is a must-visit for anyone seeking authentic Balinese flavours.
Must-tries: Babi Guling served with sides like rice, vegetables, and Indonesian sambal; and Nasi Campur, a mixed rice dish that includes a delightful combination of various Balinese viands like grilled chicken, fried shrimp, sausages, and more.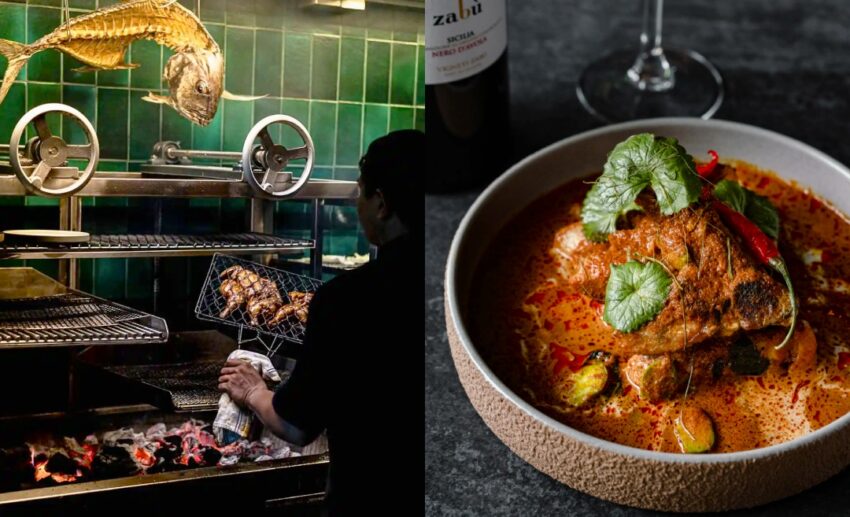 3. Mama San, Seminyak: A renowned and upscale restaurant, Mama San offers a delightful fusion of Asian flavours and cuisines. This stylish dining spot in Seminyak is a favourite among both locals and travellers seeking something on the finer side of things. Their dim-sum brunch is also pretty popular.
Must-tries: Mama San Crispy Duck, Szechuan Beef, and Mama San's Salt and Pepper Squid.
Beach clubs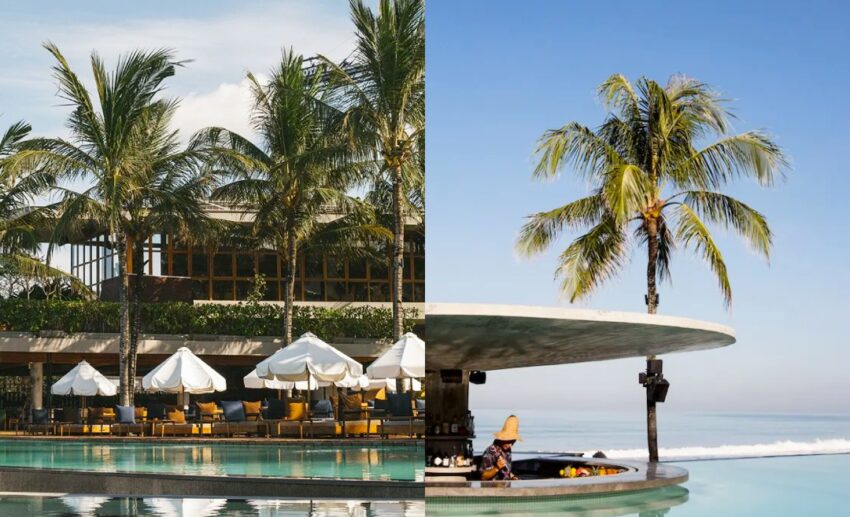 1. Potato Head Beach Club, Seminyak: Potato Head in Bali is not just a beach club–it's an iconic destination that embodies the spirit of the island's modern beach culture. Nestled in the heart of Seminyak, Potato Head boasts a unique and innovative architectural design made from old window shutters, creating a stunning, environmentally-conscious backdrop. Visitors flock here to experience the eclectic blend of music, art, and culinary delights. Potato Head promises a sensory feast like no other.
2. Ku De Ta, Seminyak: Ku De Ta is a famed beachfront beach club located in Seminyak, and it's a must-visit for those seeking the quintessential Balinese beach club experience. With its prime location right on the sandy shores of Seminyak Beach, Ku De Ta offers a perfect blend of relaxed beach vibes and stylish luxury. Famous for its unparalleled sunset views, many find it to be the ideal spot for cocktails while watching the sun dip below the horizon.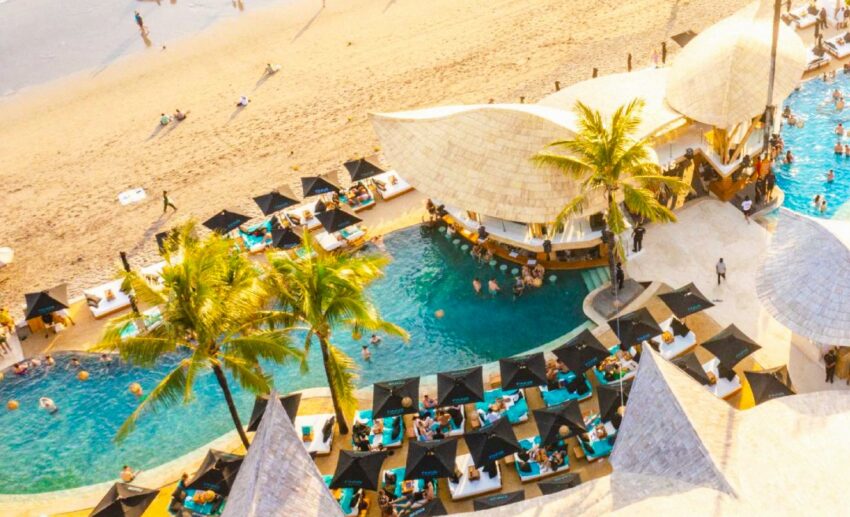 3. Finns Beach Club, Canggu: Yes, this beach club is party central as the sun sets; it's also surprisingly family-friendly, and there's even a section specifically for those with kids. One of the main draws of Finns Beach Club is its lively atmosphere and regular live DJ performances, making it a prime location for music and party enthusiasts. This beach club also features several restaurants and bars, serving various culinary delights, from sushi to wood-fired pizzas, along with creative cocktails.
Best time to visit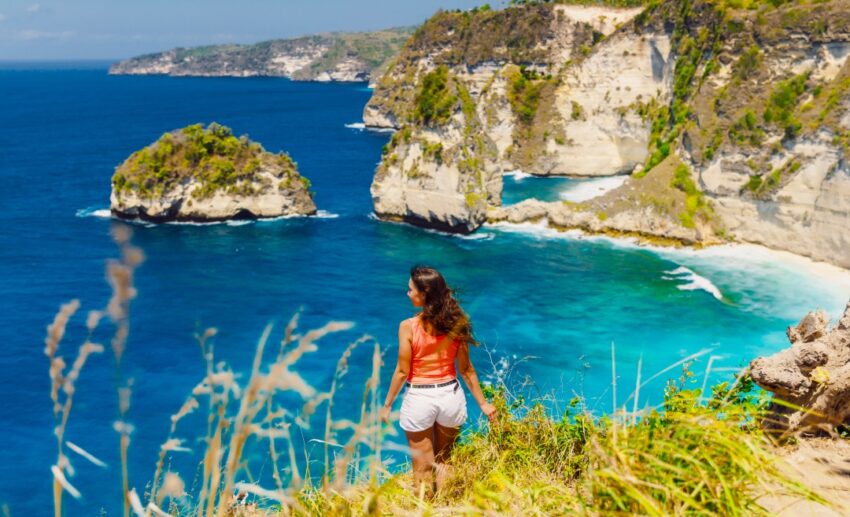 There is never a bad time to visit Bali, but if you're only interested in visiting during the dry season, it's best to book vacations from May to September. Expect sunny weather, blue skies, and plenty of time outdoors.
During the '-ber' months between September and December, the island gets less crowded due to the monsoon season. Whether you're seeking adventure, relaxation, or a balance of both, Bali has it all. From island-hopping to surf sessions, Bali has something for every kind of traveller.