Whenever someone mentions Penang, the first thing that comes to mind is usually food. Not just any food, but delicious, mouth-watering, and flavourful dishes, which many flock to the island for. While you're not wrong, there is much more to this famed Malaysian state than gastronomic delights.
Small in size, but largely known for its heritage charm, Penang is filled with incredible places to visit during your time on the island. Not only do these landmarks tell their own unique tales, but they also help you see a different side of Penang. So, forget about the food (okay, maybe don't entirely scratch that off your list because there's so much to eat) and get lost at some of Penang's most exciting locations.
Penang Hill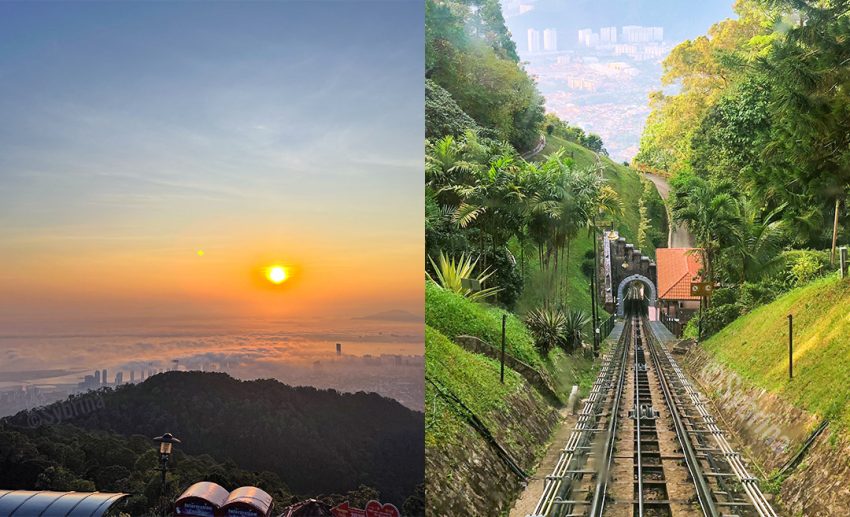 If you have never taken the time to visit this iconic location, then be sure to include it on your next trip. Not only is it great to be outdoors instead of being cooped up at your accommodation, but there's also a stunning view of the city not to be missed.
There is so much to do here — explore the unique wildlife, visit centuries-old buildings and learn about their heritage, and of course, there's also Penang's street food to indulge in.
Catch the best part of the day — the sunrise on Penang Hill — by hopping on the first train ride. We promise it's worth setting your alarm for.
Address: Jalan Bukit Bendera, 11500 Ayer Itam, Penang
Habitat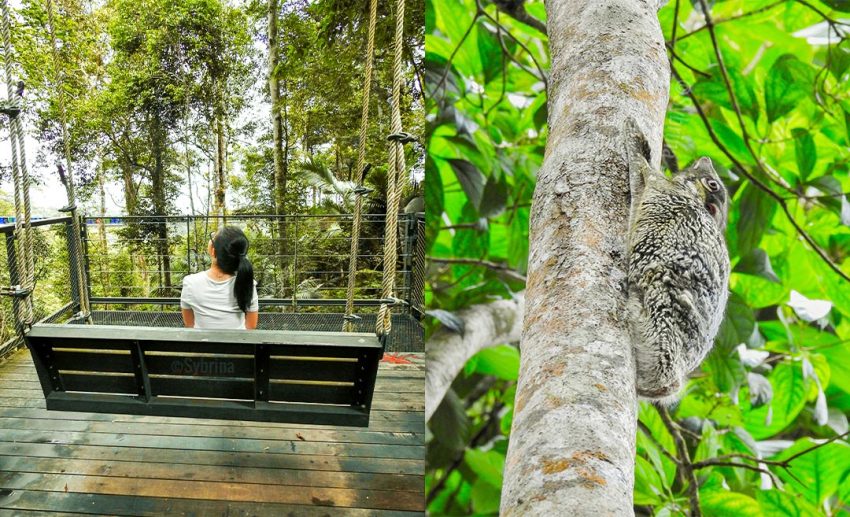 While on Penang Hill, you can also make it even more of a fun trip by visiting Habitat. Here, you'll have access to learning more about Penang's flora and fauna. With climate change being an accelerating issue, it's great to educate yourself about conservation and sustainability to ensure a safe planet for future generations.
Besides being an educational trip, you can also get away from Penang's hustle and bustle for a short while and immerse yourself in nature. While you're at it, get in some Insta-worthy photos by the famed giant swing.
Address: Jalan Stesen, Bukit Bendera Air Itam, 11500 George Town
TeddyVille Museum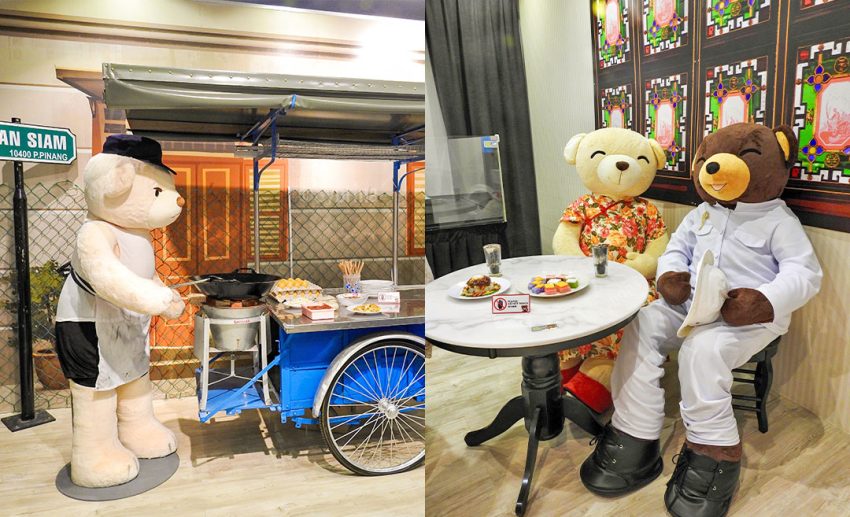 Located within Doubletree by Hilton in Batu Feringghi, TeddyVille Museum is perfect for all ages to go and have a cuddly good time. Through adorable teddy bears, learn more about Penang's history at this carefully curated museum. The exhibits also feature stunning historical and cultural scenes, making the learning experience even more impressive.
Be enthralled by an overview of Penang's history as these fuzzy creatures take you through Malaysia's British colonisation, the history of hawker markets, and more. A perfect place to make a pit stop for those who appreciate a creative take on history. They also have a second outlet in Penang Hill.
Address: Ground Floor, DoubleTree Resort by Hilton Penang 56, Jalan Low Yat, 11100 Batu Ferringhi, Penang
Pinang Peranakan Mansion
Go back in time when you visit the Pinang Peranakan Mansion. With over a thousand antiques and collectables on display, you can have a glimpse into the opulent lifestyle of the Peranakans (Babas and Nyonyas) during the Straits Settlement era.
This mansion was built back at the tail end of the 19th century and was formerly known as Hai Kee Chan, that means 'Sea Remembrance Hall'. Through the collectables, you can learn about the Peranakan culture's customs and traditions, and get lost in some interesting artefacts.
Restored to its former glory after suffering decades of neglect and decay, the Pinang Peranakan Mansion will have you in awe with its unique architecture. Admission will only cost you RM20; if you come in a group of five, you can request a conducted tour.
Address: 29, Church Street, 10200 Penang, Malaysia.
Cheong Fatt Tze (or The Blue Mansion)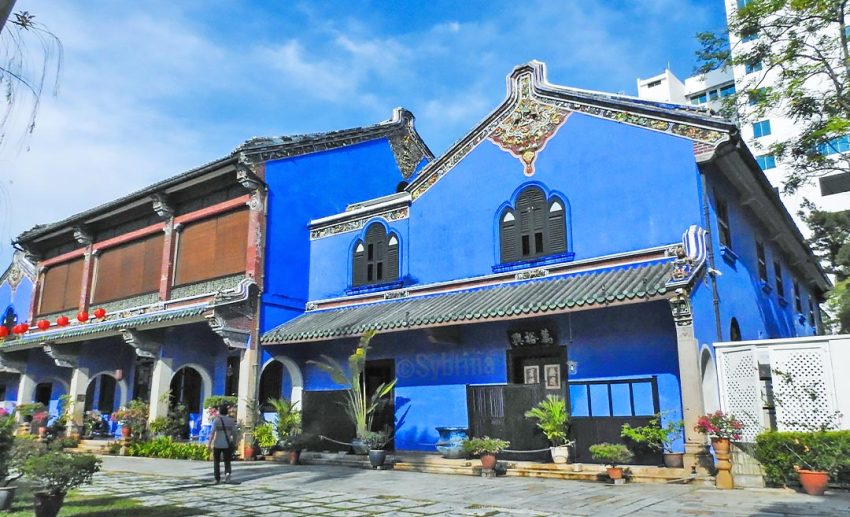 When visiting Penang, it is near impossible to miss out on this Blue Mansion that is rich in history. The story of this mansion began in the late 19th century, when Cheong Fatt Tze was determined to accommodate his descendants in a home that embodied the essence of elegance and majesty.
After the passing of Cheong Fatt Tze, the mansion fell into disrepair in 1916. However, the restoration work for the mansion was completed by the end of 1995. Today, The Blue Mansion has earned the UNESCO's Most Excellent Project in the Asia-Pacific Heritage Awards in 2000.
Over 100 years later, Cheong Fatt The still exudes opulence, only now it's as a luxury boutique hotel. So much so that it was given the title of Global Luxury Heritage Hotel at the World Luxury Hotel Awards 2021. There are also restaurants and cafes that you can dine in after learning about the history of Cheong Fatt Tze.
Address: 14, Lebuh Leith, George Town, 10200 George Town, Pulau Pinang
Kek Lok Si
Built in 1891, Kek Lok Si Temple houses millions of magnificent images of the Buddha and hundreds of other meaningful carvings, sculptures, and murals. This temple is now one of Southeast Asia's largest and finest temple complexes.
On top of that, visitors from all over often get to see a kaleidoscope of bright, colourful lights emanating from the temple during major festive celebrations such as Chinese New Year.
Address: Jalan Air Itam, 11500 Ayer Itam
Penang Batik
Interested in all things batik? Having been around since 1973, Penang Batik is one of the pioneers of batik manufacturing on the island and works hard at promoting the intricate art to tourists and locals alike.
Besides getting your hands on one-of-a-kind batik goods here, you can learn about the process of making them. Witness the beauty of batik-making and learn how each unique print is made, and why this art should be preserved.
Address: 651 Mk 2 S.W.D, Teluk Bahang, 11050, Penang
Tropical Spice Garden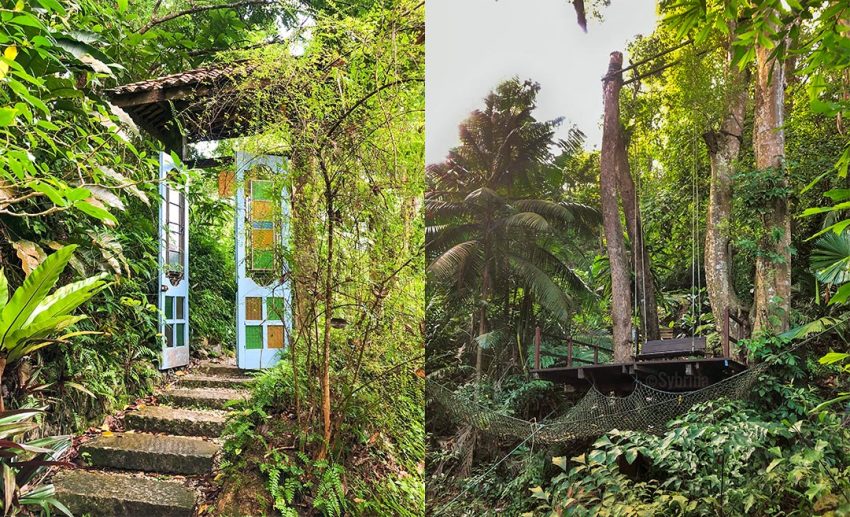 Tropical Spice Garden is a bio-diverse living museum of spices and tropical plants. Over 500 species of exotic flora from around the world can be found here. Moreover, there are also activities like cooking classes, camping, and other fun workshops that will allow you to be one with nature. Go on and show them a little love — it's a beautiful space.
Address: Lot 595 Mukim, 2, Jalan Teluk Bahang, 11050 Teluk Bahang
Entopia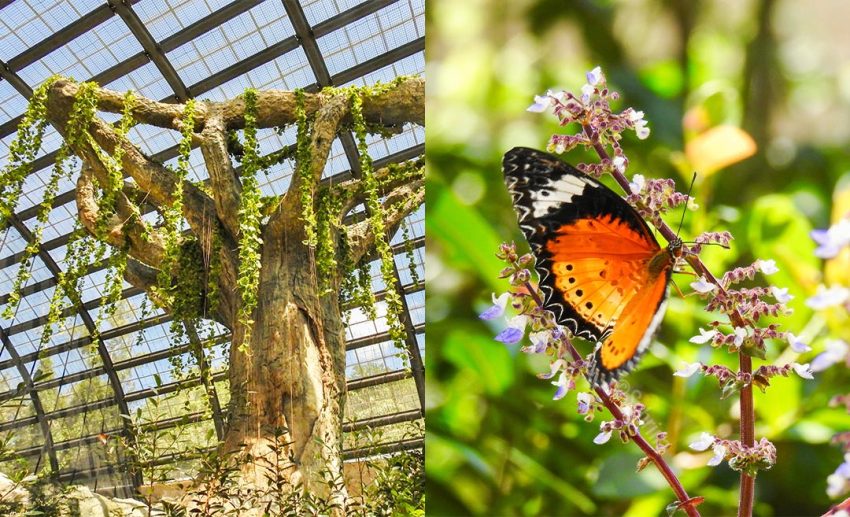 Entopia was previously known as the Penang Butterfly Farm (PBF) and founded by David Goh in 1986. It is also the world's first tropical butterfly and insect sanctuary.
More than five million local and international tourists have visited this iconic location, making Entopia the pride and joy of Penang. And honestly, being around butterflies is just magical, so don't pass up the chance when in the area.
Address: No 830 Jalan Teluk Bahang, Teluk Bahang, 11050 Tanjung Bungah
Clan Jetties
After the George Town waterfront reclamation, the Clan Jetties came about in the 19th century, where the Chinese immigrants who came to Malaysia would search for their clans and survive together in a new environment.
Take a stroll along these villages on stilts and enjoy the breathtaking scenery of these houses built with a special kind of wood to withstand seawater. Side note: as there are still residents living in these Clan Jetties, remember to be respectful to them and be mindful during your visit.
Address: Pengkalan Weld, George Town, 10300 George Town
Kapitan Keling Mosque
Before Penang State Mosque, Kapitan Keling Mosque held the title of the state's mosque. Dating back to the 19th century, where Indian Muslim traders built it in George Town, this landmark is now one of the most famous mosques in Penang. Kapitan Keling Mosque's design also marries Indian-Mughal architecture with Gothic, Moorish, and Roman Renaissance design.
Address: 14 Jalan Buckingham, George Town, 10200 George Town
Goddess of Mercy Temple
Known to be Penang's oldest Taoist temple, this Goddess of Mercy temple was built in 1728. For good health and luck to be maintained throughout the year, many will gather here on the eve of Chinese New Year to pray and bring offerings to the Kuan Yin goddess, to which this temple is dedicated.
Address: 30 Jalan Masjid Kapitan Keling, 10200 George Town
St George's Anglican Church
St George's Anglican Church is one of the oldest Anglican churches in Southeast Asia and is truly a beautiful place to visit. During the Japanese occupation of Malaya, the church suffered severe damage, and most of its contents were looted too.
Hence, the only original artefacts left are the Bishop's Chair and the Baptism Font. In 2007, St George's Anglican Church was awarded National Heritage Status and underwent a complete restoration which is now open to the public for visits.
Address: 1 Lebuh Farquhar, George Town, 10200 George Town, Pulau Pinang
Sri Mahamariamman Temple
Situated in Chinatown, the Sri Mahamariamman Temple is a popular place of worship and the oldest Hindu temple in Penang. The temple is dedicated to the Hindu deity Sri Muthu Mariamman and began as a small shrine. But as the Indian community grew, the need for a proper temple became apparent. Today, it has a 23-feet tall sculptured tower along with 38 statues of Hindu deities, and that's just the entrance! Witness the beauty of this place of worship at your next visit.
Address: Queen Street, 10450 George Town
The TOP Penang
Opened in 1986, The TOP Penang is located in one of the island's first skyscrapers and has 68 floors — Komtar. It remains Malaysia's 14th tallest building. You can now visit this iconic location and check out all the fun attractions like the Rainbow Skywalk, which allows you to get a bird's eye view of Penang or the Jurassic Research Center for all you dinosaur fans. There's also a theme park with 18 themed attractions, and you can even dine at the Top View Restaurant & Lounge, the island's highest rooftop bar.
Address: 1, Jalan Penang, George Town, 10000 George Town
Fort Cornwallis
Fort Cornwallis was built in 1793 when the British first landed in Penang to take possession of the island. Led by Captain Francis Light, the fort was built on-site, and the first structure to be built was a simple star-shaped stockade made of nibong palm trunks.
Once a military and administrative base for the British East India Company, today, the fort is open for the public to visit and learn more about the history of this island.
Address: Jalan Tun Syed Sheh Barakbah, 10200 George Town
Penang Botanic Garden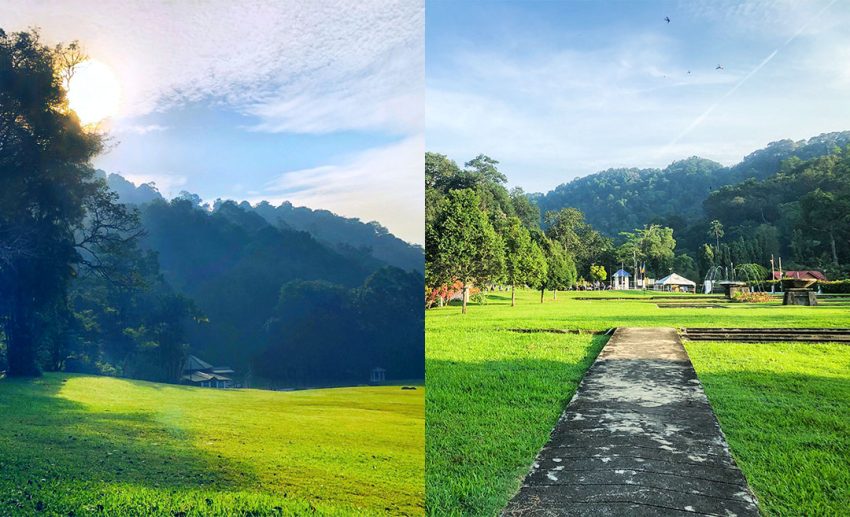 This beautifully-manicured 50 hectares worth of lush greenery is one of Penang's biggest pride and joys. Established in 1884, the Penang Botanical Garden is perfect for a stroll in the outdoors and an excellent place for a run.
Penangites love spending their time here, especially in the early morning and evening, to exercise or spend some time with nature. On your next trip, why not pack a picnic blanket and some snacks for a sprawl on the lawn?
Address: Kompleks Pentadbiran, Bangunan Pavilion, Jalan Kebun Bunga, 10350 George Town
*All images by Sybrina Ng unless stated otherwise.