No matter which part of the world you belong to, if you're a traveller who loves lip-smacking street food, fancies a relaxing massage, or enjoys exploring fine arts and culture, then you most definitely won't want to miss out on Bangkok's magic.
Thailand's capital city is fun to visit all year round as it has a lively and happening nightlife along with hundreds of attractions. You can check out some important places to visit in Thailand here. However, avoid visiting Bangkok between August and October, as the rains can dampen any traveller's spirit.
Bangkok has something for everyone, including solo women travellers or whether you're a first time visitor or not. Here are 15 interesting things to do that cover all categories of interest:
Grand Palace
Once the abode to His Majesty King Rama, this palace compound features a complex covering an area of 214,000-square metres. More than a mansion, it also has various beautifully-sculpted administrative offices. The Emerald Buddha — a famous figurine of the Buddha — is located within the Grand Palace's complex in Wat Phra Kaew. The entry fee for the Grand Palace is THB500 (approximately USD16).
Bangkok National Museum
One of the most prominent museums in Asia, you will get to learn about Thai culture, local treasures, traditional puppets, traditional musical instruments, and clothes while wandering through its halls. The museum was inaugurated by King Rama V. You can plan to visit Grand Palace and the Museum on the same day as they are situated very close. The entry fee to the Bangkok National Museum is THB200 (approximately USD7).
Thai massage
I truly loved getting a Thai massage, and some of the best you can find is in Bangkok. There are so many options throughout the city and most of them are reasonably priced. The charges for a Thai massage vary between THB200 to 500.
Chatuchak Weekend Market
Don't miss out on visiting Chatuchak Market when travelling to Bangkok, which is open only on weekends. Do keep in mind, however, that this is one of the most extensive markets in the world so be prepared to spend plenty of time here. You can get anything and everything at a very reasonable price with more than 1,500 stalls ranging from food, art, fashion, handicrafts, ceramics and what not! You also have plenty of food stalls with local cuisines. Please remember you need to bargain to get some great deals.
Chao Phraya boat ride
I have been on some boat rides through the canals in the UK, but Chao Phraya has a special place in my heart. The river flows beautifully through the city and gives you breathtaking views, which is why it's also called 'the Venice of the East'. Some temples are easily accessible through various points along the river too. Dinner cruises are also available for roughly THB1,500 (approximately USD49). The tourist boat costs around THB150 (approximately USD5) per person and runs every 30 minutes.
Traditional Thai puppet shows
There are a number of theatres in the city that showcase traditional Thai puppet shows. They're all performed by seasoned professionals and quite an experience. We went to a puppet show while cruising along Chao Phraya during our boat ride. The kids in our group enjoyed the puppet show very much, of course. As this is considered a dying art, we were pleased that our children got to enjoy this rare experience.
Visit the Dragon Temple
Just 40 kilometres west of Bangkok is the formidable Wat Samphran Dragon Temple. It's worth the hour-long drive to visit this unique and iconic landmark, as you'll get to see a sculpture dragon spiralling a pink 17-storey building. So, it's obvious how this temple got its name.
When we visited Wat Samphran, the elevator wasn't working, so we climbed up the stairs. My advice: bring enough water to stay hydrated. There are no entry charges here, and the best way to reach the temple is by getting a cab which should cost you around THB700 (approximately USD23) for a round trip.
Chinatown street eats
Having indulged in Bangkok's street food myself, I dare say it's not worth visiting Thailand if you don't do the same. And as tempting as it may be to allow your taste buds to do some exploring of their own, I recommend having authentic Thai dishes like som tam and pad thai in Chinatown. It was even to walk down these streets just filled with delicious cuisines and dotted with temple structures. You can also shop for local spices, seasonal fruits, and nuts on Itsaraphap Lane.
---
Are you a foodie on the loose? You'll need to follow these tips:
---
Kickboxing/Muay Thai
A good old Muay Thai fight is something every person should watch at least once as it is more than a regular boxing match. You'll witness a structured Thai cultural fight with complex rules. It's amusing to see at least one game but, if you are a fan, trust me, you'll end up watching more and more.
Jim Thompson House
The Jim Thompson House was once the residence of an American designer who started the world-famous eponymous brand. This stately home is now a museum dedicated to art, culture, and the Thai silk industry. It houses a vast art collection that is an absolute must-see. The entrance fee is THB200, and for visitors below 22 years, entry is THB100 (approximately USD3).
Wat Pho
Ever seen a giant reclining Buddha 46 metres long and covered in gold? Irrespective of your answer, you should visit Wat Phra Chetuphon. We were amazed to see such a colossal statue and the entire compound was just lovely. This is one more place where you can try to get a traditional Thai massage too. The temple is located just 10 minutes from the Grand Palace and has an entrance fee of THB100.
Floating market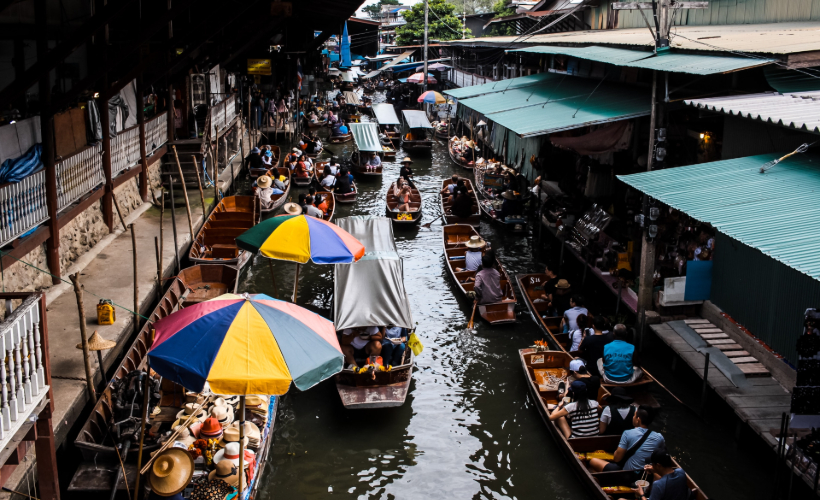 This is one of my best experiences in Bangkok. Sitting in a boat and enjoying local cuisine while relishing the view of Bangkok's streets can be really refreshing for foodie travellers. Some famous delicacies that are a must-try are the soupy boat noodles, seafood, seasonal fruits, and coconut pancakes. There are around five floating markets in Bangkok, but I would suggest Taling Chan Market.
Rooftop bars
Bangkok has got some of the most beautiful rooftop bars giving you views that'll leave you awestruck. Grab your favourite cocktail and enjoy dinner at some of the city's highest rooftops — I promise it's worth it. Some famous ones are The Roof Top Bar in Baiyoke Sky Hotel on the 83rd floor, Vertigo Grill & Moon Bar on the 61st floor of the Banyan Tree, and Lebua sky Bar — as seen in the movie Hangover II.
BTS Skytrain
If you find the traffic in Bangkok exasperating, use the swiftest way to get around the city — the BTS Skytrain. This mass transit system is cheaper, faster, and most importantly, clean. Also, the trains give you a stunning view of the city. However, they don't connect all the local places, but it's worth going for one ride just for the fun of it. There are two BTS lines in Bangkok — one is the Siam line and the other is the Sukhumvit line. You can also get a one-day pass for THB120 (approximately USD4) that'll give you unlimited access for a day.
Lumphini Park
This will be a lovely afternoon/early evening escape from the hustle and bustle of Bangkok, as you can surround yourself with lots of trees and let the kids run loose at the park's large playground. Lumphini Park also has a man-made lake where you can take boat rides, and also a play area for differently-abled people. There are also weekend markets here where you can find fresh seasonal fruits and vegetables. Entry to Lumphini Park is free.
AirAsia flies from Kuala Lumpur to Bangkok 57 times a week. Visit www.airasia.com to plan your trip!
Get all the latest travel stories from Zafigo. Follow us on Facebook, Twitter, and Instagram.