Zafigo's Quick Guide to Kuching for Women Travelling Alone or with Family and Friends
As the largest state in Malaysia, Sarawak has plenty to offer to its visitors. From the expansive stretches of thick jungle to the various towns that are made up of a heady mix of different cultures, there's something to be explored and discovered no matter which part of the state you head to. But Sarawak's capital, Kuching, is a special blend of colonial charm, stunning architecture, an attractive waterfront, and of course, its charismatic culture. Suffice to say, there are numerous reasons to visit the city too.
Whether you subscribe to the theory that the capital city of Sarawak was named after the feline animal ('kucing' being the Malay word for 'cat') or was derived from the Indian trading port of Cochin on the Malabar Coast, the diverse and fascinating region attracts a fair share of visitors — feline lovers and otherwise. With nature reserves, galleries, and luscious flora and fauna, here's the cheat sheet for your travel plans.
1. Getting there and around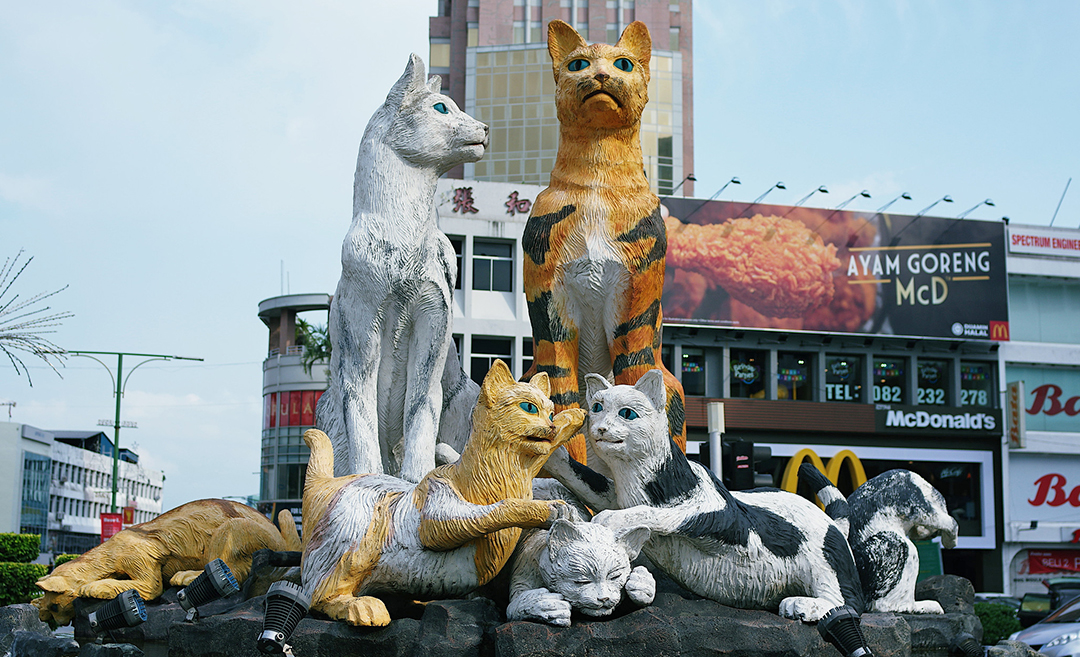 As the gateway to most of Sarawak, Kuching is well-connected domestically and internationally. Just an hour and a half flight from Kuala Lumpur (KL) and Kota Kinabalu, Kuching International Airport is also accessible via direct international flights from Indonesia, Brunei, and Macau. Regular buses also arrive and depart via Kuching Sentral, the bus station located about 2 kilometres from the airport.
Once there, Kuching's city centre is pretty compact and it's possible to walk everywhere, although you'll probably want to take a bus if you're heading to the national parks. If you plan to have a packed schedule of activities in the city, it's best if you rented a scooter. Locals recommend Tek Hua Motor on Jalan Tabuan where a scooter costs around RM40 a day to rent.
Busses with regular routes are also available to help you get around, and you can grab the bus timetable over at the central bus station. The tourism office also has one that lists routes to the popular tourist destinations, however, don't be expecting strict adherence to the timetable as we do run on the famed 'Malaysian timing' even in the east.
Zafigo Tip: Should you get a little lost in your wandering, look out for shuttle vans with a yellow roof. These are shared taxi vans with their destinations written on the side of the vehicle.
2. Where to stay
With a healthy mix of backpackers, mid-range travellers, and those looking to live it up large, Sarawak's City of Cats offers plenty of accommodation choices. Here's a list of hotels and lodges to suit every need and budget:
The Marian Boutique Lodging House
Half a kilometre from the Sarawak River and its surrounding attractions, this 40-room guest house is pure tranquillity at the heart of Kuching. With vaulted ceilings, dark beams, and whitewashed walls, the Marian exudes colonial-style charm. Numerous family rooms mean large parties are well catered for, and the garden pool is a crowd favourite.
Address: 25, Wayang St, 93000 Kuching
Contact: +6082-252 777
The Ranee Boutique Suites
From the outside, it's little more than a shophouse. But on the inside, it's a stylish boutique hotel with some of the most comfortable accommodation in the city. Just within a stone's throw from the Waterfront, Ranee Boutique Suites is right where you need to be.
Address: 7, Jalan Main Bazaar, Main Bazaar, 93000 Kuching
Contact: +6082-258 833
The Culvert Hotel Resort
Made from refurbished concrete culverts (hence the name of the hotel), the snug rooms here are surprisingly comfortable. Relax at the full-service spa, where you can enjoy massages and body treatments. You're sure to appreciate the recreational amenities, which include two outdoor swimming pools, a sauna, and a fitness centre. If you're not big on amenities, you'll also be by the sea, and the hotel offers access to a private beach and sunset deck where you can watch the sky turn shades of violet and red over the South China Sea.
Address: Lot 285, Off Jalan Sultan Tengah Block 2 Salak Land District Santubong Damai, 93050 Kuching
Contact: +6019-889 9925
The Waterfront Hotel
Occupying Plaza Merdeka Shopping Centre's top floor, the Waterfront Hotel offers both a central location and incredible views of the city. Its relaxing infinity pool that overlooks the architectural masterpiece that's the Sarawak State Legislative Assembly Building is just one of the many ways to unwind after a day full of sightseeing.
Address: 68, Jalan Tun Abang Haji Openg, 93000 Kuching, Sarawak
Contact: +6082-227 227
3. Bask in the culture
"See Sarawak in Half a Day" is the claim made by Sarawak Cultural Village. And see it you will, with the award-winning living museum. One of Malaysia's best-known and most iconic attractions, Sarawak Cultural Village offers an excellent introduction to local cultures and lifestyles with its nine authentic replica buildings that represent every major ethnic group in Sarawak (Bidayuh, Iban, and Orang Ulu longhouses; a Penan jungle settlement; a Melanau tall-house; a Malay townhouse; a Chinese farmhouse; and pagoda).
With each building staffed with members of their respective ethnic groups in traditional costume and carrying out traditional activities, you can immerse yourself fully with the in-house 'storyteller' who's an expert in their respective houses.
After the tour, enjoy a multi-cultural dance performance in the village's own theatre, where visitors can even take dance, music, and craft lessons. Other attractions and amenities include an in-house ethnic restaurant, handicrafts shop, Sculpture Garden, Rainforest Music House with traditional instruments and interactive music workshops, and the Hall of Legends.
4. Admire the architecture
Enjoying the blend of Kuching's colonial, traditional Chinese-style and contemporary styles is one of the best things to do in the city. You wouldn't know it, but the city actually boasts an impressive series of colonial buildings dating back to the White Rajahs of Sarawak who ruled from 1841 to 1946. Charles Brookes, the second White Rajah, contributed to the layout and colonial heart that remains today.
Sitting on the northern banks of the Sarawak River, Kuching's Astana (or palace) has a rich history. Acting as the residence for the White Rajahs and now the Governor of Sarawak, the building is among the capital's most majestic.
Another stop to put on your list? Kuching's State Legislative Assembly Building. Sitting on the northern side of the Sarawak River near Astana, featuring a nine-pointed star as the roof and a combination of various cultural elements, it's hailed as one of the most magnificent pieces of architecture in Borneo. Within the same vicinity, you can also check out Fort Margherita, the Old Court House, and the General Post Office.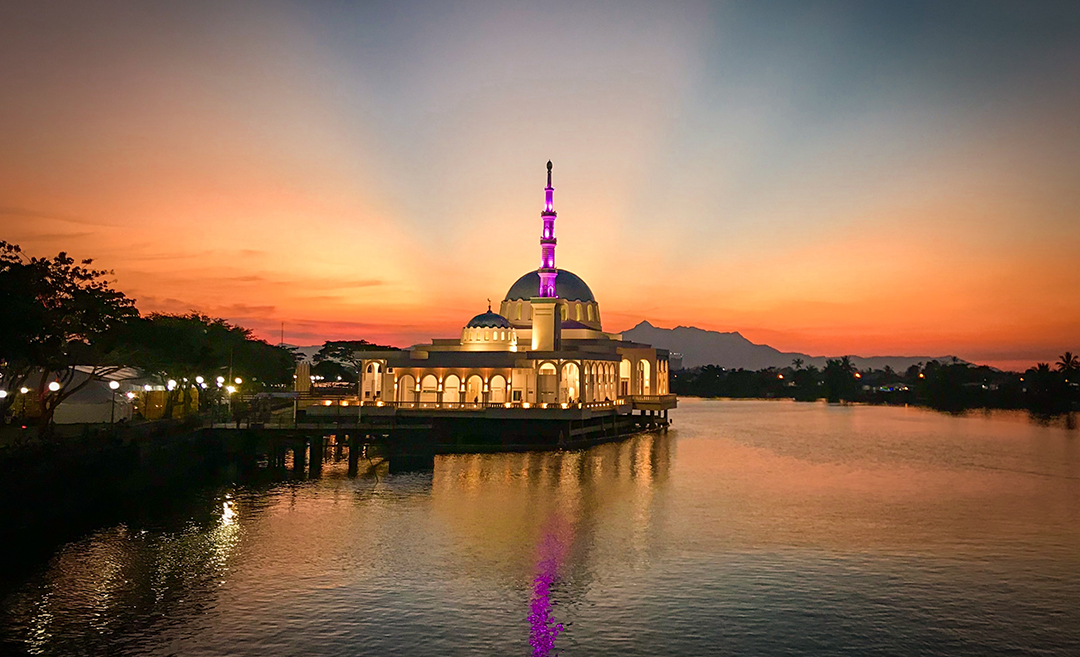 Spiritually, there are also a few architectural wonders to behold. Like the Kuching City Mosque or 'Masjid Lama' as it's affectionately called. The present structure was built in 1968 to replace an original wooden one built in 1852. Combining elements of Western, Italian, and contemporary Islamic styles with shiny golden domes, the Kuching City Mosque makes for a not-to-be-missed photograph to commemorate your time in the city.
Zafigo Tip: Non-Muslims are welcome to enter outside of prayer times, but if you'd rather not, you can just enjoy the glorious view of the mosque from the river at sunset.
For the history buffs, the Tua Pek Kong Temple is well worth a visit. Dating back to 1843, this building in the heart of the city holds the title as Kuching's oldest Chinese temple. Sitting on a foothill and commanding the view over the river, the ornate temple is hard to miss. One of the few buildings that survived the 1884 Great Fire of Kuching, Tua Pek Kong Temple is said to have the best feng shui location in the city. So show up and soak in the good vibes!
5. Feast on these essential eats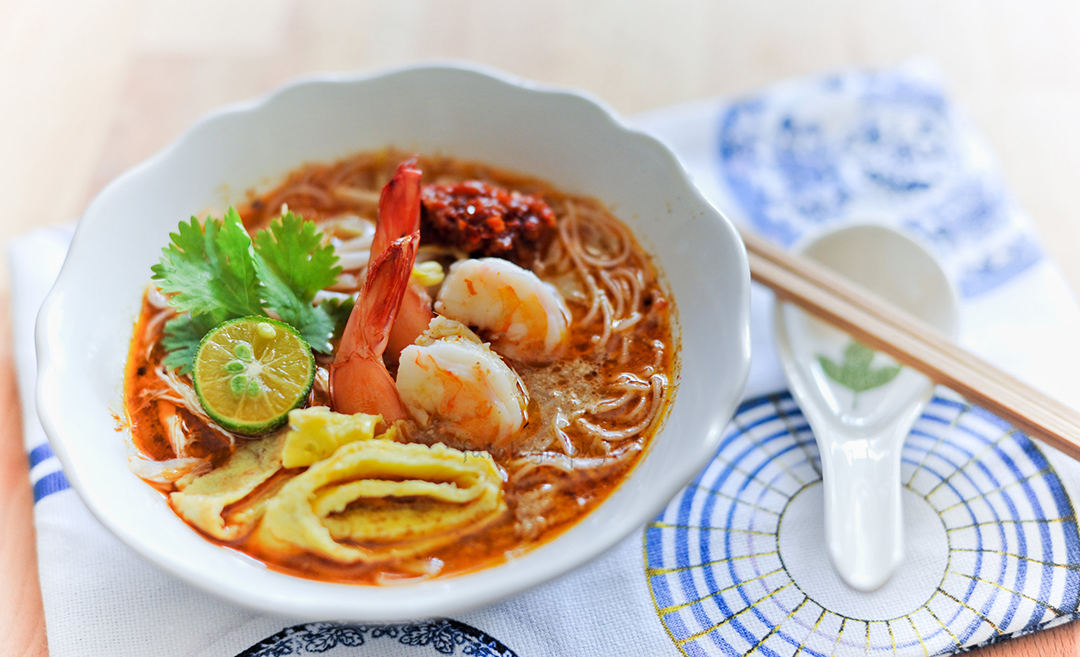 If you're a believer that the true way to experience any culture is through its food, then Kuching will be a full treat and a half. Visit the Choon Hui Cafe where the late Anthony Bourdain fell in love with Sarawak laksa and made his iconic "Breakfast of Gods" quip. If you're looking for Kuching's go-to spot, you'll be glad to know that the establishment hasn't changed hands since Bourdain's trip and neither has the recipe. So head over to Jalan Ban Hock early and see for yourself if this hearty local delicacy feels as otherworldly as it's been described. Spoiler alert: it totally is!
Another noodle dish? Why yes, ma'am! There are a number of dishes that Kuching is famous for, but kolo mee has to take on one of the top spots. Your trip to Kuching isn't complete without at least trying a plate of kolo mee. Similar to dry-tossed wonton noodles that Peninsular folks are used to, Kuching's interpretation is served with red-rimmed char siew (barbecued pork) and minced beef in clear sauce. Noodle Descendants in Jalan Pandungan does the dish perfect justice and with a name that implies generations worth of business, so they warrant a mention here. Zafigo Tip: Looking for a halal version? Head over to Pak Amit Cafe along Jalan Rubber!
Should you prefer a greener diet, you'll find that Kuching serves up a delicacy called lui cha over at the small restaurant that is Hainan Village in the Sin Sin Park neighbourhood. Notoriously known to be healthy food, lui cha is a mixture of stir-fried greens, preserved radish, bean curd, and nuts served on top of rice. On the side, you'll be served with an aromatic green broth made from herbs, tea leaves, toasted seeds, and nuts. Mix it all together and it's a bowl of goodness that'll sway even the heartiest meat eater.
Sneak in more local delights over at Lepau, which roughly translates as 'rice barn' in the Kenyah/Kayan language. The restaurant's signature dish – ayam pansuh – is a must-try, consisting of chicken cooked with tapioca leaves, stuffed in a bamboo shoot, and cooked in a pot of soup. Another must-try in this restaurant at the heart of Kuching is the umai – a traditional dish from the Melanau community where sliced raw fish is mixed with onions, chillies, vinegar, salt, and lime juice.
As for other noteworthy eats, consider indulging in some Dayak cuisine. Hunt for dishes such as tempoyak (fermented durian, an intensely pungent fruit) with anchovies, and the manok gulai upa kelapa (braised chicken and coconut palm in a rich creamy broth). And to wash it all down, have a tipple of tuak, the local rice wine.
6. Dive into the surprisingly rich coffee scene
So you've loaded up on the kolo mees and the Sarawak laksas for breakfast. You've walked around the city centre, and you're looking to switch things up before dinner time. Perhaps a cafe scene in the middle of town so you don't have to stray too far? The City of Cats has got you covered with more than a few options.
The Coffee Clinic, as the name suggests, serves some of the best coffee in Kuching. A team of skilled baristas work their magic to create a variety of flavours for even the most discerning coffee drinker. Add in the wooden décor and it almost feels like you're sat inside a European cottage. Expect a selection of cakes and strong Wi-Fi with regular live music.
Address: Jalan Song, Tun Jugah Kuching
Contact: +6082 451514
Craving an iced cappuccino on a hot (and often humid) Sarawakian afternoon? Head to Black Bean Coffee on Carpenter Street. Apart from serving a selection of freshly-roasted beans from Java, Sumatra, and Sarawak, Black Bean also provides a cosy environment for a drink. Throw in a plate of homemade cookies, which they serve by the way, and it's the perfect tea-time stop. 
Address: No.87 Jalan Ewe Hai, 93000 Kuching
Contact: +6082 751276
Indulge in your sweet tooth over at COMMONS. Located in the Kuching Old Court House, COMMONS is housed in a well-maintained historical building serving a wide variety of cakes all neatly displayed in glass domes on a long counter. Some crowd favourites include the Lemon Meringue Pie, Tiramisu, and Basque Burnt Cheesecake.
Address: The Old Court House, Jalan Tun Abang Haji Openg, Kuching, 93000 Kuching
Contact: +6082 417601
James Brooke Bistro & Cafe attempts to recreate an air of Sarawak's colonial era. With a casual garden atmosphere and views of the river, it makes a nice spot to unwind at after all that sightseeing. With coffee, tea, and cold beer on the menu, we can say that it's an every (wo)man kind of spot.
Address: Jalan Tunku Abdul Rahman, 93100 Kuching
Contact: +6082 412210
7. Get closer to the flora
Known for having the largest amount of rainforest than any state in Malaysia, you'll want to squeeze some green into your visit to Kuching. For enthusiastic hikers, Mount Santubong is one of the highest mountains in the area, at 810m above sea level. The mountain itself lies within a national park, but can be easily reached from Kuching in about 30 minutes. The hike will take around four hours, leading you through a thick jungle up to one of the best panoramic views of Sarawak anywhere in the region. For the less experienced hiker, there's a slightly easier two-hour hike that'll take you to a nearby waterfall.
Now, for the uninitiated, Sarawak actually holds the bragging right for having the world's largest flower – the Rafflesia. It grows up to one metre in diameter and gives off an unpleasant smell to attract flies and insects when it blooms. Yes, the world's largest flower is carnivorous. And if you'd like to see it in action, be sure to book a hiking trip up Gunung Gading to catch a glimpse!
Zafigo Tip: The Rafflesia has a short bloom period, and we're talking days here. So you might want to call Gunung Gading's park HQ or the National Parks and Wildlife Booking Office in Kuching to see if you're in luck.
Not much of an outdoorsy kind of gal? Well, the 15-acre Orchid Gardens in the city houses more than 75,000 plants, flowers, and a whopping 82 species of orchid. The park itself splits into a nursery and display area. Sitting on the northern bank of the river near The Astana and Fort Margherita, guests can also take the penambang (wooden boat) across the Sarawak River from the waterfront.
Approximately six kilometres south of the waterfront, there's the Friendship Garden in Tabuan Heights for those looking for another green lung within the city. The garden, which symbolises the friendship between Malaysia and China, features manicured lawns, ponds filled with koi fish, two wishing wells, as well as ancient Chinese-inspired structures for a two-for-one garden and history attraction.
8. And don't forget the fauna
As the capital city of Sarawak's name translates to 'cat' in English, there's naturally a Cat Museum for the feline lovers to scratch that itch. The world's first cat museum actually covers four galleries inside the City Hall buildings. With over 4,000 items covering everything related to felines, this is a must-visit attraction in Kuching, even if you're not particularly into these furbabies. Expect to find figurines, photographs, posters, and a rare Egyptian mummified cat.
If you'd like to get really up close and personal with the animals, you'll want to take a trip to Sarawak's oldest and one of the state's smallest national parks, Bako National Park. Situated approximately an hour to the northeast of Kuching, you'll have to take a boat to the entrance where visitors can hike along colour-coded trails to visit beaches and go wildlife-spotting in the many habitats. Among its resident population are monkeys, slow lorises, and pangolins, along with 190 species of birds, lizards, and mammals.
And if you'd like to venture even further, approximately 21 kilometres (13 miles) south of Kuching sits the Semenggoh Wildlife Rehabilitation Centre. This orangutan rehabilitation centre has been taking care of baby and orphaned orangutans since opening its doors in 1975. Orange-haired primates roam inside the protected area and you get to see these primates in action during either the morning feeding time between 9am and 10am or in the afternoon at 3pm.
9. Bask in the beach life
As the majority length of Sarawak is by the ocean, you wouldn't be wrong to assume there are sandy attractions for you to soak up some sun. Two local favourites are Pasir Pandak and Pasir Panjang which are beach-side kampungs (villages) surrounded by small rolling hills, coconut groves, and durian orchards.
Zafigo Tip: Pack a picnic to experience the slower pace of village life and let the sound of the waves crashing against the shore melt your worries away. (Remember to also pack a trash bag to clean up after yourself).
Venture out a little further, an hour from Kuching city centre to be exact, and there lies Damai Beach – a stretch of sand that has some of the most impressive views in Borneo. The idyllic beach that overlooks the South China Sea against the backdrop of dense jungle and Mount Santubong is one with unparalleled views. And if you're looking to splurge, Damai Beach Resort maintains the space in excellent condition, providing a romantic spot for a sunset soak or two.
If you have the time, locals recommend you take a day trip just outside of Kuching to the Talang Satang National Park. The park encompasses the coastline and waters surrounding four islands: Pulau Talang-Talang Besar, Pulau Talang-Talang Kecil, Pulau Satang Besar, and Pulau Satang Kecil, also known as the Turtle Islands. Here, you'll be given the opportunity to see a turtle conservation centre and hatchery where baby turtles are released into the sea in order to boost the local population. The beach itself also serves as a great snorkelling spot. You can book your trip over at the official website here.
10. Shop for arts and crafts
Spend enough time along the Waterfront, and you'll probably notice the row of old shophouses facing the promenade. These shops, officially named Main Bazaar, are chock-full of handicrafts shops — some of which resemble galleries, while others exude more of a flea market vibe.
You'll find plenty of kitschy cat souvenirs here, as well as many handmade items ranging from hand-woven textiles and baskets, masks, drums, brass gongs, statues, and many more! Feel free to ask away if you encounter anything that looks foreign to you, as the staff will be more than happy to explain the origin and use of each item.
Another spot to check out while you're in town is the Tanoti House on Jalan Tabuan, where a group of women practise a distinct Sarawakian form of songket weaving, creating unique embroidered fabrics. Visitors are welcome to visit the workshop and see the weaving for themselves, but be sure to call ahead to make arrangements. There's usually a small number of pieces for sale in the gallery shop, but don't be too disappointed if you don't find any as the women mostly work commissioned pieces.