Want to travel but don't want to spend a fortune on flight tickets? Well, scoring free flights could be a lot simpler than you imagine — just eat your way there!
AirAsia Food is offering a complimentary return flight to sunny Langkawi for every 10 food orders made on the AirAsia Super App during the whole month of August to thank loyal customers and encourage domestic tourism.
How to redeem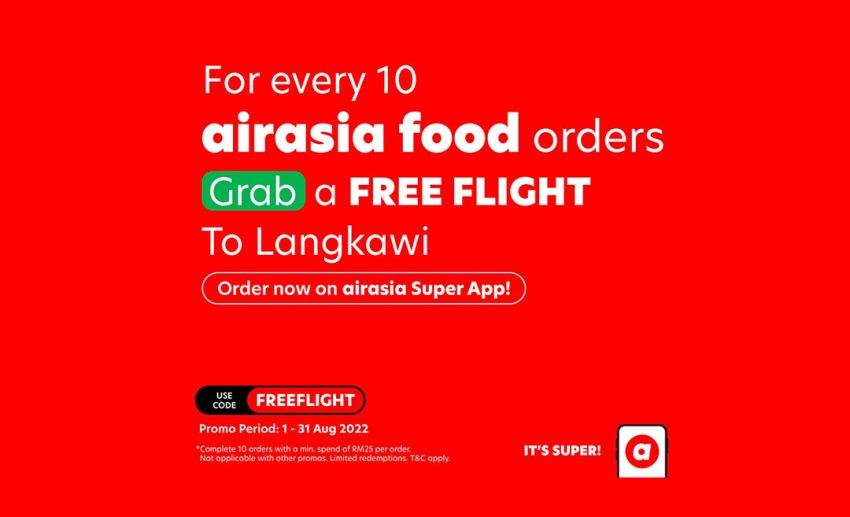 For every order placed in August with a minimum purchase of RM25, enter the promotion code FREEFLIGHT at checkout.
Following the completion of 10 orders using the FREEFLIGHT redemption code, you will be notified within one week (7 days) after 31 August and given a special voucher code to use to book your flight from Kuala Lumpur or Penang to the holiday island of Langkawi on a first-come, first-serve basis.
Choose a date and time to book your AirAsia ticket to Langkawi, and enter the unique voucher code on the Flight checkout page under E-Gift Voucher. Users can start booking their flights from 1 September to 14 September 2022 and start travelling from 1 September to 30 November 2022.
Currently, AirAsia Food serves consumers in the Klang Valley, Kota Kinabalu, Penang, Seremban, Melaka, Johor Bahru, Ipoh, Kota Bharu, Kuching, and Miri in Malaysia. Internationally, the platform also services Singapore, Tangerang and Jakarta in Indonesia, and several areas of Bangkok, Thailand.
On the AirAsia Super App, members may earn points for every transaction they make, including on airfare, hotel stays, and lifestyle items. You can then redeem them for FREE flights, hotel stays, groceries, and lifestyle deals with their partners.
*Please note that terms and conditions apply to this promo. Free seats exclude passenger service charges, MAVCOM fee, fuel surcharges, and other applicable fees.