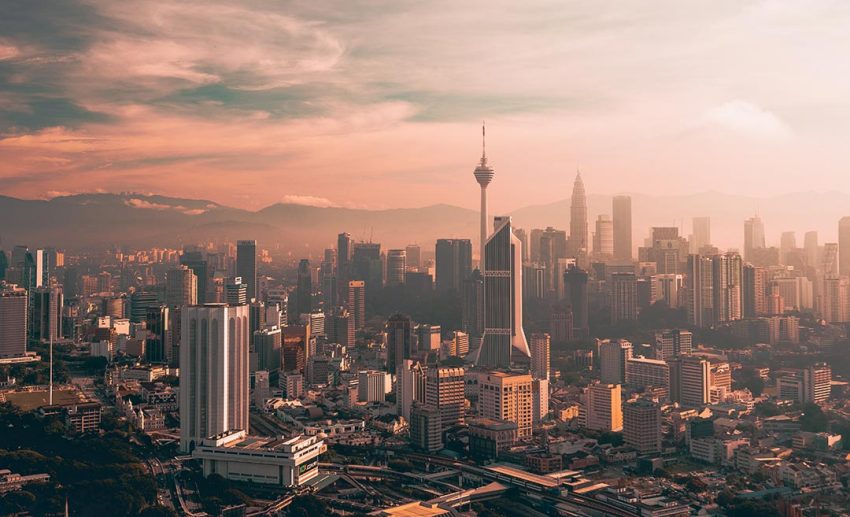 Subscribe to our new

Telegram

channel for the latest updates.



Visitors to Kuala Lumpur usually say one thing: It's nothing like they expected. It's a city with many facets and even more surprises to the first-time visitor. Shiny steel skyscrapers fill the skyline and towering above them all are the metal ambassadors known the world over – the Petronas Twin Towers. The towers flank the famous Suria KLCC mall, a six-storeyed shopper's paradise, and the entire complex is also referred to as KLCC.
But beyond this modern facade, Kuala Lumpur, or KL as it's affectionately known, is where you can still find little nooks and corners that make it feel like a bucolic small town. So much so, it's easy to forget that you're in the country's capital and its biggest, most populous city, that is, until the bustle of traffic reminds you just where you are. Equal parts old world and new, KL is Malaysia's premiere creative and cultural district, and definitely one for the bucket list!
1. A bit of history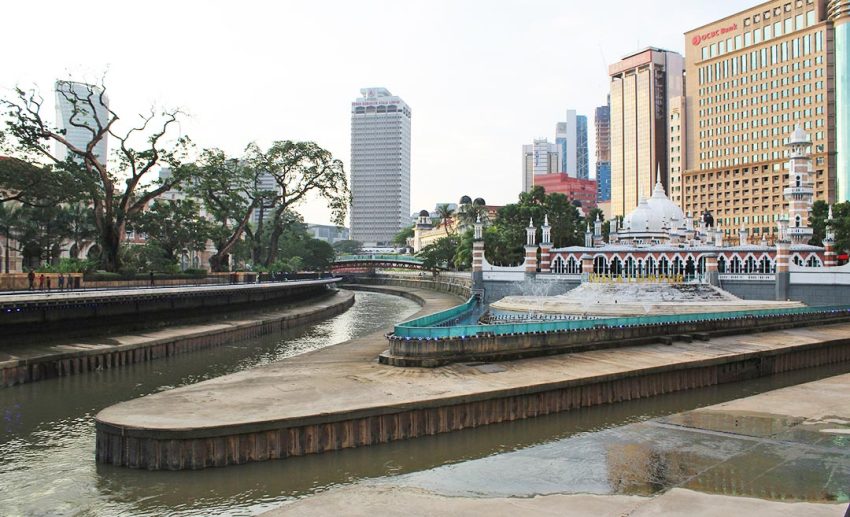 If you've ever wondered what Kuala Lumpur means, wonder no more as the direct translation means "muddy confluence." Not exactly the most romantic of monikers, but the name was derived from its location, right at the junction of the Klang and Gombak rivers. KL, along with the suburbs that its borders touch within the state of Selangor, are collectively known as the Klang Valley. Sometimes, this is referred to as greater Kuala Lumpur or simply just KL.
Developed around 1857 as a town serving the tin mines of the region, KL served as the capital of Selangor from 1880 until 1978. The city remained the seat of the executive and judicial branches of the Malaysian federal government until these were relocated to Putrajaya in early 1999. However, the still city serves as the cultural, financial, and economic centre of Malaysia, playing host to the nation's Parliament of Malaysia as well as the official residence of the Yang di-Pertuan Agong (monarch of Malaysia).
It has a comprehensive road system supported by an extensive range of public transport networks, such as mass rapid transit (MRT), light rapid transit (LRT), monorail, commuter rail, public buses, hop on & hop off buses (free of charge), and airport rail links, which takes us to our next point.
2. Getting around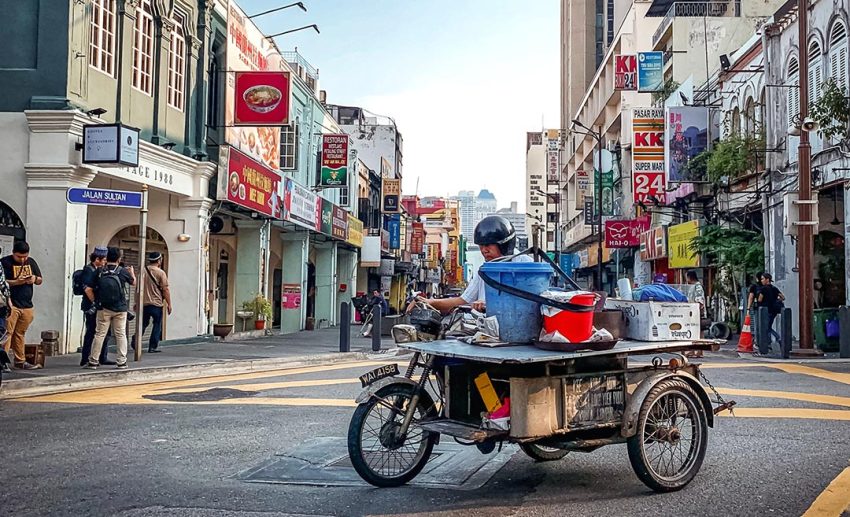 A city built for cars first where the roads tend to be wide, with few pedestrian walkways or along some stretches, none at all, KL is at a glance not the most pedestrian-friendly of cities. However, the city council has stepped up efforts to correct this in the last few years. The result is a 1.173km-long pedestrian bridge that zig-zags between the KL Convention Centre and Pavilion Kuala Lumpur mall, with multiple entries and exit points along the way, including Impiana KLCC Hotel and Raja Chulan monorail station. Launched in 2012, the Bukit Bintang-KLCC pedestrian walkway opens from 6am to 11pm each day and is air-conditioned, making it a useful link and comfortable, especially given the punishing heat during the day.
To get around the city, you might be best served by combining various modes of public transport such as the MRT mentioned above and LRT. These trains in the city pass through iconic attractions such as KLCC, Central Market, and Muzium Negara. If you're on an extended visit, consider purchasing the Touch 'N' Go card or a MyRapid card to avoid buying tickets for each trip. You can use the cards on all trains and RapidKL buses. Unfortunately, these cards can't be returned for a refund, so consider it a keepsake of your journey, and try not to load too much credit on it at one go as you won't be getting the money back.
If you're looking to go a little slow and enjoy the sights and sounds of Malaysian life, you will do well to hop on a bus! For the most part, buses in Malaysia have good safety records where women are concerned. MyRapid has bus routes that service KL and the Klang Valley, with fares usually hovering around the RM2 (approximately USD0.50) mark.
Should your schedule look loose, feel free to look out for the Go KL buses within the central business district. The free bus service that runs along the popular sites will take you to the city's train stations, shopping malls, and other landmarks.
For a cosier ride, you'll be pleased to know that Malaysia has quite a few ride-hailing options, with Grab being the most widely used among locals. Utilising the service is as easy as downloading an app, but there are other options like MyCar, JomRides, and MULA. Apprehensive about being chauffeured around by strangers? Call for a driver with Riding Pink, a women only transportation platform!
3. Lay of the land
However, when speaking of the KL city centre, it usually refers to the area around Petronas Twin Towers and Bukit Bintang stretch, where some of the city's biggest shopping malls and high-end restaurants are concentrated. This is where everyone wants to be, whether for shopping, dining, or to immerse in its energetic buzz, which lasts through the day and into the night. It also means that the streets are often congested with traffic, so you'll want to budget more time getting around if you have an important appointment.
Beyond the Golden Triangle, Downtown Kuala Lumpur has seen a revival with an injection of new businesses and youthful vibrancy that displays design-savvy and innovation in preserving the old and ushering in the new. What was once a fast-fading urban treasure is seen teeming with new life, and also where most travellers would find themselves congregating when they find themselves in the city.
4. Where to stay
With over 10 million international visitors annually (during pre-pandemic heydays), KL is positioned as one of the top tourist destinations in Southeast Asia. And with the city's increased popularity comes a boom of options for travellers with more hotels and hostels to choose from than ever. With so many choices, deciding where to stay can feel quite overwhelming. Some highly-rated stays include…
The Chow Kit Hotel KL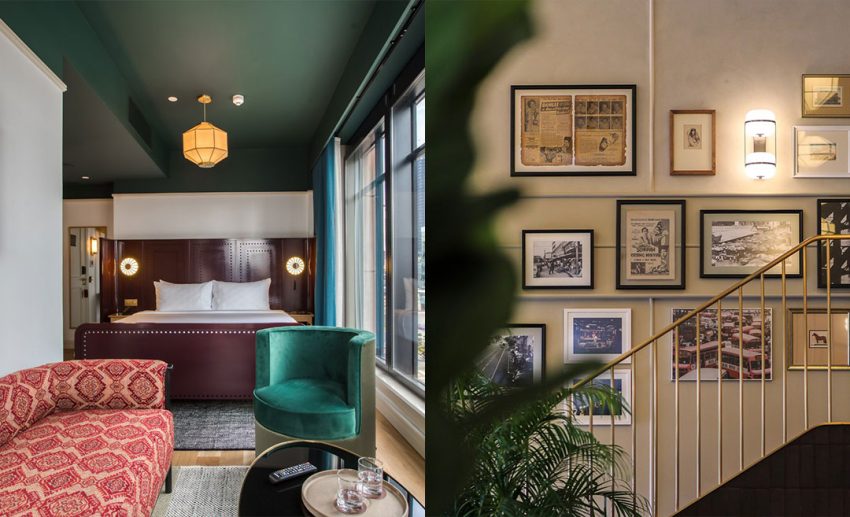 Ranked 20th on the New York Times's list of 52 Places To Go In 2020, The Chow Kit Hotel KL is a charming stay for simplified luxury. Think floor-to-ceiling windows, timber floors, rain showers, and warm, inviting beds with luxurious linens in rooms named by KL's rich history, such as The Den and Little Towkay Suite.
Its kitchen and bar also serve up local dishes with a twist, such as grilled ribeye with sambal hijau (green chilli paste). Can you think of a better way to learn about KL's history and be inspired by it?
Address: 1012 Jalan Sultan Ismail, Chow Kit, 50100 Kuala Lumpur
Contact: +603 2778 6666
The KL Journal Hotel
Looking for a boutique hotel with a laid-back retro vibe? The KL Journal has you covered. Located right in the heart of Bukit Bintang, you can retreat to your room after exploring the many malls, speciality bars, cafes, and restaurants located within walking distance of the hotel.
Not looking to rest quite yet? Pop by the hotel's chic rooftop infinity pool and bar, where you can take a refreshing dip or sip on refreshing cocktails in the sun.
Should the pool game call your name, check out the other plethora of rooftop hotel pools to explore.
Address: 30, Jalan Beremi, Off, Jalan Sultan Ismail, Bukit Bintang, 50200, Kuala Lumpur.
Contact: +603 2110 2211
The RuMa Hotel & Residences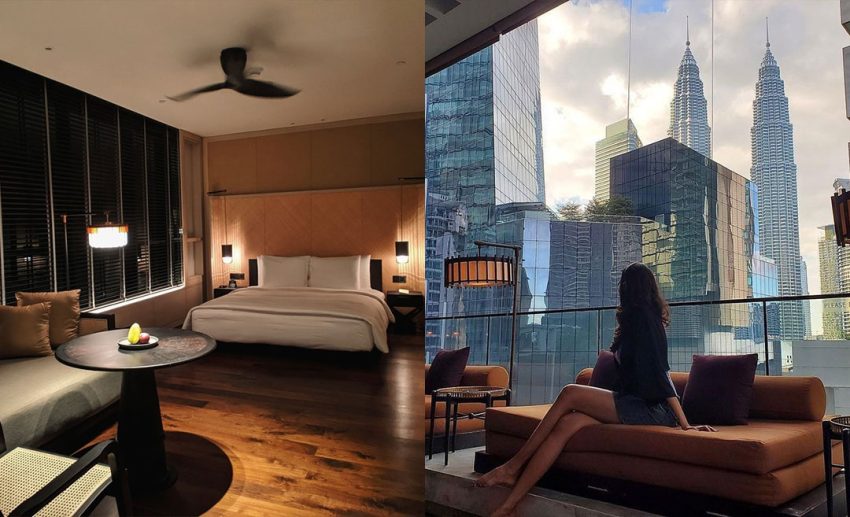 Are you looking for a more upscale option? There's no shortage of that either. A serene sanctuary amidst the downtown hustle and bustle, The RuMa Hotel & Residences consists of minimalist, luxuriously appointed rooms and suites that offer views of the city skyline.
Voted as one of the Top 100 Most Incredible Hotels In The World by Fodor's Travel 2020, the rooms here also come with deep-soaking bathtubs (and complimentary bath salts!) to reinvigorate your body for the next day's adventure.
Address: 170 Bukit Bintang Street, Bukit Bintang, 55100 Kuala Lumpur
Contact: +603 2778 0888
EQ Kuala Lumpur
For a 5-star experience, look to the EQ Hotel. A magnificent, sparkling 52-storey tower offering 440 rooms with luxurious amenities and impressive views of the vibrant city just outside its windows, EQ also has an entire floor dedicated to fitness and wellness, including a gym, spa, 25-metre infinity pool, a Himalayan salt sauna, and an aromatherapy steam room.
Make sure you also pop by Sky51, a restaurant on its 41st floor offering contemporary European cuisine, and Blue, its beautiful open-air rooftop bar and lounge to complete your star-studded stay.
Address: EQ, Equatorial Plaza, Jalan Sultan Ismail, 50250 Kuala Lumpur.
Contact: +603 2789 7777
Villa Samadhi
For those who are seeking tranquillity amidst city life, there's Villa Samadhi. A peaceful green oasis-like property in the heart of KL, the 5-star luxury hotel is inspired by traditional Malay architecture and located just minutes away from KLCC.
The 21 distinctive villas here are designed with a rustic yet sophisticated charm, promising an indulgent getaway without having to stray too far. Take a dip in the outdoor lagoon pool or sunbathe on your balcony for an extravagantly relaxing stay.
Address: 8 Jalan Madge, Off Persiaran Madge, Jalan U-Thant, 55000, Kuala Lumpur.
Contact: +603 2143 2300
Banyan Tree Kuala Lumpur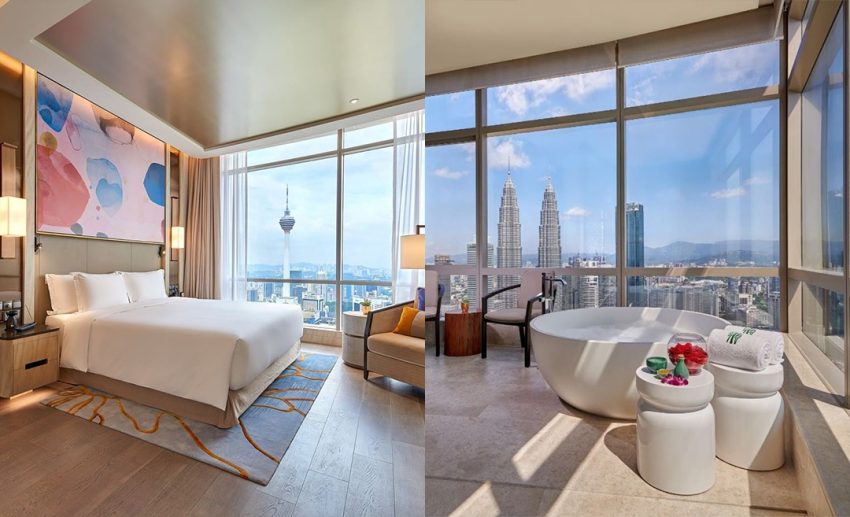 For a bit of romance to top off your relaxation, book the Banyan Tree. Another haven amid a bustling metropolis, Banyan Tree comes equipped with 55 rooms and suites to pick from, ranging from 51 square metres to 200 square metres.
Expect unparalleled views of the Petronas Twin Towers and KL Tower, and a fully-stocked bathroom with Banyan Tree's signature aromatherapy and chromotherapy showers. To take it a step further, visit the Banyan Tree Spa to treat your aching muscles and stressed soul. Want more deep tissue relaxation options? We've got just the thing for you.
Address: Banyan Tree Kuala Lumpur, 2 Jalan Conlay, 50450 Kuala Lumpur.
Contact: +603 2113 1888
5. Where to eat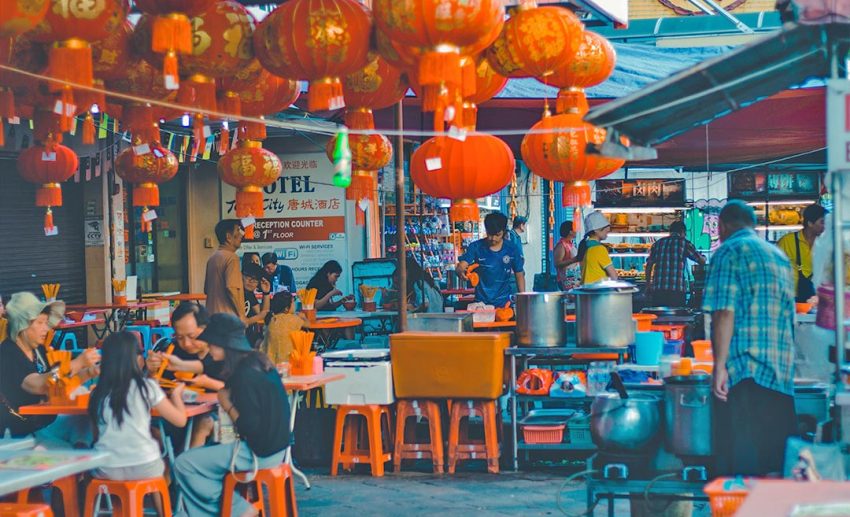 Wandering around Kuala Lumpur, whether in Bangsar or Chinatown, it isn't easy to pinpoint precisely where you are. There's an abundance of cultures that mingle and mesh together to create the almost random reality of Malaysia's capital. At specific times, some locals are sitting outside having an iced latte with colleagues, or expats can be found sipping champagne with friends.
And that's just a tiny spark of the magic that is the foodie culture in Malaysia. KL exemplifies it perfectly with its streets laden with colourful fruits, popular hawker stalls, and delicious food's aromatic smells. Eat to your heart's content at these fave local street food hangouts:
Jalan Alor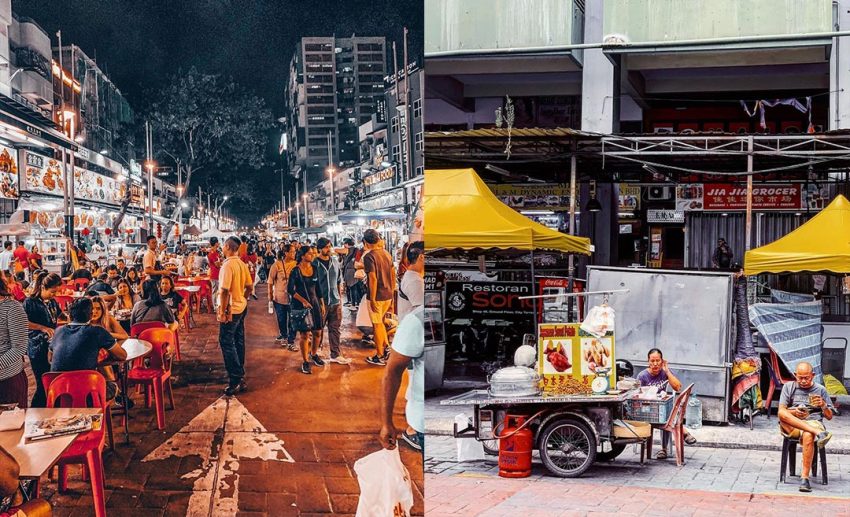 On the way up to Bukit Bintang and Changkat, two of the most-visited spots in urban Malaysia known for their vibrant nightlife, you'll probably notice a street lined with tables and chairs. For those unfamiliar with the concept of roadside dining, worry not; it is precisely what it sounds like.
The entire road forms an unbroken river of delicacies ranging from barbecued chicken wings to oyster omelettes and satay, so take your pick and immerse yourself in an authentic street food scene.
Hutong Lot 10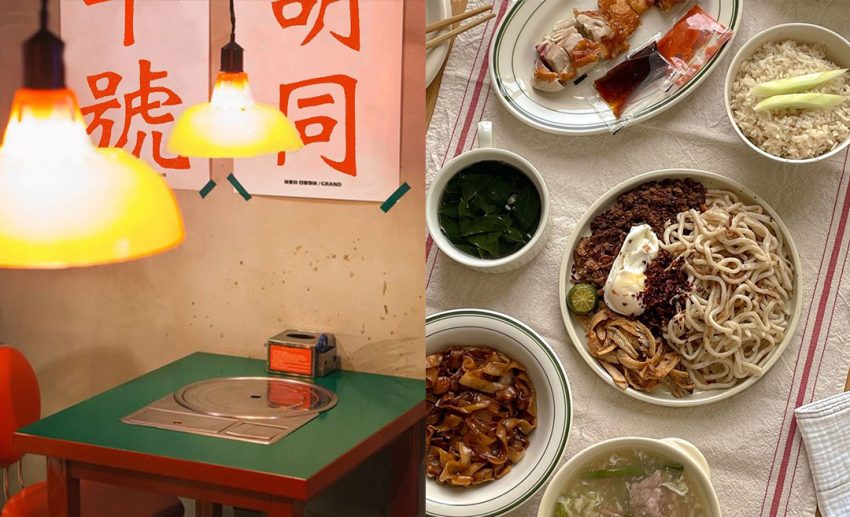 An unassuming food paradise tucked in the basement of Lot 10 Shopping Centre, Hutong is a maze of culinary wonders. Featuring some of the country's most beloved heritage dishes, the food court is home to over 30 stalls and a street food setting away from the actual streets.
Embrace the cool breeze of air conditioning and an open floor plan. Highlights here include Ho Weng Kee's wantan mee, Soong Kee's beef noodles, and Chua Brothers' char kway teow.
Tapak Urban Dining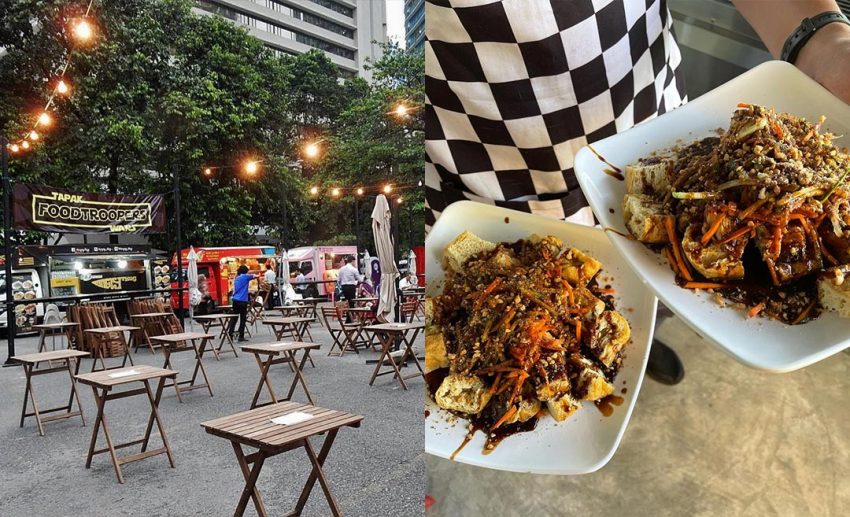 Taking cues from Malaysia's successful roadside burgers, Tapak Urban Dining gathers some of the best food trucks in the Klang Valley all in one spot. Located near KLCC and the Golden Triangle, it accommodates up to 30 food trucks at full capacity.
Here, you'll find a mishmash of what makes Malaysian foodie culture with colourful frappes to kimchi quesadillas and soft shell crab burgers.
There's a whole world of food to explore in KL over at Bangsar for the less adventurous foodies who prefer more traditional settings.
6. Where to get your drink on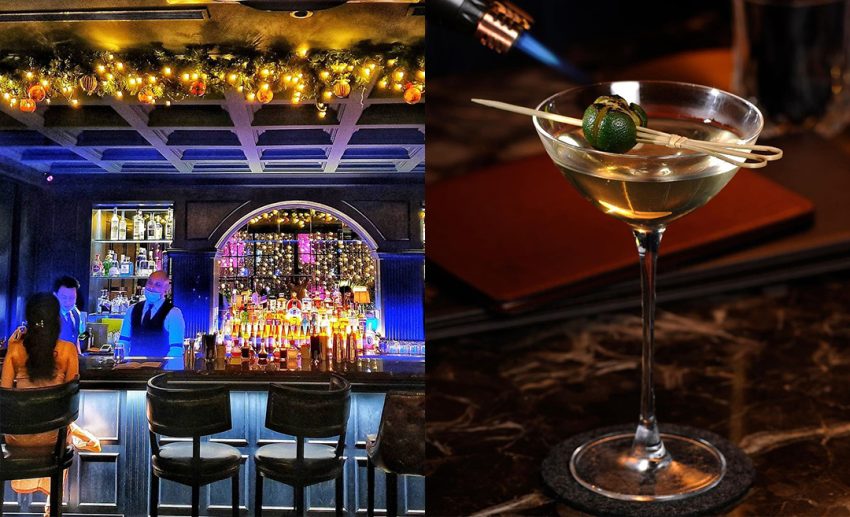 Whether you're looking for a cosy corner for an evening tipple or a nihilistic nightlife scene to dance the night away, KL has got just the spot for you. For individuals craving a little clandestine meet that pays homage to New York City, we have Frank's Bar, a music-centric watering hole over at Avenue K (yet another mall, yes). Look out for the city's sweeping views and occasional guest collaborations with some of KL's best bars for your nightcap here.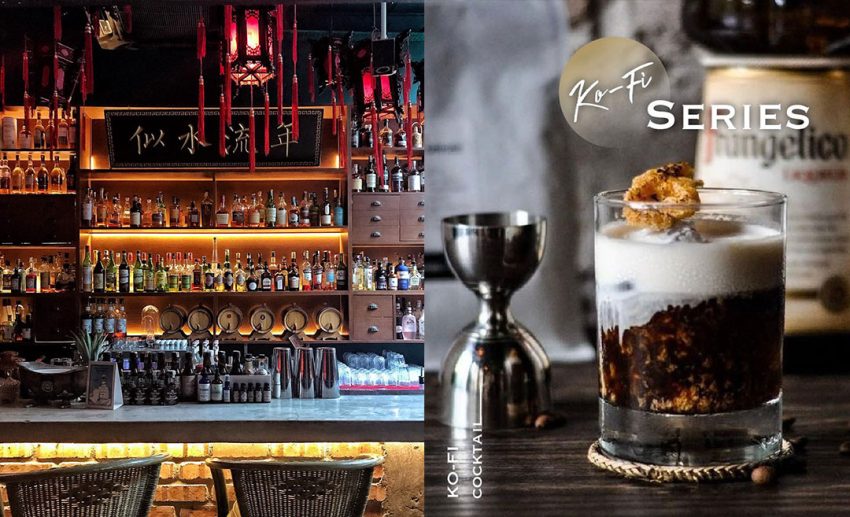 You'll have to work for your drink over at Sin Chew Kee Cold Drink Store, a speakeasy bar. Don't bother to look for the signage; find 8 Haus Cafe and take the stairs to the first floor to be rewarded with a slew of tea-infused cocktails. A cosy little spot perfect for covert meetings or just a bit of low-key merriment, Sin Chew Kee Cold Drink Store is the kind of hidden bar that deserves to be explored. Named after the historic neighbourhood it calls home, the cocktail bar thrillingly tackles what they call tea-tails (tea-infused cocktails) with deliciously nuanced, delightfully aromatic results.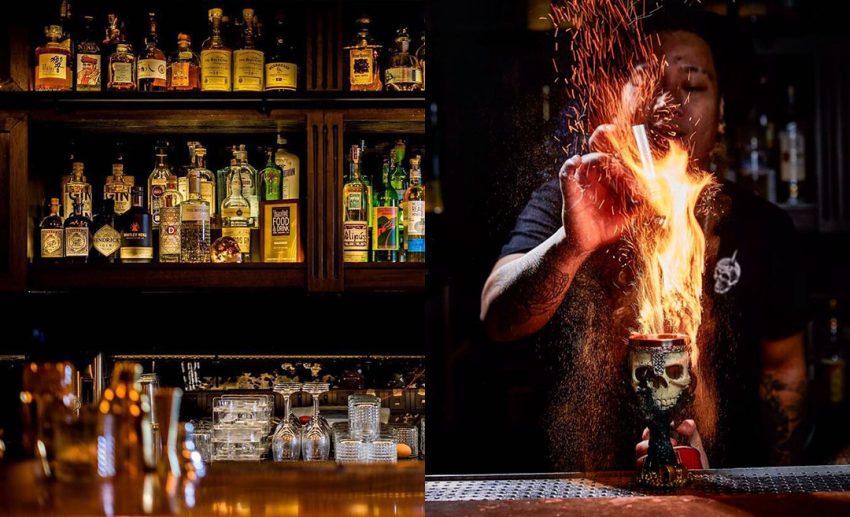 Are you feeling a little nefarious? Head over to Skullduggery for a night of merriment that involves a literal wall of skulls. Another hidden bar, you'll have to head to the alley behind Huckleberry to enter. More reminiscent of a members club than a bar, Skullduggery will have you feeling all kinds of ways as you sip away on their inventive concoctions such as the jackfruit-infused rum and truffle-infused vodka.
There's Astor Bar over at The St. Regis Hotel for the classy boozer. Known for its modern-day glamour mixed with Old World elegance, Astor Bar's brass-trimmed panelled entrance and custom-made hammered brass door knobs will have you feeling boujie. With more than 650 labels from multiple regions and producers, guests are practically promised a good time at the Astor.
Want more boozy indulgences? These downtown bars are where you'll get your fill – from the spooky to the kinky.
7. A playground of culture
A city like no other in Southeast Asia, KL is an eclectic mix of East meets West. But beyond the skyscrapers and shopping galore, there are more sights to be seen. The city's heterogeneous populace includes the country's three major ethnic groups: the Malays, Chinese, and Indians. And for the whole experience, make sure to add these locales to your must-sees.
Islamic Arts Museum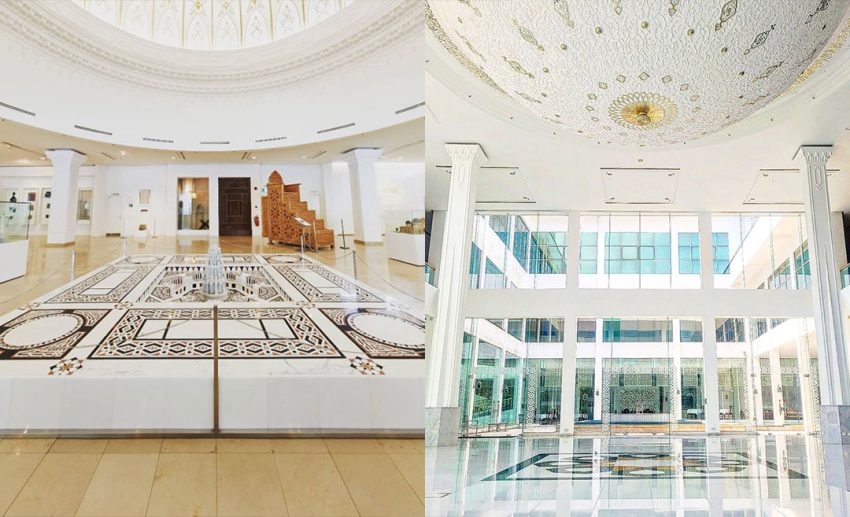 Located at the heart of KL, the Islamic Arts Museum Malaysia houses artefacts dating as far back as the 9th and 10th centuries. Officially opened in the late '90s, it plays host to a beautiful ceiling dome, plenty of Islamic architecture, and thousands of relics on display at its 12 permanent galleries.
Beyond its collection of works from the Middle East and Persia, the museum offers insight into Asia's Islamic identity and heritage, with dedicated galleries on art from India, China, and the Malay Peninsula.
Address: Jalan Lembah, Tasik Perdana, 50480 Kuala Lumpur
Contact: +603 2092 7070
National Mosque of Malaysia
Surrounded by lush greenery, the National Mosque of Malaysia (Masjid Negara) is an enormous structure that can accommodate 15,000 worshippers at any given time. Built in the '60s, the mosque follows the principles of Islamic architecture.
Visitors can tour the mosque, but ladies will be given a dress robe before entering as there are strict rules regarding appropriate attire. There are fountains and reflective pools throughout the mosque complex. Wander around, take photos of, and reflect on what it means to be part of the multicultural fabric of Malaysia.
Address: Jalan Perdana, Tasik Perdana, 50480 Kuala Lumpur
Contact: +603 2107 3100
Thean Hou Temple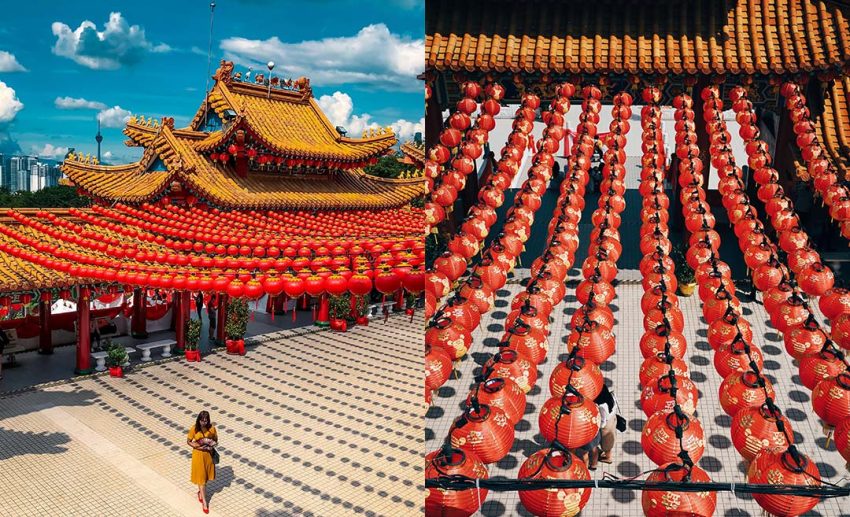 It's an iconic landmark in KL thanks to its six-tier design. Thean Hou Temple is also one of the oldest and largest temples in Southeast Asia. Thanks to its grandiose facade, it's a popular tourist attraction that features Confucian, Taoist, and Buddhist decorative pieces.
It's widely considered one of the most decorative temples in the city, with its intricate carvings and decorated raised ceilings painted in red and gold. This front entrance is multi-arched with red pillars to symbolise prosperity and good fortune. The temple also offers fortune-telling and holds cultural activities throughout the year, like the Mooncake Festival and Chinese New Year, so plan accordingly to be part of the festivities!
Address: 65, Persiaran Endah, Taman Persiaran Desa, 50460 Kuala Lumpur
Contact: +603 2274 7088
Batu Caves
Perhaps best known as the focal point of the annual Hindu festival of Thaipusam, Batu Caves is a 400 million-year-old limestone hill that is both a natural and artificial wonder with its 100-year-old temple within.
The religious monument incorporates both the stunning features of Malaysia's limestone mountains and religious sculptures of the Hindu faith, attracting tourists worldwide for many reasons.
For one, it is home to the tallest Lord Murugan statue in the world. For another, it's also home to 272 rainbow-hued steps that visitors have to climb to get to the entry point of the temple.
Insta-worthiness aside, the cave and temple are considered important places of pilgrimage for Hindu devotees. Test your stamina on its steps and experience the glorious flora and fauna that can include wild monkeys and cave-dwelling bats.
Address: Gombak, 68100 Batu Caves, Selangor
Contact: +603 6189 6284
8. Get your shopping on
It comes to the surprise of many that locals usually find themselves wandering around shopping malls for hours on end, often without ever making a purchase. The answer to this not-so-mysterious mystery is obvious to those who've experienced the tropical heat: air conditioning. Find respite from the sunshine in one of the many shopping malls like Pavilion KL or Suria KLCC for mid-range to high-end labels.
If you're looking at a locale a little out of the city centre, there's always Mid Valley Megamall with over 400 stores catering to every need, from fashion and home goods to restaurants and a massive cinema. There is also a 48,300-square-foot convention centre in the building, which hosts some of the most popular exhibitions in the city, from travel fairs to wedding expos!
Gadget geeks and tech lovers can nerd it out at Plaza Low Yat, which is the nation's largest IT and lifestyle mall. With nine whole floors offering gadgets and gizmos aplenty, you'll find everything tech here — from laptops and computers to smartphones and cameras. And if your battery drains after browsing through the maze of electronics, there are also plenty of eateries to help you recharge.
There's always Sungei Wang Plaza, one of KL's oldest shopping complexes for those hunting for a bargain. With cheap-but-quality deals, you'll find clothing stores, gadget stores, tattoo parlours, and a myriad of kiosks crowded together selling handphone accessories, costume jewellery, soft toys, and random knick-knacks.
And if that doesn't get you shopped out, there's also Chinatown, also known as Petaling Street, where you'll find some more bargain buys, and Central Market, which houses Malaysia-themed souvenirs to commemorate your trip. The historic building started as a wet market in 1888 and still maintains its original art-deco structure. Even if you leave empty-handed, you'll get an insightful glimpse into the country's storied heritage and architecture.
9. Wholesome family fun
Whether you enjoy spending an afternoon wandering in a leafy park or a hands-on experience at interactive learning, KL has a bit of something for everyone. If you're travelling with some pals or even with family, here are some attractions that even the little ones will enjoy.
Kuala Lumpur Bird Park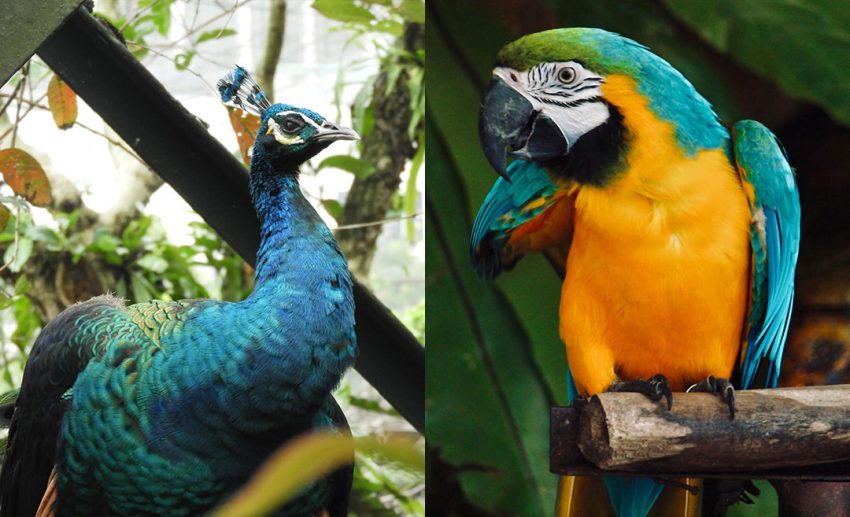 This enormous aviary is home to over 3,000 birds of over 200 species, making it a must-visit for ornithophiles. Recognised as the world's largest free-flight walk-in aviary, KL Bird Park allows visitors to chase peacocks, pose with parrots, feed parakeets, and be awed by soaring storks.
Apart from birdwatching, visitors can also learn about the local flora and fauna in the park as it's a well-respected scientific location with a strong emphasis on conservation and education.
Address: 920, Jalan Cenderawasih, Perdana Botanical Gardens, 50480 Kuala Lumpur
Contact: +603 2272 1010
Aquaria KLCC
Keen to explore a metres-long underwater tunnel where you can see rare sand-tiger sharks, green sea turtles, and red-bellied piranhas? Not just an aquarium, but an oceanarium housed in the depths of the Kuala Lumpur Convention Centre, Aquaria KLCC spans over 60,000 square feet and features a 300-foot tunnel.
The experience is a land-to-sea journey and aims to educate visitors on Malaysian aquatic life, from freshwater rivers and swamps to the vast ocean. Be sure to buy tickets online from Aquaria KLCC, though, as many scam sites claim to sell tickets to Aquaria that turn out to be duds.
Address: Jalan Pinang, Kuala Lumpur City Centre, 50088 Kuala Lumpur
Contact: +603 2333 1888
KL Butterfly Park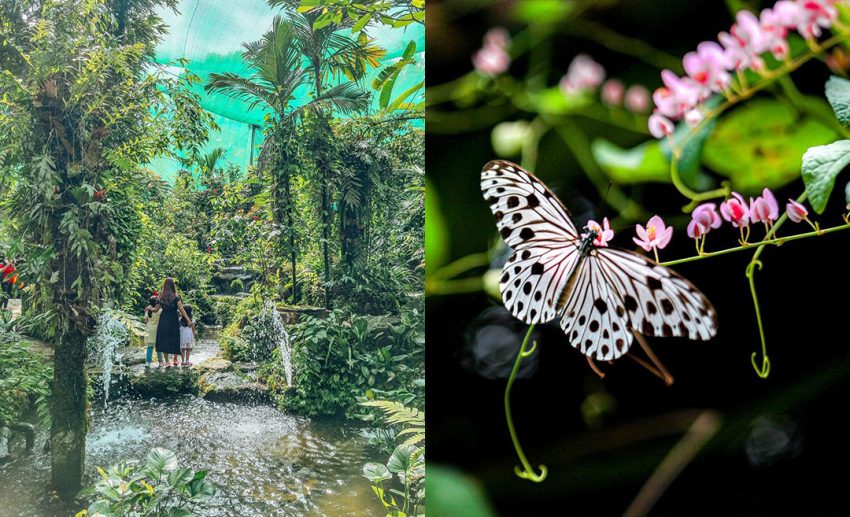 Head to Kuala Lumpur Butterfly Park and marvel at the hundreds of different colourful butterflies in residence. Housing over 120 species, the park is modelled after a jungle forest experience featuring walkways, footpaths, lakes, ponds, and gazebos.
There are educational explanations such as breeding programmes and life-cycle information for visitors to enjoy the quieter and calmer pace as they take in the local wildlife.
Address: Jalan Cenderawasih, Tasik Perdana, 50480 Kuala Lumpur
Contact: +603 2693 4799
Petrosains, The Discovery Centre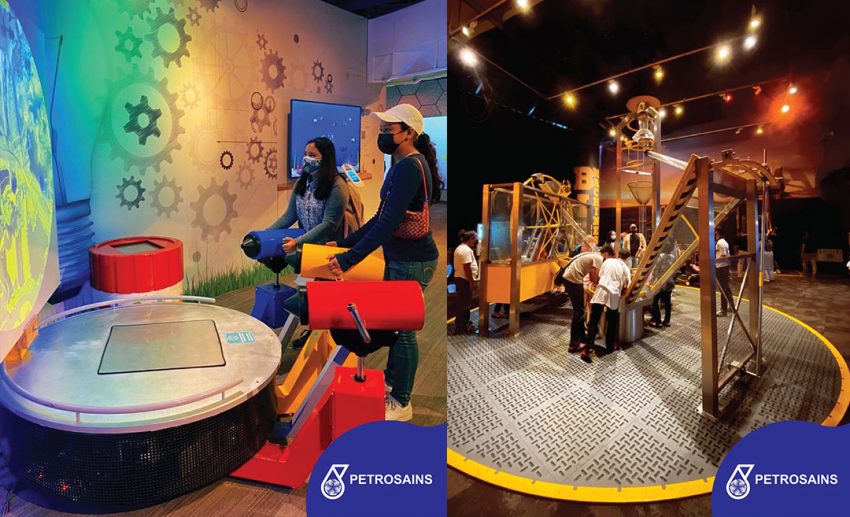 The petroleum industry may not sound particularly exciting to you, but Petrosains makes it interesting, with thrilling simulations and hands-on activities galore. Take the Dark Ride into the belly of the centre and discover how astronauts of the International Space Station live and work in space.
Challenge yourself by trying your hand at programming a Mars rover to roam over a Martian landscape. Or take a step back into time with dinosaurs and discover Earth science like never before with the Geotime Diorama. The young ones will also love SPARKZ, an interactive art and science gallery where you can challenge one another to a Robo Soccer match.
Address: Petronas Twin Tower, Level 4, Kuala Lumpur City Centre, 50088 Kuala Lumpur
Contact: +603 2331 8181
10. Weathering it out
You'll be glad to know that KL is generally safe for solo women travellers. Locals tend to stare, so be prepared for that if you're one to stand out. Of course, you won't be expected to cover yourself from head to toe, but dressing a little more on the conservative side would be recommended. Low necklines and high hemlines are perfectly acceptable for nightlife wear, but if you don't want extra attention, stick to less revealing attire during the day.
Besides the odd catcall or wolf whistle, you won't be compelled to feel particularly threatened by local men. Unfortunately, the rise of urban crimes such as purse-snatchers and pickpockets should keep you wary of strangers.
A relatively common inner-city ploy is someone pointing to money or other items you supposedly dropped or asking to borrow your mobile phone. Chances are, you'll be distracted for a split second, which is more than enough time for an accomplice to show up to snatch your bag.
That said, KL is good to visit all year round. There's always something interesting going on, especially on weekends and public holidays. Thanks to its cultural diversity, Malaysia celebrates many different traditional festivals, and these colourful extravaganzas provide authentic encounters and wonderful photo opportunities for visitors. If you'd like to experience this, time your visit to coincide with these celebrations. Tourism Malaysia has a handy list of Malaysian public holidays and festival dates to help you sort out your calendar.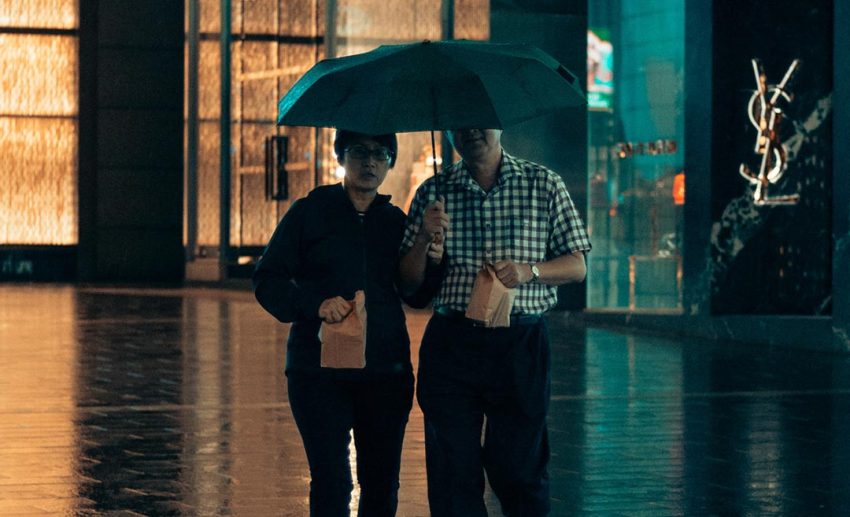 The tropical climate does mean that the city gets abundant sunshine all year round, and monsoon seasons usually fall between May-September and November-March. With erratic weather fluctuations, though, it's not always so cut and dry.
Sunny mornings with over 30° Celsius on the weather forecast can quickly give way to misty afternoons and heavy storms in the early evenings. It would be wise to keep a foldable umbrella in your bag that won't take too much space to shield from the sun or the rain. If you're worried about looking silly using an umbrella for the former, don't – you'll see plenty of locals doing the same.