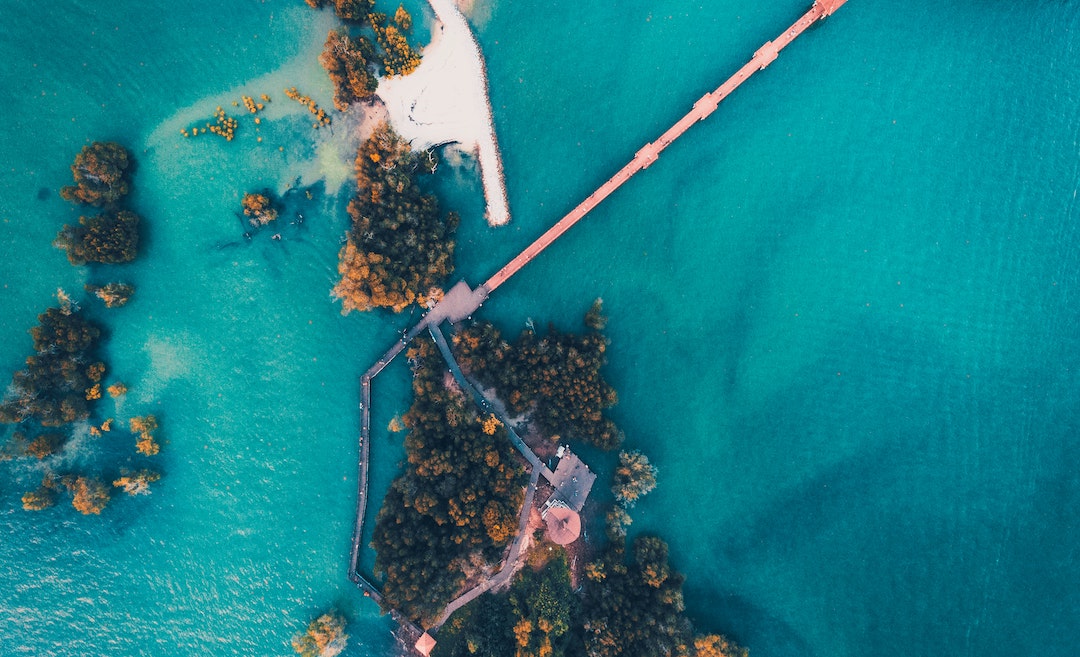 A tale of two cities, Seremban and Port Dickson (PD) have long made for quick escapes for Malaysian holidaymakers. But whether you're a local looking to take a break from your city or a foreigner with a limited amount of time in the country who wants to hit the beach real quick, these two towns offer more than you realise. Read on for a thorough guide on the things to see, eat, do, and (most importantly) kick back and relax.
1. Lay of the land
Seremban is the capital of Negeri Sembilan, a west coast state in peninsular Malaysia. It's a small city – with roughly 400,000 locals – that grew from a large influx of Arab, Malay, and Chinese immigrants who ventured to the area when tin ore was discovered there in the late 1800s. From mining town to business centre, the town flourished, eventually turning it into the state capital.
Meanwhile, Port Dickson (or PD as it's known to Malaysians) is a port town just half an hour away from Seremban. PD is also a popular beach escape for many city folks. And we're not just talking those from Seremban, but from Kuala Lumpur (KL) too, as hopping on a highway will get you here in less than 90 minutes.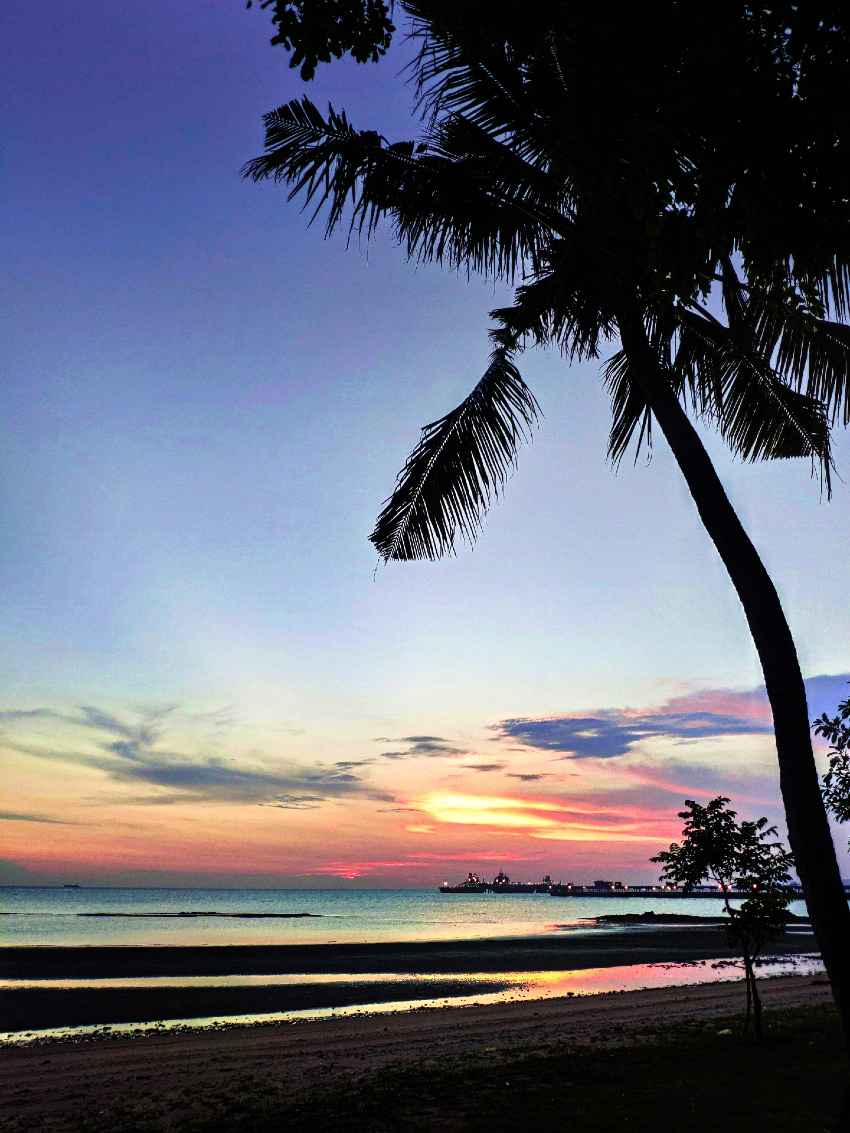 2. When to visit
Generally, any time is a good time to visit. The weather remains hot and humid for most of the year, averaging at 26 to 30°C, with some monsoon showers between April and October. That said, if you wish to spend lots of time on the beach or on the water, perhaps it's best to avoid those months.
3. Culture and history
Like throughout the rest of Malaysia, you'll also see that Negeri Sembilan's people have now become a cultural mosaic of the country's three main races – Malay, Chinese, and Indian. Not particularly conservative, how you dress here isn't of much issue (or consequence), but do bear in mind that you need to dress appropriately when entering certain places (such as places of worship, palaces, or cemeteries).
The Minangkabau people of Sumatra first settled in Negeri Sembilan in the 15th century, bringing with them a rich cultural heritage that's been preserved until today. Naturally, Seremban acts like the country's epicentre for Minangkabau culture, thanks to its shows, exhibitions, and museums.
One such example are the traditional dances and music like tarian lilin (candle dance) and rentak kuda (beat of the horse) that still see performers in vividly-hued, traditional Minangkabau garb and headdress. Even the instruments resemble those of the ancestral home of Sumatra. Fast forward to today, thanks to its tin mining history, Seremban itself has evolved into a rapidly-growing commercial district that recently attained city status.
Meanwhile, PD remains a town whose coastal geography also turned it into a busy port for commerce. The British saw the potential of its harbour, and the officer in charge's name was Sir John Frederick Dickson, hence the town's name. It's said that he founded PD and Pulau Arang in 1889. PD is also home to numerous army camps. However, the beaches remain PD's main draw for tourists.
4. Getting there and around
If you're coming from KL, the best and fastest way to get to Seremban and PD is by car, as Seremban is only 60 kilometres away while PD is roughly 90 kilometres away. So, a drive to Seremban will take you about an hour while a drive to PD should take about 90 minutes. If you're hopping between Seremban and PD, that drive should take no more than half an hour.
Other options include taking a bus or hiring an inter-city cab driver. For those of you who wish to head straight to Seremban, there's also the option to hop on a KTM train that can take you from several stations in and around KL all the way to Seremban.
As for getting around, if you're driving, just switch on your Waze and explore away! Both towns are fairly small, so it's hard to get completely lost driving yourself around. However, for those of you who don't have your own set of wheels, Grab is the next most convenient means of getting around. There are taxis, of course, but we recommend sticking to an e-hailing app that can track your movement and also allow you to share your ride should you be travelling solo.
5. Where to stay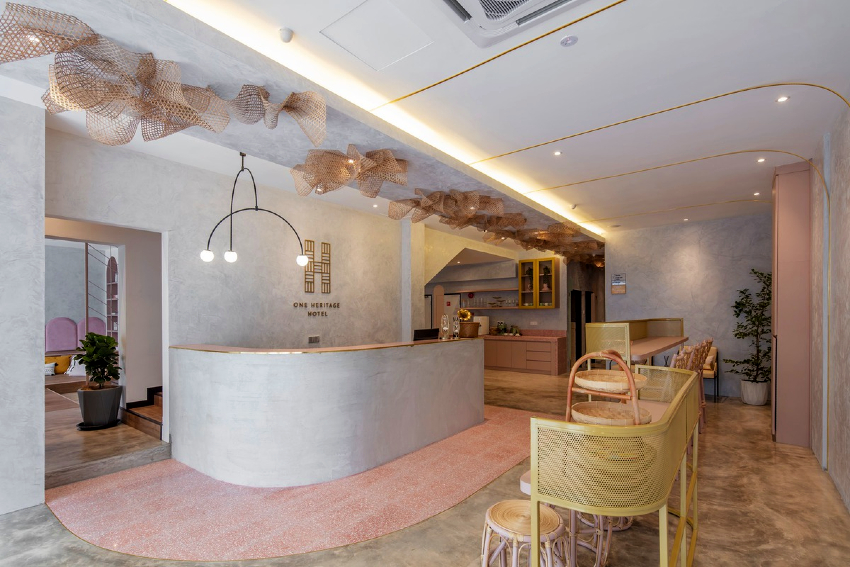 With Seremban being a state capital and PD being a bustling tourist destination, you'll be spoilt for choice with regards to which hotel or resort you should call your home away from home. Here are some popular options to help you decide.
Seremban
Royale Chulan Seremban – Adjacent to Seremban's Lake Garden, this 4-star property offers its guests a mix of business with pleasure, with hilly landscapes to one side and all the amenities you could need within the hotel.
One Heritage Hotel – A hotel with a mere 38 rooms, this boho-minimalist space offers all the warmth and cosiness of a boutique hotel without the hefty price tag. Sleek, modern, and smack bang in town, what more could you ask for?
The Shorea Retreats – Split between The Shorea Estate and The Shorea Resort, decide between pool suites or villa stays to help determine which property you go for. For an extra dose of nature (although you're already surrounded by it), explore Petai and Bukit Silang Nombor Satu that are close by.
The Dusun – A small nature resort, there are seven self-catering houses that make up the property. You'll get plenty of space and even more privacy here, so it's a great choice if you want a taste of kampung (village) life. The Dusun is set along an idyllic river and is just 20 minutes from Jeram Tom Waterfalls.
Spyder Hill – Rustic property perched atop a hill at the tail end of the Titiwangsa range, right next to the Berembun Forest Reserve. It's both an event space and a private home with two rooms that you can rent.
Port Dickson
Tasik Villa International Resort – Surrounded by water and up-and-coming developments, this 4-star establishment positions itself as a lakeside escape with water chalets and 78 villas with their own private pools.
Lexis Hibiscus – If you've flown to and from KLIA enough times, you'll likely have seen the Lexis Hibiscus from your window seat. A luxury resort with overwater chalets spread out in the shape of a hibiscus, this lavish 5-star is a favourite amongst travellers.
Avillion Port Dickson – This 5-star beach resort is popular for numerous reasons. On the one hand, it has a peaceful, adults-only pool (besides a kid-friendly one) and an award-winning spa. On the other, it's a family-friendly space with a petting zoo and contemporary luxuries.
Thistle Port Dickson Resort – A great place to relax and unwind by the beach, Thistle is also a great option for business travellers aside from being a fun space. Expect to see contemporary and hip interiors in their spacious rooms.
6. Places to visit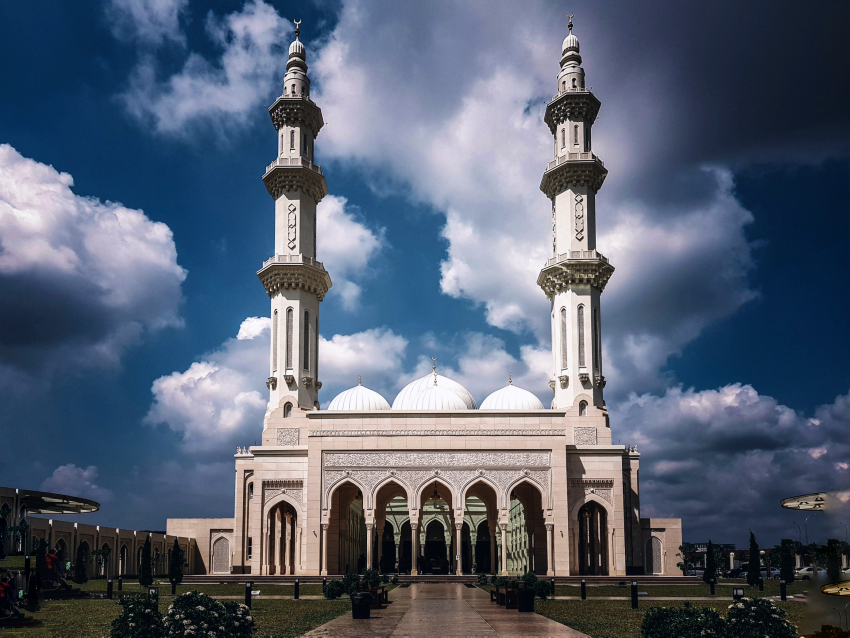 With Negeri Sembilan's long history briefly established, here are some museums and cultural centres definitely worth visiting when you're around:
Seremban
Muzium Negeri (State Museum) – A majestic Minangkabau palace (formerly the Ampang Tinggi Palace), the state museum is a complex that includes other smaller-but-stunning restored historical buildings. Together, they also serve as the Negeri Sembilan Cultural Arts Centre.
Masjid Sri Sendayan – The city's newest attraction, this mosque's breathtaking façade has been likened to that of India's Taj Mahal. Able to accommodate 5,000 worshippers, this grand mosque features building materials from Egypt, Turkey, Dubai, and Morocco.
Galeri Diraja Tuanku Ja'afar – Another one of the city's newest attractions, this royal gallery showcases the lineage and history of the Negeri Sembilan royal family with eight chambers to explore in the main exhibition area.
Kompleks Kraf Negeri Sembilan – If you're in town and near the corner of Jalan Dato' Abdul Kadir, then feel free to admire this beautiful colonial mansion from 1912. It's closed, unfortunately, but you can still admire the architecture from outside.
Old State Secretariat Building – Easily the city's most imposing colonial manor, this building along Jalan Dato Hamzah also housed the state library until 2007. It was built in 1912 and designed by renowned architect Arthur Benison Hubback, who also worked on the famed Sultan Abdul Samad Building in KL.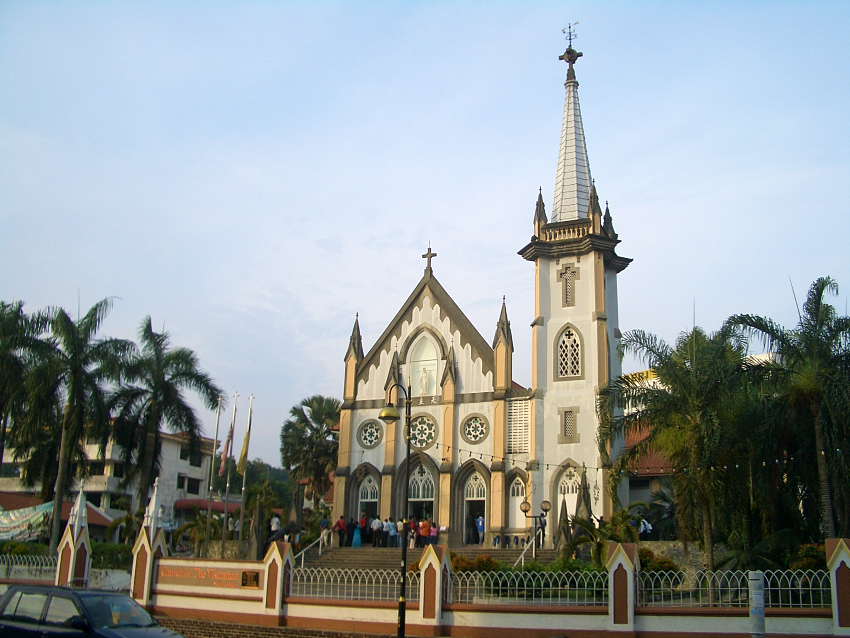 Church of the Visitation – Gothic architecture imbued with colonial themes run through every inch of this beautiful church built in 1885. It's still an active Catholic Church until today.
Wesley Methodist Church – Another beautiful church, this place of worship was built in 1915 and is active until today. Its architecture and exterior is a reminder of the area's history.
Then Sze Koon – Also known as the Centipede Temple, this Buddhist temple sees visitors climbing a whopping 176 steps to get to the top. With the temperature getting cooler up on this hill, you'll likely see centipedes roaming about freely.
Hakka Association Building – Another one of those handsome buildings you can admire from outside, its construction dates back to 1928.
Port Dickson
Muzium Tentera Darat (Port Dickson Army Museum) – This award-winning museum is managed by the Royal Armed Forces and houses thousands of exhibits showcasing the memorabilia, uniforms, weapons, and achievements of the Malaysian army over the decades.
Alive 3D Art Gallery – If you're into illusionist art and magic mirrors, you'll appreciate the 50 fun and interactive displays at this gallery. The gallery is divided into five zones (like Aquarium Zone and Animation Zone), so you can even go straight for a theme you like.
Wild West Cowboy Indoor Theme Park – A mini amusement park, this themed destination features 5D motion adventures, a 7D interactive movie, interactive skunk show, plenty of rides for the kids, and a fantasy escape game called Awake.
Extreme Park PD – For a healthy dose of adrenaline, head over to this adventure park that features a number of exciting indoor and outdoor activities such as go-karting, ATV jungle rides, and paintball.
Lukut Fort and Museum – It's easy to spend an entire afternoon here with multiple exhibition galleries that make up the museum. Just behind, an ancient fort that once controlled the town's tin trade lies in ruins although a recreational par does now surround it.
Sree Durgai Ambal Temple – What really sets this temple apart is that, unlike most others, its exterior is monochromatic. On the inside, however, you'll see that it's replete with the bright, technicolour hues with pillars imbued with the motifs of peacock feathers and statues of deities.
Pengkalan Kempas Historical Complex – Straddling the border of Negeri Sembilan and Melaka, Pengkalan Kempas is best known for this historical complex that houses many relics. This includes the tomb of Sheikh Ahmad Majnun, megaliths (living stones) from the second or third century, and the 'lie detector' stone.
Kampung Orang Asli Bukit Kepong – It's almost imperative that you visit this beautiful and quaint village. It is home to just 150 people known as the Temuan, and are mostly animists. You'll find that they're expert landscapers and brilliant at handicrafts, so do your shopping here.
7. Nature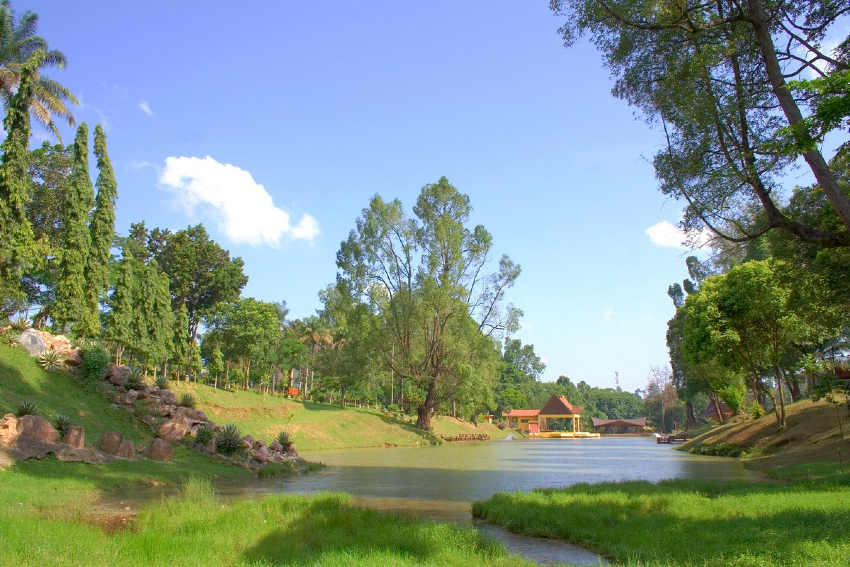 Seremban
Jalan Keliling Public Park – One of a number of public parks in the city. This particular green lung features the Laman Basikal (Bicycle Park) that allows for children (or adults) to practice their bike-riding skills. There's also a lake, playground, and multiple picnic spots.
Lake Gardens – A nicely-landscaped park in the middle of the city, you'll find jogging paths, a pretty lake, gazebos, and mature trees lining the area. It is also perfect for bike rides, running, or letting the kids frolick. Be sure to visit the orchid garden too!
Port Dickson
Pasir Panjang Recreational Forest – Located by a coastal village in PD, some 28 kilometres from town itself, this tropical paradise features 13 hectares of forest reserve. It's also well-equipped with a walking track, huts, toilets, parking area, and playground. There are also two physical training camps nearby.
Sungai Menyala Edu-Ecotourism Centre – Practically overflowing with flora and fauna, you're going to want to go on a wildlife tour when you're here on a ranger-led expedition (call them up to enquire). Besides that, the centre allows visitors to learn about the lives of the area's orang asli, their shamanistic rituals, and traditional arts.
Tanjung Tuan (Cape Rachado) – Good choice for a fun day out. This area is a headland with a 75-hectare forest reserve popular amongst bird watchers. Just hike through to reach a secluded beach – Pantai Cermin. There's also a famous historical lighthouse here with stunning panoramas of the Straits of Malacca.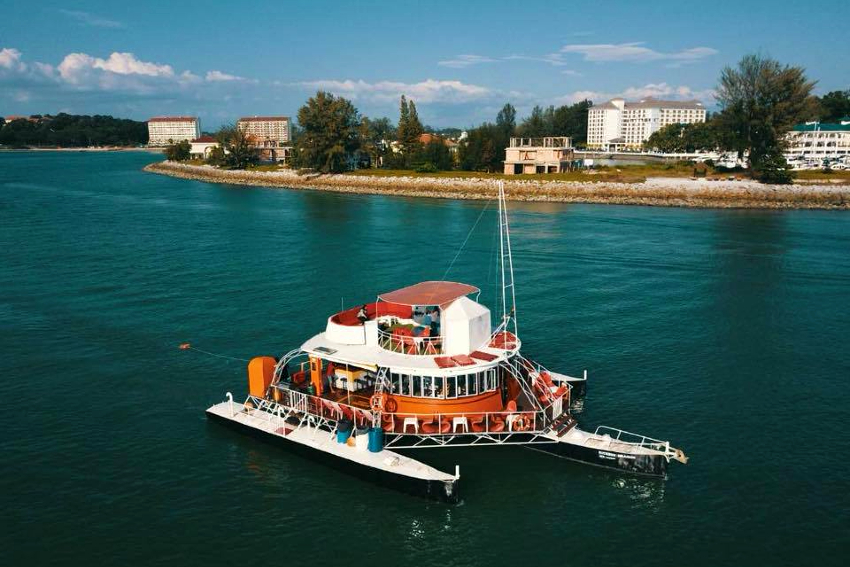 Pulau Babi – Sometimes called Pulau Pelandok (which is a much nicer name, since babi translates to 'pig' in Bahasa Malaysia), you can explore this teeny tiny island not too far from the shore. Its muddy waters make it popular among fishers. Although, you'll need to first cross the rickety bridge that connects to it.
Telok Kemang Observatory – Also known as the Baitul-Hilal Astronomy Complex, this is considered the main venue for astronomical observation in the country. Visit during the day for some solar scenes or drop by for night views until midnight.
Pusat Ikan Hiasan – This free and fun activity is a government-run initiative that sees to the conservation of marine life in the area while being a research centre and incubator for ornamental fish, seahorses, turtles, and corals. It's surprisingly better than one would expect – the tanks are spotless, while water is pumped from the bay for use in the tanks.
Port Dickson Ostrich Show Farm – While ostriches are the main star of the show here, other farm residents include ponies, donkeys, geese, goats, ducks, rabbits, and other small furry critters. There are aquatic friends too, as the farm boasts a freshwater aquarium. This is definitely one for the family!
Dickson Dragon Boat Tours – Can't hit a beach town without getting on the water, now can you? Dickson Dragon will easily hook you up with a lovely cruise around PD Marina's surrounding waters. It's a fun experience that can see you and your pals burn up the dance floor, belt it out at the karaoke machine, enjoy a barbecue, or take a dip in the Jacuzzi all without ever leaving the water.
8. What to eat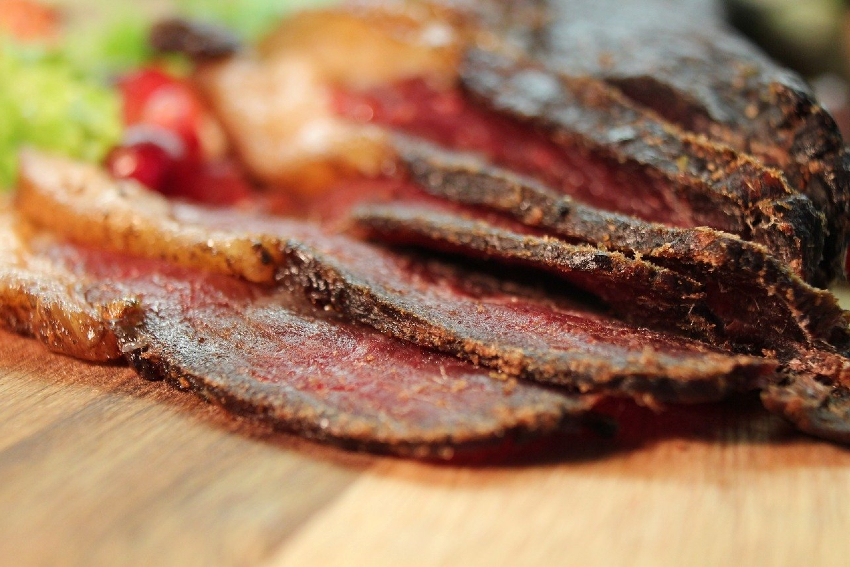 Negeri Sembilan is known for some mighty good eats! The food is generally spicier too, as you'll find the generous use of cili api (bird's eye chilli) imparted on their food. This is, of course, that Minangkabau influence. So if you're keen to feel the heat, then tuck into the Malay cuisine. You'll notice that when it comes to Malay food, you'll be spoilt for choice when at a restaurant, so here's what's unique and worth trying. There's plenty of really good Chinese fare on offer too, particularly the seafood and noodle dishes.
Rendang – This is a popular and common dish throughout the country, but in Negeri Sembilan, it's prepared Minangkabau style. This sees the use of more aromatics such as galangal, ginger, santan (coconut milk), and lemongrass, while eliminating the kerisik (toasted grated coconut). Besides the usual chicken or beef, here, you'll also spot rendang made with duck. Where to find it: Most Malay stalls, restaurants, or eateries.
Dendeng – Another Minangkabau classic, dendeng sees beef thinly sliced, then boiled until tender before it's fried, and finally doused in a delectable and spicy chilli and herb mix. Where to find it: Most Malay stalls, restaurants, or eateries.
Daging salai – Smoked meat galore! From duck to beef to chicken, meat is given a decadent smoky flavour and made tender as they're smoked for several hours before being served in sauce. You'll usually find daging salai cooked as a rendang or in a masak lemak cili api (coconut milk with turmeric and chilli) sauce. Where to find it: Usually at a roadside stall (there are plenty in Kuala Pilah).
Gulai (masak lemak cili api) – In Negeri Sembilan, masak lemak (meat cooked in coconut milk with a lot of chilli) is usually also called gulai. There's also a tempoyak (fermented durian) version that's worth a try – it's a literal flavour bomb for the palate especially with daging salai in it. Another popular addition to gulai is duck eggs. Where to find it: Most Malay restaurants will have heaps of various gulai dishes. Our personal favourite is Restoran Nelayan in Seremban.
Seafood – When in PD, you can't go wrong tucking into the glorious seafood! From crabs to ocean fish to squid, the catch is fresh and the portions are generous. Keep your eyes peeled for Chinese-style seafood joints that offer options like chilli crab, black pepper crab, and salted egg squid that are perfectly paired with either steaming white rice or some mantou buns. Where to find it: There are several Chinese seafood restaurants all over PD. Our personal favourite is Kim's Seafood Palace.
Char kuey teow – There's char kuey teow, the fried rice noodles we all know and love, and then there's char kuey teow by way of PD. In PD, char kuey teow has the added deliciousness of lamb chops, massive prawns, mussels, grilled squid, and more. You'll also find that the 'char' is a little different, as while it's fried, it's rather saucy too. Where to find it: King's Char Kuey Teow.
Siew pao – Although a popular snack all over Malaysia, you've got to try it from where it originated – Seremban! The Seremban siew pao is essentially a baked bun that's a pastry flaky shell for a yummy stuffing of pork, chicken, or vegetables. Best served hot. Where to find it: Empayar Seremban Siew Paw and Kee Mei Siew Pow.
Yi poh mee – This is a house special. Thick, springy noodles are first greased with lard before being tossed in a dark sauce. This bed of noodles is then topped with minced pork and slices of barbecued pork. True to Negeri Sembilan style, the dish is served with spicy sambal on the side. Where to find it: Restoran Yi Poh (You can get a bowl even out of Seremban as this is a chain).
Seremban meehoon sotong – Picture this. Rice vermicelli swimming in an abalone broth, with pieces of cuttlefish and braised pork. It's hearty, delicious, and can be spicy too (depending on how much sambal you add). Where to find it: Stall 753 (Hioong Kee) and Stall 787 at Pasar Besar Seremban.
Kuih Sopang – Rich in decadence but light with sweetness, this traditional dessert is a glutinous rice and banana parcel stuffed with kerisik and gula Melaka. Served in a thickened santan, this is perfect for tea time. Where to find it: Most Malay stalls, restaurants, or roadside eateries.
Apam johol – Best things come in small packages, and it's the same for this kuih (traditional cake). Apam johol is a fluffy rice cake made with brown sugar and coconut milk. It's prepared wrapped in rambai leaves and usually enjoyed with a side of sambal tumis. Where to find it: Most Malay stalls, restaurants, or roadside eateries.
9. Over a dozen beaches to choose from
Although a small town, PD boasts over a dozen beaches along its coastline. Of course, some are better than others in terms of water cleanliness and quality of sand. Also, it goes without saying that these beaches are all in PD, which is a seaside town, and not in Seremban.
Teluk Kemang – Busiest and most popular beach stretch in all of PD with food stalls and a street market along the entire stretch. Extremely busy on the weekends, this orange sand beach also has multiple water sports vendors.
Sri Purnama – There's no clear demarcation to where Teluk Kemang ends and Sri Purnama begins, really. It all feels like one super long stretch and Sri Purnama seems like the tail end of the action.
Pantai Saujana – Powdery white sands and calm, clean water. Definitely amongst the best beaches in PD! You'll also find plenty of water sports activities here, like jet-skis, speed boats and so on. Ample parking available, with toilets and showers too.
Pantai Cahaya Negeri – Another winner. This is also one of the best beaches in town, with its clean water and wide expanse of clean sand. Do note that unlike most of the other beaches on this list, there are no shower facilities available here.
Tanjung Tuan (Cape Rachado) – As mentioned, this popular spot will take you to about three beaches. One is Pantai Cermin. The water and sand are nice enough, but watch out for sharp rocks as you wade through the water. There are a number of hidden beaches here, and if you're lucky, will end up at the 'secret spot' with powdery white sand called Pantai Masjid. Finally, you can access Pantai Tanjung Biru from here too.
Pantai Tanjung Gemok (Glory Beach) – Where Lexis Hibiscus is located. Honestly, not a very nice stretch, but it's convenient, and families do come here for a dip. There's a turtle hatchery on one end and no obvious signs of pollution despite there being a power station nearby.
Batu 1, Beach Road – An okay beach. Good for watching the sunset and tucking into an early seafood dinner while you're at it. Not suitable for swimming.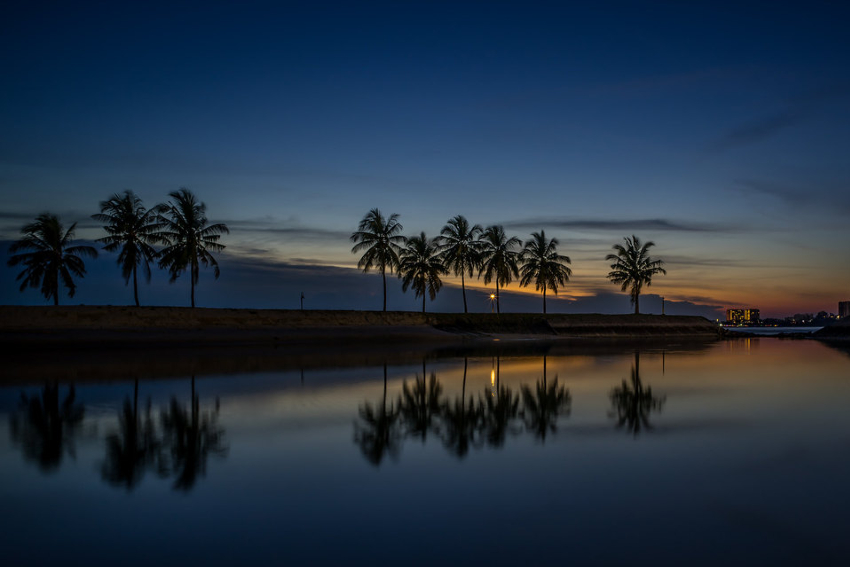 Pantai Tanjung Biru (Blue Lagoon) – Another great place to watch the sun set, you can take a dip here, although the sea itself is filled with natural (and some manmade) debris from the river.
Costa Rica (Le Paris Hotel Beach) – Quiet beach for fishing. Offshore oil platforms and ship loading facilities nearby take away from its appeal. No facilities apart from those at the hotel.
Corus Paradise Beach – For hotel guests only. They've created a lagoon-like atmosphere, but the water remains rather murky.
Pantai Bagan Pinang – A decent beach. Clean sand, although, you may want to avoid the northern end where a river discharges into the sea (although this bit is good for fishing). Come here for water adventures like banana boat rides, kayaking, windsurfing, and the like. There are shower and toilet facilities here.
Pantai Nelayan – A popular camping spot, but known to be littered with rubbish, unfortunately. Let's hope it gets cleaned up. Until then, perhaps give it a miss.
10. Personal safety
Overall, Seremban and PD aren't extremely large, making it difficult to lose your way or be overwhelmed, especially with Waze and Google Maps on hand. Small town folk are generally friendly, though most keep to themselves, but certainly don't be afraid of asking for help should you need it at any point.
As with any other destination, be smart and make good choices. If you're going to be walking on the streets a lot, refrain from wearing fancy jewellery. It's safe to go out at night, but keep to well-lit and busier areas if you're alone, and remember that there's always safety in numbers. But overall, both PD and Seremban are safe towns, so don't sweat the small stuff too much and have lots of fun!
Cover Photo: Beachgoers on a banana boat ride in Port Dickson (Deva Darshan)