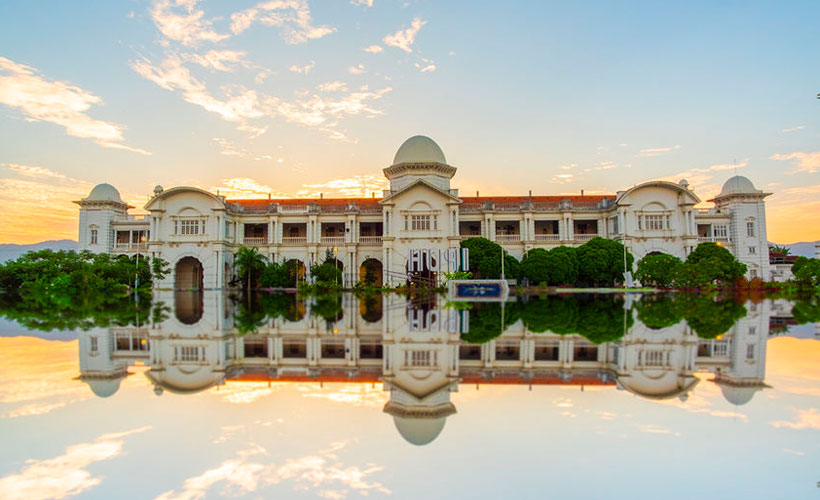 Zafigo's Quick Guide to Ipoh for Women Travelling Alone or with Family and Friends
Approximately 160 kilometres south of Penang Island and 200 kilometres north of Kuala Lumpur (KL), lies the idyllic little city of Ipoh. Almost halfway between Penang and KL, stopping off at the (arguably) second-largest foodie destination in Malaysia is pretty inevitable for locals travelling between the two destinations. But beyond a halfway rest stop to get your fill, the capital city of Perak holds more delights than one would think. 
What was once a little-known city appreciated only by the locals, a nationwide campaign in 2017 pushed Ipoh into the spotlight. From street art to classic kopitiams, natural cave wonders, to restored colonial buildings, there's plenty to see, do, and of course, eat, in Ipoh. 
1. Getting there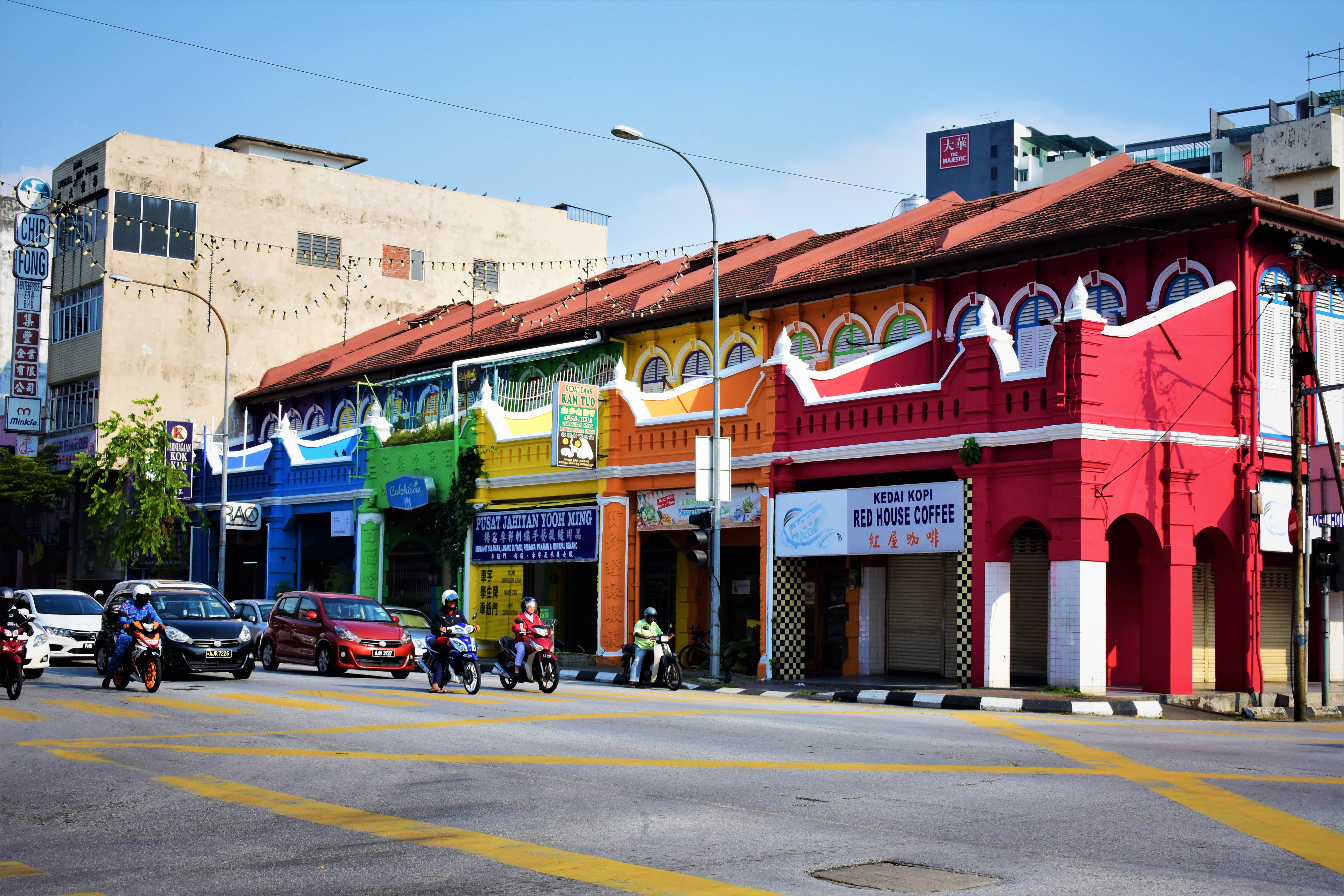 Public transport, such as busses, offer regular connections to and from Ipoh, so there shouldn't be much of a problem getting there. Express coaches depart from TBS Kuala Lumpur for Ipoh arrive at one of three bus depots. Zafigo Tip: You'll want to look out for ones that take you either to Jalan Bendahara or Aman Jaya as they're closest to the city centre. 
If you're travelling by flight, Sultan Azlan Shah Airport is where you'll be touching down. Ranked the seventh busiest airport in Malaysia and six kilometres away from the city centre, you'll want to make sure you've got your taxi fare ready to get into town.
2. Boutiques, retreats, and beyond
Dubbed by many as the hipster capital of Malaysia, Ipoh naturally has its share of heritage inns, boutique accommodations, and aesthetically pleasing stays. A few highly recommended options include the following: 
View this post on Instagram
Ban Loong Hotel
An iconic heritage stay, Ban Loong Hotel takes pride in being a result of a restoration project at the heart of Ipoh Old Town. A restored Old Town Ipoh shophouse, the space is lined with brick walls and beautiful high ceilings for that real colonial feel.
Website | 51 & 53, Jalan Bandar Timah, 30000 Ipoh, Perak | 05-255 5989
View this post on Instagram
Sekeping Kong Heng
Minimalist and irresistibly rustic, Sekeping Kong Heng is housed in a three-storey building that's been lovingly redesigned. Its rooftop pool is one that we're sure has graced your Instagram at some point or another, while the ground floor has a coffee shop that serves up local dishes. But, of course, this popularity comes with a price and this is not a quiet stay should you be looking for one.
Website | 75, Jalan Bandar Timah 31400 Ipoh, Perak | 012-227 2745
View this post on Instagram
The Happy 8 Cafe & Retreat
As its name indicates, The Happy 8 Cafe & Retreat in Ipoh Old Town is both a cafe and a hotel. It is also, more or less, a work of art. The owner's second venture into lodging in Ipoh, the original facade of the building has been maintained, making it rather unassuming, while its interior is lined with many different works of art, all calling for your attention once you step foot inside.
Website | 46, Jalan Market, 30000 Ipoh, Perak | 05-243 8388
View this post on Instagram
M Boutique Ipoh
Home to three differently-themed floors for its guests, you get to choose between the safari-themed furnishing over at The Adventure, a raw industrial theme over at The Majestic, or a colour burst inspired by butterflies and beetles over at The Excelsior.
Website | 2, Jalan Hala Datuk 5, 31650 Ipoh, Perak | 05-255 5566.
3. A bit of history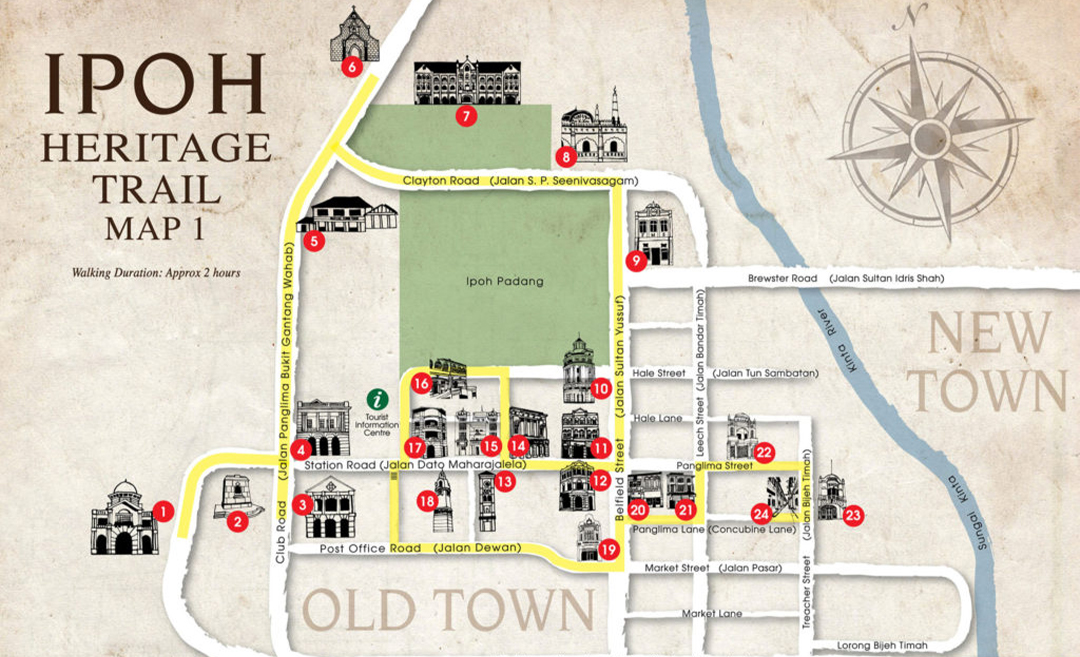 Its geographic location in the rich tin-bearing valley of the Kinta River made Ipoh a natural centre of growth in the 1880s. While the Great Fire of Ipoh in 1892 destroyed over half the town, it also presented an opportunity for a more orderly grid pattern. Rebuilt in time for the second tin rush, the tin-mining city grew rapidly in the 1920s and 1930s when the British had a strong influence over Ipoh. What that has resulted in today, is a colonial legacy in Ipoh Old Town. 
If you're hankering to dive a little more into the city's history, meander the streets of Old Town with the Ipoh Heritage Walk. Load yourself a digital map from the official website here (or if you want to get really rustic with it, print out the Perak Tourism official Twitter announcement here) and lace up those walking shoes, as the trail covers approximately 6 kilometres around the city. The walk itself will take about two hours, but you get to amble your way through cobblestoned alleys of an old town, experiencing its culture, old and new. Discover many a photo opportunity with the colonial extravagance like Ipoh's 20th-century train station with its gleaming white domes, the 1916 Town Hall facing it, the stately white Court House, and the rather controversial Birch Memorial Tower built in 1909 in memory of Perak's first British Resident, JWW Birch. 
4. Cafe culture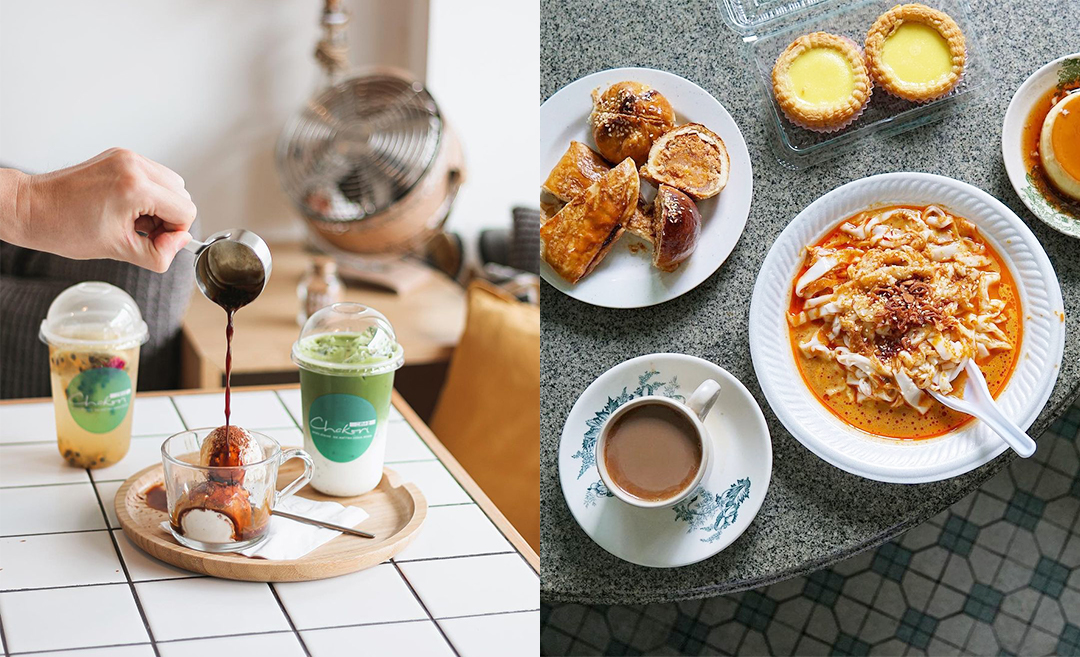 If there's one town in Malaysia where you need to indulge in the local café culture, it's definitely Ipoh. For those of you parched after your two-hour-long heritage walk, you'll find many opportunities to quench your thirst along Concubine Lane. Yes, you read that right. As the story goes, this was where women would meet their married lovers away from the watchful eyes of their wives. Though the area fell into disrepair in the decades that followed Malaysia's release from colonial rule, it has since been spruced up as part of Ipoh's Heritage Trail, and now has restaurants and cafes such as:
Concubine Lane Ipoh Tau Fu Fa which serves, as you would guess, Ipoh's famous tau fu fa. For the more gastronomically adventurous, there are various flavours available apart from the original, such as bird's nest, ginger and black sesame seeds, as well as Teochew style with brown sugar.  
Chakori, on the other hand, is a dessert cafe that serves up eye-popping gelato, sorbets, waffles, and other tasty cold desserts. Plus point? Its super cute neon lights, large glass windows, and urban warehouse vibes. 
Finding de Cafe & Guest House is an experience in itself. The entrance, right along Concubine Lane is a narrow wooden path that leads you to the entrance. With its grey walls and soft grungey hues tucked away from the more crowded area, it's the perfect spot for a cup of coffee or even light reading.
Now, if you're a little more of a coffee purist, or looking for more hearty local delights to pair your coffee with, then make sure to check out Sin Yoon Loong, where the famous white coffee formula was originally thought to have originated from. Serving its balanced brew for decades, this is one coffee stop not to be missed in Ipoh.
For a more lavish atmosphere, nestled within a 1920s building lies the cafe-restaurant Lim Ko Pi. On a mission to preserve Ipoh's culinary traditions, their white coffee is ideally served with a breakfast of charcoal-toasted bread with butter and egg.
All about that cafe life? Work your way through this list of trendy cafes in Ipoh. 
5. Beyond coffee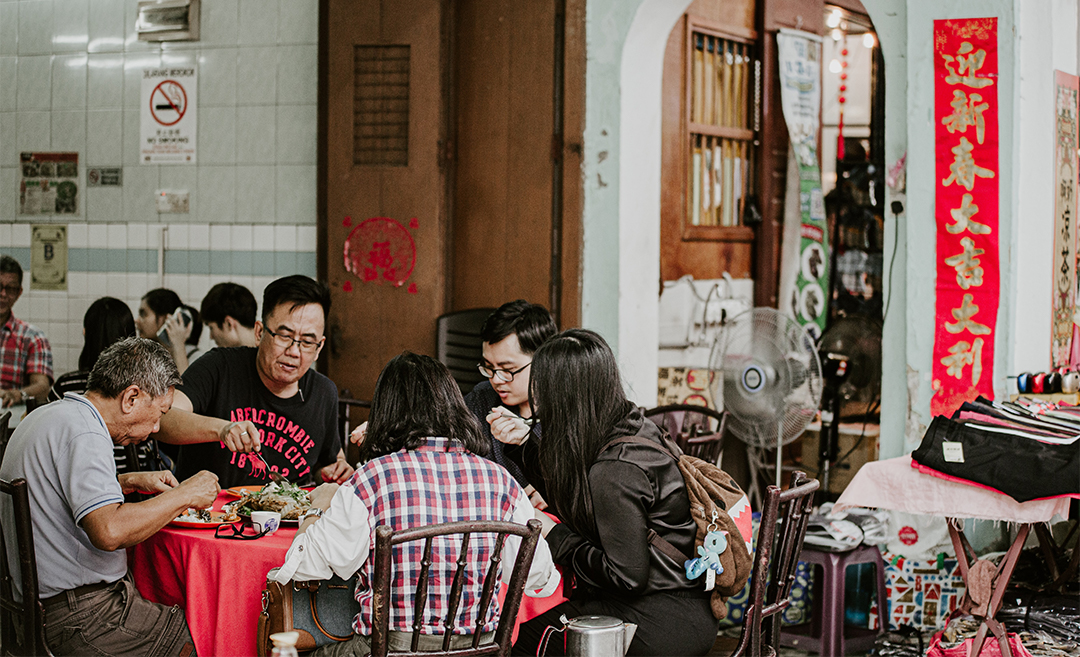 Ask any local where the best Ipoh eats are at and you're bound to get some strong, yet contrasting opinions. While residents of one of the most populous cities in Malaysia can't seem to decide which locations do the best renditions of their favourite dishes, one thing they can agree on is that Ipoh is an absolute culinary delight. 
From Hakka mee (noodles) at Paris Restaurant, which is incidentally one of the longest-serving Hakka mee stalls in town, Chicken hor fun (rice noodles) at Restoran Thean Chun, caramel custard at Sin Yoon Loong, all the way to the famed nasi ganja (mixed rice) and cendol (cold dessert) Abang Kacak pairing at Jalan Yang Kalsom, it seems that Ipoh has more hits than misses. For a comprehensive must-eat list, check out Zafigo's very own approved-by-locals listing here. 
6. On the surface fun
View this post on Instagram
Ipoh Old Town is filled with just as much street art as Penang, and like the bustling island town, you probably wouldn't know where to look first. But, if you find yourself walking through Ipoh's Heritage Trail, chances are you'll find most of them along the way. 
Murals about town that show a wise old uncle sipping coffee, a cluttered trishaw, bags of coffee dangling over a wall are works of Lithuania-born artist Ernest Zacharevic. A number of other artworks also have intriguing 3D elements, like his mural of a girl reaching for a birdcage set into the wall. A walk along Jalan Market, Jalan Tun Sambathan, and Jalan Padang will allow you to take in some of the artist's best work.
Beyond Zacharevic's works, Ipoh is awash with street art that seems to change with the seasons and the ever-changing inspiration of local artists. Toucans, rafflesia flowers, memorials, and portraits of locals beam out from the streets even in the quietest corners. 
7.

 

Digging a little deeper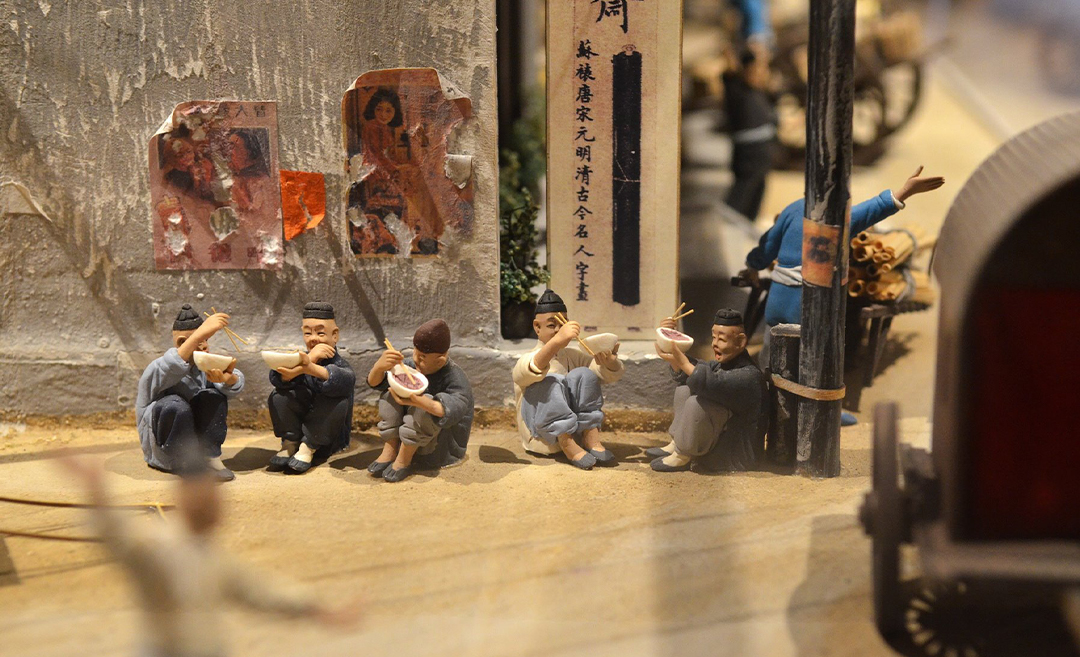 Aside from its historical and contemporary attractions, there are also quite a few speciality museums in Ipoh worth checking out, such as The Miniature Wonders Art Gallery. One of the more unique museums in Ipoh, displays include carefully handcrafted miniature figurines made entirely from dough, painstakingly arranged to depict scenes from ancient China. Open daily, the ground floor is free to explore whilst the upper floors have an entrance fee of RM5.
Residing within a restored late 19th century Hakka Miner's Club, exhibits and photographs over three floors of the Han Chin Pet Soo Museum detail the rich history of Ipoh's tin mining industry. Well-preserved artefacts offer deeper insight into regional history and English-speaking guides are available to explain displays or even answer questions on the Miner's Club. Open from Tuesdays to Sundays, admission is free, though visitors are encouraged to book ahead and to make a donation of RM10 for the building upkeep and maintenance. 
Dedicated to Malaysian film director, scriptwriter and writer, Yasmin Ahmad, Yasmin at Kong Heng Museum features a collection of exhibits, videos, and audio clips. Although it's open daily, museum guides are only available on weekends. For just RM5, it's worth visiting to learn a little something about the inspirational woman's life and legacy. 
8. Getting spiritual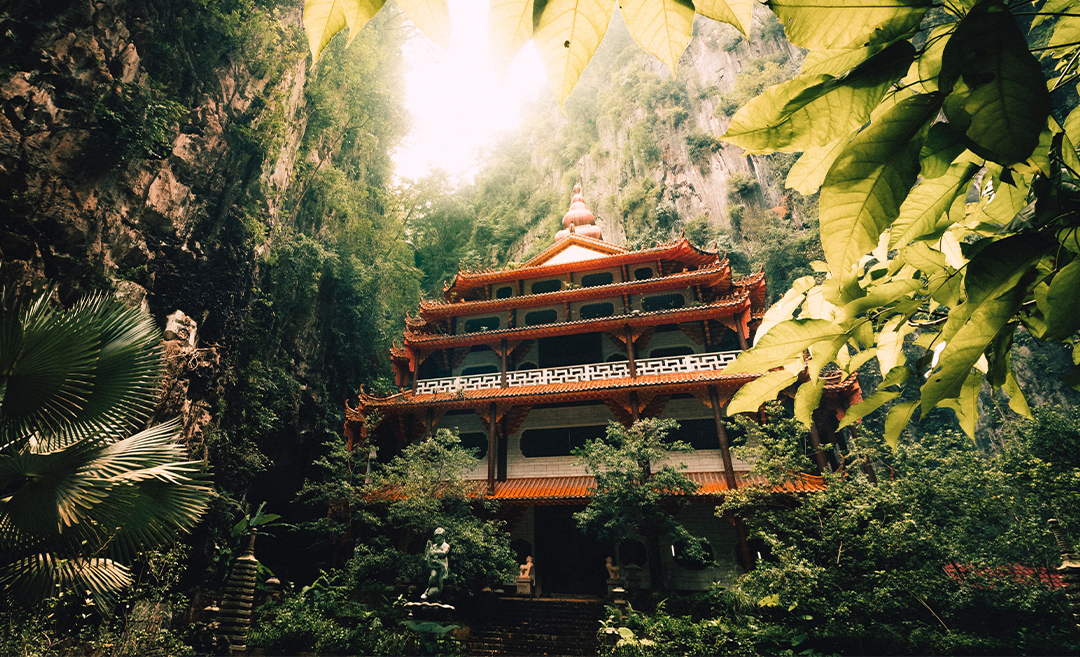 Surprising as it may be to some, visiting Ipoh can also be a spiritual experience as Chinese Buddhists found the cavernous space inside Ipoh's limestone cliffs to be ideal locations for temples. The exteriors of these cave temples may look just like any other Buddhist temple, but the interior, like many of the refurbished heritage houses mentioned above, may just surprise you. 
Should you pay some of the most famous temples a visit, such as the Perak Cave Temple, you might immediately be blown away by the symmetrical architecture and central staircase. Venture a little deeper and you'll find stone formations on the interior walls, as well as beautiful paintings. If you can muster up the energy, you can even peek at magnificent views of Ipoh from the very top of the temple.
The inconspicuous outer appearance of Kek Lok Tong too will take your breath away once you step inside. A magnificent cavern with benches as well as Buddhist and Taoist statues, there's a total of 12 acres within the whole compound — complete with a garden at the back of the temple.
Another temple to put on the must-visit list? Sam Poh Tong Temple. Backed against a limestone hill, the white marble entrance and beautifully landscaped garden with a fish pond will enrapture you. But not for long as you go through the temple via a natural tunnel that leads to a tortoise pond out back.
Zafigo Tip: While entrance to these wondrous temples is free, donations are encouraged. 
9. Caving in to other adventures
View this post on Instagram
One would be remiss to make a list of all that Ipoh has to offer and miss out Gua Tambun. Home to one of the oldest Neolithic cave paintings around, estimates suggest they date back between 2,000 and 5,000 years. Discovered in 1959 and declared a national heritage in 2010, the exterior of the cave is home to hundreds of reddish-orange images covering the limestone rock face. 
Few know about this incredible historical canvas on their doorstep, and it takes some effort to reach the prehistoric cave drawings, so be prepared. However, if you follow the road towards Tambun and stop at the Caltex Petrol Station, walk along the small lane near the fields, and follow the signs, you'll find yourself taking a step back in time with the cave paintings.
10. Souvenirs from Ipoh
View this post on Instagram
"Take nothing but memories, leave nothing but footsteps." 
It's a good life mantra. But in the case of Ipoh and her local artisans, we might bend the rule a little. Snag some freshly-baked Ipoh heong peah, delicious flaky pastries with a sweet and sticky maltose paste at 189 Heong Peng or Seng Kee Food Trading, where they still employ the traditional baking method of placing coconut husks in a kiln. Should you be looking for more of a crunch, grab yourself a few bags of freshly-baked peanut candy over Sin Weng Fai or Ming Yue Confectionery.
For your other #SapotLokal endeavours, there are many colourful stalls and kiosks like Ipoh Craftnerds over at the artisan market at Kong Heng Square with an array of custom crafts handmade by local artisans. If you'd like your purchases to further empower local communities, you can also drop by 22 Hale Street Gift Shop where they host unique handcrafted items by local crafters and the social enterprises it aims to support.