Boutique hotels and homestays have been top choices for seasoned travellers who want to fully immerse themselves in a cultural setting at their destination of choice. Known for going the extra mile to curate a personal touch, these accommodations are becoming even more accessible in Malaysia.
If you've spent hours scouring the web for the best-reviewed kampung (village) chalet that promises an authentic kampung experience or opened multiple webpage tabs for the most secluded beach boutique resort to disconnect for the weekend, well, look no further!
Here's a cheat sheet of the best boutique hotels and homestays across all 16 states in Malaysia, so you can easily decide on whether you'd like to go on an all-out ultra-luxe vacay or a #BoujieTapiBajet getaway.
JOHOR
Durian Guesthouse
At Durian Guesthouse, you'll stay in a 70-year-old refurbished cottage out in a vegetable patch, complete with upcycled furniture complemented by cosy decor. The star of this homestay is literally located up in the sky — all you have to do is walk outside and lie back to go stargazing at night. The owners are strong advocates of urban farming, and even have their own Shopee store selling plant-based products of their own cultivation.
Rates: From RM106 per night
Address: C57, Jalan Durian, Kampung Baru, 81000 Kulai, Johor
Phone: +6012 790 8532
KEDAH
Temple Tree Resort, Langkawi
Each of the eight vacation houses at the Temple Tree Resort on Langkawi was sourced, transported, and restored to its original splendour from all over the Malaysian peninsula. From a colonial-styled home from Penang to a quintessentially Malay abode from Negeri Sembilan, you're spoilt for choice when deciding which room (or rather, kampung house) to book your stay in. Life can't get any sweeter than this – a fantastic accommodation conveniently located right by Langkawi's pristine beaches.
Rates: From RM326 per night
Address: Lot 1053 Jalan Pantai Chenang, Pantai Cenang, 07000 Langkawi, Kedah
Phone: +6017 599 5935
Book on Klook
MELAKA
Liu Men Hotel, Melaka
Liu Men Hotel is where modernity meets tradition. The boutique hotel comprises six pre-World War II shophouses to create a restored heritage accommodation for weary travellers at the heart of Melaka town. Besides the simplicity-meets-Peranakan hotel decor, its location is cited as one of the best in town and a stone's throw to many famous landmarks and eateries such as the Melaka River and Geographer Cafe. You can read more about our stay here.
Rates: From RM464 per night
Address: 46-56 Jalan Tokong, Kampung Dua, 75200 Melaka
Phone: +606 288 1161
PERAK
Ipoh Bali Hotel, Ipoh
Ipoh Bali Hotel is a hidden gem famous (to those who know) for its quiet surroundings and rustic charm. One will feel immediately at ease amidst the wooden antiques displayed throughout the property that exudes a relaxing, zen-inducing ambience. Something much needed after a long day of adventuring. Since you're here, why not treat yourself to a traditional Balinese massage too?
Rates: From RM469 per night
Address: 12 Lorong Cheah Cheang Lim, 30350 Ipoh, Perak
Phone: +605 242 0222
Book on Klook
PAHANG
Smokehouse Hotel, Cameron Highlands
This quaint Tudor-style cottage sits atop cooling Cameron Highlands and is famed for its traditional English breakfasts and dishes. From their private cottages to suites, each room is furnished with genuine antiques, Jim Thompson fabrics, and overlooks their manicured gardens or the nearby golf course. It's the best place to be for ye olde England experience in Malaysia!
Rates: From RM565 per night
Address: The Smokehouse Hotel Cameron Highlands, By the Golf Course, 39000 Tanah Rata, Pahang
Phone: +605 491 1215
Book on Klook
Japamala Resort by Samadhi, Tioman
At Japamala Resort, sleep atop the trees and wake up to a canopy-level view of the rising sun. Nestled comfortably on a 150-million-year-old rainforest, Japamala Resort guarantees an unbeatable view of the serene waters of Tioman Island, and a back-to-nature retreat that is great for both honeymooners or family.
Rates: From RM1170 per night
Address: Kampung Lanting, 86800 Pulau Tioman, Pahang
Phone: +609 419 7777
PENANG
Cheong Fatt Tze The Blue Mansion, Penang
Who wouldn't want to stay in the very place where Crazy Rich Asians and The Little Nyonya were filmed? With multiple hospitality awards and accolades under its belt, it's no wonder why The Blue Mansion is always bustling with tourists. Each room is artistically decorated to match how the manor would've looked a century ago, but spruced up with modern amenities. Rooms at The Blue Mansion always sell out fast, so make sure to plan ahead!
Rates: From RM443 per night
Address: 14 Lebuh Leith, George Town, 10200 George Town, Pulau Pinang
Phone: +604 262 0006
Book on Klook
SELANGOR
Hoho Farmstay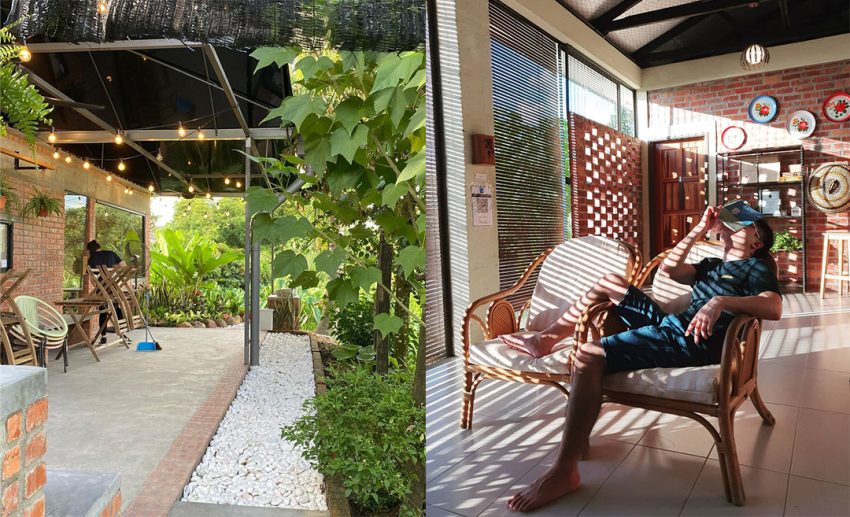 Ever wondered how life would be like if you lived on a farm? You can experience it at Hoho Farmstay! This back-to-basics homestay is located within Hoho Fruit and Vege Park, an independently-owned organic farm that also runs Kebun Cafe, a coffee house with a laid-back vibe. This quaint retreat houses up to 16 guests, and you get to enjoy a free barbeque dinner when you book this space.
Rates: From RM980 per night
Address: 29, Jalan Patin 2, Taman Desa Patin, 44300 Batang Kali, Selangor.
Phone: +6016 660 1032
Selangor
Secret Garden Event Party Pool
Liven up your hosting game at this pool party house! Located in Rawang, the Secret Garden Event Party Pool is a 3,000 square foot bungalow comes decked out with a karaoke room, barbecue pits, pool tables, and a private swimming pool. It's the perfect place to host a family gathering or even a besties-only sleepover. With six bedrooms and bathrooms at your disposal, you can easily invite up to 16 people and still have loads of space to dance the night away!
Rates: From RM2,980 per night
Address: Secret Garden Event Party Pool, Bukit Rawang Putra, 48000 Rawang, Selangor
Phone: +6016 712 7401
KUALA LUMPUR
KLoé Hotel, Bukit Bintang
KLoé prides itself as a home for the creative and curious. So it's little surprises that this boutique hotel is popularly known as an escapade for the creative nomad. Be sure to check out their themed artist lofts – each room's furnishing is personally curated by local artists for you to explore and flaunt your creativity during your stay.
Rates: From RM288 per night
Address: 227 Jalan Bukit Bintang, 55100 Kuala Lumpur, Malaysia
Phone: +603 2772 1313
Book on Klook
TERENGGANU
Tanjong Jara Resort, Dungun
Tanjong Jara embodies a uniquely Malaysian seaside resort experience. Be transported back in time with the 17th-century Malay palace-inspired architecture and culture-rich resort activities. At Tanjong Jara, you can learn the ropes of traditional Malay home cooking and partake in their Syurga Tujuh (Seven Steps to Heaven) to balance your seven chakras. You'll find yourself in awe of the idyllic beaches and the abundance of things to do during your stay here.
Rates: From RM850 per night
Address: Batu 8 Off Jalan Dungun, 23000 Dungun, Terengganu
Phone: +603 2783 1000 or +609 845 1100
Book on Klook
KELANTAN
Pasir Belanda Resort, Kota Bahru
Immerse yourself in a true kampung affair at Pasir Belanda Resort. Operated by a Dutch couple, this quaint resort in Kota Bharu consists of five chalets located less than 5 kilometres away from Pantai Cahaya Bulan and is walking distance to a nearby Malay kampung where you can connect with the locals. If you've ever wanted to experience the kampung lifestyle, this is the place to be!
Rates: From RM227 per night
Address: Lot 917 Kampung Kijang, Jalan Pantai Cahaya Bulan, 15350 Kota Bahru, Kelantan
Phone: +609 771 8506
Reservation via email
NEGERI SEMBILAN
The Dusun, Seremban
When you stay at The Dusun, you're staying at the best eco-retreat in Negeri Sembilan. It's a fantastic place to bring the family — parents get to disconnect from distractions, while children get to explore nature in a safe environment. The self-catering resort offers five chalets and takes in a maximum of 15 guests at a time. It's also pet-friendly!
Rates: From RM400 per night
Address: 3437 Jalan Mukim, Kampung Baru Pantai, 71770 Seremban, Negeri Sembilan
Phone: +6012 616 2585
Book on Klook
One Heritage Hotel, Seremban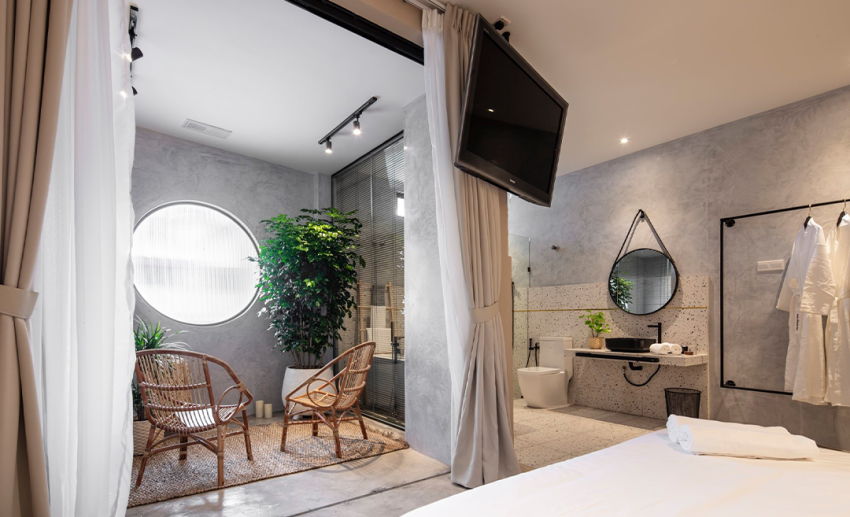 Great for staycations, One Heritage Hotel features bright, minimalist rooms that'll make you want to snap the obligatory staycation picture to post on your 'Gram. The lobby houses an elevated lounge area, a working space for digital nomads, and a snack cart stocked with traditional tidbits and drinks.
Rates: From RM90 per night
Address: Matrix Court, 13 & 14, Jalan Tan Sri Manikavasagam, Taman Saga, 70200 Seremban, Negeri Sembilan
Phone: +606 767 2888
Book on Booking.com
PERLIS
Wood Valley Lodge, Arau
There are so many reasons to go to Perlis, and checking in at this quaint property just might be one of them. Wood Valley Lodge consists of three wooden kampung style houses that promise a comfortable stay and stunning scenery. A short walk down the road leads you right to a paddy field, where you can delight yourself with taking Instagram-worthy photos and drone shots.
Rates: From RM127 per night
Address: Lot 122, Jalan Hutan Lembah, Off Jalan Mata Ayer, 02500 Arau, Malaysia
Phone: +6017 215 0196
SABAH
The Atelier, Kota Kinabalu
The Atelier is Sabah's most hip hotel and has eight themed but not over-the-top rooms. Keeping minimalism in mind, The Atelier perfectly balances functionality and uniqueness in each room offered. The hotel is growing in popularity amongst the adventurous with its affordable rates and proximity to the airport.
Rates: From RM104 per night
Address: C-6-8 Aeropod Commercial Square, 88200 Kota Kinabalu, Sabah
Phone: +6012 974 3303
SARAWAK
Kingwood Boutique Hotel, Miri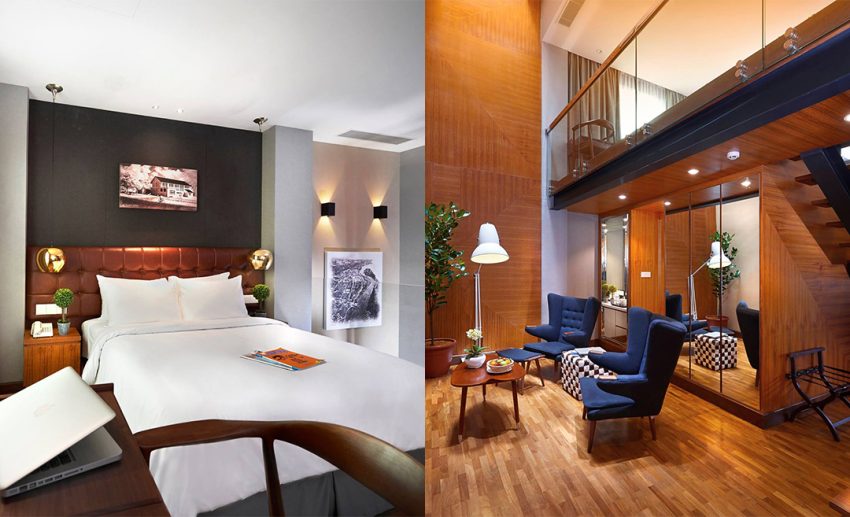 Kingwood Boutique Hotel exudes a timeless charm while simultaneously embracing contemporary elegance. The warm wood finishings found over the property invokes the feeling of being at home, making it an inviting place to rest. Book the Crown Loft to be able to waltz around your duplex abode and relax in a marble bathtub.
Rates: From RM160 per night
Address: 826, Jalan North Yu Seng, Utara, 98000 Miri, Sarawak
Phone: +608 541 5888
Book on Klook
LABUAN
Tiara Labuan Hotel
If you've never been to Labuan, then know that the Tiara Labuan Hotel is much raved about for its beautiful surroundings and rustic charm. Although somewhat dated in design, this hotel is where you'll want to be for a relaxing retreat. The property offers suites and entire villas for your pleasure, so if you're feeling boujie, book out the five-bedroom Tiara Villa for RM1148 per night.
Rates: From RM 298 per night
Address: Tiara Labuan, Jalan Tanjung Batu, 87007 Federal Territory of Labuan, East Malaysia
Phone: +608 741 4300
Book on Klook
PUTRAJAYA
Maya Homestay Putrajaya @ 12
Business hotels dominate Putrajaya, but this homestay caught our eye with its tasteful decor and beautiful sunset views. This three-bedroom homestay will make any traveller feel entirely at home as you can find hotel-standard amenities on top of a washing machine, microwave, and access to the children's playground. This place fits five people, so come with a party of friends!
Rates: From RM200 per night
Address: C1-T12-U03 Pangsapuri Putra Harmoni Block C, 62250 Putrajaya
Phone: +6017-786 8699
Book on Booking.com