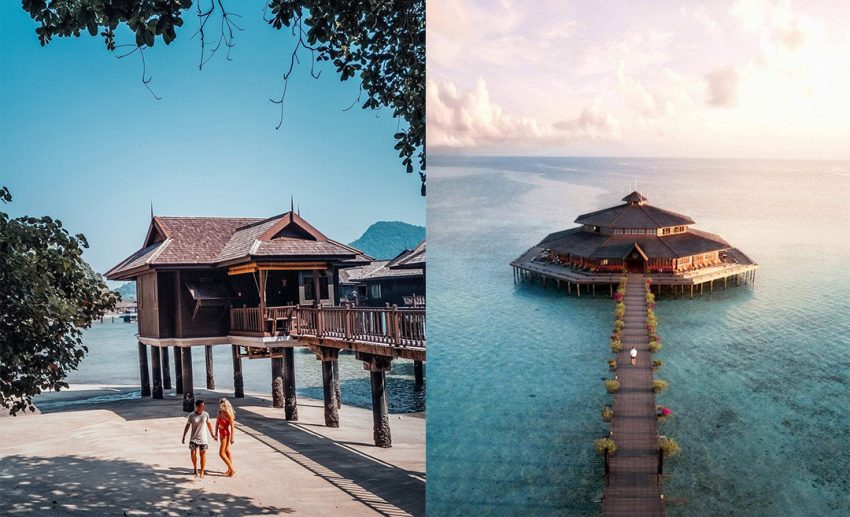 Subscribe to our new

Telegram

channel for the latest updates.



Yes, we know you're free to travel internationally. But if you're not willing to contend with quarantining upon return (yet), then fret not. You can still capture all the vibes and catch all the feels of a stunning, IG-worthy beach holiday akin to that of the Maldives and the Philippines' El Nido. We're talking thriving sea life, powder-soft sands, and crystal-clear water in a beautiful overwater villa. Don't believe us? Well, here are 11 resorts for your consideration:
Pangkor Laut, Pangkor, Perak
Going with the one island, one resort concept, Pangkor Laut Resort is nestled within a 2 million-year-old rainforest but fringed by soft, sandy beaches and emerald-hued water.
---
Sipadan Kapalai Dive Resort, Sipadan, Sabah
This floating paradise in Semporna is just 20 minutes away from the world-renowned dive sites of Sipadan. The Sipadan Kapalai Dive Resort is the perfect respite for those who want a beach escape that's 'off the grid'.
---
Berjaya Langkawi Resort, Langkawi, Kedah
Straddling both land and sea, Berjaya Langkawi Resort is an overwater escape along Burau Bay. It is sprawled over 70 acres. When you're done enjoying the water, you can explore the 500 million-year-old rainforest that makes its backdrop.
---
The Ritz-Carlton, Langkawi, Kedah
Coming in at #7 on the Conde Nast Traveller Reader's Choice Award is The Ritz-Carlton, Langkawi. While, yes, they have some beautiful overwater villas, the Villa Mutiara is something else! It comes equipped with all the luxe creature comforts one would expect from the Ritz and two of your own swimming pools!
---
Gayana Marine Resort, Pulau Gaya, Sabah
With four kinds of villas to choose from, you'll be spoiled for choice! But we'll stick to the Ocean Villas off Pulau Gaya that afford you breathtaking views of the South China Sea. These villas at the Gayana Marine Resort even feature a private balcony and stairs that lead you right into the ocean!
---
Lankayan Island Dive Resort, Lankayan, Sabah
Paradise found! A tiny island in the Sulu Sea that's about 1.5 hours from Sandakan, the Lankayan Island Dive Resort offers a tropical resort's amenities despite the remoteness. Of course, you can bet you'll find the surrounding waters teeming with marine life.
---
The St. Regis Langkawi, Langkawi, Kedah
Granted that The St. Regis Langkawi isn't located along with one of the island's better beaches, it's still worth a stay. The property itself was designed by the acclaimed Bill Bensley, while their ultra-plush villas allow guests to watch the most spectacular sunsets.
---
Nusakuya Resort, Semporna, Sabah
Nature really has been perfected in Semporna. The Nusakuya Resort is a rustic but charming floating resort located on Bum Bum Island. While the villas themselves are basic, they open up right into clear, azure waters. What else could you possibly need?
---
Pom Pom Island Resort, Semporna, Sabah
Giving you sweeping vistas of the sea on your own private sun deck, a break at one of Pom Pom Island Resort's Water Villas certainly won't disappoint. Fully decked out with modern luxury amenities, the villa's large tubs even open up to a gorgeous view.
---
Seaventures Dive Rig, Semporna, Sabah
Okay, so this clearly isn't an overwater villa in the traditional sense. But how amazing would it be to stay on a rig? Seaventures Dive Rig is the world's first and only dive rig and is clearly any diver's paradise! Staying here will give you access to diving in the coral-rich waters of Sipadan, Mabul, and Kapalai.
---
Ombak Villa, Langkawi, Kedah
If a view of the endless horizon is the high you're chasing after, then the overeater villas at Ombak Villa may be just the thing for you. Unlike other resorts, the overwater villas here are built for one thing — height. So you'll get the most amazing of vantage points from your room.
48394, 48475, 36463
Follow Zafigo on Instagram, Facebook, and Twitter. Sign up for our bi-weekly newsletter and get your dose of travel tales, tips, updates, and inspiration to fuel your next adventure!