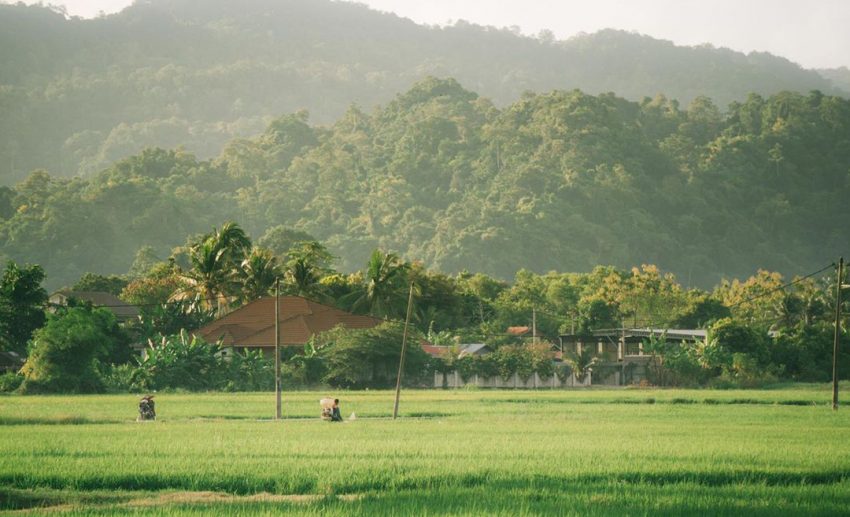 Subscribe to our new 

Telegram

channel for the latest updates.
For the most part, Perlis has escaped the radar of travellers exploring Northern Malaysia. The smallest state in the country is a popular stopover point for those visiting Langkawi Island or hitting the borders of Thailand. 
However, there is more than meets the eye in this rice bowl region. Beyond her sprawling paddy fields punctuated by limestone hills, Perlis has a treasure trove of stunning architecture, unconventional temples, and lush countryside views that just might trick you into thinking you are abroad! 
Still need convincing? We've compiled a list of why Perlis would make your next great adventure. 
1. Visit the historical Kota Kayang Museum
 

 

View this post on Instagram

 
If you think the Kota Kayang Museum is just like any other museum, you'll be pleasantly surprised. Embraced by limestone cliffs, this was once the site of the ancient Indera Kayangan, the residence of the Kedah-Perlis royalty. 
For history buffs, the comprehensive exhibitions here will pique your interest. Across the main galleries, there's an impressive collection of Neolithic archaeological relics, royal paraphernalia, genealogical charts, weapons, musical instruments, and old Islamic manuscripts. You can also see a replica of the bunga emas, a golden plant-shaped tribute from Siamese rule, and two unassuming mausoleums dating back to the 16th century Kedah Sultanate.  
2. Experience Thai lifestyle in a Siamese Town
 

 

View this post on Instagram

 
What if we told you that you can experience Thailand in Malaysia? Tucked between Kangar and Songkla province, Padang Besar is frequented by people crossing the border for leisure or business. 
Like most border towns, it is a bargain shopper's paradise with duty-free shopping complexes such as Arked Niaga Padang Besar and Wang Kelian. Think: cheap branded merchandise, fruits, handicrafts, clothes, household items, and food products from Thailand. 
If you are craving for Thai cuisine, you're in luck! There are plenty of authentic Malay and Thai food stalls scattered across the quiet town. Enjoy delicious tom yum soup and nasi phatkaphau, then finish it off with pulut mempelam (mango sticky rice).  
3. Discover unique Thai temples 
 

 

View this post on Instagram

 
As you head out to Arau and Kangar, you may come across some of Malaysia's more fascinating places of worship. Perlis is peppered with Thai Buddhist temples, turning heads with their distinctive yellow stupas and colourful statues. 
Take a detour to Wat Machimaprasit in Kangar, where a three-headed bust greets you with their all-seeing eyes. Its centrepiece is an ordinance hall with vibrant mosaics to thrill architecture enthusiasts and photographers alike. Or head over to Wat Suwankhiri and climb up a flight of stairs with dragon railings to the temple complex which overlooks Kangar town. 
4. Explore the depths of Gua Kelam 
 

 

View this post on Instagram

 
Set against breathtaking limestone hills, Gua Kelam is the most well-known tourist attraction in Perlis. Visitors pay a small entrance fee to be guided down a well-maintained pedestrian walkway in the 370-metre limestone cave system. 
Look out for writings left by miners from its tin-mining heydays, framed by ancient stalactites, stalagmites, and a gurgling underground river. Every so often, your guide might point out interesting bats and insect species that live in the cave. At the end of the cavern, you will be rewarded with a beautiful landscaped park, dotted with swimming spots and picnic areas.  
5. Snap away with Kangar Street Art
 

 

View this post on Instagram

 
Street art has a way of capturing the vibrant quirks of a small-town community and livening up the area. So why not see what Kangar's art scene has to offer?
Hit the colourful alleyways at Jalan Kangar to discover more than 80 colourful murals depicting local heritage, pop culture, and whimsical works. In recent years, the Perlis Artists Association has also been commissioned to contribute paintings and help beautify the town. Look out for the interactive 3D elements that you and your travel buddies can go wild with!
6. Catch the sunset at Al-Hussain Mosque
 

 

View this post on Instagram

 
Hit the coast of Kuala Perlis to see the state's iconic floating mosque, the Al-Hussain Mosque. While not as large as other mosques in the country, its intricate architecture can certainly rival them! The majestic landmark boasts a gold and blue dome, along with a nature-inspired wall structure comprising rocks, granite, quartz, marble, and pebbles. 
Its twin hexagonal minarets are the first of its kind in the world. Catch the romantic sunset and watch the minarets illuminate in various colours depending on the prayer time. Fun fact: this helps fishermen at sea to spot the mosque from miles away. 
Non-Muslims visitors are allowed to enter the Al-Hussain Mosque, but dressing modestly as a form of respect is a given. 
7. Go wild with natural gems 
 

 

View this post on Instagram

 
Prefer the great outdoors? Even better! Perlis is brimming with forest reserves, green pockets, and sports routes. For one, Bukit Chabang is known for its hiking and camping spots. Imagine pitching your tent in between two New Zealand-esque limestone outcrops! 
For avid hikers, there are many hills to conquer, from the beginner-friendly Bukit Gua Cenderawasih, to the challenging Pintu Wang Gunung near the Malaysia-Thai border. The best part? Picture-perfect paddy views are everywhere! 
8. Check out Perlis Snake Park
 

 

View this post on Instagram

 
What started out as an anti-venom research centre is now a petting zoo and farm with more than 150 snakes of 34 species from Malaysia and other parts of the world! Steel your heart and spot King Cobras, pythons, crocodiles, iguanas, and other slithery creatures. 
Within Perlis Snake Farm, there is also a sunflower field filled with cheerful blooms as huge as your face! Now, who needs to go overseas to see sunflowers when you can find them in Malaysia?
9. Stroll around Tasik Melati
 

 

View this post on Instagram

 
How about a trip to China instead? Tasik Melati is a gorgeous recreational park tucked 10 kilometres north of Kangar. With its network of oriental-style pavilions across a lush waterlily lake, there's something about it that reminds us of the Forbidden City.
Photography aside, Tasik Melati attracts families, joggers, fishers, and birdwatchers during the weekends. Boats are available for rent if you are keen on paddling around the picturesque lake. 
10. Strike gold
 

 

View this post on Instagram

 
Perlis is exceptionally defensive of their Harumanis mango, so much so that they claimed its intellectual property in 2011. The Harumanis is known for its succulent flesh and silky texture, making it more aromatic and sweeter than other varieties in Malaysia. We're drooling just thinking about it!
During harvest season between April to July, it is common to find many stalls selling the sweet treats at every corner of Perlis. Although, you'll have to be careful about counterfeits. For Grade A mangoes, head to the main cultivation areas in Jabatan Pertanian Perlis at Bukit Bintang and Sungai Batu Pahat.
47024, 46994, 46051