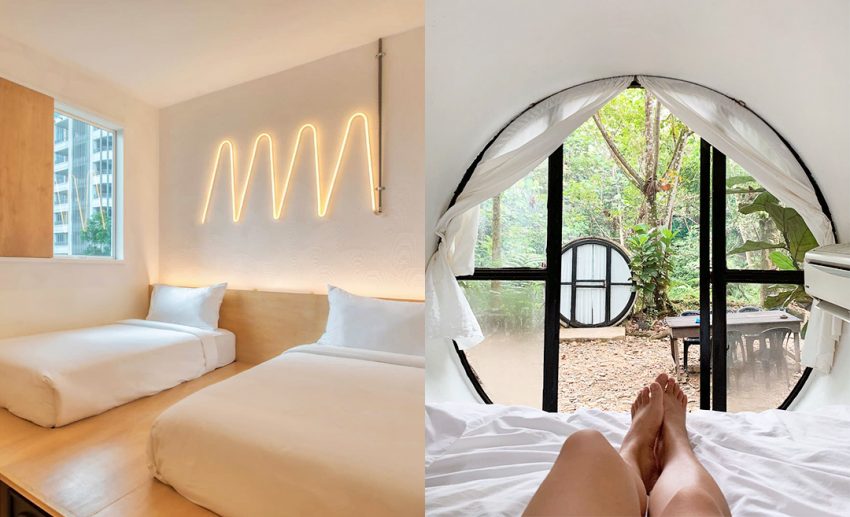 Subscribe to our new

Telegram

channel for the latest updates.



It is good to take inspiration from Elizabeth Gilbert and go on your own Eat, Pray, Love journey from time to time. A quick escape does wonders for the body, mind, and soul, and with borders opening up, holidays can now be a reality instead of just a plan waiting to happen. To enjoy the pleasures of a good getaway, you don't necessarily need a fat wallet. All you need is to be resourceful with your planning. Here are a few budget-friendly destinations in Malaysia that will make your wanderlusting heart go ooh-la-la!
Kuala Lumpur, Wilayah Persekuatuan
If you choose to spend a few days exploring the city, we recommend staying at Momo's, a quaint boutique hotel located in Chow Kit, Kuala Lumpur. Listed as one of the New York Times' 52 Places To Go, this chic hotel is only a 10-minute drive from KL Sentral — if that's not enough to make you want to book a couple of nights, we're not sure what will.
This minimally-decorated space provides all the essential luxury you'll need for a quick getaway; it's also a definite draw for the social and artsy community. Depending on the season, you can book one of their 99 rooms for under RM100 a night, which is an absolute steal for what this place offers.
If art jamming over wine at Momo's doesn't suit your fancy, there are plenty of ways to check out the city, as getting around is easy and affordable with public transportation. Looking to marvel at some aquatic life? Grab a 10-minute taxi ride, spend some time at Aquaria KLCC. Or hop on a RapidKL bus to Pasar Seni, where you can shop for souvenirs or indulge in the local delicacies of the nearby food stalls, hawker centres, and kopitiams (Malaysian coffee shops). While you're in the area, be sure to walk the streets so you don't miss out on beautiful murals and street art in hidden alleyways.
If you're keen on spending a day doing what the youngsters do, BUMP Bouldering is a 20-minute car ride away for adventure junkies looking to stay active while escaping the city's heat. For dinner, take a drive to Jalan Alor, where you'll find yourself immediately transported out of the city and into a world of music and good food. It's a feast for the senses!
Momo's Kuala Lumpur
316, Jalan Tuanku Abdul Rahman, Chow Kit, 50100 Kuala Lumpur (Google Maps/Waze)
+60327766666 | hello.kl@stayatmomos.com
---
Sungai Lembing, Pahang
For those who seek the pleasures of being outdoors to the comforts of a boutique hotel, The Time Capsule Retreat offers all the adventure you could want at a gentle starting rate of RM149 a night. This forest retreat includes hiking up a waterfall trail and taking a dip in the serene rivers. Guests can also book a room with an outdoor jacuzzi to enjoy the sounds of the forest as they soak in a warm bath — talk about luxury on a dime!
Enjoy the cool temperatures of the lush rainforest and take a dip in the Lembing Rainbow Waterfalls, aptly named as a rainbow often arches over the river when the sunlight hits the falls just right. Have your camera ready to capture the moment if you're lucky enough to witness it. Getting to the falls involves an off-road adventure requiring a 4-wheel drive vehicle and a further 45-minute trek to the river, so hiring a local tour guide will be your best bet.
Being in the jungle, the amenities can't compare to a luxury hotel in the city. But if escaping the hustle of city life is what you are looking for, this might just be the place for you.
Time Capsule Retreat
Sungai Lembing, 26200 Sungai Lembing, Pahang (Google Maps/Waze)
+60139638888 | timecapsuleretreat@gmail.com
---
Janda Baik, Pahang
Situated in the district of Bentong in Pahang, Janda Baik is only a 45-minute drive from the city of Kuala Lumpur. Still, this small village offers a cathartic release from the busyness of city life through beautiful hillside villas and home-stays. Stay at the Plateau Farm's Sustainable Treehouse Camp — an Airbnb nestled in the trees with a perfect view of the hills and the adjacent valley. This one-bedroom rental will cost you just under RM200 per night.
Almost completely off-the-grid, enjoy waking up to the sounds of birds chirping as you sip on a cup of tea while taking in the scenic view of Janda Baik. Take the time to reset with an evening by the fire pit, grill up food on the barbecue stove, and hang out with the farm animals or on-site farm dogs. The local restaurants in town are known to serve up some of the best seafood in the area — a pretty solid addition to your plan, should you find yourself in this charming village.
Plateau Farm Sustainable Treehouse Camp
Lot 15826, Kampung Sum Sum Janda Baik, Bentong, Pahang (request for directions from host)
+60123179175 | plateaufarm1@gmail.com
---
Pulau Tioman, Pahang
Malaysians can consider themselves pretty lucky because we've been blessed by some of the most beautiful beaches in the world, and we are even more fortunate to have the privilege of enjoying white sands and sapphire waters at reasonable rates. For foreigners and locals alike, Pulau Tioman has been a favourite dive and snorkel site. Located off the east coast of Peninsular Malaysia, this island is a marine lover's paradise — think swimming with sharks and shipwreck dives.
Take a bus from KL Sentral Station to Tanjung Gemok Ferry Terminal in Pahang to get to the island. From there, book yourself a ferry ride to the island (the recommended way is to use the Bluewater Ferry website). Check yourself in at 1511 Coconut Grove, and enjoy a comfortable stay at the Tioman Cabana Village without bursting a RM200 budget. This quaint little resort serves up breakfast to be enjoyed al fresco style, so you can soak in the view of crystal-clear waters while fuelling up for the day.
Spend the rest of your stay sunbathing on the beach or rent a bicycle or e-bicycle and explore what the island has to offer. If you're looking for aquatic activity, rent a kayak, paddleboard, or surfboard anywhere on the island for an average rate of RM100 a day, and soak in the salty sea air and seawater.
For something more scenic, grab your camera and head to Mukut Village by speedboat to enjoy the view of Gunung Kajang (Mount Kajang), the highest peak on Tioman. Once you're there, it's also worth going up to the Asah Waterfalls for a refreshing dip in the calm waters before making your way back.
Tioman Cabana Village
Kampung Tekek, 86807, Pulau Tioman, Pahang (Google Maps/Waze)
+60137176677 | tiomancabana@gmail.com
Certain limitations come with a holiday on a budget. Still, these limitations offer room for unconventional traverses, uncomplicated relaxations, and indeed immense gratitude for the world we get to live in. Find your own version of Eat, Pray, Love, find it often, and I reckon it's right outside your window.
Follow Zafigo on Instagram, Facebook, and Twitter. Sign up for our bi-weekly newsletter and get your dose of travel tales, tips, updates, and inspiration to fuel your next adventure!