When looking for places to visit in Peninsular Malaysia, the city of Melaka always makes it to the top of the list, and it's easy to see why. Located on the southwestern coast and just a two-to-three-hour drive from Malaysia's capital city, Kuala Lumpur, Melaka is a UNESCO World Heritage Site brimming with history, culture, and culinary delights.
If you've been toying with the idea of exploring Melaka, toy no more. Here's a comprehensive guide on how to get around, what to see, what to do, what makes Melaka special, and more.
First things first… let's talk historical significance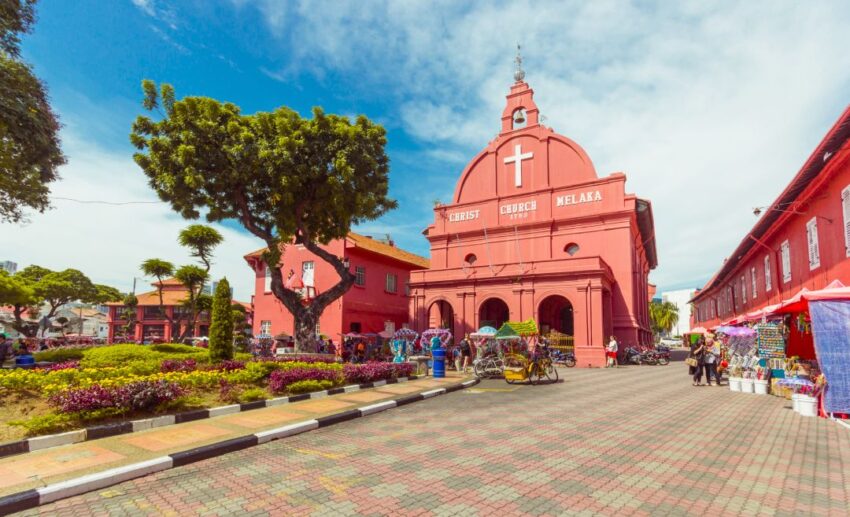 Melaka was once a crucial and bustling trading port in the 15th century and played a pivotal role in the spice trade. Traders, merchants, and immigrants sailing between India and China would refuel their ships here before continuing on their journey, which meant that people from all over the world, of different cultures and religious backgrounds, would meet here and share knowledge, ideas, art, culture, and beliefs.
Many of the Chinese immigrants married local Malays, which led to the creation of the distinct culture we know as Peranakan. This rich heritage is ingrained in much of the city's identity, including its museums, architecture, and mouthwatering cuisine.
Melaka was also ruled by various empires throughout the centuries, including the Portuguese, Dutch, and British, so you'll see evidence of its illustrious history in every nook and cranny.
Getting in and around safely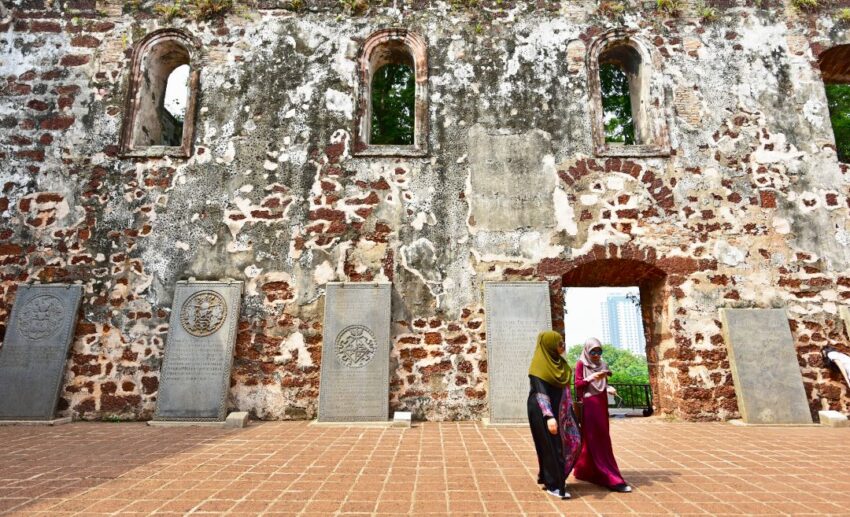 Getting in:
By car: If you're travelling from Kuala Lumpur, Melaka is approximately a two-to-three-hour drive away–although this largely depends on traffic conditions. Renting a car provides flexibility for exploring the city and surrounding areas.
By bus: You can take a bus from Kuala Lumpur or other major Malaysian cities to Melaka Sentral, the city's main bus terminal. Check here for bus availability.
Getting around:
Walking: Melaka City is relatively small and walkable, especially in and around the Old Town area.
Cycling: Hire a bike from one of the many options made available by hotels, guesthouses, and convenience stores.
Public transport: You can also use local buses like the Panorama Melaka or the Grab app to book a car for short rides.
Where to stay
From luxurious five-star stays to backpacker homestays, Melaka has an abundance of options when it comes to accommodation. Here are our top picks for each budget category:
$$$
The Majestic Malacca: Set in a stunning 1920s colonial mansion that overlooks the Melaka River, this small luxury hotel boasts heritage architecture.
Liu Men Hotel: A charming, luxury boutique hotel that's conveniently situated a few hundred metres from the popular Jonker Street Night Market.
$$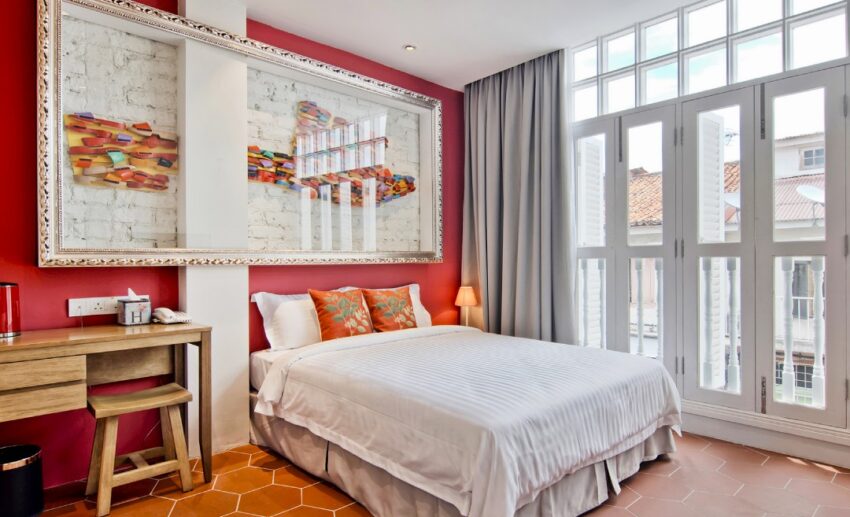 Timez Modern Heritage Hotel Melaka: This modern heritage boutique hotel is nestled in the heart of Jonker Street.
Rosa Malacca: A hip, rustic boutique hotel situated in a restored redbrick building, just a short walk from A Famosa, the historic Portuguese fortress.
$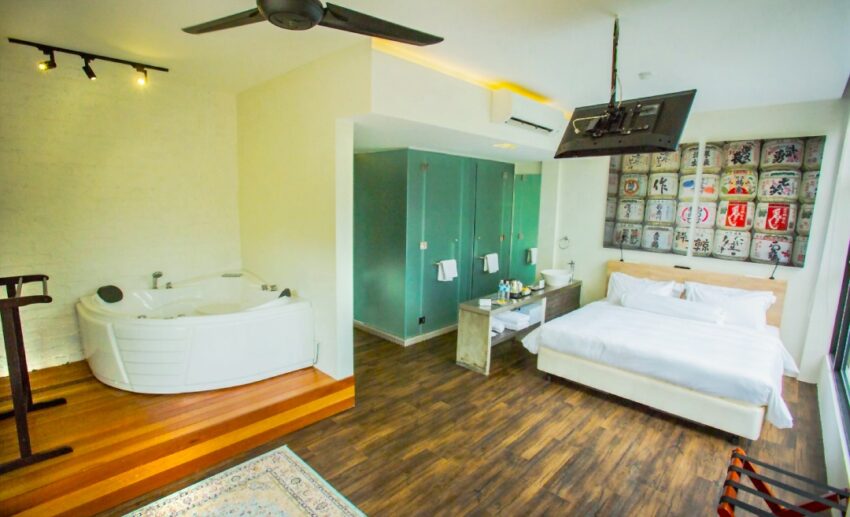 The Rucksack Caratel Garden Wing: Located within a five-minute walk from Stadthuys, this modern accommodation offers a hotel-style stay with communal hostel vibes.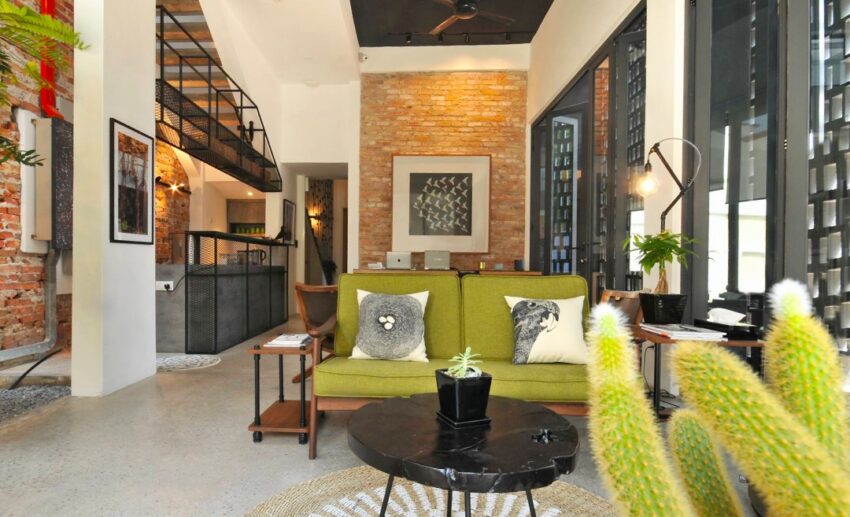 The Nest House Melaka: A comfortable contemporary guesthouse within a short distance from the historic parts of Melaka.
The must-sees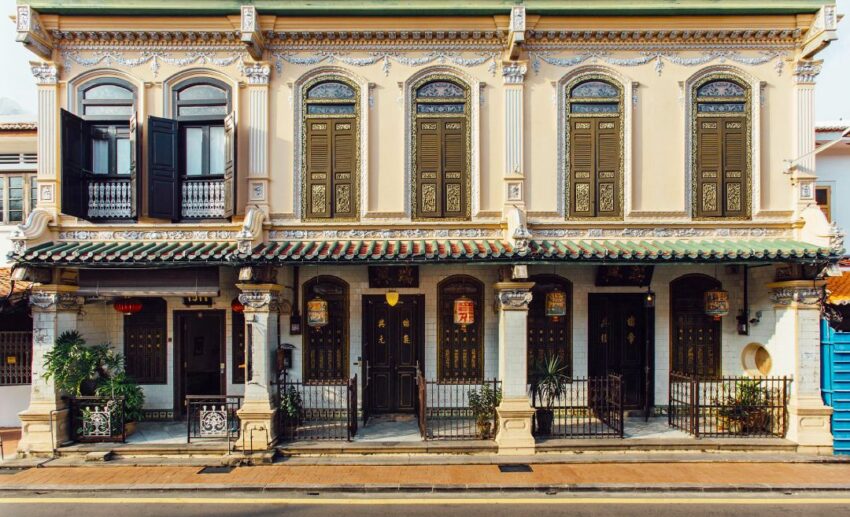 Melaka's historic centre: The core of the city, known as Melaka Old Town, is a wonderful maze of narrow mural-laden streets, colonial-era architecture, and charming shops. Be inspired by the colourful buildings along and around Jonker Street, visit the Dutch Square, and explore the Baba & Nyonya Heritage Museum.
A Famosa: This iconic Portuguese fortress is one of Southeast Asia's oldest surviving European architectural remains. Climb St. Paul's Hill nearby to take in the panoramic views and visit the oldest church building (since 1521) in Southeast Asia.
Cheng Hoon Teng Temple: Awarded a UNESCO award for outstanding architectural restoration in 2003; this is the oldest functioning traditional Chinese temple in the country, where you'll discover an inspiring story of faith and perseverance.
#ZafigoTip: When visiting places of worship, remember to dress appropriately – bare shoulder tops, open-toed shoes, or skirts and pants above the knees are usually frowned upon. A good rule of thumb is to cover your shoulders and lower part of the chest. Bring along a scarf that you can use as a shawl in emergencies or when you're unsure if your attire meets the dress code.
The must-dos
Experience Jonker Walk night market: On weekends, Jonker Walk and the streets around it transform into a lively street market. Enjoy the live performances, browse unique knick-knacks and souvenirs, and taste iconic street foods and Malaccan specialities.
Hunt for street art: Whether hidden in tiny alleys or painted on building façades, Melaka is plastered with impressive street art. It's a great game of more seeking than hiding and allows you to get lost while taking lots of colourful photos and reels.
Get a birds-eye view of Melaka at The Shore Sky Tower (MYR25, around USD5.50): Admire Melaka with a 360-degree view from high above, through transparent floors and barriers.
The must-eats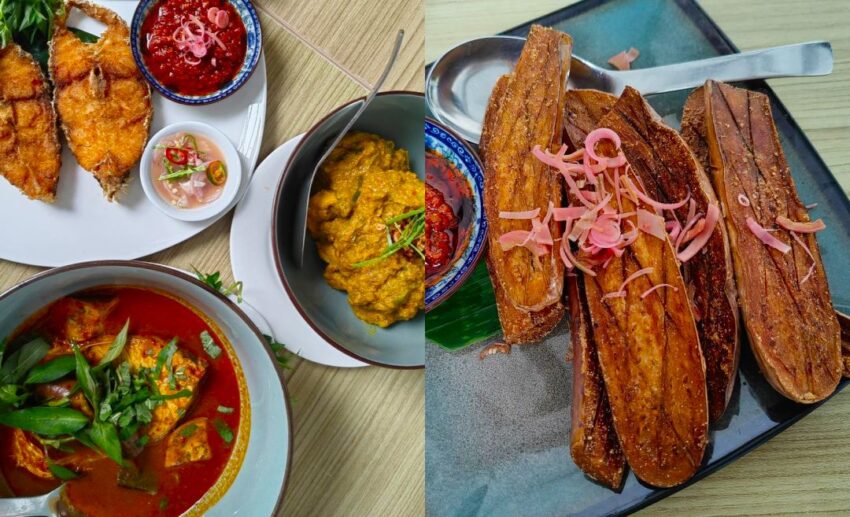 Peranakan cuisine at Bulldog Malacca: Savour Melaka's unique Peranakan (Straits Chinese) cuisine, characterised by a blend of Chinese and Malay flavours. Try dishes like Nyonya laksa, asam pedas, pongteh chicken, and cincalok omelette.
Kristang cuisine at The Mansion: Originating from the Melakan creole ethnic group of mainly Portuguese and Malay descent, Kristang cuisine is a fusion of countless culinary inspirations. Try dishes like devil curry and eggplant with lime sauce.
Chitty cuisine at Wen's Kitchen: Signature to the descendants of Tamil traders who settled in Melaka in the 15th and 16th centuries and married local women of Malay and Chinese descent, Chitty cuisine shares similarities to Indian, Malay, Chinese, and Nyonya cuisine.
Get cute and kitschy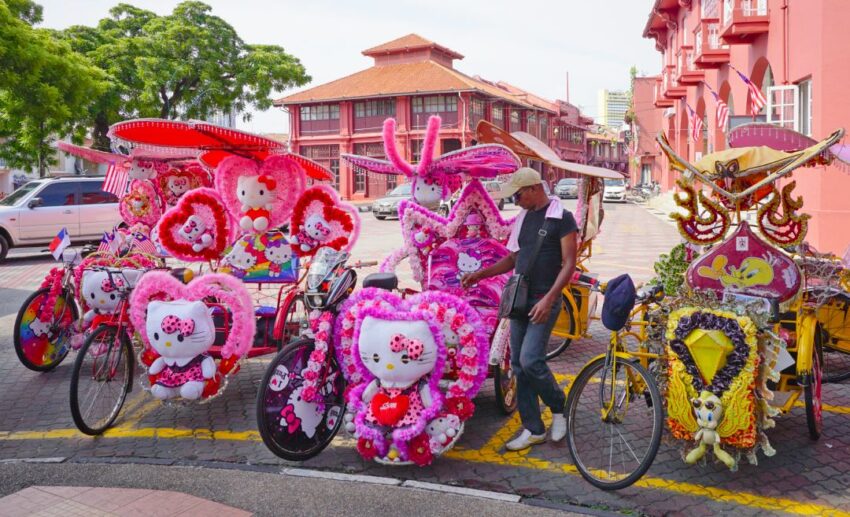 Ride a gaudy trishaw (MYR30-100, around USD6-22): Once the main mode of public transportation in Melaka, today's trishaws are purely run for tourism. You'll find them congregated in front of the Stadthuys, extravagantly kitted out with stuffed toys and other colourful decorations, flashing lights, and booming sound systems. It's an experience worth at least one ride, for the sake of good cheer and the 'gram. Trishaw drivers will take you to the city's key sites, often doubling up as a tour guide, gladly answering any questions you may have about Melaka.
Cruise the Melaka River (MYR30, around USD6): Snake through the city on the Melaka River Cruise. Short and scenic, the cruise is available day and night. The day cruise offers better views of charming riverside murals and possible otter sightings, while the night cruise wows you with a beautifully lit nightscape. There are two spots where you can buy tickets and hop onto a boat: Taman Rempah and Muara Jetty. You'll find more information here.
Check out the coolest bars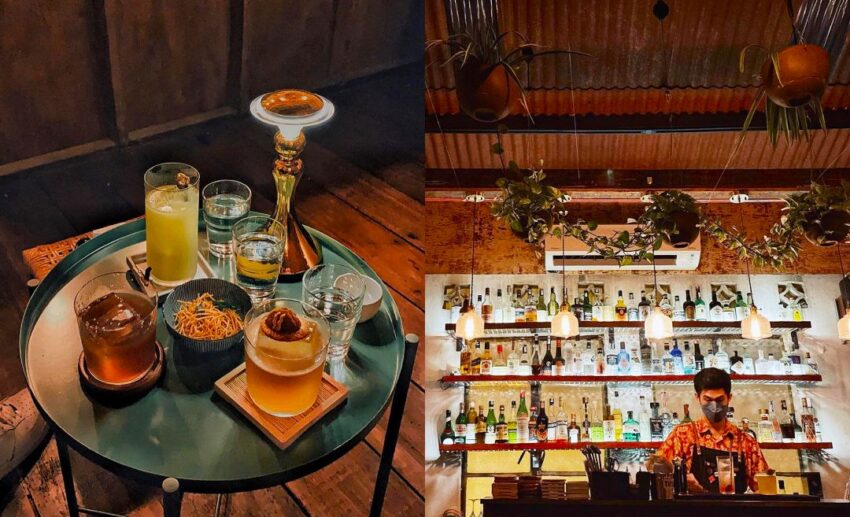 Budi Bar: A proudly Malaccan cocktail bar inspired by the city's rich history and unique local produce, this hidden speakeasy's unique cocktails and laid-back vibe will have you returning time and again.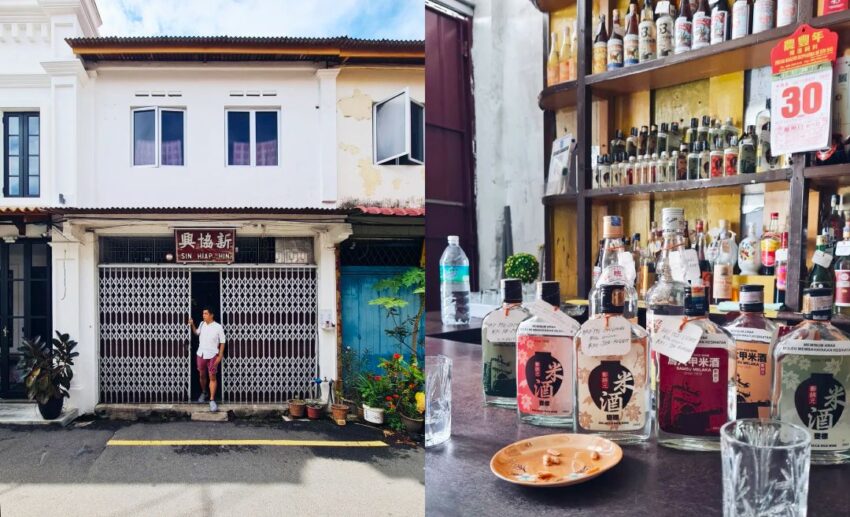 Sin Hiap Hin: Have a tipple at 100-year-old Sin Hiap Hin, a vintage bar that's been a watering hole since the 1920s. It's located in Kampung Jawa, an area that goes hand in hand with stories of Japanese spies and pirates.
#ZafigoTip: Make reservations beforehand to avoid disappointment, as popular places like Budi Bar tend to fill up quickly—especially on the weekends.
When to go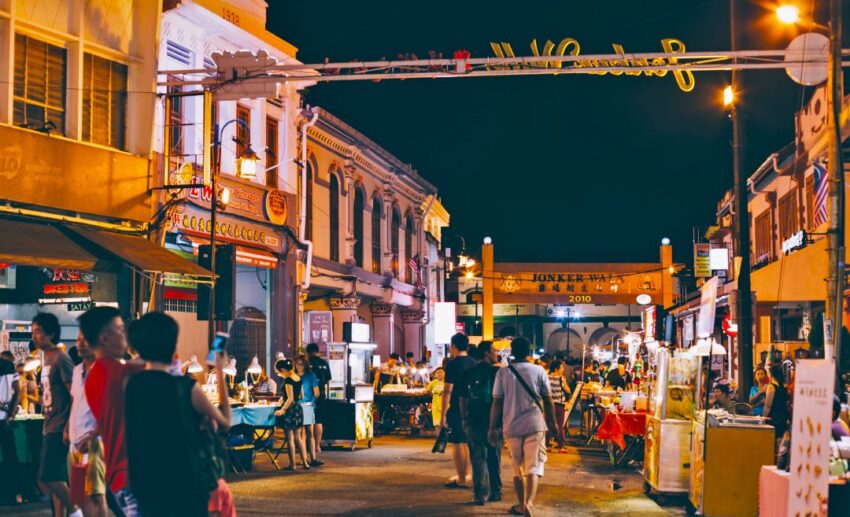 Any time of year is great for a visit to Melaka. However, long weekends, public holidays, and school holidays tend to draw big crowds and cause some pretty major traffic jams. Check the Malaysian public holiday calendar to avoid these seasons!
Additionally, the rainy season in Melaka is in November, with an average of 24 days of rain. Check the weather forecast before you go, and bring an umbrella for good measure. It'll protect you, rain or shine.
#ZafigoTip: Melaka hosts some special annual events like the Melaka Dragon Boat Race and Festa San Pedro, a festival held at the Portuguese Settlement in honour of St Peter, the patron saint of fishermen. We'd recommend doing a quick search of events happening in Melaka before planning your trip to see what's up!