It's been about three weeks since Malaysia's Movement Control Order was put into effect because of COVID-19. While tech has been awesome at bringing people together virtually or allowing them to explore the world from home, it just means so much more time in front of our screens. I know my screen time has surged exponentially, and it's no surprise that it may be the same for you too.
So if you'd still like to go on a trip sans the blue light, then why not go old school with a good book? Even if you choose to read one of the below via an e-reader or tablet, at least you get to cut back on all the time spent on social media.
These 10 books will surely take you and your imagination places. Some of them are whimsical, allowing you to explore worlds unknown, while others may just inspire you to think about where your next holiday may be once travel restrictions are lifted. Happy reading!
View this post on Instagram
Hard-Boiled Wonderland and the End of the World by Haruki Murakami
If there's one thing that Japan's most famous fiction writer is capable of doing, it's painting vivid pictures of the worlds he's created using nothing but words. Symbolic, poetic, and full of whimsy, Hard-Boiled Wonderland and the End of the World is one of Murakami's best works and is reminiscent of a slightly twisted, adult version of Roald Dahl's Charlie and the Chocolate Factory. In this hard-boiled wonderland, a data processor, deranged scientist, subterranean monsters, librarians, and even Bob Dylan come together for a misadventure in a realm unknown.
View this post on Instagram
Memoirs of a Geisha by Arthur Golden
Since we're on the topic of the Land of the Rising Sun, this historical fiction novel will give you a glimpse into the lives of Kyoto's geishas. Set in Japan, Golden's book is essentially a romance, but ultimately a lavish recreation of Kyoto before, during, and after World War II. It'll also open your eyes to an age-old Japanese tradition, its cultural implications, and break the perception of a geisha's fragility.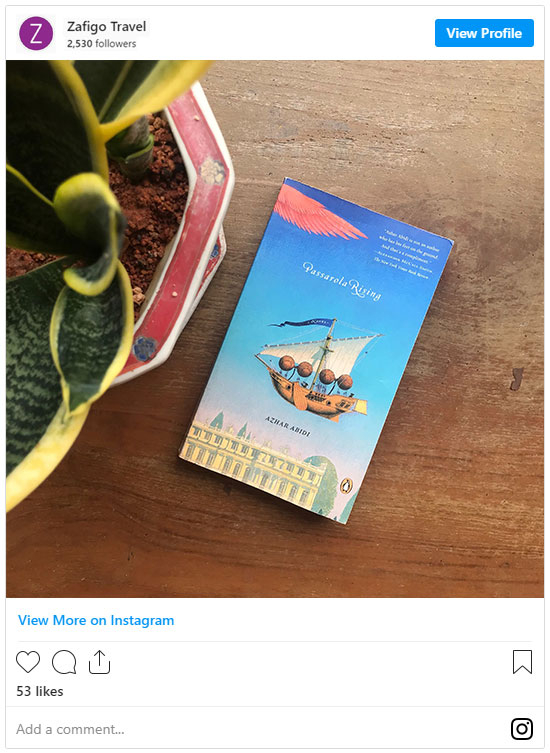 Passarola Rising by Azhar Abidi
In this picturesque tale, readers are brought on an adventure that begins in 18th century Portugal, as this story's two protagonists escape the deathly clutches of Portugal's science-hating Cardinal Conti. As the Laurenco brothers fly their airship over the ramparts of St. Jorge's Castle in Lisbon, you venture out with the pair to Paris and even as far up to the North Pole while meeting some very interesting characters along the way (like Voltaire).
View this post on Instagram
Life of Pi by Yann Martel
If you're into fantastical realism, this adventure is a coming-of-age story that touches on many topics ranging from spirituality and religion to self-perception and anthropomorphism as you sail the high seas. The adventure begins on a ship that pushes off from India, sinks, and continues as the book's main character, Piscine Molitor Patel (or Pi), wanders across the Pacific Ocean on a lifeboat with an adult Bengal tiger named Richard Parker. This wild ride also leads Pi to a carnivorous island, Mexico, and eventually Canada.
View this post on Instagram
The Sum of Our Follies by Shih-Li Kow
For a dose of Malaysia, this page-turner by Shih-Li Kow will leave you wanting to hit one of the country's quaint and smaller cities on an upcoming trip. The Sum of Our Follies is about the lives of the people living in the fictional town of Lubok Sayong that was inspired by the Perak towns of Kulim and Kluang. It brings up Malaysia's race, religion, and LGBTQ issues in a way that's paradoxically gut-wrenching and light-hearted. So if you're into small cafes, the quiet life, and don't mind doing away with fantastical legends, then Perak (and this book) is the place for you.
View this post on Instagram
Interpreter of Maladies by Jhumpa Lahiri
A collection of nine short tales, the Interpreter of Maladies is an elegantly-written compendium of the lives of its various characters. All of them are either Indian or Indian-Americans who struggle between holding on to their cultures or adapting to 'a new world' in the West. These award-winning stories also explore the intricacies of relationships – both fleeting and lasting – between family members, lovers, friends, and even friendships established through travel.
View this post on Instagram
The Beach by Alex Garland
Tropical breezes and pristine beaches? Check. Crystalline azure waters? Check. Hidden treasure? Check. Man-eating shark? Check. The Beach is teeming with adventure as a backpacker searches for a legendary idyllic beach in Thailand. Starting off in a dingy hostel on Khao San Road in Bangkok, the book takes you through to Thailand's beautiful seaside. Trust that if you weren't blown away by the movie starring Leonardo DiCaprio, you'll be blown away by the original literary form.
View this post on Instagram
The Caliph's House: A Year in Casablanca by Tahir Shah
Go from Tangier to Marrakesh to the Sahara in this adventure that charts a year in the life of the author's family as they move away from London's grey skies to the sun-drenched city of Casablanca, where Tahir Shah has purchased a derelict mansion by the sea once owned by the city's caliph. This is Morocco as you've never imagined, and is almost as good as being there in the flesh.
View this post on Instagram
The Lost City Of Z: A Tale of Deadly Obsession in the Amazon by David Grann
Enter into the unknown with this deliciously vivid adventure recounting the daring expeditions of Percy Fawcett and his search, or rather his obsession, with discovering an ancient civilisation he simply dubbed as Z. Upon stumbling on Fawcett's forgotten diaries, writer David Grann hoped to solve "the greatest exploration mystery of the 20th century" in this book. Go on and safely follow in the footsteps of thousands of people who've entered into the uncharted wilderness that is the amazing Amazon.
View this post on Instagram
The Year of Living Danishly by Helen Russell
Want to know the secret to being happy and content? Well, just ask the world's happiest and most content people – the Danish! In The Year of Living Danishly, lifestyle journalist Helen Russell leaves her dream job at a women's glossy in London for the rural Danish town of Jutland where the highlight of the year is Dancing Cow Day. It turns out that despite the long, dark winters and surplus of pickled herring, the Danish "have an obscenely good quality of life" and you can learn all about it in this delightful read.
Get all the latest travel stories from Zafigo. Follow us on Facebook, Twitter, and Instagram