Zafigo's Quick Guide to Marrakesh for Women Travelling Alone or with Family and Friends
Marrakesh is a city that's designed to stimulate your senses. Be prepared for all your senses to be challenged as you feel the sun on your skin, hear the call to prayers ringing amidst the braying of donkeys, smell the aromas of spices at a bazaar, taste the rich flavours of Moroccan cuisine, and feel the energy of the city buzzing under the red hue of the medina.
Unlike some cities where you'll have a checklist of must-see places that you need to cram into your stay, Marrakesh offers something different. There are relatively few must-see venues in the city itself; you'll be better off with a list of must-do experiences instead.
While Marrakesh is often romanticised as the 'Red City' or 'Rose City', it can be overwhelming at first sight. The city pulses with culture, sound, and movement in a scene of organised chaos. Therefore, having a better idea of what to expect will help you take it all in. Here are a few tips to help you ease into the excitement and environment in Marrakesh:
1. The basics
Spring and autumn are pleasant times to visit the city. While the days are cool in winter, the nights can get quite chilly, so bring along a jacket. Summer unleashes extreme heat that can go up to a sweltering 45 degrees Celsius.
Morocco uses the currency Dirham, which happens to be a closed currency. You can only buy a significant amount of it once you arrive in Morocco itself, and you should convert your leftover Dirhams back into your currency of choice before you leave if you still have plenty. You can easily exchange your money at the Marrakesh Menara Airport upon arrival and departure. The exchange rate can roughly be calculated as MAD10 (Dirhams) to USD1.
2. Getting around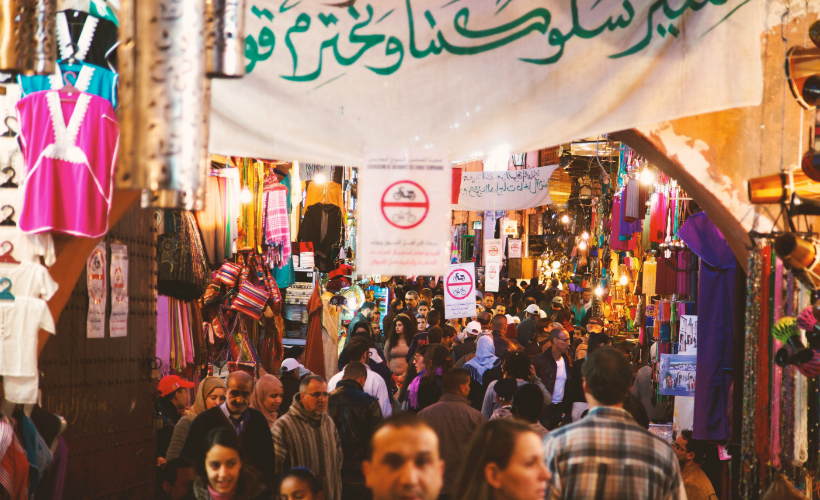 Arrange transportation from the airport to your accommodation to avoid starting your trip with unpleasantness. Most hotels and riads (traditional Moroccan house or palace with interior garden and/or courtyard) can arrange this for you. Alternatively, simply take the airport limo. Taxi drivers are known to unscrupulously overcharge tourists and they may find it hard to locate your accommodation within the maze of the medina.
Other than that, the city is pretty much walkable but taking a taxi or bus in the city is an experience by itself. It's the norm for taxi drivers to cram their sedans with as many as six passengers that they pick up and drop off along the way. Negotiate your price before you get in, or risk getting be slapped with an inflated fee when you arrive.
Bus drivers may expect you to hop on and off while moving, so be prepared to jog or jump for it. If this sounds like something you'd like to try, always have spare change prepared, and keep your belongings safe from pickpockets. However, women (especially solo travellers) should avoid taxis and buses at night, as women without the company of men may attract unwanted attention.
3. Stay in a riad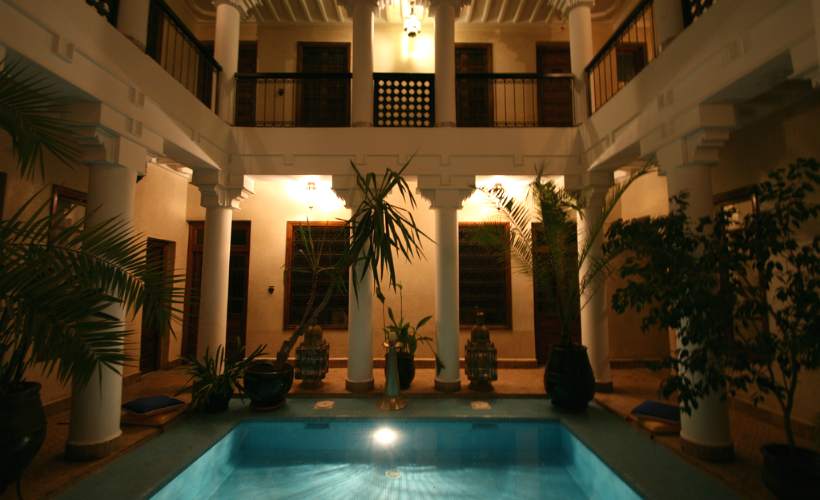 A riad will be your little refuge in the city, as the lack of external windows blocks out the hustle of and bustle, while keeping the interior cool. Many riads boast beautiful interiors, while rooms range from basic to ultra-luxurious, depending on your budget.
Be sure to check the reviews of a riad before booking it. Some riads claim to be located minutes away from the Jemaa el-Fnaa marketplace, but in reality, is located further away. Once you leave the vicinity of Jemaa el-Fnaa square, the streets get dark at night, which makes it unnerving for women travellers to walk alone.
4. Dress sensibly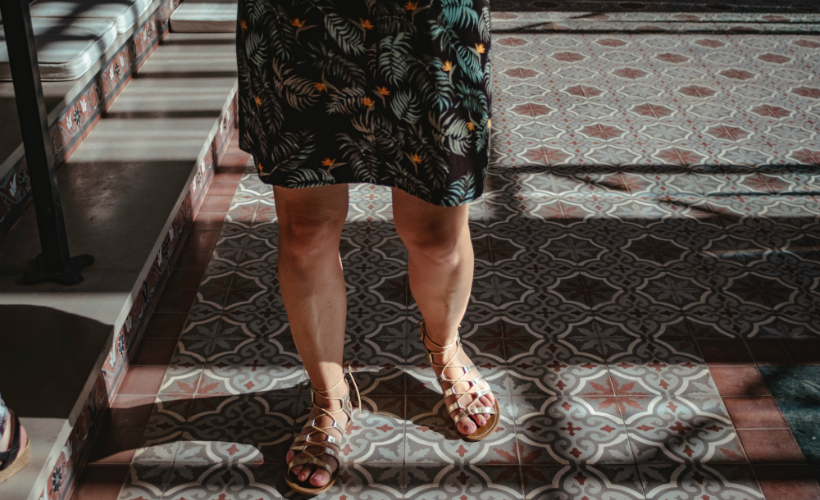 You might have seen Instagrammers striking a pose in skimpy outfits while in Marrakesh, but don't let that fool you into believing that it's generally acceptable to saunter around the city in revealing clothes. Chances are, they're lounging around within the compounds of their hotel or riad. Although Morocco is one of the more relaxed Muslim countries, it's wise for women to cover up before taking on the streets of Marrakesh to avoid unwanted incidents or stares.
Loose clothing that cover your shoulders and knees should do the trick. A pro tip is to have a stole handy; one you can easily put on or take off. In Marrakesh, modest dressing is also sensible dressing, as you protect your skin from the harsh sunlight. Pack along a pair of good, closed-toe walking shoes to navigate the streets without worrying about blisters and muck.
5. Soak in the Jemaa el-Fnaa atmosphere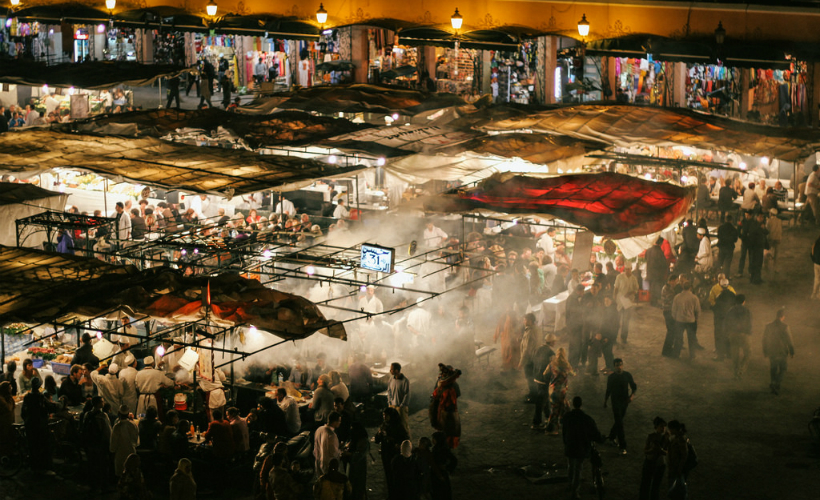 This famous square and marketplace is the thriving heart of the old city. Jemaa el-Fnaa is charged with electricity and energy, especially at night, when the market truly awakens. This is a place that you need to visit during the day and again at night for a full experience.
Getting lost is a familiar affair as you navigate through the maze of shops. If this does happen to you, don't panic. Just keep walking around and chances are you'll find your way back to the main square. You can also ask the shopkeepers to point you in the right direction. Keep in mind that you'll want to look purposeful to avoid any unwanted attention.
It goes without saying that you should bargain before buying anything in the market. You'll find an array of products for sale, from leather goods to wooden craftwork, traditional djellaba outfits to pashmina shawls, and of course, tajines (crockpot stew). After a day of shopping, enjoy the food that comes into view at night.
The square is also a moving piece of entertainment with its street performers that range from storytellers, snake charmers, and musicians, to acrobats and even makeshift circuses. While the shows are free, tipping is expected. So if you take pictures with any of the street artists, be prepared to give them some coins.
You'll also see most female locals standing closer to the performers or with male companions in the crowd. If you feel pushed or touched inappropriately, make it known. Alternately, stand further away if you want to preserve your own personal space.
In the main square, you may find yourself hounded by men with monkeys, henna ladies, men in traditional attire and the like. If you don't want their service, firmly say 'no' and walk away. If you do get a henna tattoo, make sure the henna lady is using brown henna instead of black henna. The black one is more striking, but is mixed with chemicals and can be toxic.
The marketplace is packed with many distractions. A cross body bag with multiple zips is a good choice to keep your belongings safe from pickpockets. Keep coins and small change easily reachable, but separate from your main wallet and documents.
6. Scrub away the dirt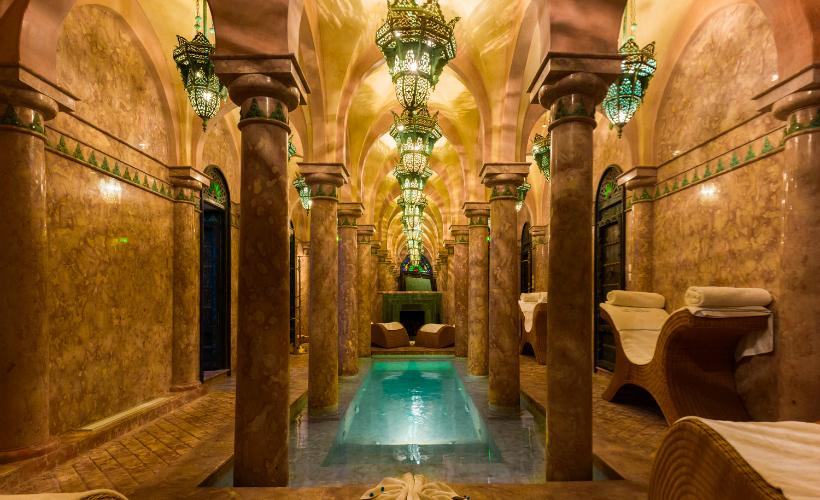 A hammam is a traditional Moroccan bath that will scrub off layers of filth and dead skin that you'd never have known you have. It's satisfying to see all the dust and dirt that you've accumulated come off your skin at the end of the day. There are public hammams that are basically do-it-yourself spas, but definitely indulge yourself by going to the private spas, where the attendant will give you an expert exfoliation from head to toe. You'll feel physically and mentally rejuvenated as you walk out feeling brand new.
7. Tajines and tea
Tajines are a meat-lover's delight. Meat is slow cooked with vegetables in tajines (the earthenware pots in which the dishes are cooked bear the same name) to produce a delicious stew, and the addition of preserved lemon only ups the game. These yummy belly-warmers can be eaten with rice or bread. Besides trying out the array of tajines, you can also enrol yourself in a tajine cooking class.
You'll see many people selling khobz, a traditional Moroccan bread. If you spot a bakery, you can try requesting nicely to see the huge traditional earth oven that they use to bake them. Tea culture is also predominant in Morocco, so do try out their local teas, especially the mint tea which is offered as a matter of routine after most meals.
8. Drinks and dancing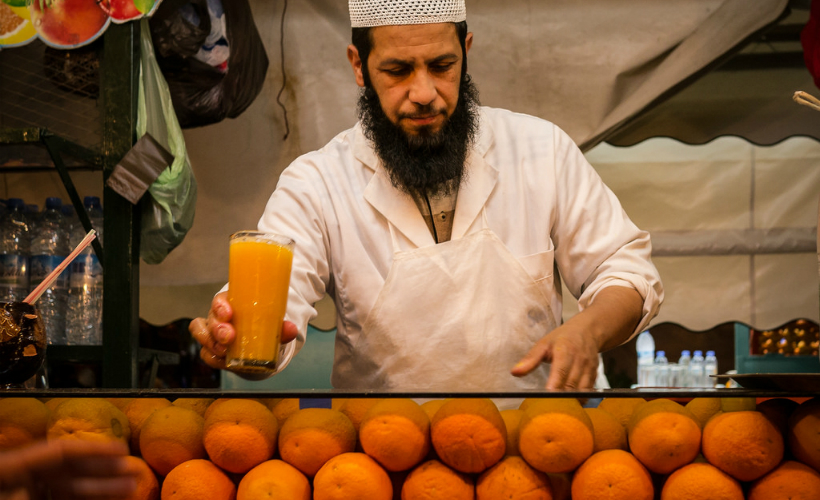 Whether it's the sweltering heat of the summer or the crisp sun of a winter afternoon, there's always a good reason to check out the stalls of freshly-squeezed orange juice scattered around the main square and throughout the city. At MAD4 (approximately USD0.40), it's worth finding out why it's touted as the best orange juice in the world!
As far as drinking culture is concerned, Marakkesh is one of the few places in Morocco where alcoholic beverages are available at bars and restaurants, even during Ramadan, mostly for its constant flow of tourists.
Some of the fancier bars also cater to the crowds with regular belly-dancing performances. The traditional danse du ventre or Raqs Sharqi is no doubt made more flamboyant for the sake of its spectators. If you plan on catching a show, mentally prepare yourself for the possibility of getting pulled up and made to dance. Though you may think it impolite to look directly at the dancers, remember that looking away implies disinterest or, worse, disrespect. After all, this is a professional performance.
9. Places of Interest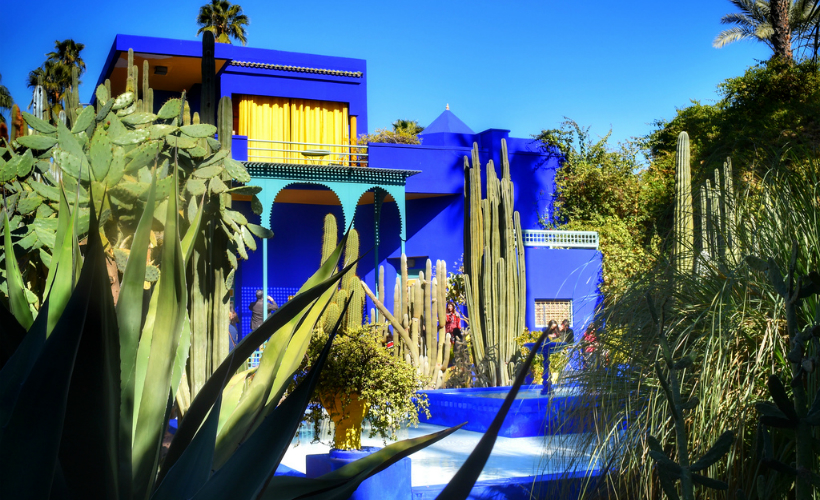 Ready for some stunning architecture? Here are the must-sees: The Koutobia Mosque's sandstone minaret is easily visible as a landmark from Jemaa el-Fnaa. At one time, the Ben Youssef Madrasa was the largest centre of learning in Morrocco, and is now open as a historical sight that showcases its intricate designs and architecture. Get in touch with history and visit the Moroccan architectural wonder that is the Bahia Palace. The beautiful Jardin Majorelle garden is another place to visit when you're in Marrakesh.
For all of these places, minimal explanations exist on-site, so get a licensed guide if you wish to learn more. Besides these famous spots within the city, consider planning one or two day trips while you're in town. A Berber Village experience makes for a picturesque day trip to the foothills of the Atlas Mountains. Another option is to start off your Saharan Desert adventure from Marrakesh.
10. Final thoughts and precautions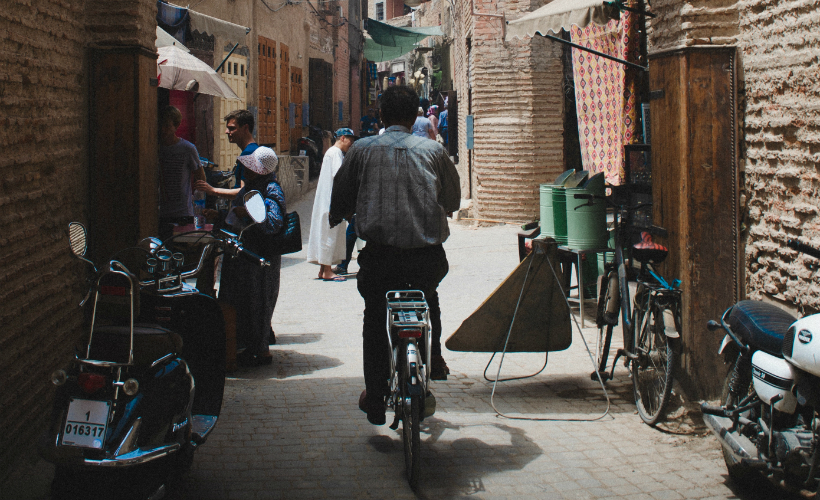 'Be firm' and 'be alert' should be the motto of travellers in Morrocco, especially female travellers. Marrakesh does find ways of forcing you to be vigilant, especially with the flurry of activity happening on the streets. You'll be dodging snake charmers, donkey carts, motorbikes, peddlers, and potholes amidst the mixture of smells, so it's definitely not a place where anyone can walk around with their eyes glued to their phone.
That said, Marrakesh will make you feel truly alive and buzzing with excitement. While the streets may feel slightly unsettling to some, there's no need to worry as long as you follow the dressing norms and take precautions against petty crimes.
Marrakesh is also a city that's better explored with the company of a local, so try hitting up sites like Couchsurfing, but always be mindful of the community guidelines. Alternatively, get a licensed guide to show you around and meet the friendly locals.
However, be wary of men and even children who offers you help 'voluntarily'. While there are plenty of genuine nice people in Marrakesh, there are those who take advantage of its tourist boom. These are the people who stand idly on street corners, and then come over to give you unwarranted advice or directions before asking for money in return for their 'assistance'. If you get lost, you're better off asking shopkeepers or a person you see going about their day for directions.
Not for the intent of introducing yet another precaution, but it's worth knowing that the local guides are incentivised by local hotels and establishments to bring them customers, so take some recommendations with a pinch of salt. The best way to avoid the tourist traps is to follow your instincts on what truly interests you rather than what you think you should cover. There's plenty in Marrakesh for your heart to follow.
Cover image credit: Louis Hansel (Unsplash)