Are you looking for a peaceful and relaxing beach vacation in India? With so many different beach destinations to choose from, you find something that's right for you based on the amount of time you have, the activities you want to do, and what your budget is. You can also save with Goibibo discount coupons. Here are the most popular destinations to consider if you're planning a beach vacation in India:
Goa
Without a doubt, Goa is one of the preferred travel destinations in India. From shopping to nightlife, cultural experiences to markets – Goa has it all. But ultimately, Goa is known for its beaches. The city has stunning options such as Mandrem Beach, Baga Beach, Anjuna Beach, Colva Beach, and Calangute Beach. It's the place to be for affordable water sports and adventure activities like parasailing, scuba diving, and jet-skiing.
Gokarna
This small town is located on the western coast of India in the Kumta taluk of the Uttara Kannada district of Karnataka. Gokarna is known to be an affordable city to visit, and the beautiful and serene beaches aren't very crowded. Once you're done beach-bumming, there are still some fun things to do that won't burn a hole in your wallet, like trekking and camping.
Kovalam
Lighthouse Beach is the most visited of all the sandy stretches in and around Kovalam – a town situated in the south Indian state of Kerala. Once you visit the beach, the seafood available at the stalls is a must-try. Another thing you mustn't miss is the ayurvedic massage at the beachside spas. Hawa Beach is one of three beaches that form the crescent of the Kovalam beach stretch. The beautiful surroundings and calmness add to its charm. Samudra Beach is another one to consider.
Puducherry
Easily the most exciting destination of them all! Puducherry – or Pondicherry, as it's more affectionately known – is a paradise of beaches and offers plenty for a fun-filled trip. There are so many beaches worth visiting here that you can opt to visit a different one each day of your holiday. Head to Auroville Beach, Promenade Beach, Paradise Beach, Serenity Beach, Mahe Beach, Karaikal Beach, Quiet Beach, and Reppo Beach. The beaches of Pondicherry draw local and foreign tourists alike with adrenaline-pumping activities such as surfing, beach volleyball, and catamaran rides. You'll also find the sunrise and sunset views to be exceptional.
Daman and Diu
The Indian union territory of Daman and Diu is a blend of history, adventure, serenity, and culture. Daman is a coastal city while Diu is a small island. The former is home to several pristine beaches, and it's worth getting on a sightseeing tour of Daman to witness the marvellous architecture. The city is also great for shopping with its bustling street markets. Meanwhile, the Diu Museum lets you get a glimpse of the rich cultural heritage of the area.
Andaman Islands
It's easy to see why this archipelago in the Bay of Bengal is a go-to destination for sunny skies, golden beaches, and adventure. The best time to visit is between October and May, when you can enjoy activities such as snorkelling and swimming to experience the stunning marine life. Besides the beach, trekking from Mount Harriet to Madhuban via Kala Patthar is one of the best things to do here.
Rameshwaram
Located on Pamban Island, Rameswaram is a small town and go-to destination for all types of travellers. It's also a hot holiday destination throughout the year. The places to visit here include – Pamban Bridge, Rama Tirtham, and Jada Tirtham. As for the beaches, Ariyaman Beach (also known as Kushi Beach) is relatively quiet and flanked by large casuarina trees. You can enjoy water sports, including parasailing, wind-surfing, and water scooters. The other great option is Dhanushkodi Beach that's located at the south-western tip.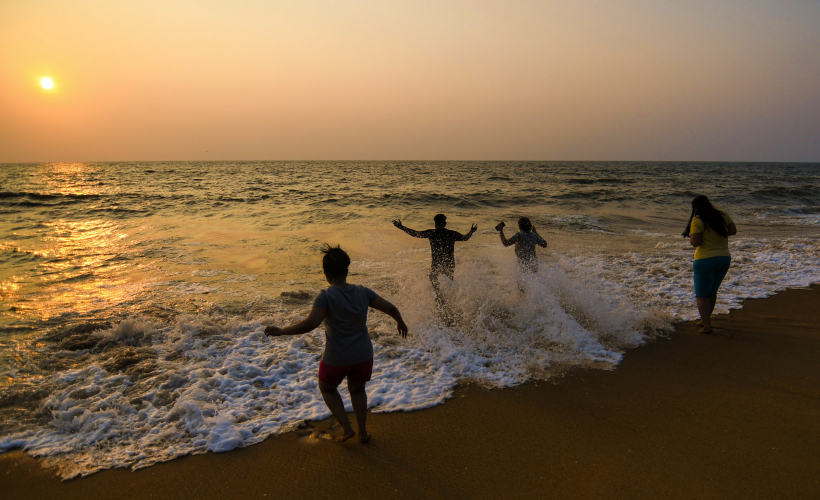 Mangalore
The beautiful sandy beaches, temples, and coconut palms make Mangalore another excellent choice for a thrilling beach vacation. A favourite stretch here is Panambur Beach that's among the cleanest ones you'll come across. For a dose of culture, the Bejai Museum is a good place to appreciate the rich heritage and history of Mangalore.
Kannur
Kannur has many attractions for a long holiday. The city famous for scenic beaches, ancient forts, old shrines, spice markets, and colonial history. For some fun in the sun, the Kannur Beach area is actually a group of five beaches – Payyambalam Beach, Meenkunnu Beach, Adikadalayi Beach, Baby Beach, and Thayyil Beach. Payyambalam is the most popular beach tucked in the lap of nature.
Kochi
Kochi is a coastal city most famous for showcasing tranquil natural beauty. The elephant sanctuary in Kodanad is one of the most well-known tourist attractions. Another must-visit for animal lovers is the Kumarakom Bird Sanctuary. There are also numerous places to taste delicious Keralan Cuisine. To really relax and unwind, when in Kochi, don't miss out on the luxurious and soothing ayurvedic messages.
Get all the latest travel stories from Zafigo. Follow us on Facebook, Twitter, and Instagram