Geishas, contrary to how they've been perceived in Western society, are skillful entertainers who make appearances at high-end dinners, auspicious events, and private parties. They undergo years of training (usually around five years) to perfect the art of Japanese entertainment.
Gion is considered Kyoto's geisha district and is one of the best places to find these magical women. The area offers visitors a chance to experience the more traditional side of Japanese culture, with old wooden townhouses, teahouses, shops, and restaurants with a few modern bars, clubs, restaurants, and hotels found nearby.
Visiting Kyoto is like stepping back into history. It's steeped in culture and offers visitors a sense of serenity and authenticity, along with the promise of catching a glimpse of the elusive geisha.
Who they are
Young women between the ages of 15 and 20 enter geisha training as maiko. Once they complete their training, they become professional hostesses known as 'geisha' or 'geiko'. Maiko usually wear colourful kimonos with longer sleeves, and use extravagant hairpins in their hair, while the kimonos of geishas are more plain with shorter sleeves. Geishas also tend to wear unadorned wigs over their own hair.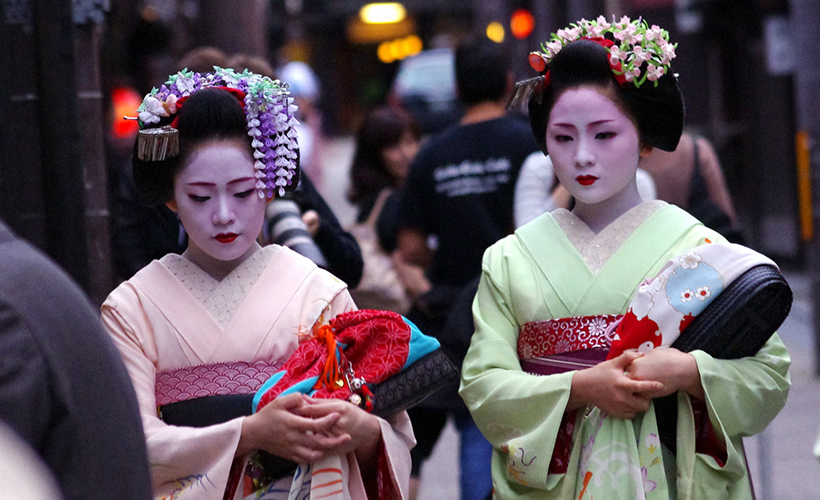 Geishas and maikos often appear at events together, and an appearance by them can cost around USD900 or more, depending on the restaurant and the beverages and food ordered. One can only arrange geisha entertainment by being introduced by an existing patron of a geisha house. During these events, geisha serve food and drinks, dance, sing, perform music, and converse with their clients.
The geisha experience
The best time to spot a geisha is around dusk at Hanami-koji on the south side of Shijo-dori – especially on weekends and holidays.
There are five annual geisha dances held in the spring and autumn. Tickets for these performances can be bought through high-end hotels or directly from the box offices. The Miyako Odori Festival is the biggest geisha dance, where they perform the cherry blossom dance daily in April.
Kyo Odori is the second biggest dance, held daily from the first to the third Sunday of April. Kitano Odori is held in intimate surroundings every day between 15 and 25 April. In Ponto-cho, you can catch the Kamogawa Odori show every day between the 1st and 24th of May. Between 1 and 10 November, the Gion Odori can be experienced at a smaller venue.
Some restaurants offer maiko evenings. Here, patrons can enjoy a Japanese-style dinner while being entertained by maikos dancing, playing drinking games, and mingling with guests.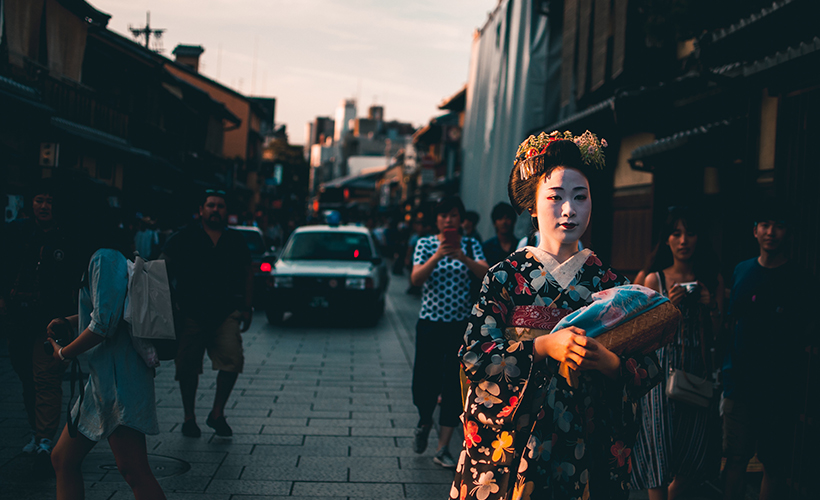 Things to keep in mind
Geisha spotted in the streets of Kyoto area usually on the way to an appointment. They've had difficulty dealing with tourists requesting pictures in the past, and policemen now patrol the area to ensure that they're left relatively undisturbed – and make it to their appointments on time.
Tourists who'd like to add to the experience can undergo a maiko henshin – a 'maiko' transformation. Some places offer to do your make-up and dress you in full geisha garb (including the iconic kimono), and even take you to some scenic areas to take photos. So, chances are that if you see a geisha during the day, they're likely a tourist who underwent this transformation.
The Gion Matsuri (Gion Festival) is held every year throughout July and culminates with a massive parade called Yamaboko Junko on 17 and 24 July. During this time, the streets are closed off to everything except pedestrian traffic, and are lined with street food vendors. It's a great time to visit, as some private homes also open their doors to the public to exhibit their precious family heirlooms.
Would you be up to experiencing this unique tradition?
Get all the latest travel stories from Zafigo. Follow us on Facebook, Twitter, and Instagram.