Although still some time away, the Mid-Autumn Festival season is set to take place on 29 September this year. And you know what that means — the tantalising aroma of mooncakes wafting through the air! This year, we're bringing you the inside scoop on some of the most delectable mooncakes offered by some of Malaysia's foremost hotels. Trust us, you won't be able to resist these heavenly treats!
From traditional flavours to modern twists, there's something for everyone.
Four Seasons Hotel Kuala Lumpur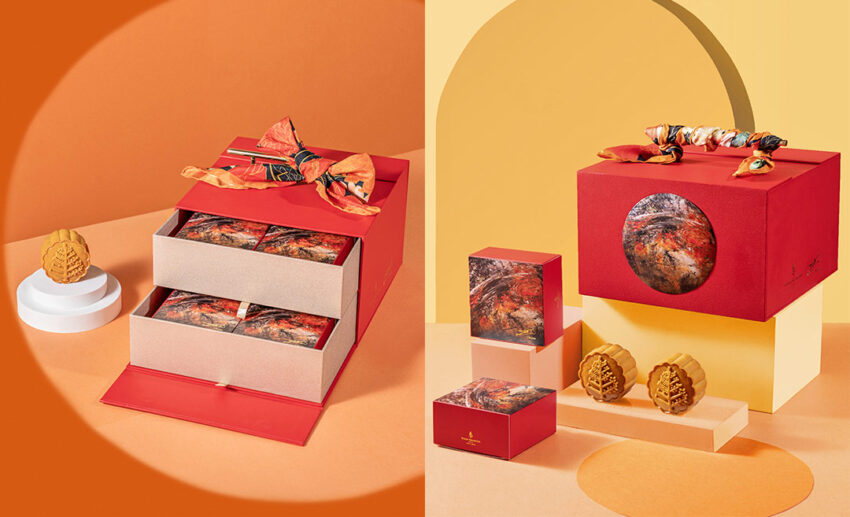 The Four Seasons Hotel Kuala Lumpur has released a spectacular array of gift alternatives. These delicious mooncakes, which are made by Yun House's creative staff, are packaged in limited-edition Four Seasons gift boxes that were created by renowned modern ink artist CN Liew.
The mooncakes, which bear the recognisable Four Seasons brand, come in both classic and experimental varieties. With decadent fillings like Red Bean Paste with Almond Flakes, Pandan with Single Egg Yolk, and Puer Tangerine with Lotus, choose from a variety of traditional Baked Mooncakes.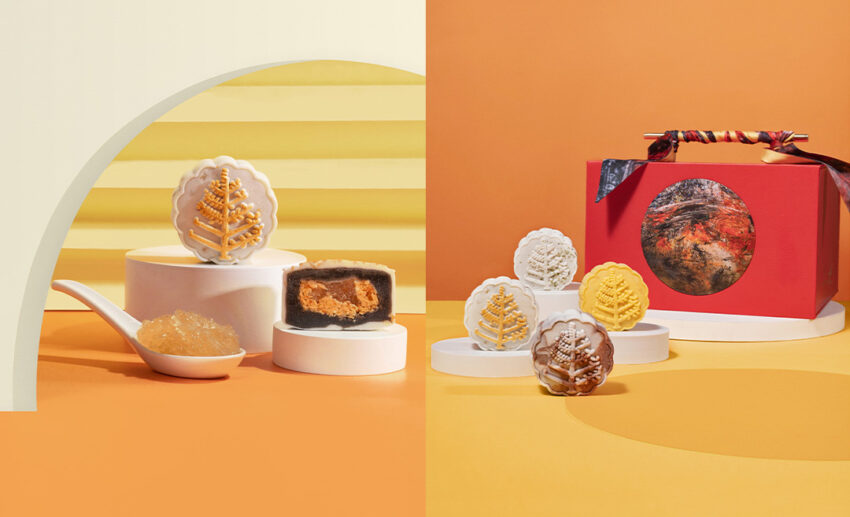 Snow Skin Mooncakes come in an abundance of delicious and unique kinds too. Bird's Nest with Black Sesame and Almond, Chocolate Lotus Paste with Himalayan Salt and Egg Yolk Custard, and White Lotus Paste with Seaweed Black Sugar and Macadamia Nuts are just a few of the exquisite flavours available in these delicate pleasures.
But the decadent Musang King Durian mooncake is the highlight of the lineup!
Eight handpicked mooncakes are tastefully presented in a Four Seasons gift box, which stands out due to its brilliant red colouring, a most auspicious colour. Prices range from RM42 to RM78 (per piece) and RM336 to RM624 (per gift box comprising 8 pieces) for the hotel's festive mooncakes. Orders can be placed at 03-2382 8888.
W Kuala Lumpur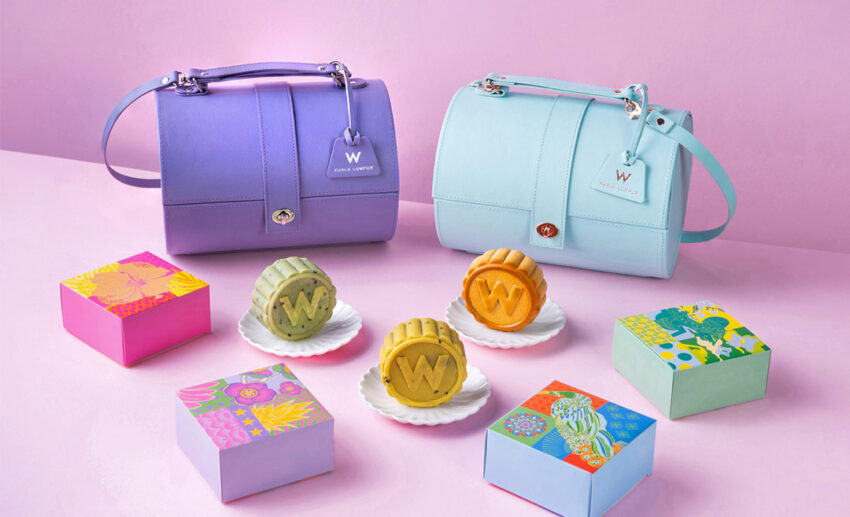 Totally on brand, W Kuala Lumpur's Moonlit Mirage Mooncake Collection is stylish, funky, and oh so delicious. Encased in an elegant limited edition bag designed to reflect the culture, community, and people of Malaysia, it includes four delectable mooncake varieties of the buyer's choosing. Iconic Blue and Enigmatic Purple are the two standout hues of the collection.
The mooncake flavours come in Lotus Seed Paste Double Yolk, Mix Nuts, Red Bean with Tangerine Peel, Pure White Lotus, Black Sesame with Yam Eggs, Jasmine with Red Dates, Puer with Lychee, Seasalt Chocolate. Only RM268 per box.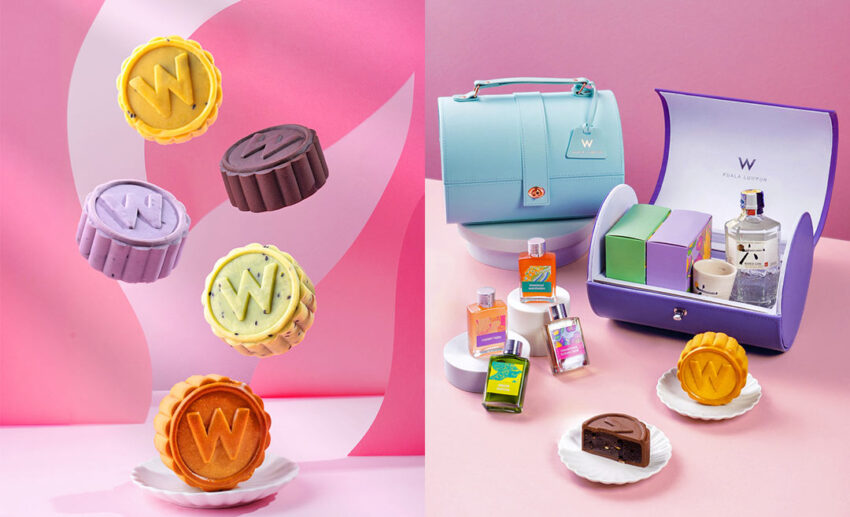 For a real celebration, opt for the Moonlight Mirage Mixology Kit which costs RM348 and sees two mooncakes (Red Bean with Tangerine Peel and Seasalt Chocolate) accompanied by a bottle of Roku Gin (200ml), four mixers — Cherry Yuzu, Osmanthus Elderflower, Kumquat Mandarin, and Melon Matcha, one limited edition stirrer, one Roku shot glass, and one recipe and instruction booklet on how to create the Yuzu Bliss, Floral Fusion, Citrus Burst, and Green Serenity cocktails.
Shangri-La Kuala Lumpur
Shangri-La Kuala Lumpur's mooncakes, which are inspired by the enthralling world of Asian florals, represent the specialities that families have with one another.
Sink your teeth into options such as the Lotus Seed Paste with Double Yolk, White Lotus Seed Paste, Bamboo Charcoal Skin with Pandan Lotus Paste & Single Yolk, Shangri-La Tie Guan Yin Tea Lotus Seed Paste with Single Yolk mooncake, and the all-time favourite Red Bean paste with 30-year-old dried Tangerine skin. A complimentary Deluxe Gift Box can be yours with the purchase of any four cooked mooncakes. Prices for individually baked mooncakes begin at RM38 while sets start at RM138.55.
Four Points by Sheraton Desaru
If you live down south, Four Points by Sheraton Desaru will be offering a new line of delectable yet distinctive Mesh Mooncakes to help you celebrate the Mid-Autumn Festival. The Luxe Gift Set, which the hotel is introducing this year, includes a distinctive bright and colourful yellow multipurpose bag that can be worn as a sling or handbag or transformed into a storage box, making it ideal for distributing mooncakes among your loved ones. The Luxe Gift Set includes three specially flavoured Cendol Custard products: Black Sesame, Gui Hua Qi Zi (Osmanthus Goji Berry), Longan Single Yolk, and Jasmine Lychee.
Head to the Mesh Restaurant for more baked mooncake flavours, including traditional baked White Lotus Single Yolk, Double Yolk, and Shanghainese Yam Single Yolk.
Get the Luxe Gift Set at RM218, Pink Gift Set at RM148, Blue Gift Set at RM138, Box Gift Set at RM118, and individual mooncakes at RM34 each.
Oh Cha Matcha
Healthy binging, anyone? To celebrate, Oh Cha Matcha is offering its Snow Skin Mooncakes for the third year in a row. The packaging artfully captures the joy and wonder of this holiday, inviting you to delve into the ancient Chinese legend of the Moon Goddess and the Rabbit on the Moon.
Oh Cha Matcha's four original mooncake varieties are all here, including the popular Matcha Mung Bean (Matcha Snow Skin), Hojicha Mung Bean (Purple Sweet Potato Snow Skin), Genmaicha Mung Bean (Blue Spirulina Snow Skin), and Gyokuro Mung Bean (Beetroot Snow Skin). These mooncakes are the perfect option for the health-conscious consumer because, in keeping with their brand concept, they not only have an amazing taste but also have several health advantages.
The box of mooncakes costs RM69.90 and available for pre-order at their website.
Westin Desaru Coast Resort
Delight in Extravagant Mooncake Creations from the Westin Desaru Coast Resort. Meant to evoke joyful get-togethers with friends and family, the carefully-crafted mint green purse, which is embellished with exquisite motifs drawn from the resort's surrounding lush vegetation, oozes stylish sophistication and charms even the most discriminating. Not only that, these bags can be repurposed into a gorgeous vanity box, making them great gifts!
Of course, what's important is the mooncake themselves. The resort's superb collection of exquisitely-made mooncakes in six flavours symbolises prosperity, happiness, and the value of family reunions.
The classic baked Pure Lotus Paste with Single Yolk and Black Sesame with Single Yolk mooncakes in this year's collection is made with handcrafted and precisely chosen premium yolks. You'll find classic favourites White Lotus Paste (without Yolk) and Mixed Fruits and Nuts on offer too. Matcha Red Bean Omochi and Violet Harmony are two magnificent versions that will leave a lasting impression and add a dash of uniqueness and excitement to your festivities.
The Celestial Treasures collection may be purchased for a starting price of RM168 per bag that can hold four mooncakes. These delicate designs can also be bought individually.
Oversea Restaurant
Oversea Restaurant impresses this year with a delectable new take on the traditional mooncake: lotus with four yolk mooncakes, which have a symphony of tastes that dance upon the palate and leave an unforgettable impression. This is a signature must-try you won't find anywhere else!
Along with their inventive Oversea Lava Mooncake series and Oversea Snowy Mooncakes, which are intended to bring everyone together, Oversea also offers its well-known baked mooncakes, such as the various fruits and nuts mooncake and the white lotus with double yolk mooncakes. Oversea has also brought back The Moonlight Swirl — a special yee sang pancake dish — in honour of the importance of getting the family together again.
Oversea's Moonlight Treasure is a premium gift set for the Mid-Autumn Festival that includes a variety of their signature mooncakes: Noble Delight with Single Yolk Mooncake, Royal Fairly with Single Yolk Mooncake, Lotus with Single Yolk Mooncake, Golden Starlight Mooncake, White Lotus with Single Yolk Mooncake, and Green Tea with Red Bean Mooncake. Exquisite golden cutlery and rare Pu-Er tea are included in this RM238 gift set.
Additionally, Oversea's premium Opulent Treasure gift set is returning this year with an even wider variety of flavours to suit any palate. The Oversea Oriental Muffin also features carefully chosen ingredients, guaranteeing each recipient's satisfaction and freshness. The specifically created gift sets have a captivating wild floral design with vibrant hues and wildflowers that add to their visual appeal, making them the ideal presents for loved ones.
Available at all Oversea Restaurants, select shopping centres, and their website.
Resorts World Genting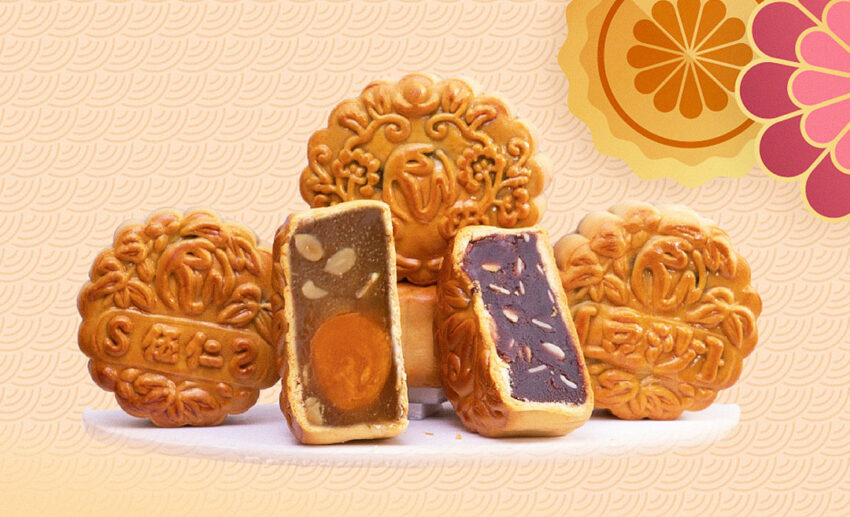 To elevate your Mid-Autumn experience, Resorts World Genting presents its signature Flavours of Genting mooncakes. These delectable pastries are a tribute to both tradition and innovation, crafted with the finest ingredients and an artisanal touch. Enjoy seasonal treats only available until 29 September 2023 to rekindle the joy of family reunions.
A group of master pastry chefs, under the direction of Master Dim Sum Chef Gan Chee Keong, meticulously hand-crafted each mooncake using only the finest raw ingredients. This season's signature flavours are Lotus Paste with Double or Single Yolk, Golden Jade with Single Yolk, Pu Er Lotus Paste with Single Yolk, Green Tea Lotus Paste, and Red Bean Paste. Other delicious options are the inventive Durian Lotus Paste and Durian Lotus Paste with Single Yolk.
The White Lotus Paste Low in Sugar mooncake is a low-sugar option for those seeking a healthier option. Genting mooncake flavours range in price from RM19 to RM28 per piece. They are also Muslim-friendly, allowing everyone to enjoy the treat without restrictions.
Bulk customers can package their delightful goodies in newly designed Mid-Autumn Teal or Red boxes. Alternatively, you can select one of four gift bundles, each costing RM108. Each gift set comes with four distinct mooncake varieties and an extra treat, such as a box of 12 pieces of pineapple tart, durian cookies, or a Pu Er raw tea cake.
The Flavours of Genting kiosks are open daily from 10am to 8pm at the Genting Grand Lobby Floor, First World Hotel, and Malaysian Food Street entrance on Level 4 at SkyAvenue.
For further information, terms and conditions, and collection arrangements, call the Flavours of Genting Hotline at +6010-9313186 or check out their website.
BONUS
VietJet Air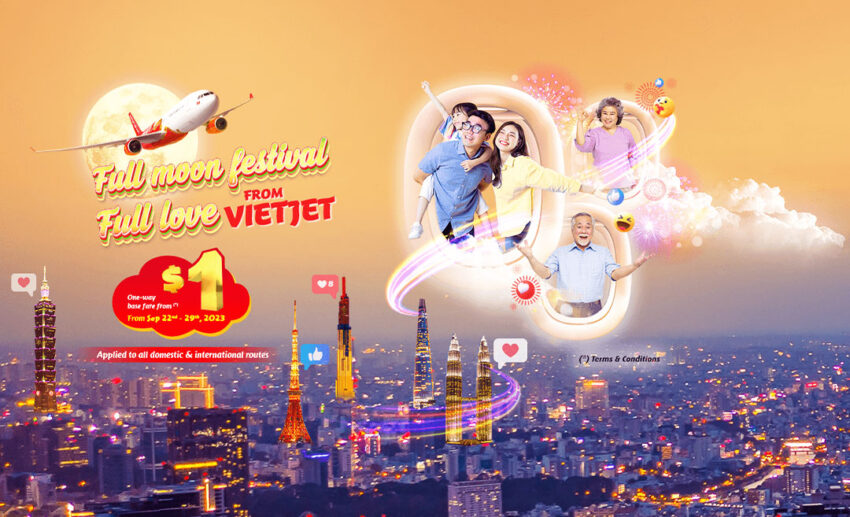 This year, celebrate the magic of the Mid-Autumn Festival by embarking on a journey with VietJet Air, the dynamic low-cost airline making dreams come true. With a week-long ticket promotion to various destinations across Asia starting from RM120, Vietjet is here to whisk you away on a memorable adventure while tantalising your taste buds with delectable mooncakes.
As VietJet Air cruises at an altitude of 10,000 meters above the ground, passengers will also be treated to a sky-high treat in the form of unexpected gifts! All travellers flying to and from Ho Chi Minh City and Kuala Lumpur are also eligible for this appealing price.
Tickets will be available from 22 September to 29 September on their website or via the VietJet Air mobile app. The discount is valid for all domestic and international flights departing between 9 October 2023 and 31 October 2024; you can go anywhere in Malaysia, Vietnam, Australia, India, South Korea, Japan, Hong Kong, Taiwan, Singapore, Indonesia, Thailand, and more.
That's not all. Travellers flying between 12 September and 22 September will get to participate in Vietjet's 'Welcome Mid-Autumn, Spread Love' initiative, in which all earnings from the sale of mooncakes onboard will be donated to disadvantaged children. Please note that the promotion includes tax and surcharges, excluding public holidays and peak seasons.
Editor's note: This article was originally published on 2 August 2023 and has since been updated to include more information.