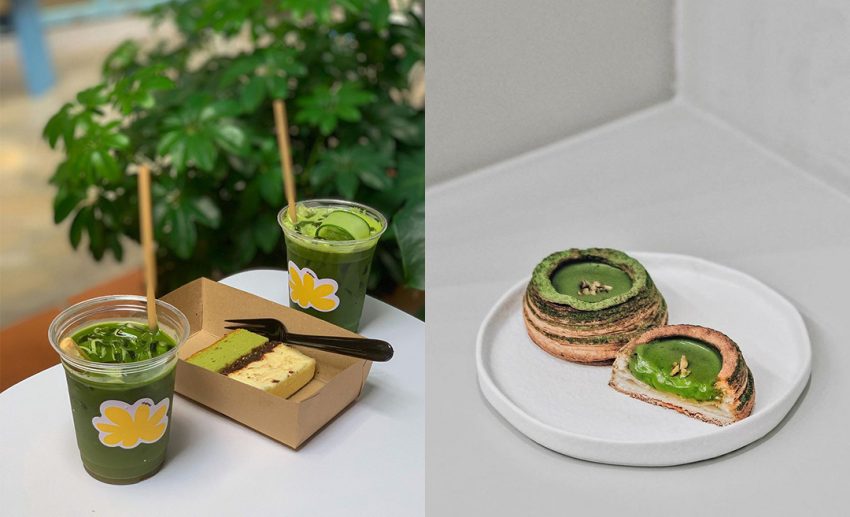 Subscribe to our new 

Telegram

 channel for the latest updates.
With international borders remaining closed and MCO 2.0 implemented, one can only drool and dream about travelling abroad. Other than going on virtual tours during this pandemic, our next best escape would be experiencing different countries through our tastebuds. What better way to start off with a current food trend – Japanese matcha?
What is matcha?
Matcha is made up of finely-grounded green tea leaves. In contrast to conventional tea bags, wherein tea leaves are steeped in the cup and removed after a period of time, matcha is consumed after dissolving the powder into your drink. Proven to contain a high amount of antioxidants, it's a go-to drink for many without compromising taste. Unlike Chinese teas, matcha has a full bodied, umami flavour that leaves an almost indescribable taste of richness in your mouth. Two popular ways of enjoying matcha is by adding milk to it (matcha latte) or by adding water (matcha tea). 
Matcha grades
The different grades of matcha has been commercially marketed according to quality, in which there commonly exist three different grades.
Ceremonial grade matcha is used in the making of koicha, a 'thick tea' with a high proportion of powder to water, as this is the form of tea that defines the traditional tea ceremony. Since prices are steep for this grade of matcha, it's normally reserved for tea ceremonies, and special and religious occasions.
Premium grade matcha is made from young tea leaves, and is mostly used to make drinks. It has a fresh, subtle flavour that's perfect for new and everyday matcha connoisseurs. 
Culinary grade matcha is what you would use for cooking purposes. Think matcha cakes, ice cream, or pastries. As this grade of matcha is slightly more bitter in taste, it allows for a very full-bodied flavour when combined with mediums other than those for drinking. 
How to prepare matcha
To make matcha the traditional way, you will need matcha powder, a bamboo whisk, and a matcha bowl. Good to have items are a bamboo scoop, a small sifter, and a matcha brush holder. Alternatively, you can also use a frother instead of a bamboo brush to ensure an even mix for your matcha drink.
If you're in a pinch for time, opt for 3-in-1 matcha premixes instead. If you favour your matcha latte to be on the sweeter side, try Lipton's Green Tea Latte. For a matcha premix that packs some solid umami flavour, try out Harada's Premium Matcha Latte instead. 
Drink and dessert spots
Niko Neko Matcha
View this post on Instagram

We recommend: Momotaro Matcha White Peach Mocktail
Niko Neko has been the buzz of Kuala Lumpur (KL) and for good reason! One of the pioneers of the matcha craze in Malaysia, Niko Neko prides themselves on serving the best quality of matcha drinks with a twist of modernity. Their take on matcha-infused mocktails have earned them a soft spot among many, and us too!
Instagram | Facebook | Delivery
Matcha Hero Kyoto
View this post on Instagram
We recommend: Iced Matcha Latte and Matcha Ice Cream
Nestled in Pavilion KL's Tokyo Street and Lot 10's Isetan The Japan Store, Matcha Hero Kyoto serves matcha drinks and desserts. Staffed with friendly and knowledgeable Japanese workers, Matcha Hero Kyoto also sells matcha powder and related products. Due to MCO 2.0, do take note that both stores are currently closed until further notice. However, they offer delivery services for their retail products.
Instagram | Facebook | Delivery (Retail products only)
HEJAÜ
View this post on Instagram
We recommend: Matcha + Kelapa
This Malaysian influencer-affiliated new kid on the block is the current talk of the town. Located within The Gasket Alley, HEJAÜ is a quaint store selling matcha beverages with a local twist. Their bestseller – Matcha + Kelapa – is an upgraded, umami version of coconut juice while their Matcha Polo Buns that feature a crusted matcha cookie top sell like hot cakes.
Kakiyuki
View this post on Instagram

We recommend: Matcha Brulee Kakigōri
Kakiyuki is Malaysia's first kakigōri cafe – think cendol (Malaysian shaved iced dessert made with pandan (screwpine) jelly, coconut milk, and palm sugar), but lighter on the tastebuds. Their Matcha Brulee Kakigōri is a delightful treat of snowflake-soft ice made from matcha milk, red beans, and capped with a creme brulee custard. Their Matcha Strawberry Nama Daifuku is also worth the extra calories!
Instagram | Facebook | Delivery
Makan Spots
Littlepeople
View this post on Instagram
We recommend: Charcoal Matcha Roulade and Matcha Tart
Littlepeople is known for their handmade pasta, but their matcha desserts are equally as good! Their Charcoal Matcha Roulade is a symphony of flavour and textures – from the sweet and crumbly matcha white chocolate crust to the soft, matcha whipped cream snugly wrapped in a bamboo charcoal Swiss roll, we think that this dessert deserves some recognition!
Instagram | Facebook | Delivery
The Tokyo Restaurant
View this post on Instagram
We recommend: Matcha Burnt Cheesecake
Tokyo Restaurant exploded on social media during its grand opening at Isetan The Japan Store for their creamy Burnt Cheesecake. But did you know that they'd recently collaborated with Niko Neko Matcha for a seriously good Matcha Burnt Cheesecake? Paired with sweet whipped cream that contrasts the not-too-bitter cheesecake, it's a match(a) made in heaven. 
Instagram | Facebook | Delivery
Mei by Fat Spoon
View this post on Instagram
We recommend: Matcha Butter with Toasted Croissant and Green Tea Cake
Other than their famous donburis (rice bowl dish), Mei by Fat Spoon offers some seriously good matcha bakes. Their fluffy croissant and matcha butter combo would make anyone go ooh-la-la, while their Green Tea Cake's matcha ganache will make your mouth water and salivate over the sexy ganache drips down the side.
Instagram | Facebook | Delivery (The Hub SS2) | Delivery (Desa Sri Hartamas)
Maccha Iki

 
View this post on Instagram
We recommend: Matcha Tiramisu and True Love Mousse Cake
Two is better than one at Maccha Iki, as we can't decide on our favourite! The creamy Matcha Tiramisu is a crowd-pleaser, while their True Love Mousse Cake got us head-over-heels in love with matcha again. Maccha Iki has also recently updated their menu, serving affordable eats with unique flavours – such as the Scallop Jigoku Ramen and Duck Niboshi Shoyu to name a few!
Instagram | Facebook | Delivery
Follow Zafigo on Instagram, Facebook, and Twitter. Sign up to our bi-weekly newsletter and get your dose of travel tales, tips, updates, and inspiration to fuel your next adventure!