Tastes like heaven, but smells like hell: Whatever your opinion on durian is, don't yuck my yum!
Without a doubt, durian reigns supreme with its title as the King of Fruits, and with good reason. Need a handy guide to identifying durian species, the peak seasons, and trusted durian sellers? Here's our Malaysian durian guide for avid lovers and newbies to this iconic fruit!
Durian seasons in Malaysia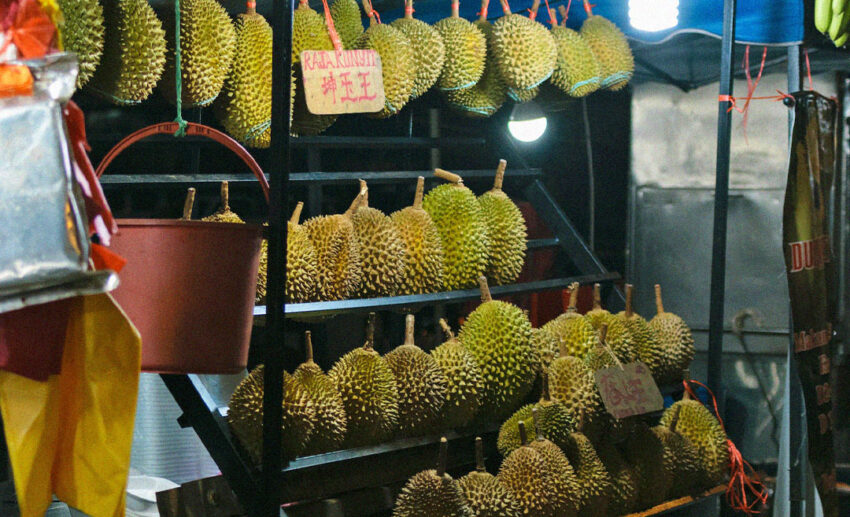 A durian's growth is dependent on the monsoon seasons in Malaysia. A dry climate is required for flowering (which lasts around two to four weeks) and a wet climate for the fruit to ripen (a minimum of three months).
In a durian shell, you'll get the best-tasting durians in Peninsula Malaysia from early June towards September. Meanwhile in East Malaysia, it's from October to February.
There's also a smaller season from December to January in Peninsula Malaysia, and in East Malaysia, it's from May to June.
As Malaysia is a tropical country that gets torrents of rain and has its sweltering-hot days, it's not uncommon to see durians on sale even when it's not in season! But of course, it's always best to enjoy durians at their prime during the peak seasons. They also tend to be a lot pricier when off-season.
Well-loved durian varieties
Musang King (D197)
Loved by many, the Musang King is the most popular durian variety. It has an elongated shape with a narrow top and a fuller bottom, and a husk colour that ranges anywhere between greyish-greenish to yellowish-brown. It also has a star-shaped seam on the bottom and yellowish flesh with a small seed. The Musang King is bittersweet in taste with a strong aroma and creamy texture.
D24
Also known as Durian Sultan, the D24 durian is round in shape with a green-brown husk colour. It's distinguishable feature is the hook-like spikes and tiny, round-shaped seam on its bottom. The D24 also has a bittersweet taste with a bright yellow, firm flesh that is drier in texture. It's usually slightly sweeter than the Musang King.
Black Thorn (D200)
Once you've tried the Black Thorn durian (also known as Duri Hitam or Ochee), your tastebuds will be praising the flavours with joy! It's the most expensive and hard-to-get durian variety that has an astronomical price tag attached to it.
Small in size, but packed in flavour, the Black Thorn durian variety has a yellowish-orange flesh that is thick, sweet, and custardy in texture. It's name is derived from the star-shaped seam with a black stem poking outwards.
Red Prawn (D175)
For those who prefer sweet-tasting durians, the Red Prawn (or Udang Merah) durian is the one to try. True to its name, the Red Prawn durian has an orange-pinkish flesh (like prawns!) that is fine and very creamy in texture. This durian variety is also known to be very stubborn to open.
XO
The XO durian is perfect for those who like their durians on the bitter side. With a taste that is reminiscent of alcohol, the XO durian is actually left to ferment for a longer period of time before prying open to serve. The XO variety is actually the same as the D24 durian, just that it tastes slightly different, has a very soft texture and a pale yellow flesh.
IOI (D168)
As one of the favoured durian varieties from Johor, the IOI durian is also known as Mas Muar. Its flesh is fruity — slightly sour and mildly sweet, with a buttery texture to it. The IOI durian is rather large in size and shaped like an elongated oval. It has a flat seed and the flesh is usually dry to the touch.
Kampung durian
This author believes that the kampung durian variety reigns supreme as compared to other durians. Kampung durians are the most affordable among all durian types, and are usually irregularly shaped and harvested from wild durian trees.
Kampung durians usually have a rather thin flesh, but may vary to each tree. As these durians aren't cultivated from durian farms, the taste oftentimes varies, but that allows for unique and amazing flavour profiles!
Popular durian stalls in the Klang Valley
Petaling Jaya
Durian Man SS2
SS2 is well-known for being the place to enjoy durian, be it buffets or by the kilo. Durian Man SS2 takes it up a notch with their 20,000ft2 durian 'restaurant'.
A hotspot for tourists and locals alike, Durian Man SS2 serves up all types of organically-grown durians from their orchard in Bentong, Pahang. True to their motto that 'every day is durian day', you'll be able to get your durian fix here all year round.
Address: Lot 7680, Jalan SS2/24, SS 2, 47300 Petaling Jaya, Selangor
Operating hours: Monday to Thursday from 11am to 11pm, Friday to Sunday from 11am to 12pm
Contact: +6012 234 5619
Sinnaco Durian Specialist
With over 50 years dabbling in cultivating, growing, and selling durians from their farm in Bentong, Sinnaco Durian Specialist is one of the many durian sellers to go to for fairly-priced durians in the SS2 area. Not only does Sinnaco sell durians at their outlet with air-conditioned seating, but they can also cater for durian parties of up to 100 pax too!
Address: 28, Jln 19/3, Seksyen 19, 46300 Petaling Jaya, Selangor
Operating hours: Daily from 12pm to 11:30pm
Contact: +603 7960 2600
Subang Jaya
Say Heng
Subang locals know that the Say Heng Durian Stall isn't easily missed. Located by the corner of a Petronas fuel station, one may think that Say Heng Durian Stall offers a durian drive-through concept. Sadly, they don't, but you can always call ahead to make your order and have it brought over to your car when you pick it up. Regulars love their great customer service and variety of choices, with the daily 5kg durian promotion being the most sought after and value-for-money.
Address: No Petak 11&12, Jalan USJ 14/1k, Usj 14, 47630 Subang Jaya, Selangor
Operating hours: Daily from 12pm to 11pm
Contact: +6012 999 2333
Shah Alam
Durian Brothers Seksyen 20 Shah Alam
Operated by two brothers, this humble roadside stall has a steady flow of regulars for their competitive prices and the freshness of their durians. Durian Brothers Seksyen 20 brings in their durians from both Pahang and Johor, with the IOI, Musang King, and Udang Merah being their hot-selling varieties. For those who love the taste of kampung durians, you can get them here (or at any stalls nearby this shop) for an affordable price too!
Address: Persiaran Tengku Ampuan, Lot 2, Jalan 20/1, Seksyen 20, 40300 Shah Alam, Selangor (adjacent to Petronas Seksyen 20)
Operating hours: Daily from 1pm to 10pm
Contact: via WhatsApp
Kuala Lumpur
D.MasKing
Durian cendol, anyone? If you've ever craved this thirst-quenching dessert when you're out shopping in Bukit Bintang, pop on over to D.MasKing at Lot 10. Here, you'll be able to get all things Musang King — which is directly sourced from their plantations located in Raub and Bentong in Pahang. From fragrant cendol topped with a heaping serving of Musang King durian to Musang King soft serve, it's a quick fix at a convenient location to satisfy your durian cravings!
Address: H20, BintangTerrace, Lot 10 Shopping Centre, Jln Sultan Ismail, Bukit Bintang, 50250 Kuala Lumpur
Operating hours: Daily from 10am to 10pm
DurianBB Park
Just 10 minutes away from Pavilion Kuala Lumpur, this durian park located in Imbi is an Instagrammable place to enjoy durian within the city. Once you walk in, you'll see DurianBB's durian mascot all over the park, and you can even purchase cute durian merchandise here. The Signature Durian Tasting Platter is a popular option for those who would like to try different types of durian, but don't want to commit to finishing it entirely.
Address: 15, Jalan Kamuning, Imbi, 55100 Kuala Lumpur, Malaysia
Operating hours: Monday to Sunday from 12pm to 10pm
Contact: +6012 313 8699