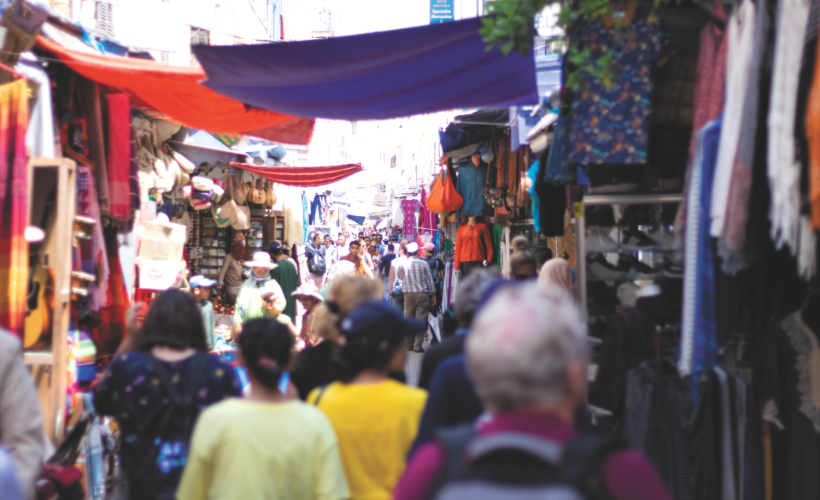 Goa is more than a paradise for tourists who love its beautiful beaches, nightlife, cuisine, heritage, and festivals. This western Indian state has more to offer to the people travelling from the country and abroad; Goa is a shopper's paradise too. Bargain hunters and shopaholics can enjoy at the many flea markets around the state.
These days, the local market scene has grown exponentially, mainly owing to its large traveller population who flock to them 365 days a year. The types of markets you'll find here comprise of street markets, flea markets, and night markets — in other words, the kinds that are popular all over the continent of Asia. Make sure to include these three famous Goan flea markets to your itinerary when you travel to India:
Anjuna Flea Market
The Anjuna Flea Market is one of the most famous ones and is known for its handicrafts and jewellery items. Anjuna, located in Goa's northern territory, was an isolated coastal village till the '60s when it then transformed into a cultural symbiosis for western music and eastern spiritual practice. It was discovered by the hippie movement and made a popular spot for backpacking and nightlife trance parties. The flea market initially started as a hippie exchange, where foreigners sold things from their home country. Anjuna is also loved for its gorgeous beach that offers diverse activities like water sports, food, and lazing under the sun.
Today, the hippie market is a bygone chapter, and the Anjuna Flea Market has gradually evolved into a full-fledged market. Wednesdays are when you'll find various national and international artists and vendors set up shop. Clothes, jewellery, bedsheets, wall-hangings, handicraft items, hammocks, and many other things can be purchased from the market.
It stretches from the beach shacks of Anjuna to the other side of the road in the paddy fields and operates from 9am till 6pm. The ideal time to visit is during the tail end at about 4pm, when the sun is not as strong, and live music starts streaming from the beach shacks. The market is only open from November till March.
Arpora Saturday Night Market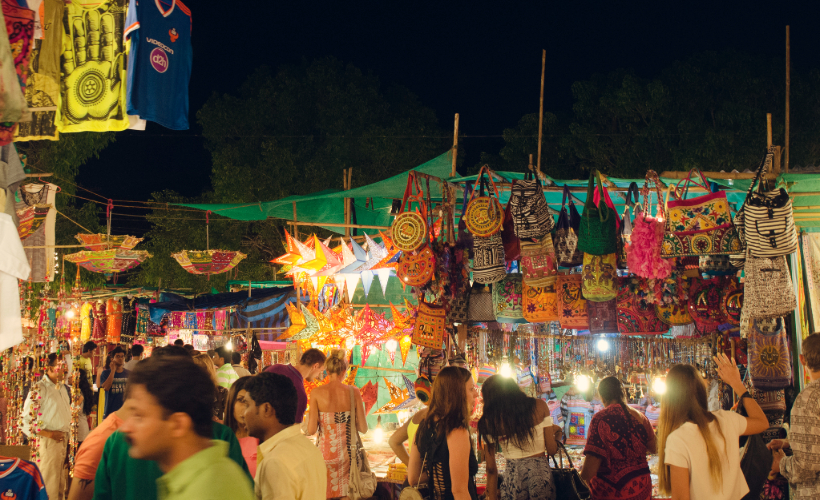 Tropical weather and the nightlife are what make Arpora an ideal place to have a night market. Arpora is a small village that is nestled in the Northern Goa belt and is renowned for the Saturday night market. Located in the vicinity of Baga Beach and Anjuna Beach, you can easily travel down to this place from Anjuna.
The seasonal market begins operating from the month of November and is active till April. Every Saturday, the market opens at 4pm and carries on till 11pm. In the peak season of December to February, a plethora of stalls open, and the market extends its hours to remain open well past 12am. Keep in mind that the market is also jam-packed with scores of people during peak season.
Arpora's Saturday Night Market market is quite large, and you can shop for a wide array of items. Arpora is also famous for selling spices. Prices can run high, though the option to haggle is open.
---
Want to be sure you'll always get the best deals? Just follow these tips:
---
Mapusa Friday Market
Mapusa is a small town in North Goa, located near Mount Alo. Every Friday, a traditional market comes to life and becomes quite the tourist attraction. Unlike the Anjuna and Arpora markets, this one is famous for selling local agro-based products. Produce like dried fish, pork sausages, pickles, and Goan chorizo can be bought from the market. Farms products like bebinca (layered pudding), cashew nuts, seedless tamarind, and dodol (palm sugar confection) are also available. You can also discover fresh and rare varieties of Goan fish like modso, chonak, and so on too.
You can shop for other items like textiles, clothes, and Goan pottery. If you are looking for bargains, pick up items like hand-woven kunbi sarees and antiques. The market is opened every Friday from 9am to 7pm. With all that walking, the snacking options are amazing. Head to the nearby Goan khaau galli (food court) that serves cuisines ranging from traditional Goan to Chinese.
Thanks to markets such as these, when you pay Goa a visit, you can bid goodbye to expensive souvenir shops and boutiques. They afford visitors a peek into the daily lives of the locals and is an enjoyable experience for all.
AirAsia flies from Kuala Lumpur to Goa 23 times a week. Visit www.airasia.com to plan your trip!
Get all the latest travel stories from Zafigo. Follow us on Facebook, Twitter, and Instagram.