Connecting the nation's capital Delhi with Agra (the Mughal city) and Jaipur (the royal city), the India Golden Triangle circuit is the most visited tour as it covers important destinations in Northern India. In fact, these three cities are a mere 200 to 250 kilometres from each other.
Adding to its appeal is the diversity of heritage, culture, and rich history that you will get to discover along this route, making it the perfect tour to get to know the South Asian country. So, for those who would love to discover what India truly holds, a golden triangle tour of India offers plenty. Book a Golden Triangle Tour Package and you'll be able to visit and experience these amazing things (among others):
1. Remembering lost ones at India Gate, Delhi
India Gate is a war memorial that commemorates the sacrifice of the soldiers who fought in World War I. It's a beautiful place to visit as the monument stands tall and proud within a vast space that's lined with well-kept, lush green lawns grown in symmetry. Tourists come here to contemplate the memorial's magnificence and just kick back on the peaceful lawns. One thing you must enjoy here is a sunset with your partner or friends.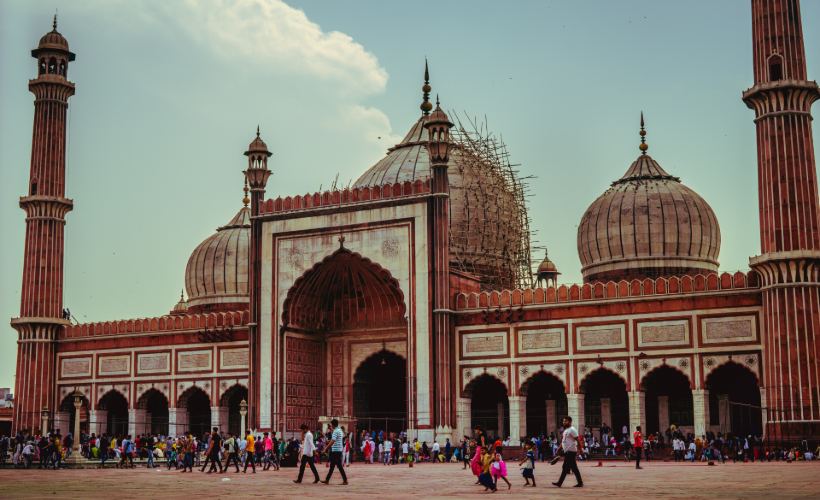 2. Be in awe of the grandeur of Jama Masjid, Delhi
Mughal Emperor Shah Jahan, who also built the Taj Mahal and the Red Fort, built Jama Masjid in 1644. The largest mosque of Old Delhi, Jama Masjid draws tourists to its red and white sandstone Mughal architecture. This highly-decorative mosque features a vast courtyard capable of holding 25,000 devotees. You'll notice a soothing and peaceful atmosphere when you visit this place of worship, and rightly so, as it's one of India's largest and foremost mosques.
3. Gorge on delicious street food in Delhi
One of Delhi's major attractions is its spicy, tangy variety of food. Flavourful and utterly tempting, some of these street eats will surely bring tears to your eyes! However, you simply must try the various samosas, chole bhature (fried bread), aloo chaat (fried potatoes with spices and chutney), bhel poori (puffed rice snack), aloo tikki (potato cutlet), and besan ka cheela (savoury pancake). If you're more into sweets, you won't find a shortage of India's famous sweets such as falooda (a cold dessert with rose syrup and vermicelli), jalebi (deep-fried pretzel), rabri (condensed milk-based dessert with nuts and spices), and a never-ending list of treacly delights in Delhi.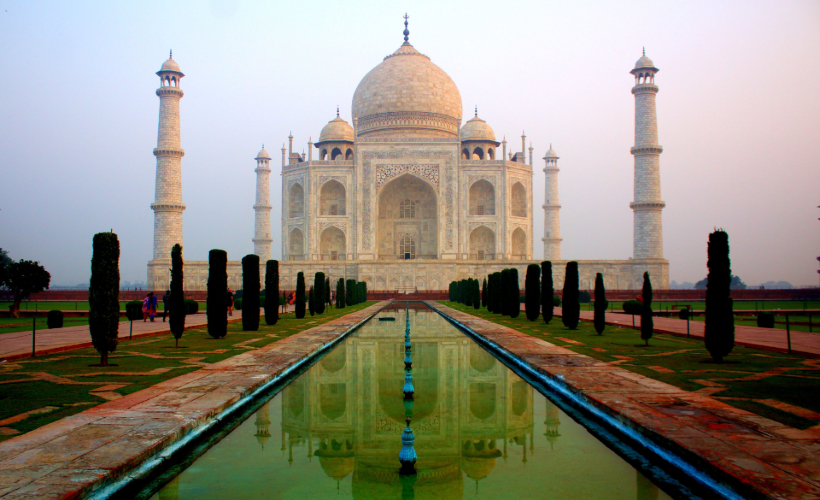 4. Fall in love with the Taj Mahal, Agra
Built by Mughal Emperor Shah Jahan in 1648 in memory of his wife Mumtaz Mahal, the Taj Mahal is a monument to love. It is actually a beautifully-detailed and intricately-designed mausoleum of white marble. Today, the Taj Mahal is listed as one of the new Seven Wonders of the World and is among the most famous UNESCO World Heritage Sites.
5. Wander within the pride of Agra, Agra Fort
Agra is famous for its grand Mughal marvels. Agra Fort is definitely one of them, and situated just 2.5 kilometres from its sister monument, the Taj Mahal. Also known as the Red Fort for its striking hue that's the amalgamation of red sandstone with white sandstone, it's a magnificent maze-like structure any visitor can appreciate.
6. Sample the Petha – Agra's gastronomical delight
Not just famous for its Mughal's architecture but also for its savoury treats, Agra too has tasty delicacies worth trying. And without a doubt, the Agra ka petha is the most famous. Petha is a transluscent soft candy made from winter melon. There are other variations too – like the paan petha that's flavoured with pistachios, saffron, and cardamom.
---
From the chole bhature of North India to the famous Hyderabadi biryani of the south, pack your bags and set off on a food journey:
---
7. Get tickled pink at the Hawa Mahal, Jaipur
Jaipur, the capital of Rajasthan, is famous for its royal history, Rajputi architecture, and culture. Also known as the pink city, one of the most iconic buildings to see here is Hawa Mahal, built by Maharaja Sawai Maan Singh. He built the Hawa Mahal (also known as the Palace of the Winds) for his family's women. This palace has over 900 jharokhas (windows) that allow the women to easily – and privately – watch city life as it happens.
8. Shop till you drop at Johri Bazaar, Jaipur
Johri Bazaar is one of the oldest traditional markets in the country and is a definite highlight along your tour of India's golden triangle. Keeping in line with the pink city theme, most of shops in the market are painted in the cotton candy hue. Here, you'll be able to procure all sorts of things like textiles, home décor, exotic pottery, and plenty of jewellery. You'll find that the hottest-selling item here is the footwear, and we recommend that you get a pair or two! They're the most beautiful flat-soled leather shoes called juttis.
9. Get the full Rajasthani experience at Chokhi Dhani, Jaipur
Aiming to preserve the Rajasthani art and heritage, Chokhi Dhani is a unique concept that showcases traditional cuisine in typical village surroundings, complete with deepak (lamp) wall and costumes. This restaurant aims to give its visitors the full feel of a village scene, so diners will get to watch a traditional folk dance and magic shows while indulging in mouth-wateringly spicy Rajasthani cuisine.
10. Marvel at the captivating history of the Amber Fort, Jaipur
It's easy to get carried away by the charm of the spellbinding historical Amber Fort. Essentially a palace, this majestic location includes royal courtyards, the Sheesh Mahal (a pavilion used by the imperial family that features stunning intricate mirrorwork), and temples. Do spend the evening here too so that you'll get to see the light and sound show held in the evenings. It's one of the places you shouldn't miss out on when in Jaipur.
So there you have it. It's easy to see that the golden triangle tour of India has something for everyone from historical sites to shopping to delicious delicacies. Go on and get to know India in a whole new way.
32391, 33404, 32697
Get all the latest travel stories from Zafigo. Follow us on Facebook, Twitter, and Instagram.