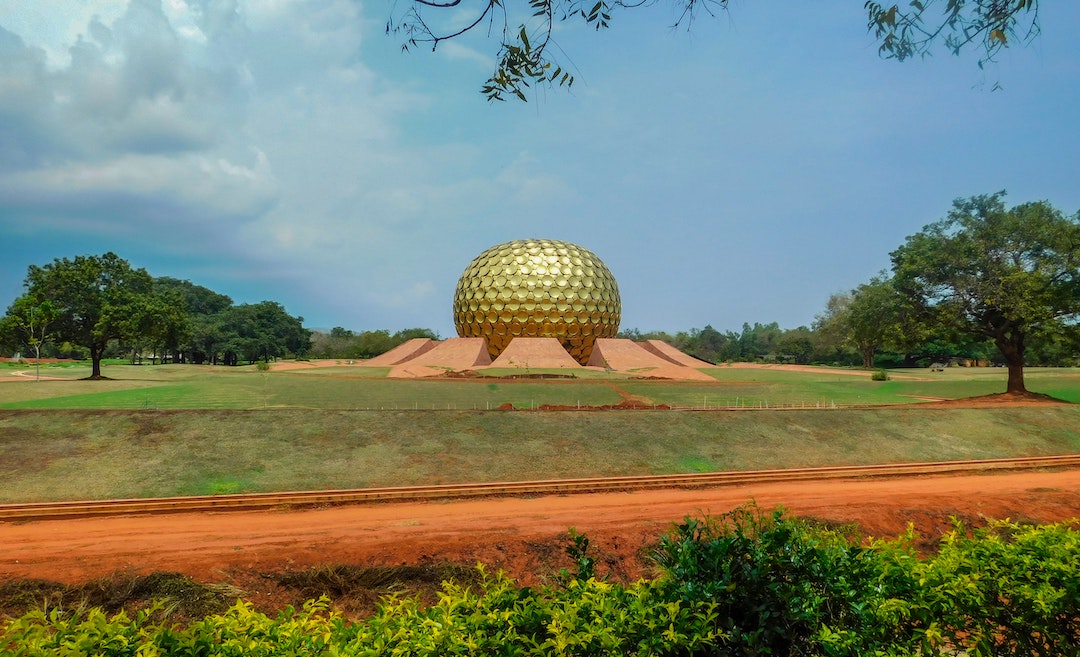 Zafigo's Quick Guide to Pondicherry for Women Travelling Alone or with Family and Friends
Known as the 'French Capital of India', Pondicherry exudes the charm of colonial times with remnants of eras gone by. This coastal town is often distinguished by its European architecture, pretty promenade, mustard-coloured walls, old churches, and classic French cuisine. Pondicherry has been colonised by the Portuguese, the Dutch, the French, and the English, and much of their influence is visible even today.
The unique thing about Pondicherry is its eclectic mix of old and new, where history meets modernity, and nostalgia lingers in every nook and corner. This vibrant city with a French heritage infused with South Indian culture treats women travellers with honour and respect. No wonder Pondicherry is a must-visit destination in India if you're looking for a laid back vacation by the sea.
Here are 10 tips to help you make the best of your trip: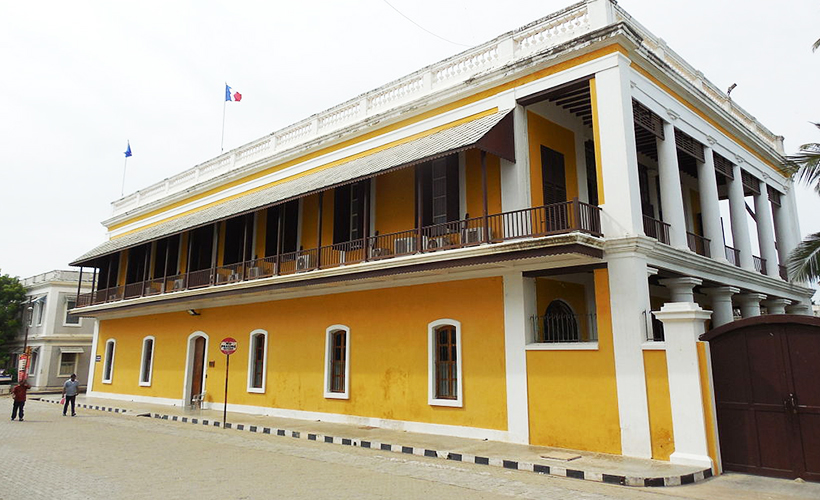 1. Best time to visit
Pondicherry has a warm climate throughout the year. However, October to February constitute the cooler months, and is the perfect time for beach fun, sightseeing, and water sports. The temperature doesn't go below 17℃, however, it's advisable to carry a few light wool pieces.
Things get brutally hot in the summer months from March to June, and the estimated temperature is 41℃. This is a good time to enjoy the water activities as the beaches are less crowded.
The monsoon season starts from July and lasts till September. The average temperature in the erratic monsoon season ranges between 25℃ and 33℃. Pondicherry receives heavy rainfall to light showers every year. If you're the kind of person who loves to soak in the rain and experience scenic views, this is the time for you to plan a trip.
However, the city turns to its most vibrant best in the month of August, when nationalist and philosopher Sri Aurobindo's birthday is celebrated.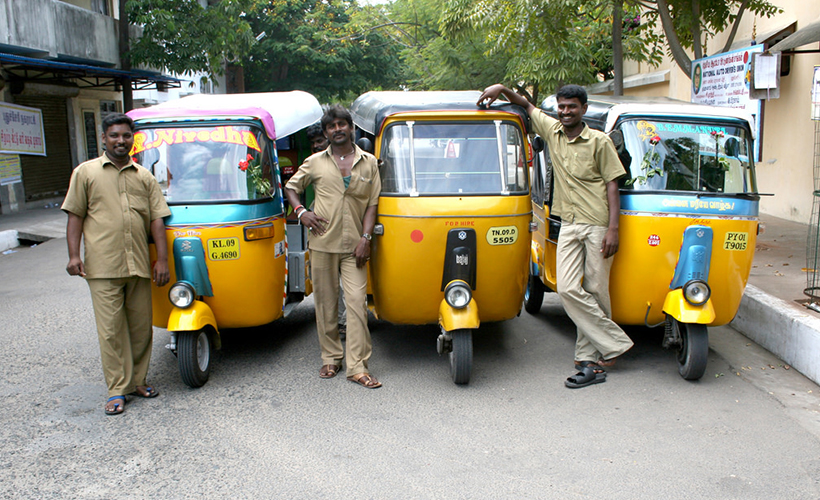 2. Getting around
Pondicherry Tourism Development Corporation (PTDC) operates local bus tours that cover major attractions in the city. The cost of these bus tours ranges between INR300 to INR400 (approximately USD4.20 to USD5.60). Also, within the city, there are numerous auto rickshaws available for hire, but they quote hefty rates.
Other than that, there are options for car rentals and Ola Cabs that quote a fixed price and are pretty easy to get. However, the most economical way to explore Pondicherry is by hiring a bicycle or a two-wheeler. They're available for rent from outlets along Mission Street. Per day prices starts at INR40 (approximately USD0.56) for bicycles and goes up to INR350 (approximately USD4.90) for two-wheelers.
---
Beautifully diverse with its various dialects, many fortresses, and castles, India is a land with a rich history:
---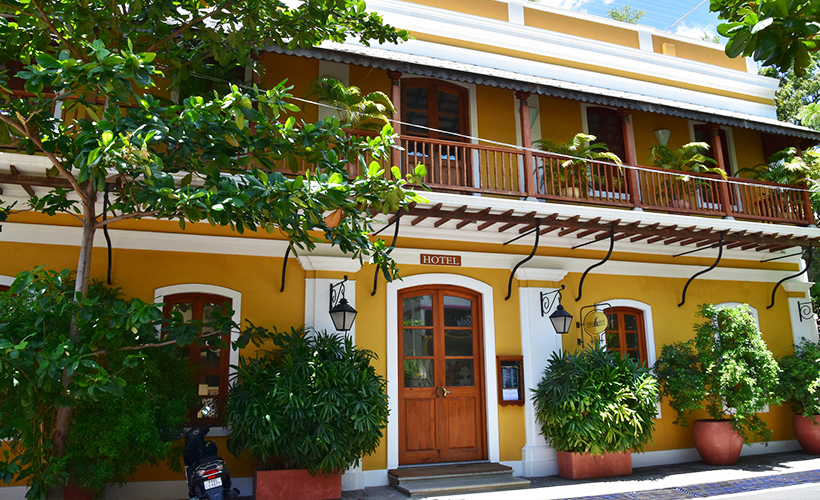 3. Accommodation within the French Quarters
Staying in White Town lets you sink in the true essence of the French Riviera in a special way. Whether you're a heritage lover or a luxury seeker, the unique mix of hotels in White Town have something for everyone, with many of them French colonial houses turned into heritage hotels.
If you're intrigued by the heritage charm, you must consider Villa Shanti, La Villa, Palais de Mahe, and Le Dupleix. Meanwhile, beach bunnies should consider a stay at The Promenade or Le Pondy. These are luxurious properties and the cost is on the higher side, but they're totally worth it.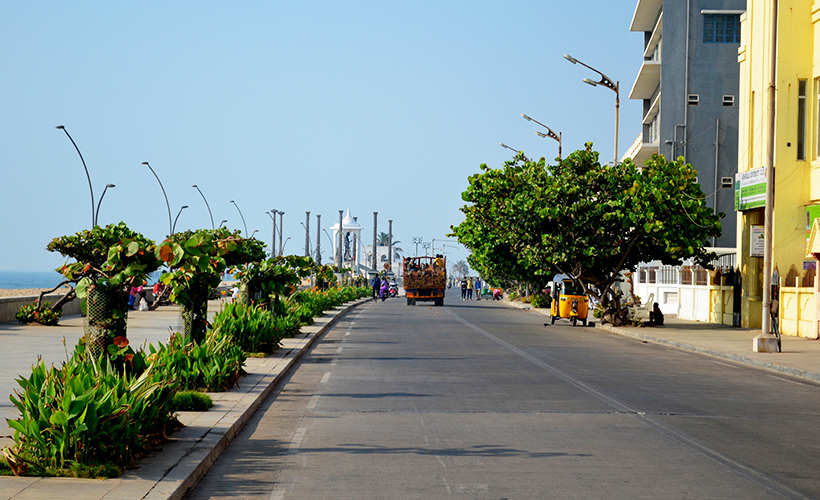 4. Explore the city on foot
One of the best things to do in Pondicherry is to explore the city on foot and sink in the elegance of bygone eras. If you're a culture vulture, the contrasting architecture of the Tamil and the French Quarters will leave you in awe. A stroll along the long stretch of Promenade Beach is the best way to soak in the magic of the French Colony. In order to explore this little slice of France in India, guided walking tours are also conducted that cover heritage landmarks. Bring your camera because Pondicherry is great for street photography.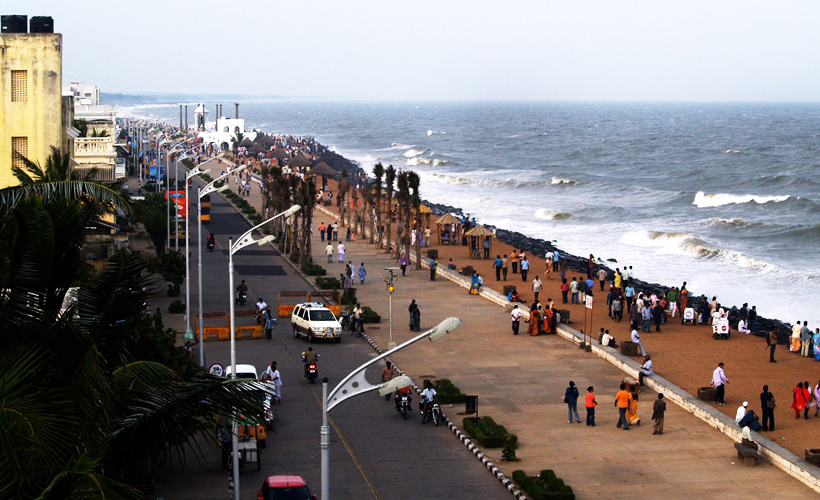 5. Understanding the culture of the French Riviera
The dual identity of Pondicherry is the result of the French and the Tamil Quarters. As a result, its culture is a seamless blend of two personas, and the city's cosmopolitan aura with colonial architecture is peppered by native traditions. The true flavour of Pondicherry lies in the warm hospitality of the locals who treat guests as their own. They lead a simple life, and mostly speak Tamil, English, and French. This medley of French and Indian culture can be seen in the form of various festivals that are celebrated in this quaint, little city.
One of the most popular celebrations is the 'Mask Festival', where people wear unique masks and fancy outfits and parade on the streets. Another major festival is the Masi Magam, during which idols from different temples in the city are taken out and immersed in the sea. The International Yoga Festival is also celebrated every year on the grounds of the Sri Aurobindo Ashram. Apart from these festivals, Pondicherry also celebrates Sri Aurobindo Ghosh's birth anniversary on 15th of August, along with Independence Day.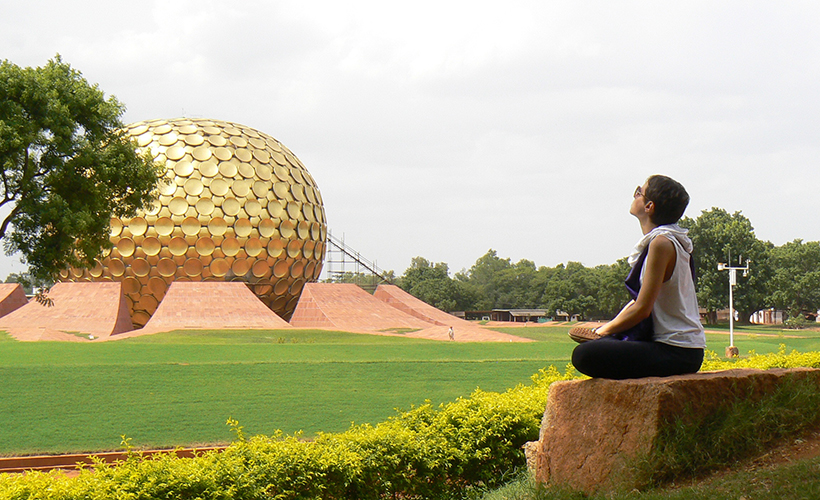 6. Soaking in spirituality and inner peace
This city nurtures the spiritual calling of travellers who seek inner peace through yoga and meditation. For a soul-searching experience, visit the Sri Aurobindo Ashram and Auroville. Sri Aurobindo Ashram is a community that preaches Sri Aurobindo's teachings on 'Integral Yoga'. This ashram sheds light into the lives of Sri Aurobindo Ghosh and Mirra Alfassa whose vision was Auroville.
Popularly known as the 'City of Dawn', Auroville is an experimental township set up to promote human unity. Matrimandir is the spirit of Auroville. It looks like a massive golden dome amidst lush surroundings, and Matrimandir is the place to seek inner peace and find consciousness. In order to go inside this iconic landmark, two to three days prior booking is required. You can obtain a pass from Auroville Visitors Center.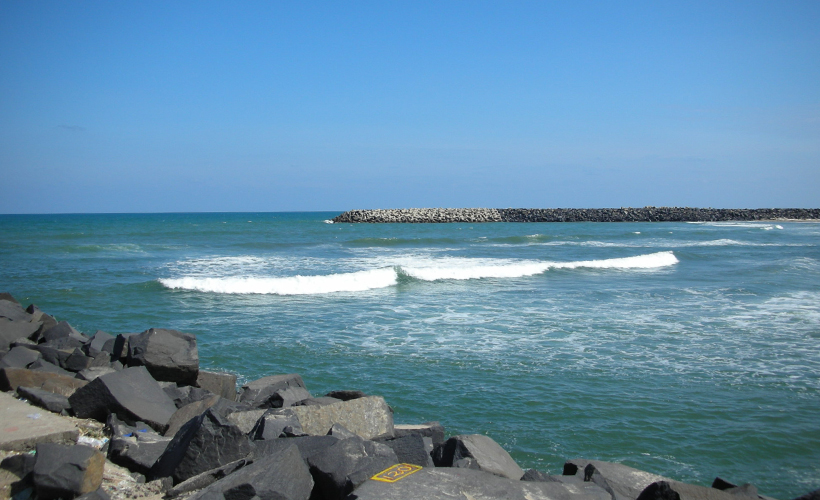 7. Basking in the glory of sun-kissed beaches
The 'French Capital of India' boasts some idyllic beaches. The incredible shore lined by shimmering waters and golden powdery sands are heavenly. Relax and admire the sights, have fun with thrilling water activities, or go for a long walk. Pondicherry's beaches have it all. Do also catch a sunrise and sunset.
Promenade Beach/Rock Beach
A 1.2-kilometre stretch along the Bay of Bengal, Promenade Beach is the most popular beach in Pondicherry. Some historic landmarks located here tell the stories of ancient India. No doubt, Promenade Beach is one of those places that soothes the eyes as well as the soul.
Paradise Beach
Paradise Beach is a treasure trove for nature lovers. It looks like the stuff of dreams, and is one of the cleanest beaches in South India. Paradise Beach is not yet commercialised and is only accessible by boat – the basis of its appeal.
Serenity Beach
You'll be amazed by the exquisiteness of Serenity Beach. Hugged by swaying palms and covered in pristine sand, coming to this beach is must. Laze around and let the gentle waves lap at your feet. Serenity Beach also gives visitor's a glimpse into the hard lives of local fishermen who earn their daily bread from the sea. Surfing is also quite popular here.
Auro Beach
Auro Beach is an untouched beauty of nature away from the hustle and bustle of the city. It's not very popular among tourists, which makes this place an ideal spot to indulge in moments of captivating tranquillity. The shallow waters make this beach perfect for those who enjoy swimming. Sunsets here are also very lovely.
---
If you find yourself in India as the year draws to a close, there are definitely a few spots where fun, frolic and feasts abound:
---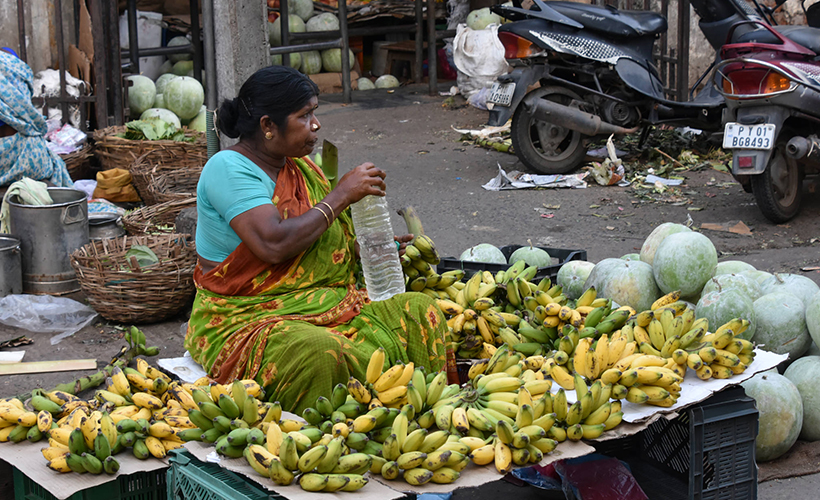 8. Shopping hotspots
Pondicherry is a shopper's paradise with an array of boutiques, departmental stores, and street stalls. So, scouring the vibrant markets is a must while you're in town. The city embraces sustainability and offers eco-conscious shopping options. From pretty souvenirs to handicrafts, garment textiles to earthenware, and leather products to antiques, you'll find all sorts here. Here's where to go:
· Casablanca, Mission Street for linen, home decor items, leather products
· Kalki, Mission Street for handmade items, jewellery, personal care, fragrances
· Studio Ebony, MG Road for stylish furniture made from cane and wood
· Anokhi, White Town for ethnic wear for women
· Auro Wood Work, MG Road for handmade artefacts
· Hidesign Flagship Store, MG Road for handcrafted leather products
· Goubert Market, JN Street for fresh produce, grocery, flowers
· Serenity Beach Bazaar for local handicrafts, accessories, attire, ceramics
9. Delve into lip-smacking delicacies
If you're a food connoisseur, you'll definitely fall in love with Pondicherry. Everything you find in this coastal region is an absolute delight to your taste buds. The endless cafes and restaurants are all about delicious food with a fusion of flavours from two distinct cultures – Indian and French.
Most of the fine dining restaurants here are a part of heritage properties that have an old school aesthetic with a contemporary outlook. Here, your palate will have plenty of culinary fare to choose from, like South Indian, French, Continental, and Chinese cuisine to name a few. Here are some recommendations:
· Villa Shanti, White Town for North Indian, Continental, Arabian, and Chinese cuisine
· Bay of Buddha, The Promenade, White Town for Thai, Chinese, Vietnamese, Malaysian cuisine
· Le Dupleix, White Town for French, Continental, North Indian cuisine
· Coromandel Cafe, White Town for Italian, French, British cuisine
· Escape In, White Town for North Indian, Continental, Arabian, Chinese cuisine
· Cafe Xtasi, MG Road for Italian cuisine
· Cafe Des Arts, White Town for French cuisine
· Bread & Chocolate, Auroville for baked goods and healthy eating options
· Zuka, MG Road for dessert and baked goods
· Gelateria Montecatini Terme (GMT), White Town for dessert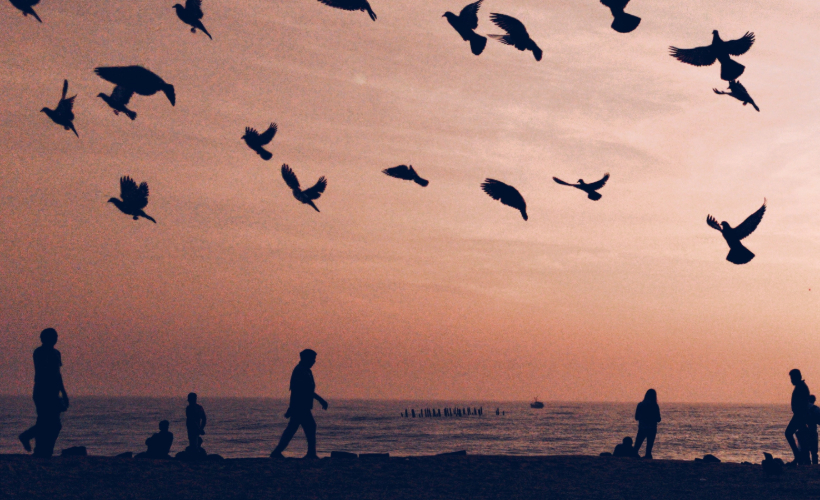 10. Some key points
Pondicherry is pretty safe for female travellers when compared to other cities in India. However, visiting a place without knowing much about it can be daunting, especially as a non-native. Here are my personal tips to help make your trip memorable:
· The culture of Pondicherry is straightforward and not as open as Goa. But being a coastal town with a French influence, wearing a pair of shorts will not be frowned upon. However, it's best to carry a multi-purpose stole in your bag. If you're visiting nearby villages, it's advisable to dress modestly.
· As Pondicherry is a coastal city, the climate is generally humid. Wearing cotton fabrics are the coolest way to beat the summer heat. A pair of sunglasses, sunscreen, and a hat is also recommended for protection from the sun's harsh rays.
· If you're planning to hire a two-wheeler, make sure to carry valid identity and you license. Inspect the vehicle and take a picture, so that the vendor can't hold you liable for any damage that you haven't caused.
· Pondicherry doesn't have vibrant party scenes like Goa. Most of the streets are empty at night, and wandering around is a big no unless you're in a group. Restrict yourself to pubs, restaurants, and cafes for some laid back fun over good food and drinks.