When hitting a bar for the first time, one is always curious about the cocktail menu. Some bars are renowned for their creations that become world-renowned. Like how the Singapore Sling was first created by Raffles bartender Ngiam Tong Boon in 1915. Most other resorts, like El Nido, offer their patrons their own cocktails or mocktails too (in this case, a yummy blend of coconut water and pandan that goes great with a shot of Malibu on request).
Suffice to say, cocktails are very telling of a locations history, geography, and culture. So the next time you're having a night out at a new locale, be sure to check out the cocktail menu for something unique. In the meantime, here are ten amazing bars around the world that you should consider visiting for a tipple:
El Chanchullero in Havana, Cuba
This one is quickly rising through the ranks. Always brimming with people, expect a line outside El Chanchullero. But it's well worth the wait. After all, it's got that chilled Havana vibe you're looking for! The space is bright, colourful, and inviting. Be sure to have a taste of their rendition of the Cuba Libre. And if you're feeling a bit peckish, don't hesitate to sample the tapas – they come just as highly-rated as the drinks do. You'll also find that prices here are surprisingly low.
Website: www.fb.me/ElChanchulleroBar
Address: Teniente Rey, 457A Bajos Plaza El Cristo Habana Vieja, Havana, Cuba.
Business Hours: Open daily, 1pm to 12am.
Indulge Experimental Bistro in Taipei, Taiwan
Anyone who's ever been to Taiwan has either heard of or at least visited Taipei. The city is replete with many bars, but none of them stands out quite as much as the notable Indulge Experimental Bistro that's a modern space with a homage Taiwanese heritage. Listed as on the World's 50 Best Bars, mixologist Aki Wang's vision for the bar is around the interaction of five elements – metal, wood, fire, earth, water, and mankind. Don't miss out on their signature drink – Element Wood No 2 – that features a heady mix of Taiwanese single malt whiskey, homemade pickled plum soda water, incensed pine ocean cordial, fresh pine, and pineapple sage. Yum!
Website: www.instagram.com/indulgebistro
Address: No. 11, Lane 219, Section 1, Fuxing South Road, Da'an District, Taipei City, Taiwan.
Business Hours: Open daily, 11:30 am to 5pm and 6pm to 3am.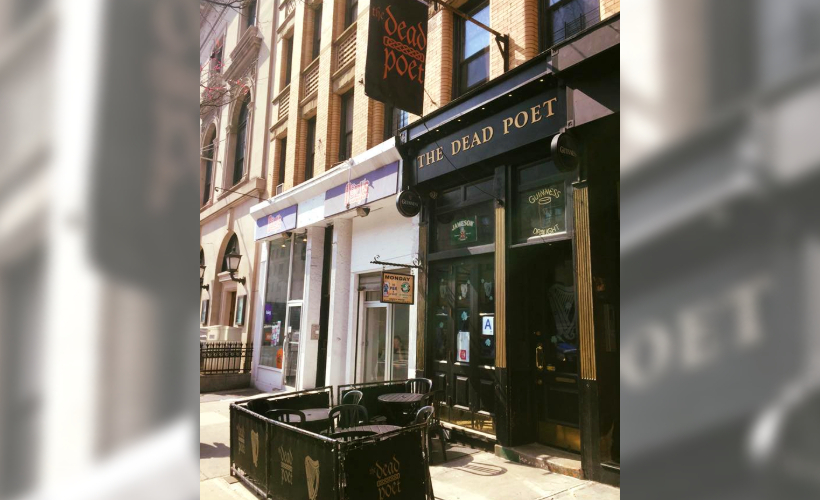 The Dead Poet in New York, US
Although a small place, The Dead Poet leaves a big impact. Its owner, originally an English teacher, designed this bar to celebrate the lives of the world's most famous writers and poets. Clearly a literary-themed bar, you'll be treated to world-class cocktails amidst a setting that features mahogany-panelled walls adorned with quotes and musings. Unsurprisingly, the house cocktails on their menu are named after some literary greats like Edgar Allan Poe, JD Salinger, and Pablo Neruda amongst others. Their most popular cocktail, however, is The Dead Poet that combines a whopping seven liquors with a splash of a sour mix that tastes like grape soda.
Website: www.thedeadpoet.com
Address: 450 Amsterdam Ave 2, New York, NY 10024, United States.
Business Hours: Open daily, 12pm to 4am.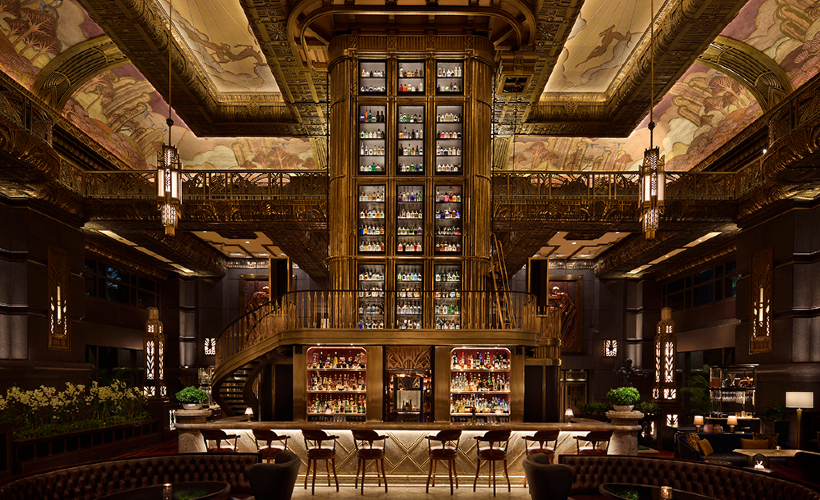 Atlas Bar in Singapore
Welcome to Gotham City! And while Singapore may be famous for its rooftop bars, you won't care about a view when you're at Atlas Bar. The interiors here are awe-inducing. Intricate and ornate, the bar marries art deco and gothic styles, making you feel like you're in a Batman film. When it comes to the drinks, the menu certainly doesn't disappoint. Atlas boasts one of the world's most remarkable physical collections of gin and champagne (we're talking thousands of bottles).
It is also in Atlas bar where you can indulge in some of the world's best cocktails as it also frequents the World's 50 Best Bars list year after year. Our favourite cocktail? Esperia – described as sharp yet floral, savoury with a botanical finish. It features Dutch jenever, jasmine-infused dry vermouth, French herbal liqueur Italian bitters, honey, and lemon.
Website: atlasbar.sg
Address: 600 North Bridge Rd, Parkview Square, 188778, Singapore.
Business Hours: Monday to Thursday, 10am to 1am; Friday, 10am to 2am; Saturday, 12pm to 2am; Sunday, closed.
---
When it comes to nightlife, Singapore practically transforms from a business hub to a buzzing network of bars:
---
Carousel Bar in New Orleans, U.S.
Tucked within the Hotel Monteleone, Carousel Bar is simply magical. The bar itself actually revolves and is the city's first and only rotating bar. Steeped in heritage, Carousel Bar is an institution, having been established in 1949. Have the Vieux Carré, a bar's most famous cocktail that was created in 1938 by Hotel Monteleone's head bartender, Walter Bergeron. If you're a fan of the sweet stuff like Viniq, another Carousel Bar original you ought to try is the Fleur De Lis – a cucumber-infused gin concoction.
Website: hotelmonteleone.com/entertainment/carousel-bar
Address: 214 Royal St, New Orleans, LA 70130, United States.
Business Hours: Open daily, 11am to 12am.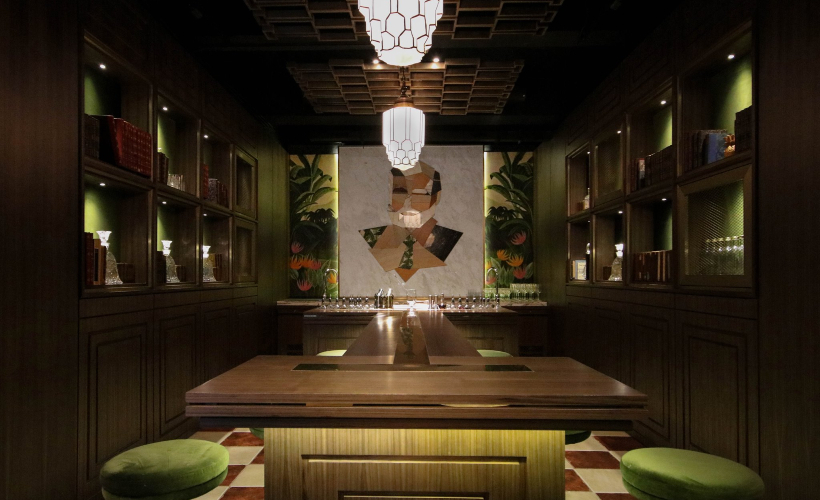 The Old Man in Hong Kong
Nabbing the top spot as number one on the list of Asia's 50 Best Bars for 2019, The Old Man in Hong Kong has managed to capture attention with their remarkable selection cocktails despite only being around since 2017. Named after the Pulitzer Prize-winning novel The Old Man and The Sea, the drinks here are inspired by the author's favourite drinks. A cosy space to enjoy your after-hours drinks at, The Old Man's menu features sweet and savoury combinations, along with some unique ingredients you'd be surprised goes well in a cocktail – like gruyere cheese.
Website: www.theoldmanhk.com
Address: Lower G/F, 37-39 Aberdeen Street, Soho, Central, Hong Kong.
Business Hours: Monday to Saturday, 5pm to 2am; Sunday, 5pm to 12am.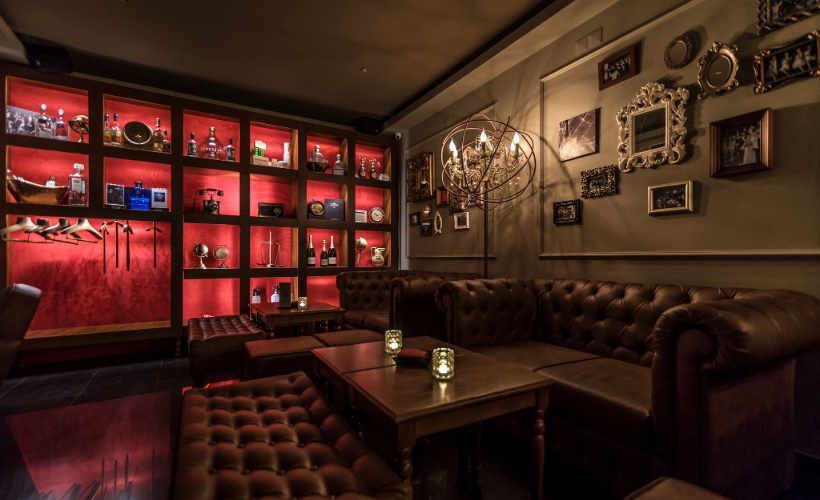 Red Frog Speakeasy in Lisbon, Portugal
It certainly looks like the prohibition era lives on here! As with all speakeasies, you've got to be in the know to find Red Frog as there's no signage besides a lone red frog on a wall next to a double-door. Just ring the bell under the frog and a few moments later, you'll be let into a moody and cosy space that's perfect for kicking back in. Don't expect to have a roaring time here, as the ambiance is pretty relaxed, but you will most certainly be able to enjoy wonderful conversation over some amazing drinks. The favourite signature mix here is the American Gangster (Bulleit bourbon whiskey, Madeira, amaro, maple, coffee, cocoa, and tobacco leaves). For something sweeter, go for the Papa Toucan (Capucana Cachaca, Amazon Fruit, molasses, camu camu, nutmeg, and fermented coconut water). Red Frog is also listed as one of the 100 Best Bars in the World.
Website: www.fb.me/redfrogspeakeasy
Address: Rua do Salitre 5A, 1250-196 Lisboa, Portugal.
Business Hours: Monday to Thursday, 6pm to 2am; Friday and Saturday, 6pm to 3am.
Bar High Five in Tokyo, Japan
This cosy basement bar is a must-visit even if only to witness their master mixologist Hidetsugu Ueno carve one of his famous diamond ice cubes. Set in a basement in Tokyo's glitzy Ginza district, Bar High Five is something of a mecca for cocktail lovers. It also always turns up on the list of the World's 50 Best Bars. When making your pilgrimage here, try the classic White Lady or one of their house mixes such as the Full Blossom. Do note that they don't accept parties larger than four, so this is a bar for an intimate evening. They do also have quite a few house rules.
Website: www.fb.me/BARHIGHFIVE
Address: 104-0061 Tokyo, Chuo City, Ginza, 5 Chome−4−15 Efflore Ginza5 Building.
Business Hours: Monday to Saturday, 5pm to 11:30pm.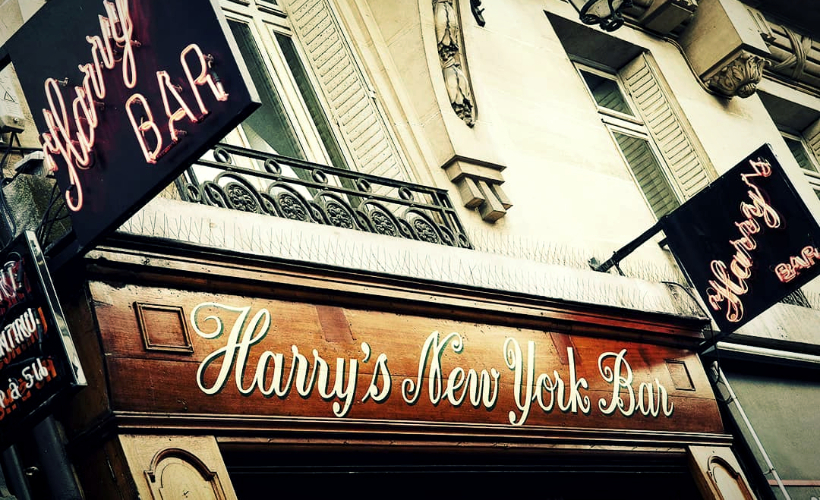 Harry's New York Bar in Paris, France
Don't let the name fool you. This penultimate entry isn't some swanky bar in Manhattan, but rather a legendary Parisian landmark. Harry's has been serving cocktails since 1911 and is so much of an institution that when Ian Fleming penned A View To A Kill, he picked Harry's New York Bar as the go-to that James Bond visits for a stiff one in Paris. Of course, it also has a star-studded clientele of real people, namely Coco Chanel, Ernest Hemingway, Humphrey Bogart, and even the Duke of Windsor.
It's easy to see that the appeal of Harry's is in its frat house vibe. There's just something about the place that'll keep you coming back or staying on. When it comes to the drinks, expect the classics reimagined and stick to them – get the Sidecar (made with Cointreau instead of cognac), Old Pal (a take on the Negroni that swaps gin for whiskey), and Monkey Gland.
Website: www.harrysbar.fr
Address: 5 Rue Daunou, 75002 Paris, France.
Business Hours: Monday to Saturday, 12pm to 2am; Sunday, 4pm to 1am.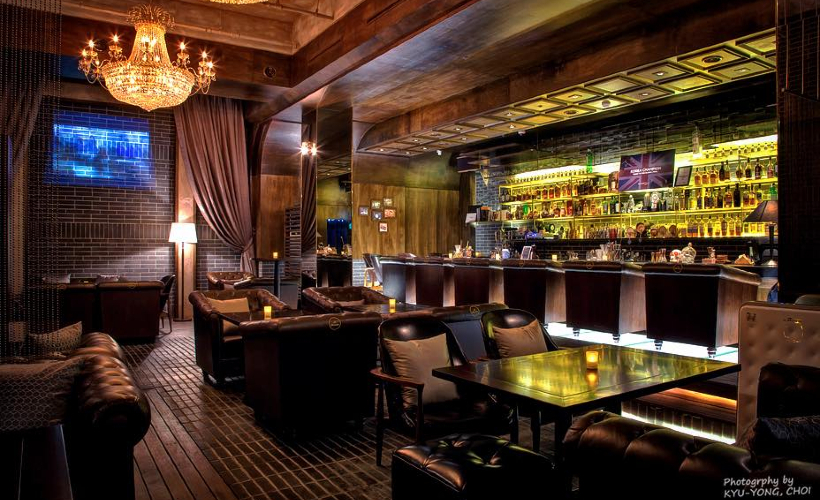 Le Chamber in Seoul, South Korea
To step into Le Chamber's world, push a book on a shelf and a door slides open into the speakeasy. The cosy and posh setting, complete with chandeliers and sunken lounge chairs, provides visitors with a welcoming space to unwind. As for those behind the bar, expect to be in the good hands of award-winning mixologists. Try the Chamber Mule – a house favourite – and don't overlook the Ginseng Martini. After all, you're in Seoul and South Korea is known for this medicinal root. Le Chamber is also listed as one of Asia's 50 Best Bars.
Website: www.fb.me/LeChamber.seoul
Address: 42 Dosan-daero 55-gil, Cheongdam-dong, Gangnam-gu, Seoul, South Korea.
Business Hours: Sunday to Thursday, 7pm to 3am; Friday and Saturday, 7pm to 4am.