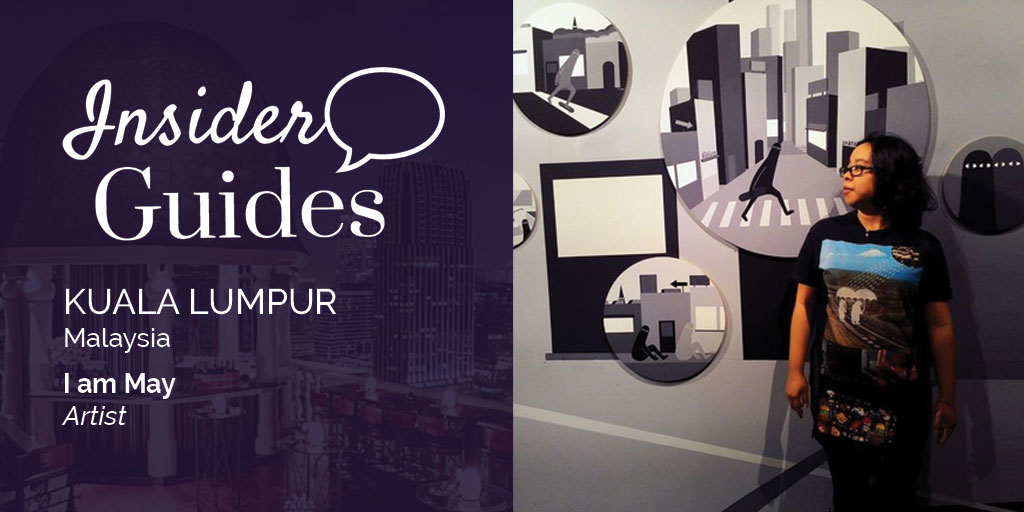 A designer by day, illustrator by night and an artist through and through, I am May – she prefers to be known by this nickname – truly loves doodling and has showcased her talent at many exhibitions as well as commissioned public spaces. You could say she born into the creative life, as both her parents are artists and designers by profession.
Born in Kuala Lumpur and has lived in neighbouring Petaling Jaya for most of her life, I am May's artworks reflect the perfect chaos of an artist: A combination of bright colours with bold and thin strokes, and random yet artistic patterns. Her followers know that her signature element 'TV Head' is often the focal point of her work, and represents things that she grew up surrounded with such as media, film, music, TV, and computer monitors. Her aesthetic has evolved into 3 distinctive styles –namely dark fierce strokes, clean kawaii characters, and commercial line drawings – and her best medium is mostly dry media. I am May is most comfortable with pen and ink, and takes her inspirations from talents such as Neil Gaiman, Jeff Soto, Jim Morrisson, Kitsune, Anna Sui and Christopher and Jack Nolan, and Jon Burgerman, whom she met a few years back at a design 'show and tell' at Publika.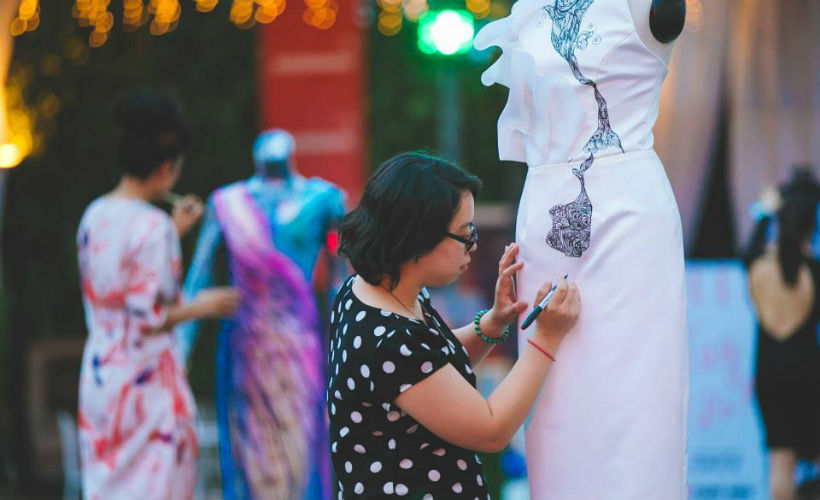 Whether she's designing, working on her art, or cooking, there must be good music playing in the background – but no radio-friendly tunes, please! She makes a mean ABC soup and can whip up a few different chicken papillote dishes too. She recently started making and selling homemade kimchi and hopes to expand her range to include sambal, with some twists thrown in.
Where does she find inspiration for her art and food creations? I am May shares her 5 favourite spots in Kuala Lumpur that are her Neverland.
KLPAC: For Endless wide open space and Zen
The city's oldest train station has been transformed into the Kuala Lumpur Performing Arts Centre (KLPac), an art and theatre pavilion, surrounded by a lake, lush greenery, endless trees and fields of neatly-trimmed grasslands. I find the wide endless space pretty serene… it provides some Zen-ness whenever I am there, to attend events or catch a play or musical. I guess I like the vastness of it, and how the old buildings meet modern architecture so seamlessly. It's the vibe you get when you're at a place surrounded by untainted nature in the middle of the concrete jungle. I find this to be the perfect place to clear your thoughts after a long, grinding day at work or whenever you feel like hanging out with nature.
 D7 Sentul East: Ambiguous open courtyards, art jamming, and good coffee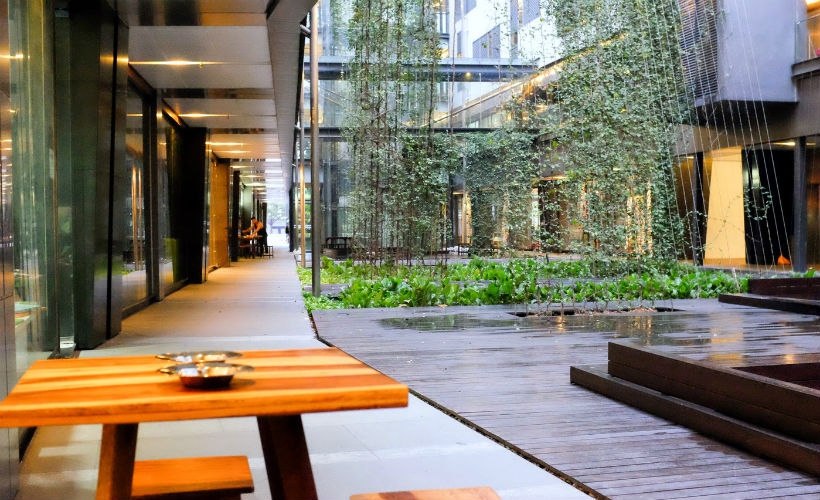 Imagine finding yourself in the middle of an urban paradise with minimalist architecture, where greenery flanks sleek wooden spaces, while wide courtyard allow natural light to shine through and onto everything beneath it… This complex in Sentul, not far from KLPAC, is truly spectacular. A good friend of mine, Ben, runs an art gallery here called The Refinery where he conducts art jamming sessions every Sunday. That was how I came to know of this tranquil hidden gem. You can also have a good cup of joe here, by Three Little Birds, by the same people behind Artisan Roast, one of the city's most popular coffee cafes.
PJ Trade Centre: Naked industrial awesomeness
Raw, uninhibited… come as you are; what you see is what you get. The PJ Trade Centre is an awesome industrial-looking building that houses offices, some restaurants and cafes, and provides great backdrops for a shoot – be it for your personal social media platforms, or even an indie film. Many fashion shoots have taken place here. The raw, red bricks and white hollow brick walls are among its most photographed features. Walk around at sunset or around 9am and watch the light seep through the openings in the walls – it looks like the perfect scene in a Wong Kar Wai movie. I fell in love with the place the very first time I came here, about 7 years ago. It's quite hard not to.
GRIND 22: Cosy nooks and crannies
How do I even put it into words about this hidden gem, tucked away from the hustle and bustle of the Bangsar's commercial area? Let's just say that every single time I come here, I feel like I'm having tea at the back of an old house in Japan, which is a really comforting thought. GRIND 22 is decked out with lots of greens, which practically surround you, and there's natural light spewing in through the glass roof. Good food, brilliant cakes, good coffee and tea, what else can you ask for more? I find it to be a really tranquil place to chill, have some food and drinks, and draw all day while bathing under the sun. They occasionally host open mic performances and stand-up comedy.
Kaiju: Floating dragon, glass walls wonderment
The hanging dragon sculpture at Thai-Japanese restaurant Kaiju reminds me a lot of that one scene from The Little La Cha, an old animated film, when the dragons came and attacked the village, hovering above them. It is pretty awesome to feel like you're being guarded and protected by a dragon while you eat, drink and be merry! Kaiju is located at APW Bangsar, a raw industrial haven, and the restaurant enhances that appeal with the brilliant use of natural light and by keeping everything translucent. It makes me think of a neo, organic Blade Runner-esque Tokyo, though less hi-tech and nicely balanced with nature. I can just sit here all day and admire all the beautiful angles where the sunlight pierces through, forming a montage of rays.
Which one would you pick?
In Insider Guides we ask local women to give us their top recommendations on a particular subject or area of interest in their city. Want to be featured in the next Insider Guides? Drop us an email at
editor@zafigo.com
with the subject line 'I want to be an Insider Guide for my city'.