Hasn't the weather been erratic lately? First, it's too hot, then it rains too much, and even our city is struggling to keep up with the weather. Fitting that the current travel trend is to go camping (or glamping, for those who prefer the finer things in life) by waterfalls or rainforest campsites. After all, it's a cheaper alternative to escape from the heat than jetting off to a colder climate.
Not a fan of roughing out a night's sleep in a tent? You might find solace in these riverfront properties where you can still enjoy Mother Nature's gift in the comfort of a well-kept room. Check out our five picks for a relaxing vacation at these riverfront properties!
Mulu Mariott Resort & Spa, Sarawak
Don't sacrifice your comfort when you go on a nature-themed getaway! Situated right by the banks of Sungai Melinau (Melinau River) and enveloped within the lush rainforests of Borneo is Mulu Mariott Resort & Spa, a 5-star nature retreat that is located right next to Gunung Mulu National Park.
Mulu Mariott Resort & Spa offers seven types of rooms at their resort, but for the best view of the Melinau River, we highly recommend going for their suites – the Premier, Melinau, and Presidential Suites each have a balcony of various sizes for you to to enjoy the sounds of the cascading river from the comfort of your own room. Otherwise, you can enjoy the view of the riverfront when you sip and snack at the River Bar.
Your trip to Mulu Mariott Resort & Spa isn't complete without going on the tours offered by the resort. Being situated nearby a UNESCO World Heritage Site, hop on a charter and explore four of Mulu's show caves – the Deer Cave, Lang Cave, Clearwater Cave and Wind Cave.
For a brush with the locals, traverse down the Melinau River with the Long Iman Settlement tour to visit a Penan tribe community and get acquainted with their handicrafts and unique architecture. You can also opt to go boating by taking the Long Lesat River Walk or the Long Desai Waterfall tours.
Address: Mulu Marriott Resort & Spa, Sungai Melinau, PO Box 1145, Mulu, Malaysia, 98008
Reserve your stay
Belum Rainforest Resort, Perak
Fancy staying on a house boat in the middle of a lake? You can do so at Belum Rainforest Resort located in Pulau Banding, Perak! Belum Rainforest Resort is an eco-tourism resort embedded within the 130-million-year-old Belum-Temengor Rainforest. Although this resort isn't situated on a river, we think that it's too unique to not mention! With the way the small islands are laid out, it's as if you're situated along a river confluence.
At Belum Rainforest Resort, you can expect accommodation options ranging from deluxe rooms, traditional kampung chalets, rainforest villas and — wait for it — a floating boat! While other hotels or resorts offer a scenic view of the water from your room, Belum Rainforest Resort takes it up a notch by letting you feel the gentle rocking of the waves when you sleep on the Houseboat.
Moored at the resort's jetty, there are four cabins that can accommodate up to nine pax, and access to the open roof deck to stargaze on cloudless nights. During your stay, you'll also get to enjoy all-day dining which includes a BBQ dinner, an on-deck karaoke system, and also go on the Belum Discovery Excursion. On this tour, you'll keep your eyes peeled for rafflesia, go on a jungle trek, and also have a refreshing picnic by a nearby waterfall.
Of course, a holiday isn't complete without a picture for the 'Gram! The infinity pool at Belum Rainforest Resort overlooks the Temenggor Lake, and if you angle your shot correctly, you can make your photo look like you're walking on water!
Address: Belum Rainforest Resort, Pulau Banding, 33300 Gerik, Perak
Reserve your stay
Sukau Rainforest Lodge, Sabah
The 40-room Sukau Rainforest Lodge is the best riverfront property you can stay at in the town of Sukau. This award-winning riverfront property is located on the banks of Sabah's longest river, the Kinabatangan River, and is home to bountiful wildlife in Borneo, including the endangered Orang Utan, Proboscis monkeys, and the adorable Bornean Pygmy Elephants!
Although the rooms don't have a view of the river, there's still much to talk about! There are two types of accommodation offered at Sukau Rainforest Lodge, namely the Superior Room and Villas. Both room selections are artfully decorated with Bornean motifs and come with additional amenities such as private indoor sunrooms or balconies, mosquito netted windows, and international electrical sockets for your convenience.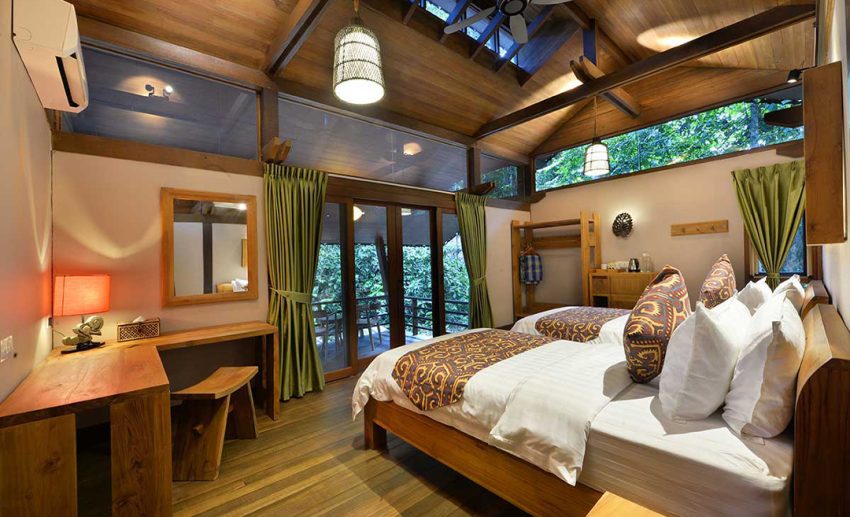 Can't pick which room to stay in? If you're travelling with a small group and want to fully immerse in the Bornean culture, pick the Superior Room. You'll get to stay in a modernised traditional longhouse arrangement, with rooms adjacent to each other. Pick the Villas if you value privacy and personal space, as the rooms here are 60% bigger than the Superior Rooms, and have separated buildings. You'll even get your own private outdoor balcony overlooking the rainforest!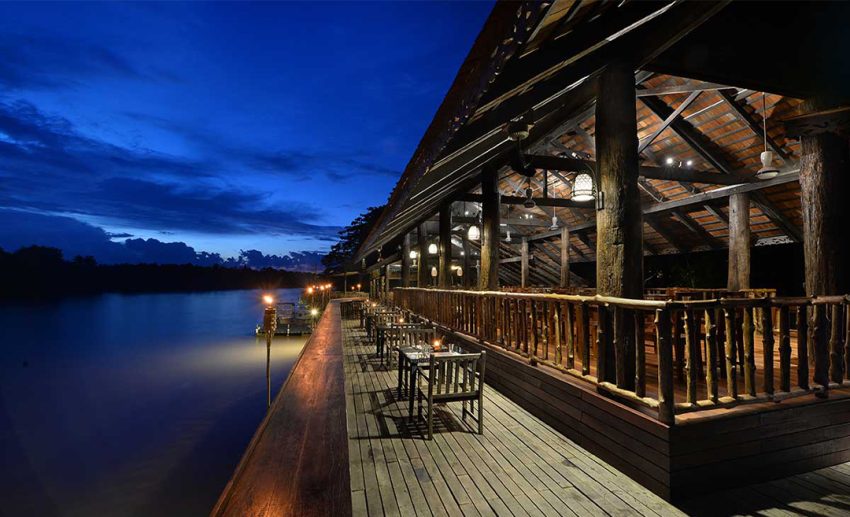 When you're feeling peckish, choose to dine at the Waterfront Restaurant & Jetty and take in the majestic view of the Kinabatangan River. Make sure to cherish this view as it's rare to dine so close to the river; this restaurant is the only one located along the river itself!
Want to increase your chances of spotting a Pygmy Elephant bathing in the river? Go on a river cruise that departs twice daily to see wildlife gather along the riverbank to feed and call it a day!
Address: Lot 1 Pusat Perindustrian, Sukau 88450 Malaysia
Reserve your stay
Serendah River Retreat, Selangor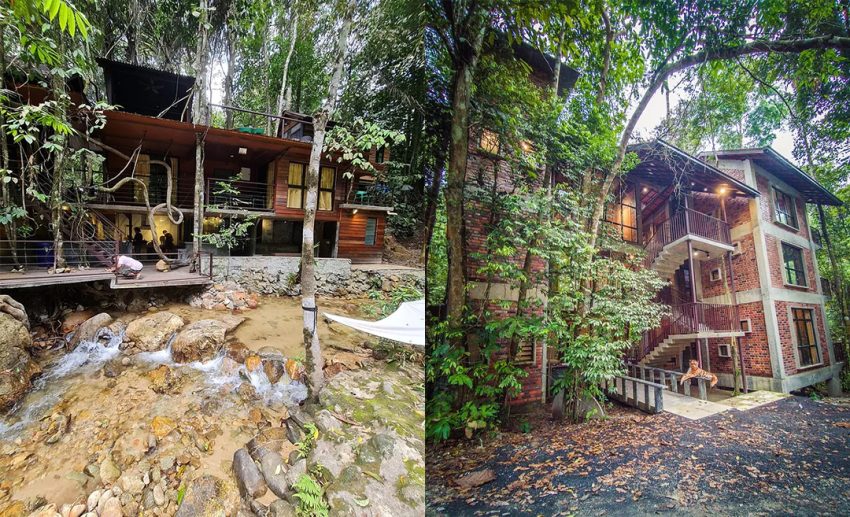 Hidden within a private five-acre orchard, Serendah River Retreat has a natural stream called Sungai Selaru (Selaru River) on its grounds. Here, you'll find Brickhouse and Woodhouse — two different villas located on the banks of the stream.
Perfect for parties of up to 30 pax, Brickhouse offers six air-conditioned bedrooms with an ensuite bathroom. After walking through the disabled-friendly entrance ramp, you'll be greeted by a tiger doll standing guard in the open-air foyer, keeping monkeys away from the kitchen and dining area. There's a total of three floors, with an entertainment or meeting space located on the highest level.
Brickhouse was designed to preserve the existing rainforest, and you'll notice that the villa has trees growing within and surrounding the building. Want to dip your toes in the cooling stream? Just take a short walk down the stairs from the main entrance!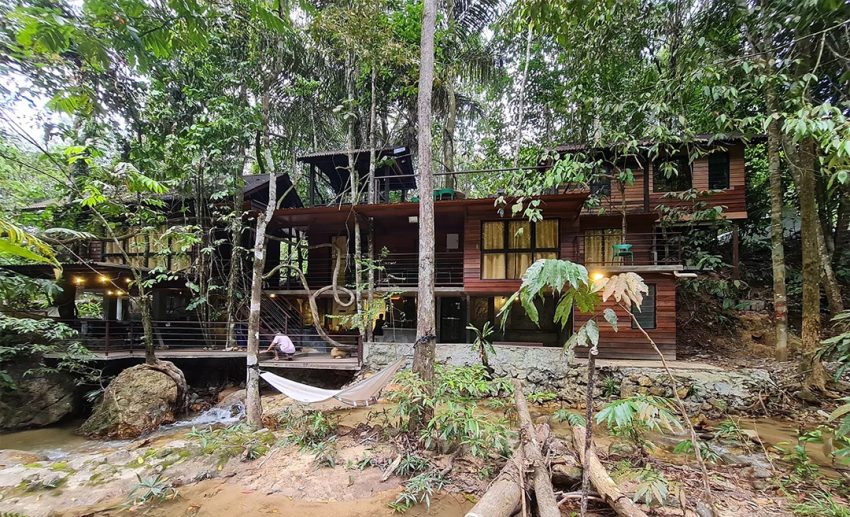 Woodhouse is significantly smaller, but charming in its own way. The villa has four air-conditioned bedrooms with an ensuite bathroom. With rooms reminiscent of a minimalist container-style hotel but built with sturdy wood, it's no wonder that its loft bedrooms are a hit with families with kids. Staying in the Woodhouse is like staying in a modern wood cabin! With the sights of Kelah fishes swimming upstream in the Selaru River and the soothing sway from the hammock, you'll be in a treat for a kampung-style riverfront getaway.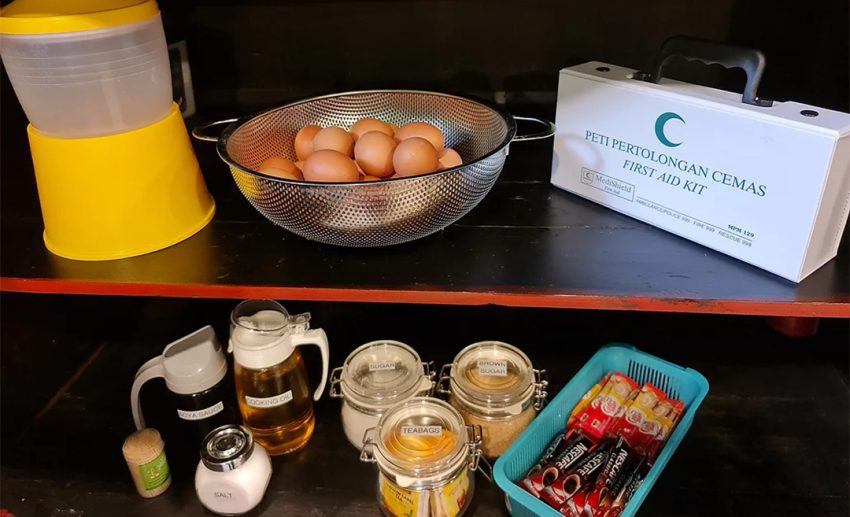 What's great about staying at Serendah River Retreat is that you'll be given breakfast provisions for the entirety of your stay – fresh eggs, bread, oranges, coffee and tea, and also butter and jam for you to DIY a simple yet nourishing breakfast. Maybe if you're game, you can also hike for an hour to visit the secluded waterfall!
Address: Serendah River Retreat, 48200 Serendah, Selangor
Reserve your stay – Brickhouse
Reserve your stay – Woodhouse
Ratu Rening Residency, Selangor
Ratu Rening Residency is an ecological retreat nestled within the foothills of Genting Highlands in a jungle reserve called the Banjaran Titiwangsa. Semi-surrounded by the azure waters of Sungai Hijau (Hijau River), there are two charming accommodation options available here for both small and large travel groups to have a tranquil getaway.
The Dusun Raja villa is built upon a spring water reservoir and comes with three air-conditioned houses, two living and social rooms, and a covered parking lot that accommodates up to six cars. Recreated with the legendary Paduka Cik Siti Wan Kembang (a former Queen of Kelantan who ruled circa 1585 to 1660) as inspiration, the majestic villa is surrounded by bountiful tropical plants and perfectly encapsulates a jungle home that is fitted with both traditional architecture and modern amenities. The Dusun Raja villa accommodates huge travel groups of up to 15 pax.
Meanwhile, the Sekebun Bunga house doesn't disappoint. Fitting for up to seven pax, the home sits on the banks of Hijau River, and has its own open-air garden named Taman Tepikali which is home to native flowering and jungle plants, making it the best place to spot nature's critters. There three rooms, an open kitchen, and an open dining hall here!
No riverfront getaway is complete without some outdoor activities. A good way to tire out the kids is a 15-minute trek to Batu Gajah, where you'll stumble upon a riverside picnic site with calm, flowing water.
Address: Kampung Hulu Rening, 44200 Batang Kali, Selangor
Reserve your stay