Zafigo's Quick Guide to Genting Highlands for Women Travelling Alone or with Family and Friends
You would be hard-pressed to find a KL-ite who hasn't taken a day trip up to Genting Highlands at some point or another in their life. Whether it's to take in some cooler air or simply a fun drive up and down with family, the hill station at the peak of Mount Ulu Kali is one of the go-tos when it comes to some rest and recuperation away from the capital of Kuala Lumpur (KL). Likely because it's so close by. 
Perhaps this contrasts directly with its reputation for being the Sin City of Malaysia, thanks to its casinos where gambling is legal, but that's just the thing about this hilltop resort town that stands at 1,800-metre elevation –  it's got a bit of everything that makes it the tourist destination it is today. A self-proclaimed City of Entertainment, Resorts World Genting (as it's officially known) attracts millions of visitors a year while boasting over 10,000 rooms, over 50 fun rides, 170 dining and shopping outlets, shows, business convention facilities, and entertainment options. 
Ready to see what all the hype is about? Here's what you need to know:
1. A bit of history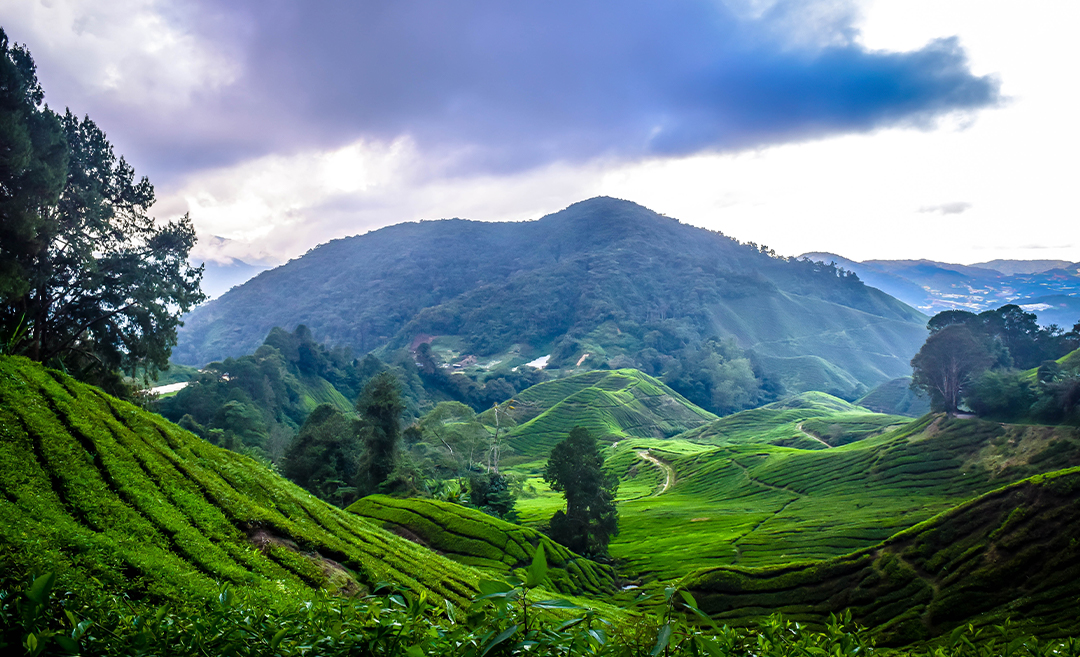 Inspired by the fresh air in Cameron Highlands during a business trip there in 1963, Malaysian businessman, Lim Goh Tong dreamt up the idea of a hill resort nearer to the capital city of Kuala Lumpur as the beautiful highlands in Pahang were simply too far. After researching the surrounding areas of KL and identifying Mount Ulu Kali in Genting Sempah, 58 kilometres from KL, a private company called Genting Highlands Berhad (now Genting Group) was born. 
Set up with the late politician Mohamad Noah Omar, the pair successfully obtained approval for the alienation of land from the Pahang and Selangor State Government and began construction of the resort hilltop. By 1969, the access road from Genting Sempah to the peak of Mount Ulu Kali was completed, and the foundations for the pioneer hotel at the hilltop was laid. The resort would go on to be granted a casino license by the government to develop its own gambling industry, and by 1971, the first hotel at Genting Highlands was completed. 
2. On your way to the top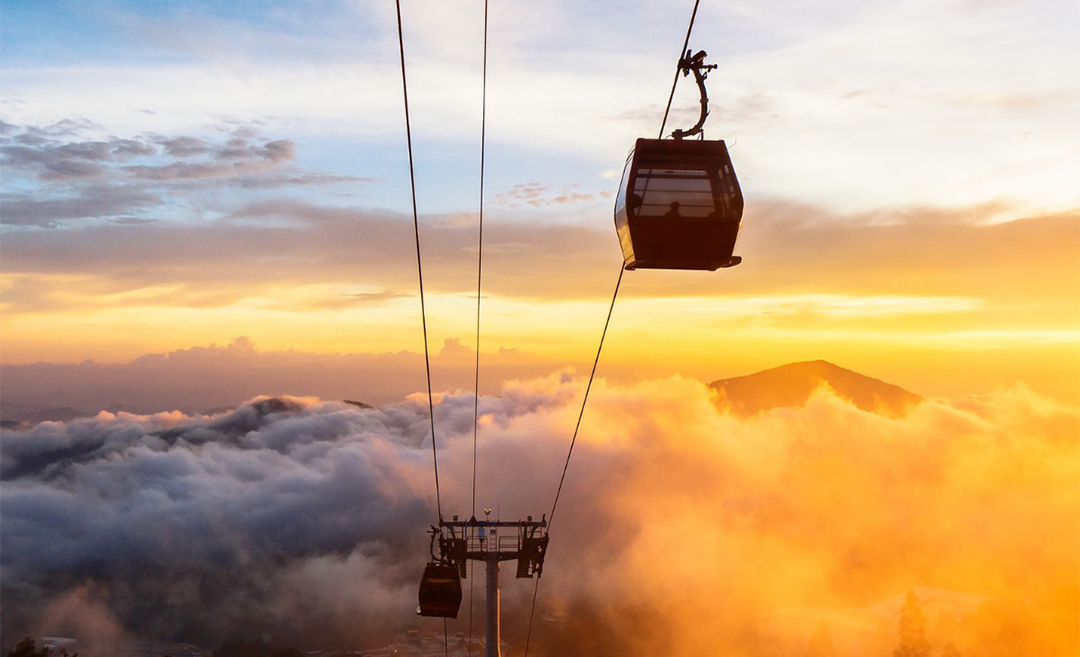 There's no direct air passage to the top, so if you're planning to hit up the City of Entertainment, your best bet would be to head over to KL Sentral, Malaysia's largest transit hub, and catch a bus ride up. Most buses that depart from KL Sentral will drop passengers off at the Awana Bus Terminal, from which you can head to the top via a 10-minute cable car ride via one of the cable cars or gondolas at Awana SkyWay.
Depending on your bus carrier and your booking method (online, over the counter, peak seasons, choice of the gondola, and so on) a one-way trip should set you back no more than RM20 (approximately USD5). 
Zafigo Tip: If you have a little extra cash to burn and aren't afraid of heights, try getting a glass gondola that will allow you unprecedented views while you're transported to your destination.
However, if you're armed with a driver's license and a can-do attitude, getting to Genting is most scenic and comfortable by car. A car ride typically takes about an hour from KL city centre, plus, you'll be afforded the luxuries of stopping off at a few of the attractions along the way – including the piece of land within the hill station just below the resort called Gohtong Jaya township.
Should you be unsure of your skills in tackling the elevated drive, you can book a taxi to take you from the city centre, which will set you back around RM100 (approximately USD24), or a cushier executive taxi, which will cost upwards of RM200 (approximately USD48). You can haggle with them for a better price if you also contract them for your trip down, but that is, of course, to their discretion. 
3. Make a pit stop (or two)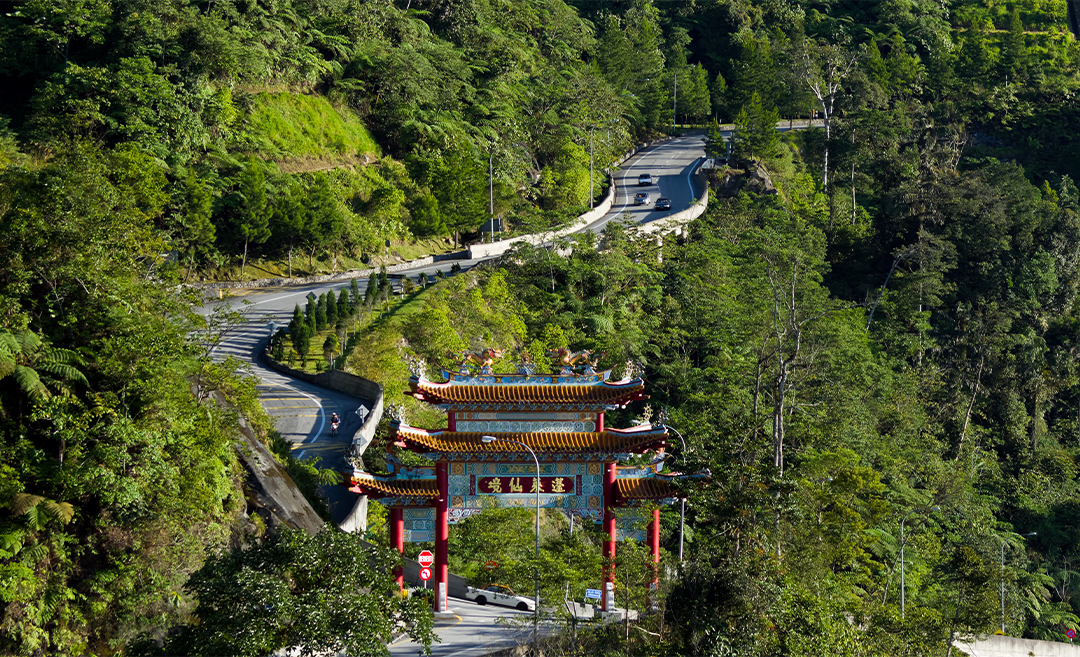 Before heading up all the way, there are a few leisurely activities to partake in at Gohtong Jaya. Have your lunch at a variety of Chinese restaurants like Yik Kee Restaurant and Chuan Kie Restaurant. Crispy pork belly, steamed egg, and freshly-picked stir-fried vegetables are ideal dishes to order here. If you're into seafood, there's an array of classics to indulge in as well, including the classic steamed fish. 
Zafigo Tip: Aside from the traditional rice and dishes restaurants, you'll also find stalls and shops selling local fares like tarts and cakes, so fill up your snack boxes for the rest of the journey. 
Visit the Genting Strawberry Leisure Farm to get your fill of freshly-picked strawberries. Pick the juicy, naturally-grown strawberries and eat them on the spot or take them with you as a delightful treat for the rest of your journey. A small box of 100 grams will cost you RM8 (approximately USD2). You can also discover various herbs, mushrooms, and vegetables at the farm. 
Zafigo Tip: The literal best time to stop and smell the flowers. Take some photos at the Lavender Farm before enjoying delicious strawberry delights at the café. 
Had your share of the nibbles? Make your way further up and stop by the Chin Swee Cave Temple. Built in 1976, you can learn more about ancient Chinese traditions and beliefs here. Climb up the nine-storey pagoda, lit with 10,000 blessing lamps placed by devotees, revel in the magnificent statues of Buddha and Guanyin, take snaps over at the bridge of fairies, or head over to the observation deck to view the mesmerising panoramic view of the highlands. 
Zafigo Tip: Admission is free, but the 28-acre piece of land is a whole afternoon's plans in itself, so make your way there early!
4. Where to stay
Resorts World Genting is home to seven hotels, with one of them being a leisure resort. Apart from the homestays, all the accommodations are run by the Genting Group and share the same reservations centre reachable online or via phone at +60 3 27181118. Take your pick from the more budget-conscious to the high flying 5-star establishments:
Theme Park Hotel
Formerly known as Hotel on the Park, it's the first hotel to open in Genting Highlands and sits opposite the outdoor theme park. A French-themed castle-village-hotel modelled on the 16th-century village of Colmar in Alsace, France, the hotel comes complete with a drawbridge. Ranking as a 3-star hotel, it's located at the doorsteps of SkyAvenue, the resort's most popular lifestyle mall and home to over 100 restaurants and retail stores.
Genting Grand Hotel
Originally known as Genting Hotel, the Genting Grand Hotel is one of the first establishments opened on the hilltop. Known for the huge Genting logo on its rooftop, which can be seen from as far as Petaling Jaya and Subang Jaya over 70 kilometres away on a clear day, it also houses the Genting Casino as well as the award-winning The Olive restaurant.
Resort Hotel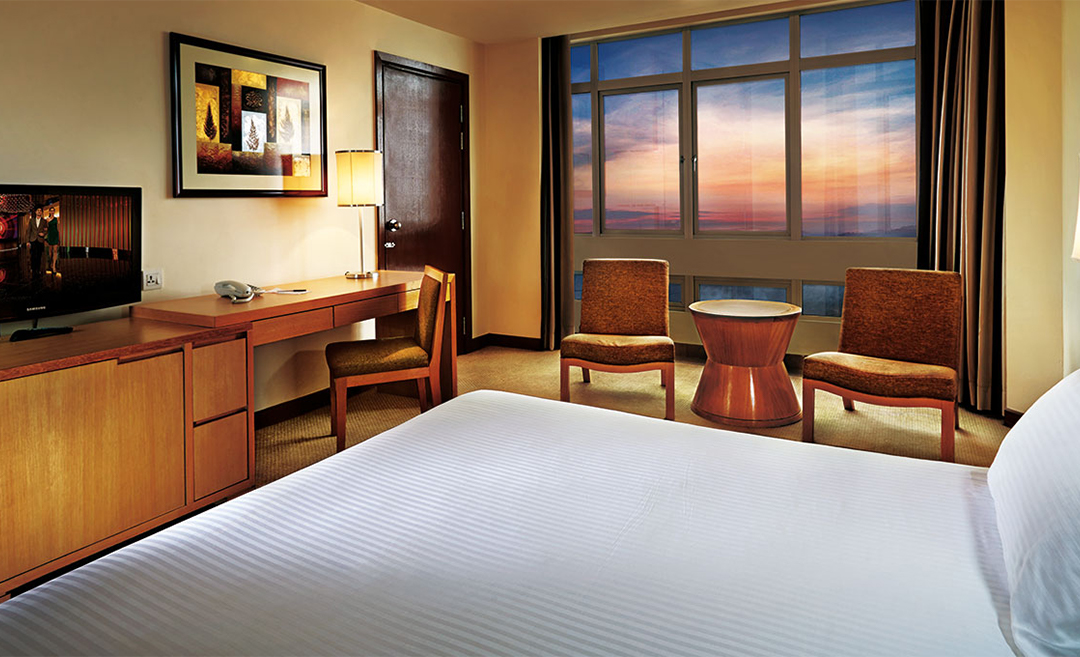 Housed in a long white tower that faces the Theme Park Hotel, it's also one of the entry points to Genting Casino. The hotel is set to be the main entrance to the much anticipated 20th Century Fox World which will be renamed Genting SkyWorlds due to a licencing agreement with the new parent – The Walt Disney Company.
First World Hotel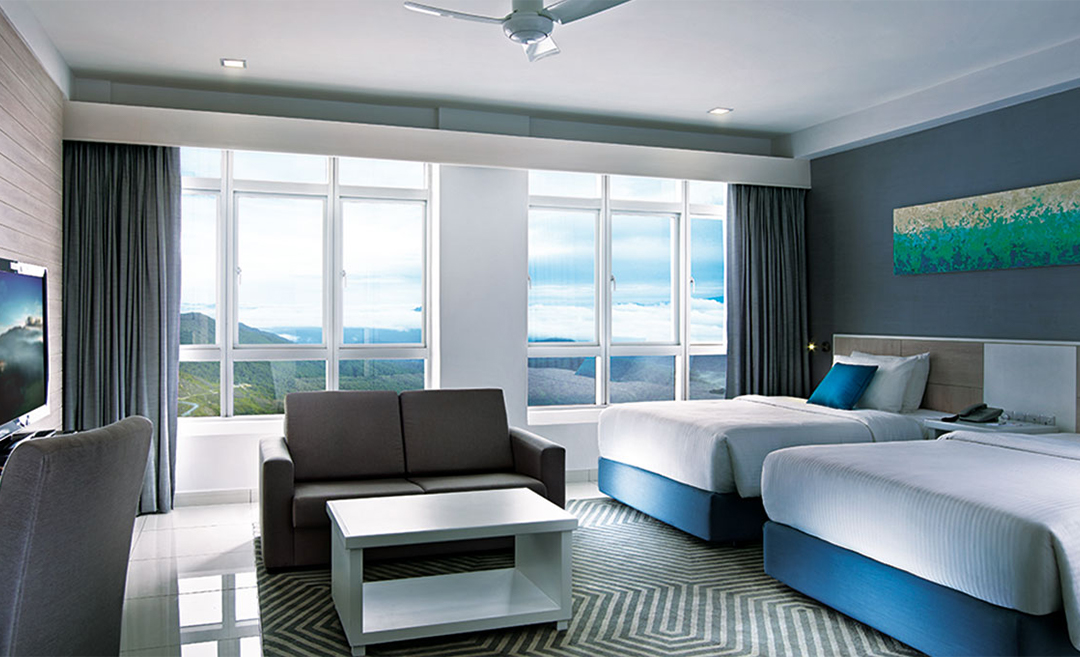 Catering towards the masses and the budget-conscious, this 3-star monolith holds the record for being the biggest hotel in the world with 7,351 rooms in three towers. While the rack rate is around RM240 per night, advance booking and weekday promotions go for as little as RM20 per night. 
The Highlands Hotel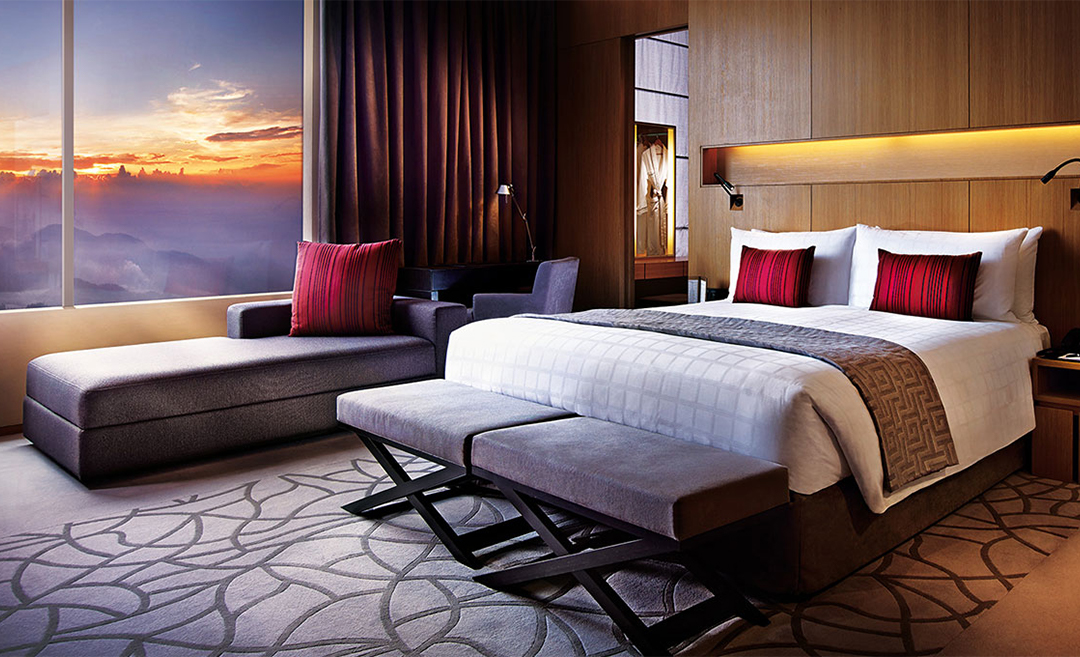 Built for pleasure and comfort, the Highlands Hotel offers sophisticated suites and rooms. Formerly known as Maxims Genting, the luxury of this hotel is verified and recommended by the prestigious Forbes Travel Guide 2020.
Crockfords
Initially occupying Maxims' upper floors, Crockfords was later relocated to SkyAvenue's upper floors next to Sky Casino and First World Hotel. The 138-room hotel was awarded Forbes Travel Guide 5-Star Hotel in Malaysia for 2019 and 2020, making it the only hotel in Malaysia to receive the accreditation.
Resorts World Awana
Situated approximately four kilometres before reaching Resorts World Genting, Awana is the leisure resort hotel for those who are up for living it large. Indulge in a spot of golf at the iconic 18-hole mountainous course that meanders through a 130-million-year-old rainforest. Or, if you're more of a fauna person, partake in exotic bird-watching. Free shuttle service is also provided to the premium outlets at regular intervals from the hotel lobby.
5. What to eat
Amidst the beautiful scenery and cool weather, there's an array of eateries highly visited by travellers from around the globe. And with good reason too! Beyond the food stopover at Gohtong Jaya, here are just some of the higher-rated speciality establishments to whet your appetite:
Coffee Terrace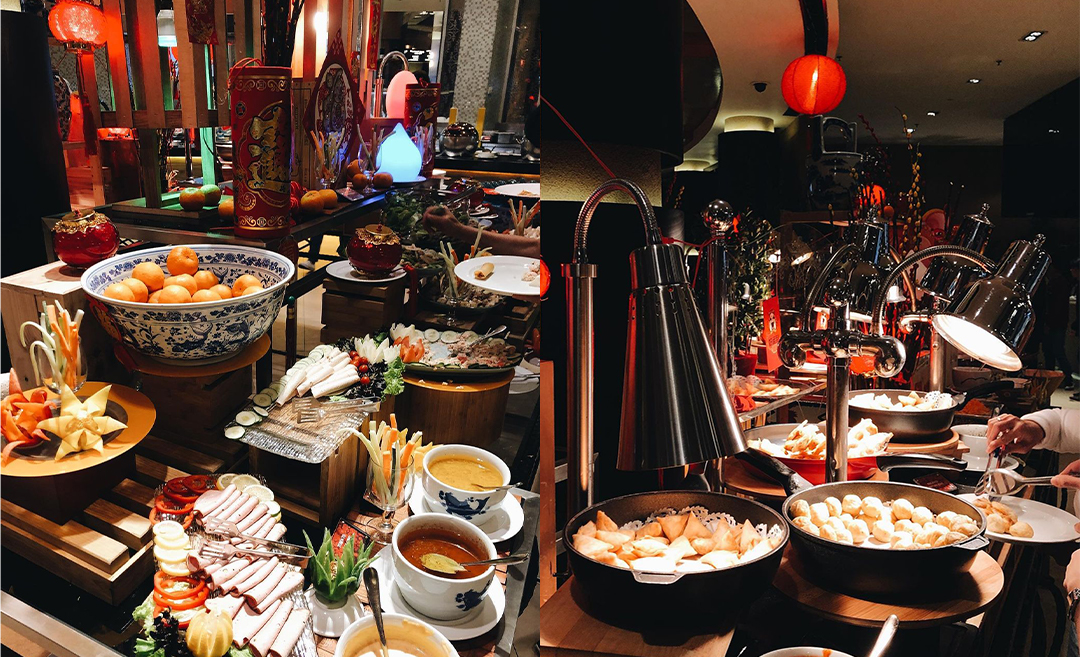 A buffet restaurant with a large dining area, Coffee Terrace is segregated into four distinct sections: Private Room, Lanai Bar, Nyonya Baba Corner, and Al Fresco Terrace. Choose your favourite foods at the Flavours of Malaysia, Chinese, Western, Japanese, Western Asian, as well as the Dessert and Fruits Corner. The restaurant is open for breakfast, lunch, and dinner with differing prices depending on the hour. 
Motorino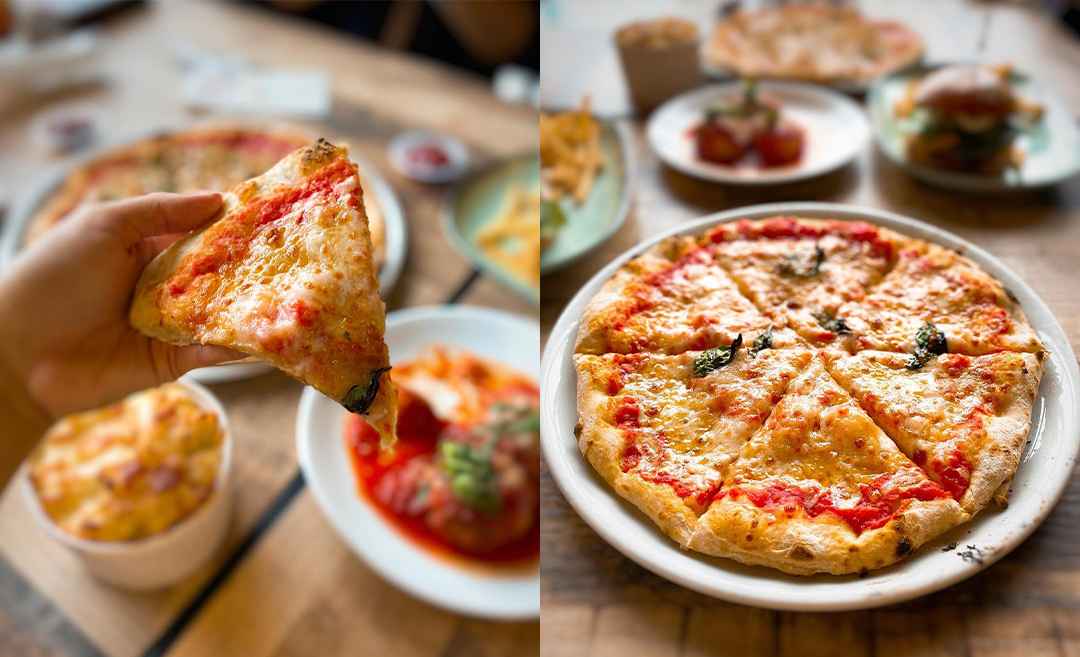 Think freshly-made Neapolitan Italian pizzas baked in a wood fire oven. If that sounds mouthwatering to you, you'll be glad to know that you can watch the pizzas being made from afar at their open kitchen over at Motorino in Genting Highlands. Originally from New York, Motorino's 12-inch pizzas have minimal toppings and are a perfect balance of soft and chewy crust, delicious sauce, and molten cheese. They also have a delightful selection of desserts ranging from tiramisu, chocolate cake, and gelato to cap it all off!
Burger & Lobster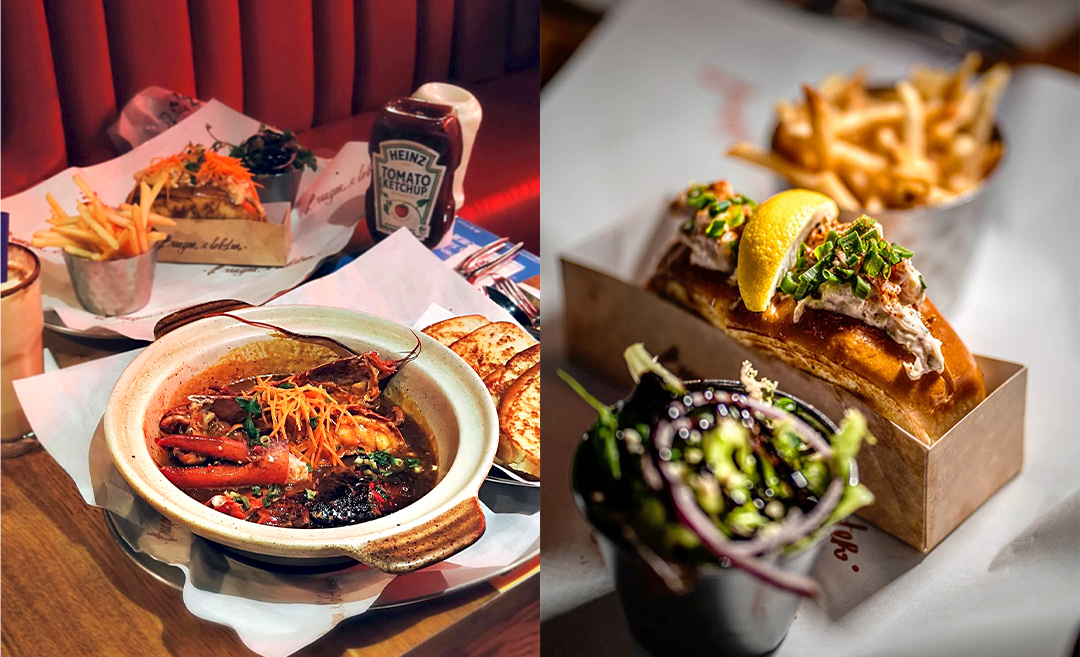 London's Burger & Lobster established their first outlet in Southeast Asia at SkyAvenue in 2017. There may be a queue just to get a table, even today, but it'll be well worth the wait to savour the lobsters, lobster rolls, and, of course, as its name suggests, burgers. Dig into their signature dish, the chilli lobster served exclusively in Genting Highlands in a claypot with brioche, which you can dip into the spicy sauce. 
6. Shopping
Looking to satisfy your inner shopaholic? There are currently five shopping malls over at Genting: Awana SkyCentral, Genting Highlands Premium Outlets, First World Plaza, SkyAvenue, and Genting Grand Complex. 
Situated at the halfway point and within a stone's throw from the transportation hub that's Awana SkyWay, Awana SkyCentral is a good midway point to take a breather and get your shopping on. Closer to Gohtong Jaya, you can also take a shuttle over to the Genting Highlands Premium Outlets for daily mad sales with its some 150 designers and brand stores. 
The three remaining malls are situated at the mountain top. The First World Plaza is a shopping centre located one floor above the lobby level of the hotel, while the Genting Grand Complex is situated within the sprawling Y-shaped Genting Grand Hotel. 
The new mall on the block to check out – should you be into all things new and shiny – is the SkyAvenue. Connected to the ever-classy Crockfords Hotel, you'll find over a hundred brands and shops at the four-storey shopping mall. 
7. A little bit of sin city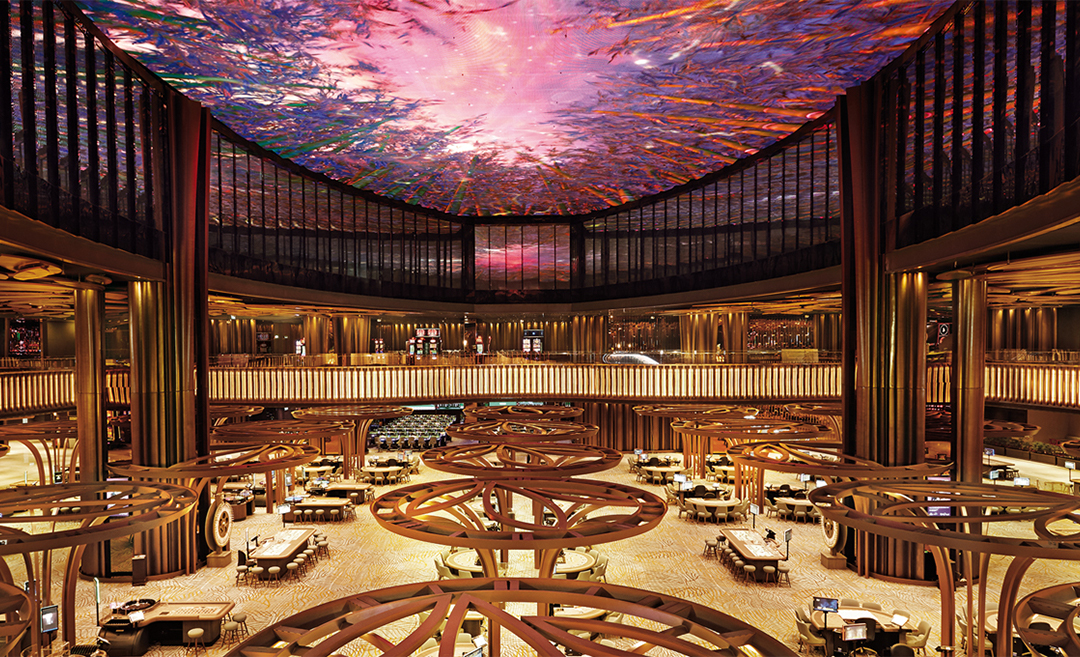 Feeling lucky? Pop by the newly-opened SkyCasino over at SkyAvenue or the Genting Casino over at Genting Grand Complex. As the only legal land-based gambling establishments in Malaysia, the casinos over at Genting needn't try too hard. But try they do with the wide selection of electronic gaming machines and conventional gaming tables for you to choose from. The spaces are a sight to behold as well. Although, we'd bet that if you're busy at the tables, you wouldn't really be paying attention to the interior design. 
Zafigo Tip: In between tossing dice, or cards, whatever have you, grab a bite or drink at the nearby restaurants. Friendly casino personnel are also more than happy to assist in utilising the facilities and ensuring you have the best experience possible. Do also note that entry to the casino is limited to non-Muslim citizens and all foreigners. 
8. A little bit of wholesome fun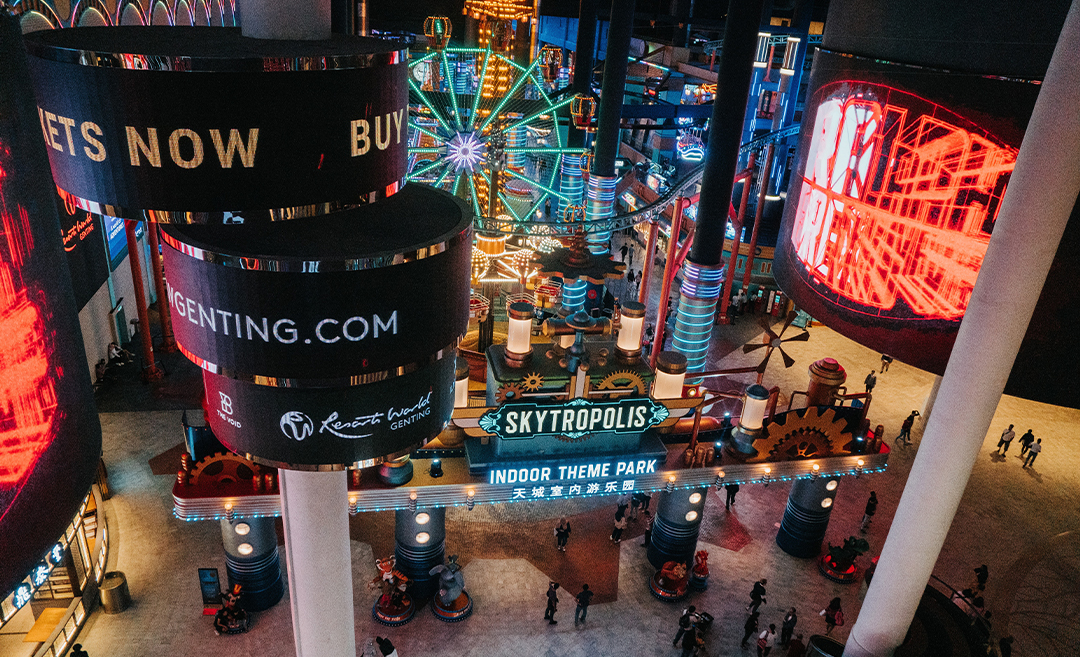 There are two main theme parks over at Resorts World Genting – Genting Outdoor Theme Park and Skytropolis Funland, the indoor theme park. 
The Genting Outdoor Theme Park was opened in 1994 with several rides, but it was closed on 1 September 2013 to make way for the construction of the world's first 20th Century Fox World. The theme park was eventually rebranded as Genting SkyWorlds with its completion having been delayed from 2016 to 2018 and then to 2020.
Formerly called the First World Plaza Indoor Theme Park and Genting Indoor Theme Park, Skytropolis Funland was opened in 2001 and closed for refurbishment in 2017. Reopened in 2018, the theme park boasts of over 400,000 sq ft of endless fun for everyone in the family, including the first Asian branch of VOID – a US-based operator of a unique, fully immersive virtual reality attraction where visitors get to choose from a variety of experiences such as Star Wars, Wreck-It Ralph, and more.
If you're not one for rides and parks, check out the SkySymphony over at SkyAvenue. A cinematic visual feast, SkySymphony is an impressive display across the lifestyle mall. Free to the public, you can easily watch it from any floor of the mall. As the largest winch installation in Asia with 1,001 winch balls suspended from a four-storey-high ceiling, you'll be mesmerised by the spectacular orchestra of lights, sound, and visuals. Best of all? No purchases are necessary to enjoy the show!
Should you be looking for something a bit more dynamic, check out Ripley's Adventureland. A family-friendly entertainment hub located on level 4 of SkyAvenue, this Ripley's houses various attractions such as Ripley's Believe It Or Not, Jurassic Research Center, 4D Trick Art Museum, and Zombie Outbreak.
And of course, if you're over at Genting to try to enjoy the cold weather, you wouldn't want to miss out on SnowWorld, the OG winter wonderland of Malaysia. You'd better pack some winter jackets and gloves along for the trip as it's going to be negative degrees up in there. Whether you're looking for a romantic stroll in a winterscape against a European-themed village or simply some fun winter-inspired IG snaps, this is the spot for you.
9. Getting your creep on
View this post on Instagram
For the thrill-seekers, you'll want to book yourself a stay at Amber Court. The row of buildings in Genting Highlands was set to be a resort for those making a trip out to the hilltop entertainment city. It was later sold as apartment units after the financial crisis of '97 and is until today, largely unoccupied. 
With red algae resembling blood dotting the building's exterior facade coupled with the largely abandoned apartment units, stories of suicide and paranormal activities have inexplicably cropped up over the years. And if you scroll through the reviews section of this apartment complex, which by the way is still occupied by tenants and operating as a homestay, you'll see a slew of paranormal stories from guests. Some claim to have sighted a headless woman, while others have heard howling noises and the slamming of doors.
If you want to take it one step further, you can stay up watching the 2017 horror film, Haunted Hotel 2, directed by Malaysian director Ryon Lee. Filmed at Amber Court, a Penangite actor who starred in the film and braved staying at the apartment also claims to have heard knocking sounds at his door. Now, that's what some would call unreal entertainment.
10. And more to come!
Apart from new developments which promise more homestay options for the area, a major upcoming attraction is the highly-anticipated new outdoor theme park, Genting SkyWorlds. Set to open to the public by the middle of 2021 amidst many starts and stops, Resorts World Genting has officially unveiled the logo of Genting SkyWorlds and given an exclusive sneak peek of the theme park that will span 26 acres and encompass 26 rides and attractions. 
It's said the company has spent over USD800 million on the theme park which is believed to be Southeast Asia's most anticipated theme park, easily accommodating up to 20,000 tourists on its grounds. Now, we don't know about you, but if that's not a reason within itself to visit Genting Highlands within the year, we don't know what is.