Glamping is all the rave these days, with most of us only having heard of it in the last five years or so. For the uninitiated, glamping is, quite simply, luxurious camping. In other words, camping with all the amenities.
What you may not know is that the word 'glamping' first appeared in 2005, but was officially included in the Oxford English Dictionary as recently as 2016. The word may be new, but glamping goes back several hundred years. That's right; in the 16th century, the Scottish Earl of Atholl prepared a lavish experience in the famed Highlands for the visiting King James V and his mother. Luxurious and vast tents were erected and filled with all the provisions a King would find at his palace.
While luxury is a subjective experience, I'm sure that most of us will be happy being provided with simple luxuries while having nature at our holiday doorstep. Malaysia actually has quite a few options in this department, and we've made an easy list to help you decide where to go glamping.
Caravan Serai Exclusive Private Villas & Eco Resort, Pahang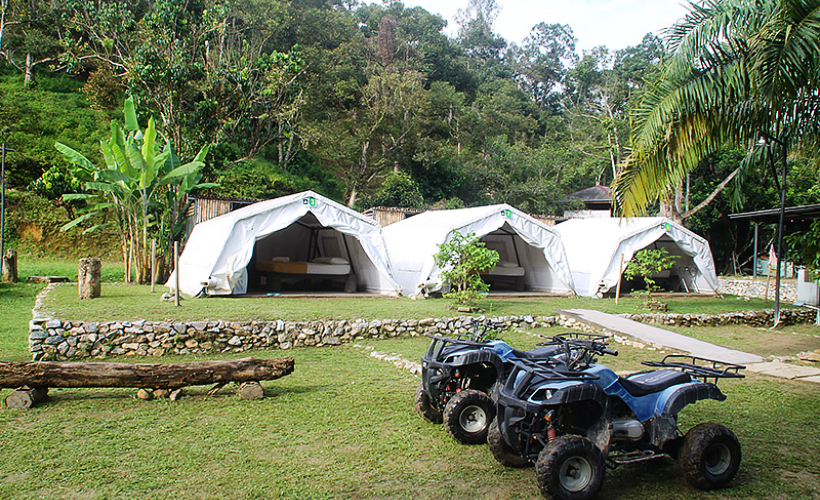 The Caravan Serai Exclusive Private Villas is snugly nestled in Bentong, Pahang. Just 45 minutes away from Kuala Lumpur, this popular glamping spot is surrounded by forests, local fruit orchards, rivers, and beautiful hill views.
Caravan Serai offers glampers a few options, ranging from the 'basic' Safari Tent to a Deluxe Safari Tent fitted with a queen-sized bed, furniture, air-conditioning, and an ensuite bathroom. Glampers here are well-fed by the Keratong Riverside Restaurant, that offers steamboat, barbeque dinners, and breakfast to satiate anyone's appetite.
Sailor's Rest Resort, Pahang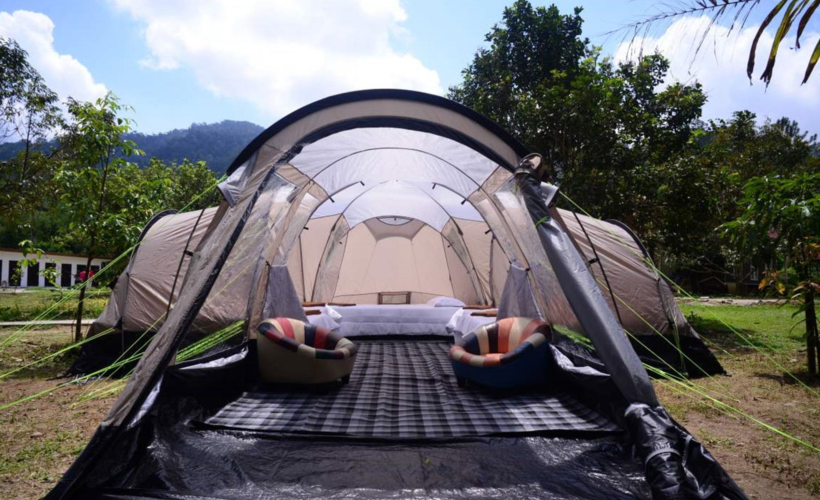 Expect a more modest glamping experience here at the Sailor's Rest Resort in Janda Baik. Although it's not the most luxurious experience on the list, glampers are still provided with comfy mattresses and hotel bedding sheets, as well as a fluffy comforter. Tents are fitted with fans, but the area is cool enough to do without them. Glampers don't get attached baths here, but the common toilets are lovely, with individual gardens in each unit as well as hot and cold rain shower facilities.
Tanah Aina Fahad, Pahang 
This eight-acre resort is located next to the famous Lata Jarum in Ulu Dong, Raub. This spot offers nature lovers a great opportunity to escape the hustle and bustle of city life. Less than three hours away from Kuala Lumpur, the trip to Tanah Aina Fahad is an experience in itself, with guests needing to drive through a scenic Malay kampung (village) to get to the resort.
Upon reaching Tanah Aina Fahad, guests are greeted with the sound of flowing rivers and the beautiful view of Sungai Dong. Glampers have a wide variety of accommodations to choose from too, from basic tents all the way to luxurious tents fit for a Sultan.  
Time Capsule Retreat, Pahang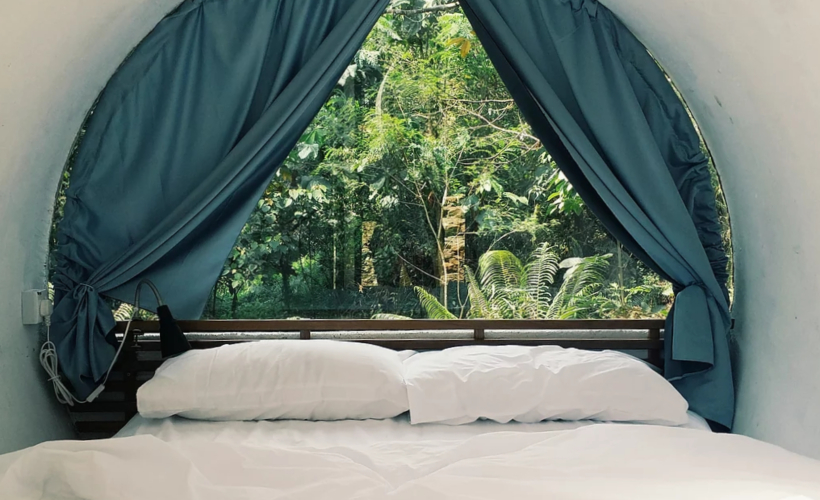 There's glamping, and then there's this. Time Capsule Retreat in the middle of Sungai Lembing near Kuantan is known for its unique capsule facilities. This quiet and cozy little family-run retreat sits inside a lush forest reserve that provides great views, cool temperatures and a great ambiance for relaxation and serenity.
Unlike other glamping spots, Time Capsule Retreat does what its name hints at – capsules. Guests are provided with a capsule-shaped structure that affords an unobstructed view of the surrounding area. The capsules are well-furnished and fitted with comfortable beds and air conditioning. Restrooms are shared, but are well-maintained and clean. Hiking enthusiasts are encouraged to wake up early to hike up a nearby hill and bask in the stunning sunrise.
Canopy Tribes, Johor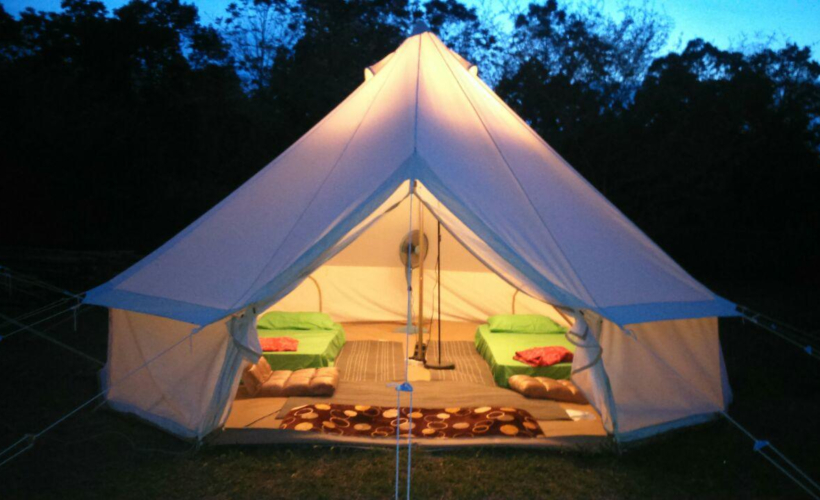 Southerners rejoice, for Johor has also gotten in on the glamping action. Canopy Tribes, or Kanopi Tribes, near Kota Tinggi is popular for its medieval-styled bell tents, and is strategically located in a rainforest. The tents are beautifully lit, with most of them featuring a chandelier centrepiece to lend that atmospheric incandescence we often relate to medieval times.
Canopy Tribes is just five minutes away from the Kota Tinggi Waterfall, a popular destination in its own right. The surrounding area is vast and filled with adventure. You can hike up Gunung Panti (513m), go on a night trek to experience the Milky Way Galaxy like never before, or even embark on an ATV adventure.
Japamala Resort, Johor 
Looking for something truly unique? Try treetop glamping. Japamala Resort on Pulau Tioman is situated in the beautiful island's forests, offering glampers the chance to live their childhood treehouse fantasies in luxury.
Perched high above the luxuriant jungle canopy, Japamala's wooden chalets are secluded, yet situated only a short walk up from the beach. Suffice to say, these rooms offer an entirely different glamping experience. In fact, some wouldn't dub it glamping at all. Regardless, here you'll experience life many feet above the ground, sharing a habitat with the jungle's flora and fauna, all while in the comfort of your bed.
To accomodate richer tastes, Japamala also offers luxury versions of the treetop accommodation. Bumping comfort levels up a notch is a giant outdoors bathtub to sweeten the deal.
The Sticks, Selangor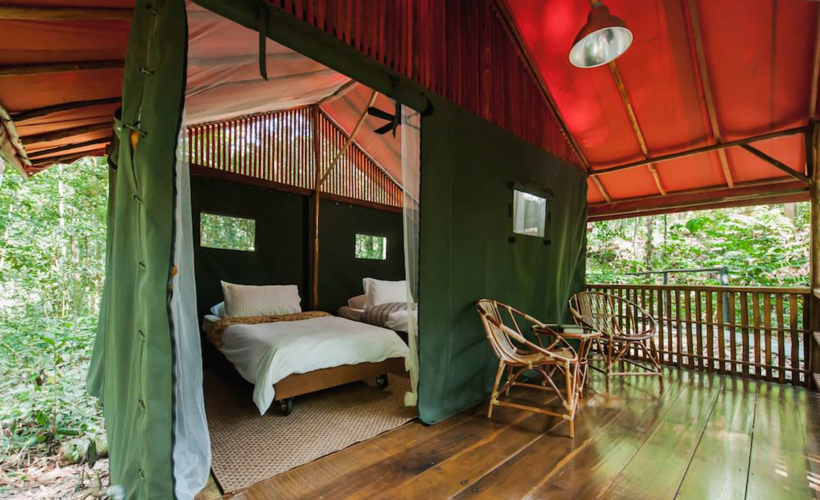 'Sustainability' is a buzz word often thrown around by hotels and resorts to garner attention and reverence, but The Sticks in Kuala Kubu Baru put their money where their mouth is. They pride themselves for being an eco-glamping destination, making full use of the natural surroundings and rain for water, and rely on dozens of solar panels to power the entire site. The Sticks is also aptly named for its heavy reliance on bamboo sticks used to build the lavish tent sites.
It also needs to be said that the term 'tent' is used lightly here, but the glamping experience is definitely top notch. The Sticks refers to their rooms as 'tendoks' – a cross between a tent and a pondok (cottage) – which they claim offers a rustic living experience amidst nature. While perfect for some rest and relaxation, the property is full of fun activities, as well as affording a closeness to lush greenery and its beauty.
Tadom Hills Resorts, Selangor 
Tadom Hill Resorts in Banting takes bamboo very seriously. This glamping spot boasts almost 40 acres of limestone hills, lakes, and trees. The large compound allows for many exciting activities, but is also perfect for those who want to take a break from being a city slicker and unwind.
As mentioned, much of the resort is constructed out of panda fodder, with the highlight being Tadom Hills' Bamboo Tent options. Guests may choose between lakeside tents and garden tents that are both equally comfortable. Naturally, they come with all the creature comforts you'll need, and are especially chilly at night, making it perfect to snuggle in, under a super soft comforter. For the more active, Tadom Hills is known for its water activities and archery grounds.
Walai Penyu Resort, Sabah
Just off the coast of Sandakan, Walai Penyu Resort benefits from its stunning location on the Turtle Islands. This experience is tailored specifically to those interested in turtles and the efforts put into protecting these beautiful creatures.
Located nearby is the Libaran Turtle Hatchery, where glampers can choose to learn about turtles and discover the island's long-running turtle conservation program. On a good day, as the sun sets, you'll be able to release turtle hatchlings into the sea and witness as they make their instinctual dash towards home. Late at night, guests have a chance to follow the rangers into the beach to experience the hardship turtles endure to lay their eggs by the beach.
While the tents itself are well-constructed and equipped with all the amenities one might desire, the other main attraction here's the food. Especially the seafood.
Mt. Kinabalu Holiday Camp, Sabah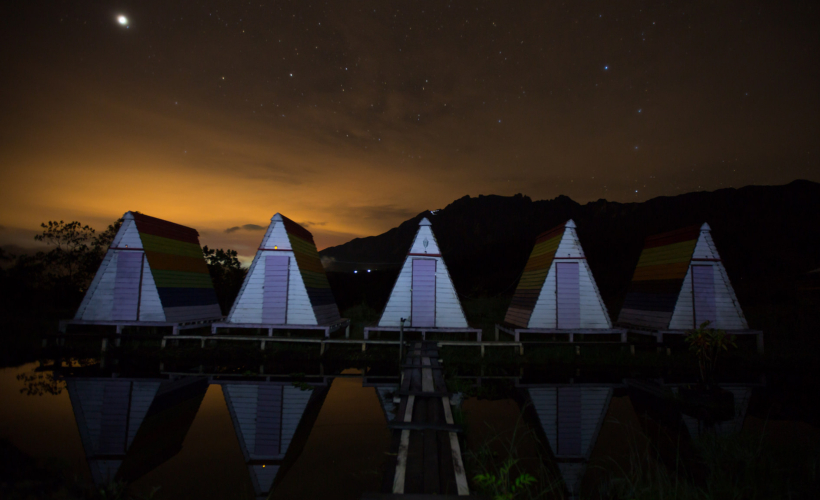 Mount Kinabalu needs no introduction, what does though, is the stunning Holiday Camp located at its foot. The Mt. Kinabalu Holiday Camp presents something new and unique to travellers seeking detachment from the material world. Located in a remote area, this wooden glamping experience is unlike any other.
Guests are given cosy, comfortable huts equipped with the necessary amenities. However, the remoteness of the area means that there's no electricity or piped water. Don't fret though, as this is circumvented by solar panels and a reliance on freshwater streams off the peak of Mount Kinabalu.
The adventurous glamper may also use this opportunity to hike up parts of the mountain, or even take a dip in Sabah's deepest lake. Being a significant distance above sea level, the site offers a spectacular view of Mount Kinabalu and the skies above her, as well as the fresh air many city folks truly crave for.
Get all the latest travel stories from Zafigo. Follow us on Facebook, Twitter, and Instagram