While the year-end holiday season may be over, taking a vacation is an all-year-long affair. After spending close to two years going through pandemic fatigue, the time has come to take a break and recharge. If you're short on ideas on where to go, keep the usual boutique hotels and beach destinations in cold storage, and opt for these out-of-the-ordinary container stays instead.
1. Casa Hill Resort, Pahang
Casa Hill Resort offers you a mixture of brick villas, cottages, and cabin-container stays. Here, you're able to come in small to large groups of up to 12 people. There's a swimming pool to take a dip in and garden karaoke if you feel like warming up those pipes. With its spacious layout, guests can also cook up a storm by using their barbecue facilities!
Rates: From RM170 per night
Address: Jalan Jeram Akar, 26200 Sungai Lembing, Pahang
Contact: +6017 920 8899
2. Sarang by the Brook, Selangor
Nestled in Kuala Kubu Bharu, Sarang by the Brook is one of the pioneers of container stays within the area. Facilities include a shared kitchen, barbecue pit, saltwater swimming pool, and a function area for private events. Enjoy complimentary nasi lemak cooked from locally-sourced ingredients during your stay!
Rates: From RM180 per night
Address: Jalan Seruling 20, 44000 Kuala Kubu Bharu, Selangor
Contact: +6019 332 2448
3. TTS Lake Villa, Selangor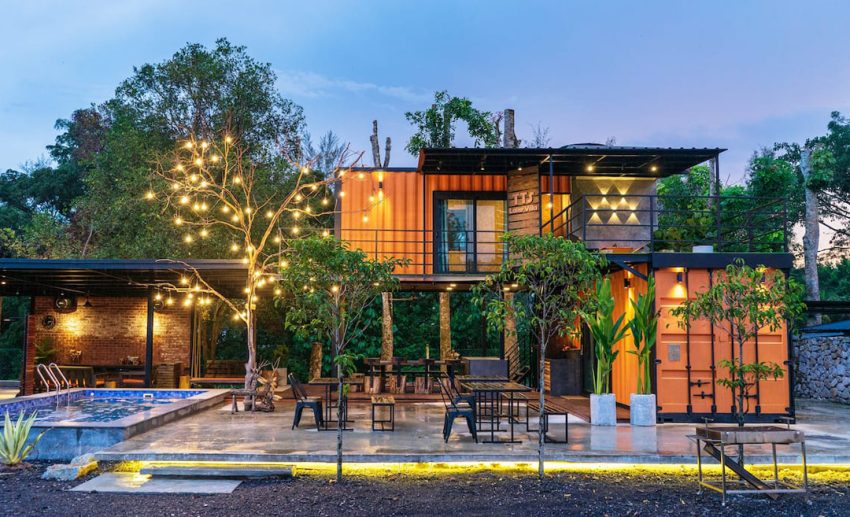 Located in Semenyih, which is still not too far away from KL city, sits the newly-built TTS Lake Villa, and it houses up to a whopping 16 guests. With private access to the lake, this 13,000 square feet property offers barbecue amenities, a swimming pool, a jacuzzi, karaoke, and a kitchen.
Rates: From RM1600 per night
Address: Jalan TTS 1/1, 43500 Semenyih, Selangor
4. Farmville Cafe & Homestay, Selangor
Farmville Cafe & Homestay offers its guests an authentic kampung experience and a view of the paddy field, perfect for those who love life outside the city. Located in the town of Sekinchan, the container stay offers incomparable views (excellent for those looking to update their Instagram feed) with a swimming pool, trampoline, and mini-golf putting available at its premises. The rooms can fit from two to six pax, with rates as low as RM98.
Rates: From RM98 per night
Address: 11304, Jalan Tepi Sawah, 45400 Sekinchan, Selangor
Contact: +6017 206 8666
5. The Kabin, Selangor
Located near Pantai Remis in Jeram, The Kabin was the talk of the town when it was built seven years ago, and it seems as though it's maintained its reputation to this day! The Kabin offer stays from two to six pax per room and has a swimming pool, function hall, karaoke lounge, multi-purpose room, courts, and all kinds of joy rides —from electric scooters to ATVs. We say it's a bargain with all of the facilities available.
Rates: From RM240 per night
Address: Jalan Haji Zainal, Jeram, 45800 Jeram, Selangor
Contact: +6017 924 7800
6. Padi Box Homes & Cafe, Selangor
Another container stay in Sekinchan, this destination boasts a beautiful view of the paddy field. Here, guests can 'Gram themselves taking a bike ride around the property or area while exploring this charming little town. Some things you can do include soap classes, eagle feeding, and experiencing the fireflies escape. Talk about an exhilarating experience!
Rates: From RM118 per night
Address: Jalan Tali Air 4, Kampung Parit Empat, 45400 Sekinchan, Selangor
Contact: +6019 320 5688
7. T-Box Sungai Lembing, Pahang
Just like Casa Hill Resort, T-Box Sungai Lembing offer cabins, villas, and chalets, giving you different types of experiences. The Superior Japanese Cabin will have you feeling like you've been transported to Tokyo. The resort also has karaoke, bicycle rides, and tours to discover the historic sites, rainbow waterfall, and panoramic views from the mountains.
Rates: From RM50 per night
Address: EB 33 Jalan Sungai Lembing, Kampung Tengah, 26200 Sungai Lembing, Pahang
Contact: +6010 288 2993
8. PPT Muar and Container Hotel, Johor
From the standard hotel room to capsule and container concept, this property offers rates as low as RM78 per night, and there is something for everyone! Although you won't find a swimming pool here, its facilities include a gym and space for events. While you're in town, make sure to visit Masjid Jamek Sultan Ibrahim, Dataran Tanjung Mas, Pengkalan Parit Tiram, and the Muar River cruise, just a short distance from the hotel.
Rates: From RM78 per night
Address: 41 – 3 Jalan Bakri, 84000 Muar, Johor
Contact: +606 953 9999
9. Le Thu House, Melaka
Located in the heritage city of Melaka, Le Thu House is quaint but comfortable. With only 10 rooms available, each can accommodate up to four people. From just RM100 per night, your stay here will afford you beach walks best enjoyed in the evening. Oh, and we highly recommend visiting the local ikan bakar (charcoal-grilled fish) spot nearby. After all, Melaka is known for its street eats.
Rates: From RM100 per night
Address: 1933 Jalan Telok Gong/Pengkalan Balak, 78200 Kuala Sungai Baru, Melaka
10. Homestay Kontena, Melaka
Looking for an outskirt stay in Melaka city with your family? This orange and blue container stay is your answer and is very kid-friendly. This property is located near town with two swimming pools – one for the adults and the other for kids. Other fun facilities include a mini library, barbecue station, shared kitchen, bicycles for rent, and 3D painting activity.
Rates: From RM150 per night
Address: No. 1052 Jalan Imam Kadir, Bukit Katil, 75450 Kampong Bukit Katil, Melaka
Contact: +6013 362 7077
11. Templer Park Rainforest Retreat, Selangor
Templer Park Rainforest is well-known to those who enjoy escaping the hustle and bustle of the city. Two kinds of accommodations are offered here — villas and container stays — with the latter being able to house up to 30 guests! The compound has several facilities, including a trampoline, outdoor sauna, swimming pool, hammocks, gazebos, and a fully-equipped kitchen.
Rates: From RM1480 for ten pax per night
Address: 22 Jalan 3/2, Templer Height, Templer Park, 48000 Rawang, Selangor
Contact: +6016 203 8562
12. Kluang Container Hotel, Johor
Located in Kluang, Johor, Kluang Container Hotel probably has bigger rooms than the other properties on this list. Families with kids will love the slides at this hotel's swimming pool, among other attractions nearby, like the Zenxin Organic Farm and Kluang Lake.
Rates: From RM159 per night
Address: Jalan Dua, Taman Bersatu, 86000 Kluang, Johor
Contact: +6017 401 6100
13. Reserve The Cozytainer, Perak
Reserve The Cozytainer is located near Taiping Mall, and a fusion concept of bricks and containers, making it convenient for guests to grab some food and necessities. Many come here to host special events or just as a quick respite. From RM118 per night, you get your money's worth here!
Rates: From RM118 per night
Address: 183 Jalan Merdeka, Taman Tupai Mas, 34000 Taiping, Perak
Contact: +6014 945 8023