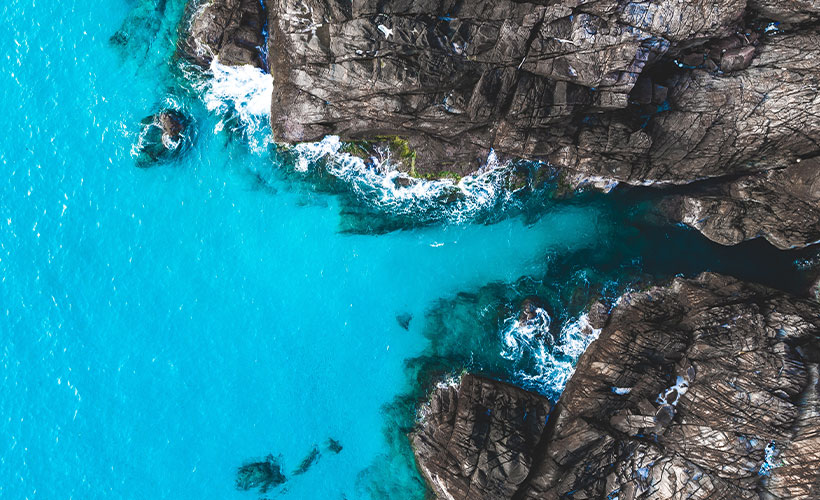 The Malaysian government has allowed for domestic travel to begin again starting 10 June 2020. We urge you to maintain social distancing, upkeep your personal hygiene, and adhere to all SOPs imposed to prevent the spread of COVID-19. If you're still not sure about travelling during this time, we hope you keep Zafigo as a source of inspiration for your future travels.
Commonly referred to simply as Perhentian, the Perhentian Islands is actually made up of two islands surrounded by azure water fading into shades of navy. Named Perhentian Besar (big) and Perhentian Kecil (small), when on a visit here, you can expect to embody the meaning of Perhentian that loosely means 'stop' in Bahasa Malaysia. 
So which island should you head to? Well, here's the key difference between the two – Perhentian Besar is mainly frequented by families, whereas Perhentian Kecil is more popular among backpackers. The fact that Perhentian Kecil boasts of having nightlife is another reason why even locals prefer it over the other island. Focusing on Perhentian Kecil, here's everything else you need to know before you go: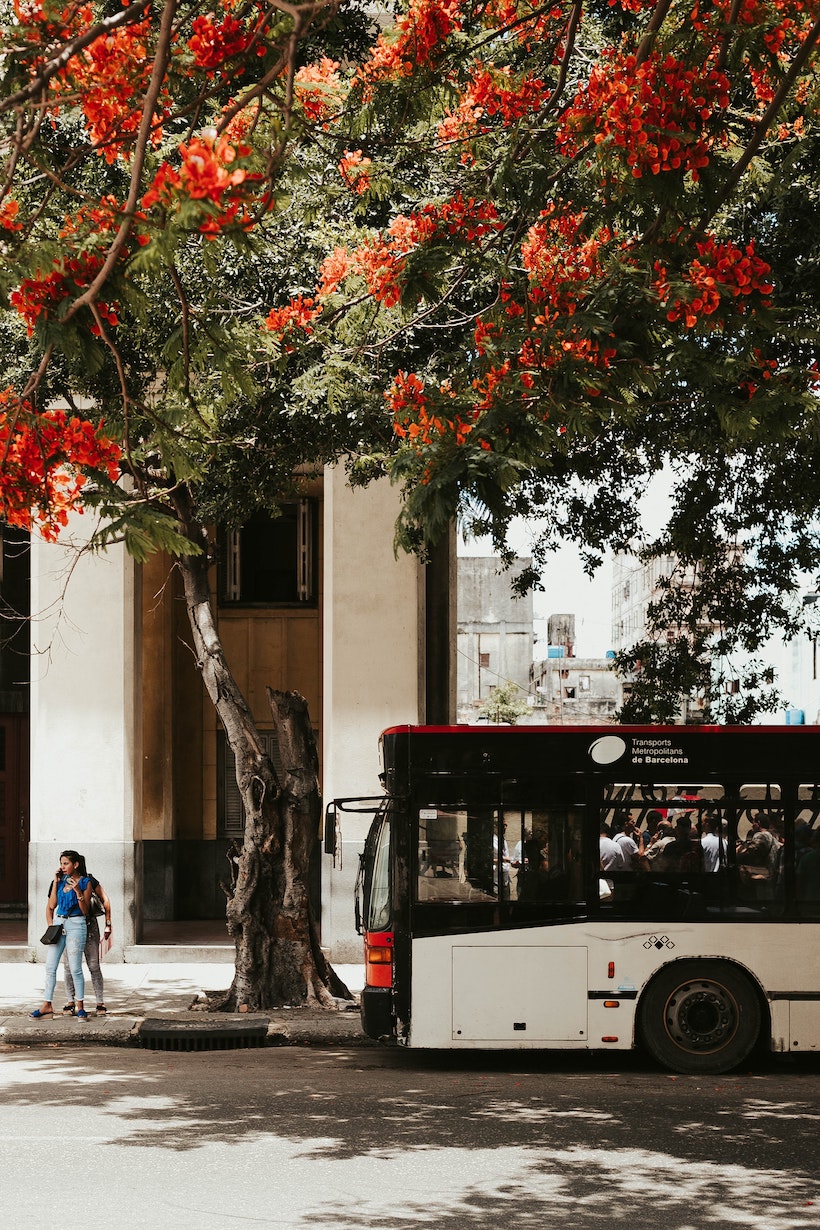 When to visit

 
Ideally, between March and early November, with the peak season being July to early September. Monsoon season starts in November. 
Getting there
You can either drive directly to the Kuala Besut Jetty from Kuala Lumpur for six hours or take a bus. Alternatively, you can fly into Kota Bharu in Kelantan, and then choose between public or private transport to the jetty. The drive from the airport is around an hour or so. From the jetty, it's another 30 to 45 minutes to the island. 
Where to stay on Perhentian Kecil
Divided into two, you can stay along Coral Bay or Long Beach. Both stretches of sand can be walked within 30 minutes or less, but the atmosphere of each stretch differs, especially at night. Long Beach is where the after-hours hedonism happens, while Coral Bay is sans nightlife. 
Most visitors opt for accommodation along Long Beach as it's a more populated stretch that provides more options. If you prefer fewer people, though, then definitely opt for Coral Bay. If you're into saving but not into crowds, then book a hostel or hotel at Long Beach and walk across the jungle to Coral Bay for more privacy.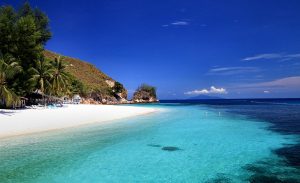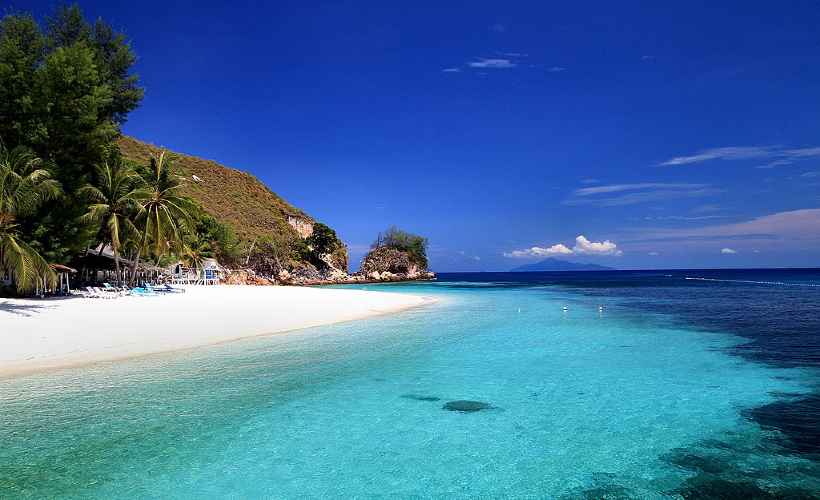 Love the idea of a beach but not up for anything particularly rustic? Then consider some of the other beachy options on this list! – 8 Malaysian Ocean Escapes To Plan Your Next Holiday At
Things to do

 
At the jetty, you will be asked to pay a small fee for the conservation of the marine park located around the Perhentian Islands – the Perhentian Marine Research Station. Considering how you're a boat ride away from a marine park, it's unsurprising that the underwater life even near the shore is colourful. Most snorkelling or island-hopping trips costs RM50 to RM75 (approximately USD12 to USD18), while pricier options go for RM100 (approximately USD23) per person. We recommend going for the more affordable option because you will tour the same spots. You can expect to glimpse human-sized turtles, reef sharks, and occasionally, manta rays – along with the usual crowd of clownfish, parrotfish, and corals in all shapes and sizes.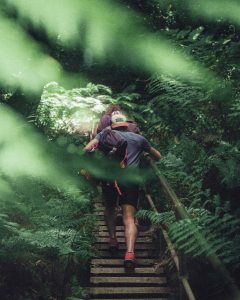 Diving at the marine park is a must for all divers – whether new or seasoned. There are three shipwrecks you can explore, with one ship originating from the Vietnam War era. Numerous dive centres are scattered around Perhentian Kecil, so you will be spoilt for choice. Depending on the dive centre, some instructors, such as those at Angel Diver, will be able to converse with you in French, Spanish, German, or other languages. Most dive centres offer packages inclusive of accommodation, breakfast, PADI Open Water certification, and more. So do your research if you're planning to dive!
Hiking enthusiasts, or hiking newbies, can discover the trail circling Perhentian Kecil. The entrance into the trail is an inconspicuous pathway before Bubu Villa, and from there, just follow the make-shift road but know that due to weather, it can be unclear at times. There's also a trail passing a windmill leading down to a dilapidated jetty that is now home to a private beach (unless you stumble upon other hikers). To get there, you will need to turn left at Santai Restaurant, follow the signage, and/ or follow the pipeline. 
Speaking of restaurants, the main cuisine served is Malaysian food so you can expect many fried items, such as fried rice, fried noodles, fried chicken, and so on. However, in the evening, there is a seafood buffet serving freshly caught fish. It's affordable, too, and includes a drink, salad, rice/potatoes, and dessert alongside your catch of choice. If you're into Western cuisine, then fret not as Oh La La Restaurant serves yummy pizzas, potato wedges, and the like. 
Once the sun sets, expect a fire show (think hula-hoops and unfathomable tricks performed by semi-pyromaniacs).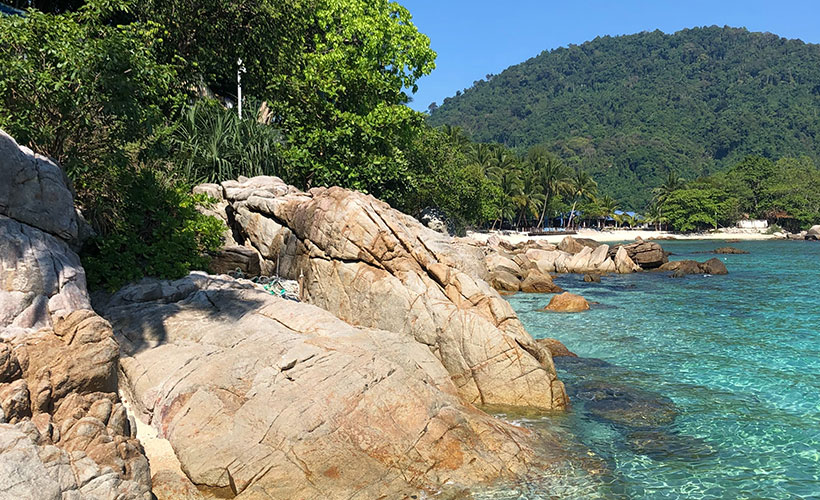 Need to know
Regardless of the island you choose, both are without an ATM, police station, or even clinic. This means that you should arrive with enough cash, practice vigilance even while relaxing, and pack medicine relevant to you (and your chosen activities). So if you're planning to laze by the beach, leave your cash in the room, and if you're planning to hike, bring plasters just in case. 
Most importantly, though, know that the islands use electricity sparingly, normally from 6PM to 11PM or 6PM to 6AM – the time range honestly depends on your chosen accommodation. While this fact may be a deal-breaker, remember that you're on an island tanning and exploring so you really just need your room for showering and sleeping. 
Taking the electricity situation into consideration, WiFi will constantly lag and mobile data, too, is prone to lack of coverage. If you're addicted to social media, think of it as a much-needed digital detox! Keep the focus on enjoying yourself. Happy travels!
Follow Zafigo on Instagram, Facebook, and Twitter. Sign up to our bi-weekly newsletter and get your dose of travel tales, tips, updates, and inspiration to fuel your next adventure!