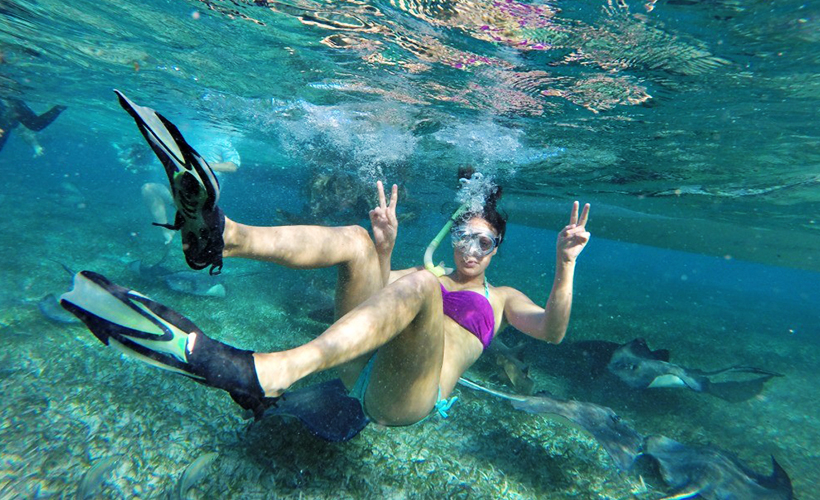 Even while adventuring in new places, many of us are keen to see what's literally below the surface. Recent research shows that marine tourism is one of the most rapidly growing tourism sectors globally, and with some of the world's most beautiful reefs situated in Asia, you're missing out if you don't take a closer look.
It has to be said, however, that scuba diving and snorkelling come with a high price, and I'm not just talking about the cost of a PADI licence. There's a growing awareness of how human activities impact our marine ecosystems, and these popular hobbies are certainly not exempt from the conversation.
Thankfully, several organisations and individuals worldwide have made it their goal to protect what remains of these precious underwater worlds. Established by the United Nations Environmental Programme and currently supported by The Reef-World Foundation, Green Fins is an ever-expanding network that focuses on improving the marine tourism industry through liaising with governments, NGOs, dive centres and individuals in their established countries.
"The overall aim of Green Fins is to protect and conserve coral reefs by establishing and implementing environmentally-friendly guidelines to promote a sustainable diving and snorkelling tourism industry," explains Green Fins assessor for the Green Fins Malaysia network Nadhirah Mohd. Rifai.
Along with educating industry players on best practice, Green Fins aims to encourage tourists to take heed when taking the plunge. Here's a summary of their suggestions:
Support positive change
Green Fins is working to ensure that all of its members serve as guardians to marine life by adopting eco-friendly and sustainable practices. The environmental standards of all dive and snorkel centres who have adopted the Green Fins Code of Conductare assessed annually.
"We recommend visiting Green Fins certified dive operators that can be found in Malaysia, Philippines, Thailand, Vietnam, Singapore, Indonesia, The Maldives and Palau," says Nadhirah.
For the ultimate eco-friendly dive centres, Nadhirah recommends choosing from their top 10 Green Fins Members on this list; these centres are ranked the best among other Green Fins-certified dive operators.
Look with your eyes
While the rainbow of coral and seashells in our oceans may tie in perfectly with your household colour scheme, you must remember that the natural world is not a free-for-all gift shop. Whether dead or alive, don't remove any coral or other marine life while diving or snorkelling. Besides causing environmental damage, removing coral from the ocean is illegal in many places. So why risk it? Let your memories will serve as the best souvenir. Additionally, be sure not to touch or step on coral, which is very fragile and takes a long time to grow.
Capture moments with care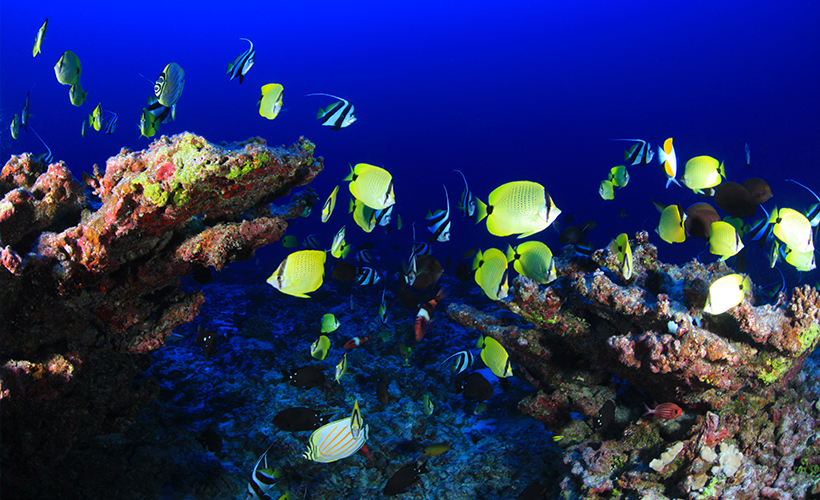 It's understandable to be eager to capture moments so you can share with loved ones back home. While underwater photography is certainly permissible, it's important to take steps to prevent harm. Green Fins recommends that divers take care not to drag photography equipment against the reef as this can cause irreparable damage.
It's also recommended that you practice your underwater photography skills prior to venturing out on a diving or snorkelling trip. This will ensure you are confident in carrying the equipment underwater and so, are less likely to cause an accident. Finally, as tempting as it can be, photographers are urged not to touch, move, chase or disturb any marine life in the quest for the perfect shot.
Leave no trace
You wouldn't carelessly dump trash in your friend's home so why do it to our underwater neighbours? We're becoming increasingly aware of the impact that plastic is having on our oceans' ecosystems and while the problem won't be resolved overnight, you can play your part by ensuring that you don't add to it. Make sure to bring any plastic bottles, food packaging and other waste home with you after the trip. What only takes a few moments to gather up can have long-term consequences for the ocean if left behind.
Additionally, while it is perfectly acceptable to feed yourself (a day at sea can leave you famished!), share leftovers only with fellow land-dwelling divers. Marine creatures have plenty of grub to keep them satisfied and eating human food could result in illness, aggression towards divers and an imbalance in ecosystems should fish choose to eat human food over algae.
Practice
It's important to ensure that you know what you're doing before taking to the water, both for your own safety and the safety of marine life. "Bad buoyancy may cause coral damage when divers kick the corals, as well as coral mortality due to sediments being stirred and then landing on nearby corals, choking them and blocking the sunlight," says Nadhirah. The best way to practice? Keep diving! Just be sure to keep yourself, and the environment, safe from harm.
Get all the latest travel stories from Zafigo. Follow us on Facebook, Twitter, and Instagram.