Are you planning on travelling to Thailand anytime soon? A famous holiday destination in Southeast Asia, it is a country that truly lives up to its reputation as the land of smiles. You'll be greeted by many happy people there, devour some of the most delicious food in the world, and explore stunning Buddhist temples.
However, behind Thailand's many tourism beauty comes a dark side too, and one involving elephants. We've all seen it on social media: tourists visiting Asia riding an elephant, seeing them perform at a circus, or even purchasing a painting done by an elephant.
In the wild, these majestic creatures would do no such thing as these aren't natural behaviours. You shouldn't or couldn't even come close to elephants in the wild. To get elephants to obey the commands of humans, they must go through the phajaan process, also known as 'the crushing'. And the ordeal is as horrible as it sounds.
Breaking a gentle giant
In the phajaan process, the elephant's front and back legs are tied together, and they're often placed in small cages to restrict movement. Chains and ropes cut into their flesh, and more often than not, the wounds are left untreated. They are placed in a space no larger than they are and left for weeks with just enough food and water to survive. Within this process, the elephants are teased and abused to 'domesticate' them.
The process ends once they let out a cry that indicates their broken spirit and gives in to the humans.
Afterwards, the mahout trains the elephant with verbal commands and the bull hook. Most elephants in the industry have scars, their ears shredded from the bull hook, and have deformed backs from the saddle and weight of people that ride them. Along with the physical injuries, these elephants suffer severe mental health issues from all the abuse they've endured. Sad to say, but by the end of 'the crushing', they are no longer elephants and merely money-making tools.
In the wild, elephants can walk up to 195 kilometres per day. At elephant trekking camps, they are restrained on short chains and walk in circles to make up for the small space. Elephants in captivity also sway their heads; this is them struggling to deal with the severe anxiety caused by the phajaan, their small space, and limited to no social interactions with other elephants.
Calling their bluff
Disappointingly, many elephant trekking camps are now calling themselves 'sanctuaries', 'foundations', or 'ethical' as marketing tactics to trick well-meaning tourists. As a rule of thumb, anywhere that lets you ride an elephant (bareback or not) is not ethical, places that let you bathe are not ethical, and anywhere that forces elephants to pose for photos is also not ethical.
Unfortunately, the exploitation of animals in the tourism industry doesn't stop at elephants. Monkeys and tigers are often used as photo props, and are almost always drugged to be subdued for tourists. Also, those fish spas? The fish only nibble on dead skin because they aren't fed.
Add meaning to your holiday
But you can help to change the world by travelling with meaning! To see animals in an ethical, hands-off way, and support legitimate animal sanctuaries in Thailand, you can visit or volunteer at Wildlife Friends Foundation Thailand (WFFT) and Elephant Nature Park (ENP).
Back in 2018, after graduating from high school, I wanted to do something meaningful during my gap year. It was then that I decided to travel solo to Thailand to volunteer with rescued elephants at WFFT. And the experience has been life-changing. I discovered my passion for travel and animal welfare and have since also volunteered at ENP. Read on to learn more about what it's like to volunteer at an animal sanctuary.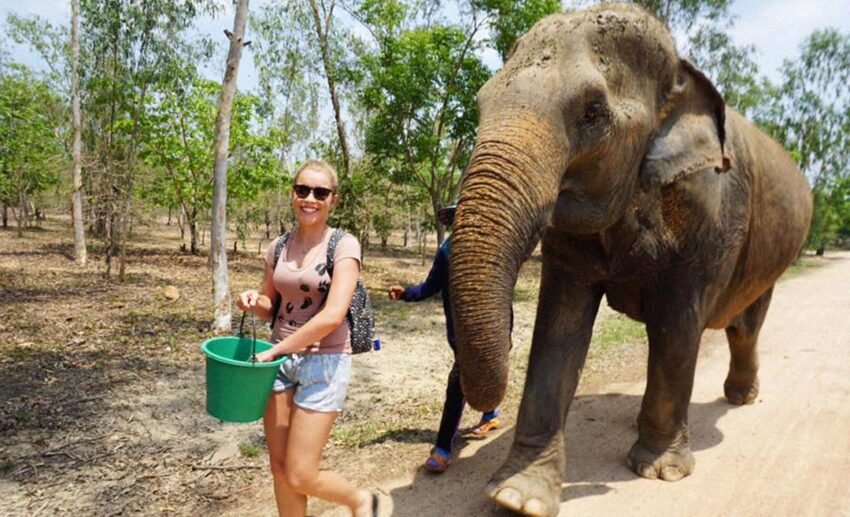 Becoming a volunteer at WFFT and ENP is an amazing opportunity to travel meaningfully and make a difference in the world. As a volunteer at these sanctuaries, you pay a contribution of approximately RM1,538 to RM1,774 per week to financially support their operations, as well as for shared accommodation, which also includes three tasty Thai meals per day.
At ENP, all the food supplied is vegan and well-balanced to fuel you for volunteering!
A day in the life of an elephant volunteer at WFFT starts at 5:30am with a stunning sunrise walk to the Volunteer House, where we find our work schedule for the day ahead, similar to ENP. During our day, we were involved in preparing food, from physically harvesting banana trees to making banana balls for the elephants. We also enjoyed feeding our yummy creations to the elephants at WFFT. But this food must go somewhere, so we were tasked at both sanctuaries with cleaning up giant pieces of elephant poo!
Throughout the day, we would cut up large amounts of fruits – these elephants sure do eat a lot – and had fun creatively constructing elephant enrichments. This involved filling large tyres with the fruit and securing it with banana tree trunks to see how long it would take for the elephants to crack it open – they were usually destroyed within minutes.
We also created enrichment parcels to throw around the large enclosures and hide for them to find later and distributed their 'salads'. If there were special occasions like an elephant's birthday, we would delicately decorate beautiful 'cakes' for them. At WFFT, part of the day was spent walking some of the elephants with fruit as an incentive, and at ENP, we were taken around to meet all the elephants and learn their stories. This meant walking freely in a hands-off experience with these gorgeous giant creatures surrounding you — like something out of Jurassic Park.
Other animals need your love and support too
And let's not forget all the other animals wandering around these sanctuaries. At WFFT, you can also choose to be a Wildlife Volunteer and care for monkeys, sun bears, and many more animals. While at ENP, you can spend extra time socialising puppies and kittens. And you'll come across many cats and dogs who tend to join you on your daily duties – like Kevin here, always jumping on the back of the Ute with the volunteers.
Outside of volunteer hours, we would socialise with other volunteers and staff of the sanctuaries, usually sharing meals, grabbing a beer from the well-equipped bar, or simply playing Uno. Also, at ENP, you can treat yourself to a massage after a hard day's work.
If you're interested in volunteering, there is no need to stress, as both sanctuaries have well-equipped facilities, so you can call home using free Wi-Fi and have your clothes washed at a small cost. There are also souvenir shops to buy some keepsakes for yourself and your loved ones. However, remember to bring sunscreen, bug repellent, and hiking boots, as these things come in handy when working in the jungle.
While the experience is challenging at times, it's also extremely rewarding. Not only are you supporting animal welfare and ethical tourism, but you also develop many friendships and create memories that last a lifetime.
Other ways to help
However, suppose you don't have enough time to volunteer. In that case, you can always visit these sanctuaries, stay overnight in comfortable accommodation — scrumptious meals included — and join informative day tours around the sanctuaries and nearby destinations. This not only financially contributes to the sanctuary's efforts, but you can share what you have learnt about the plight of Asian elephants on social media to raise greater awareness.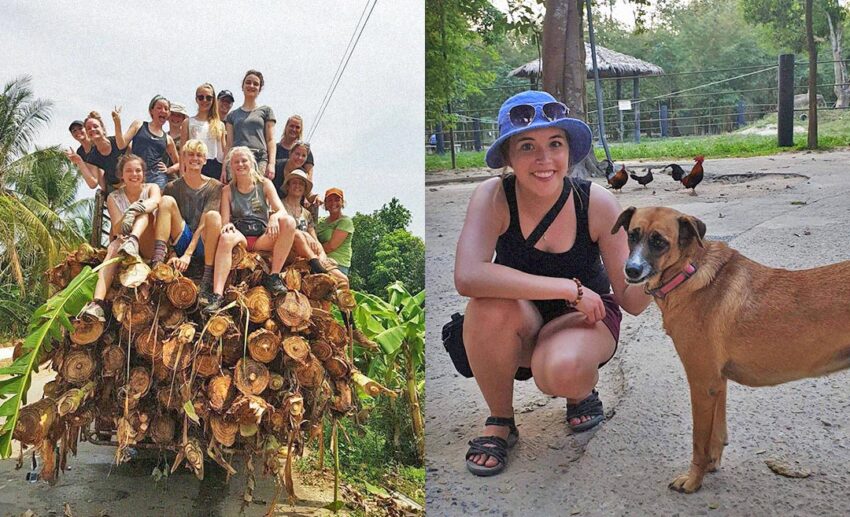 WFFT is located approximately two and a half hours south of Bangkok, near the coastal town of Hua Hin; while ENP is situated outside the beautiful city of Chiang Mai, where you can continue exploring the charming country of Thailand before and after your time with the elephants.
Wildlife Friends Foundation Thailand
Address: 108 Moo 6, Tha Mai Ruak, Phetchaburi 76130, Thailand
Contact: +66 32 458 135
Elephant Nature Park
Address: 1 Ratchamanka Rd, Tambon Phra Sing, Mueang Chiang Mai District, Chiang Mai 50100, Thailand
Contact: +66 53 272 855
All images courtesy of the author.