As a vegetarian in a city that loves its meat and seafood, people always ask if I have a hard time finding food in Bangkok. Though on the surface, Bangkok may not seem very vegetarian-friendly, it's actually surprisingly easy to find a wide variety of vegetarian and vegan food here. Here are 6 tips for eating well and meat-free in Bangkok:
1. Learn a few basic Thai phrases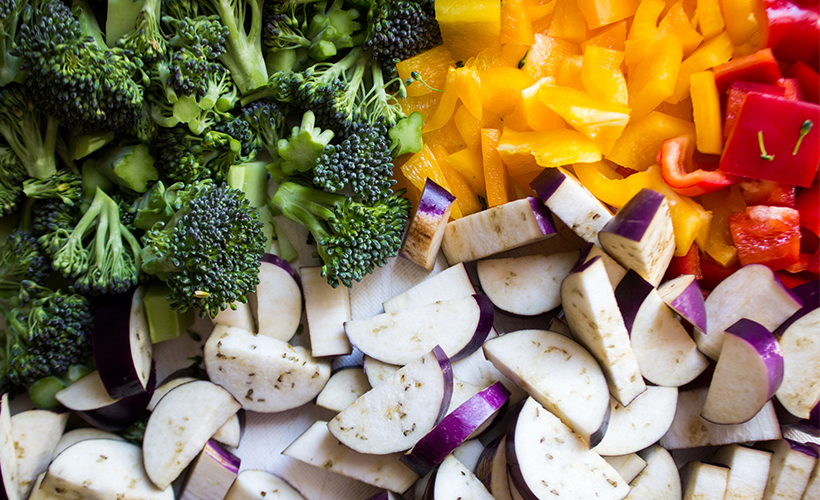 A few simple Thai phrases can open up a whole new world of vegetarian and vegan food. The Thai concepts of veganism and vegetarianism are slightly different from Western ones, so it's helpful to know what to expect. Learning these few phrases have made me much more confident in ordering vegetarian food wherever I might be in the city:
Jay (เจ): Vegan – Jay food is a form of Buddhist cuisine, and it's slightly more restrictive than veganism. It contains no animal products, garlic or other strong herbs, and in some cases, no root vegetables. If you want to be absolutely sure your food doesn't contain animal products, your safest bet is to tell your waiter "gin jay"(กินเจ) ("I eat jay food") before ordering. Many Thai Buddhists eat jay food year round or for periodic cleansing fasts, a bit like Christian Lent, so vegan food is pretty easily accessible but may be blander than you would expect for Thai food.
Mangsawerat (mahng- saw – we – rat) (มังสวิรัติ): Vegetarian-ish – Mangsawerat food doesn't contain visible pieces of meat, but can include things like fish sauce or fish broth. 
Mai sai koong, mai sai naam pla (ไม่ใส่กุ้ง, ไม่ใส่น้ำปลา): No prawn, no fish sauce – If you don't want seafood in your vegetarian food, these two phrases are key. "Mai sai" means "without", "koong" is shrimp, and "naam pla" is the ubiquitous fish sauce. These are foundational in many Thai dishes (such as curry pastes) and are often included in mangsawerat (vegetarian) meals unless you specifically state that you don't want them. 
Note: Vegetarianism that's separate from the Buddhist tradition of jay may be new to some Thai cooks, so some flexibility might be required if you're eating on the street or in restaurants that don't have staff with good levels of English. If you have strict dietary needs, explain your requirements to your hotel's front desk staff and ask if they can write it down in Thai for you to show waiters or cooks.
2. Look for the jay sign to find vegan food 
Jay food and restaurants are marked with the word "jay" in Thai script (เจ), typically in red on a yellow background. Sometimes the font is made to look more like Chinese script, or includes the Chinese symbol for jay.
3. Made-to-order street food is your friend
Street food is one of the trickier categories of food for vegetarians as most of it is prepared in large batches in advance, so you can't simply ask for the meat to be left out. If you're looking for a quick bite, look for street stalls where food is made to order (som tam, or papaya salad, stalls are often a good bet), or that have the jay sign.
4. Go to your nearest 7-Eleven
If the street stalls don't have vegetarian offerings, there's always 7-Eleven. In the frozen meals section, you can usually find some are vegan options, all marked with the jay sign. My favorite is the vegan gra pao, or fake ground meat stir-fried with Thai holy basil and chillies, over rice. You can ask the cashier to microwave it for you so you don't have to wait until you get back to your hotel. If you're not looking for a meal, there's a range of vegan snacks, from taro toastie, to granola bars, and bananas.
5. Don't be afraid to go off-menu
Looking at the menu in a typical Thai restaurant as a vegetarian can be pretty disappointing. Most have few, if any, vegetarian options listed. Luckily, most places are happy to adapt dishes on request. Once I've found what I like on the menu, I tell the waiter the name of the dish and then specify jay. Here are a few common dishes that are easily adapted to be vegetarian:
Som tam jay – The popular papaya salad, but without fish sauce or dried shrimp.
Pad pak ruam – Stir-fried mixed vegetables. The actual mix varies from restaurant to restaurant and is generally seasonal, so it's a nice way to enjoy fresh Thai vegetables. If you don't eat seafood, this is a good one to specify "mai sai nam pla", as fish sauce is often included in the sauce. 
Laarb hed – If there's laarb – spiced, stir fried ground meat – on the menu, try asking for laarb hed, or mushroom laarb, a delicious spicy mushroom salad.
Pad see ew jay – Pad see ew is a common Thai dish, made with wide noodles stir-fried with soy sauce and leafy green Chinese broccoli. 
Check out Eating Thai Food.com's great e-book Vegetarian Thai Food Guide here. For only $7USD, you can download this e-book to your phone and then pull up specific dishes with pictures and Thai translations to help you communicate with your waiter.
6. Explore non-Thai cuisines
Don't get me wrong, there are great vegetarian and vegan Thai restaurants in Bangkok such as May Kaidee's and May's Veggie Home, but it's also fun to take advantage of Bangkok's diversity and explore places like Aryaa's Indian Restaurant, which serves 100% vegetarian Northern and Southern Indian food (near BTS Nana). Also, try Broccoli Revolution's trendy vegetarian and vegan fusion. 

Read Next:
| | | |
| --- | --- | --- |
| | | |
| | The Next Time You're In Thailand, Try These Yummy Local Fruit Dishes | |