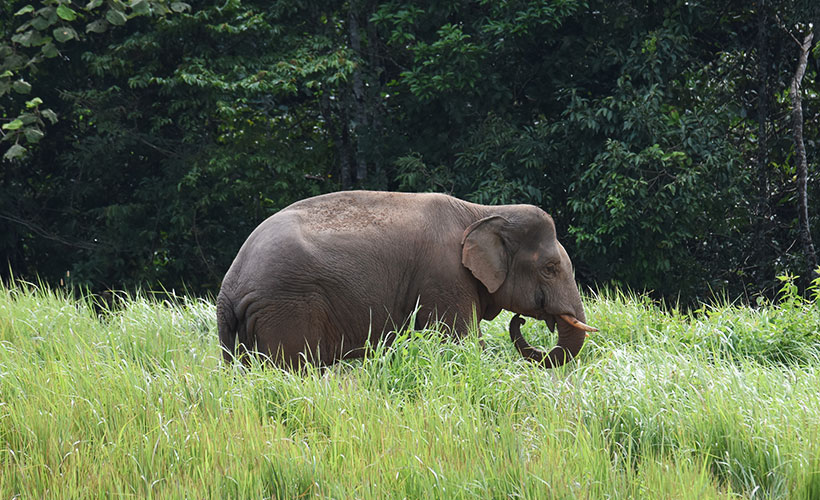 Thailand is famous for its wildlife tourism, but behind all the selfies with elephants and tigers, there is a less pretty picture. Many tourist attractions treat their animals poorly, keeping them in inappropriate conditions or actively mistreating them, which can have tragic consequences for both the animals and the tourists who come to see them. Some attractions are even involved in the deadly illegal wildlife trade, like the infamous Tiger Temple in Kanchanburi that was shut down in 2016 after years of trafficking allegations from conservation organisations.
It is horrifying to learn about the darker side of this popular form of tourism, but does that mean that animal lovers should give up the chance to get close to the animals altogether? There are actually plenty of ways to enjoy Thailand's wildlife responsibly! Here are a few great ways to get the Thailand animal experience without the animal cruelty.
Spot them in the wild
The best way to enjoy wildlife is in the wild, and Thailand has some incredible places to spot all kinds of rare and endangered species. Two parks where you're nearly guaranteed wildlife encounters are:
Khao Yai National Park
Only two and a half hours' bus ride from Bangkok, this UNESCO World Heritage Site is home to over 200 elephants, a Siamese crocodile, gibbons, macaques, muntjac deer, several species of hornbills, green pit vipers and monitor lizards – and those are just the most commonly-seen animals. If you're lucky, you might even spot the gaur (Indian bison), otters, dholes, binturong, and bears.
Guided tours are the best ways to see wildlife if you're new to the park, because the professional guides know all the best spots. I recommend Greenleaf Tours – their guides are knowledgeable, friendly, and most importantly, great at finding wildlife. Their tours are also very affordable. Their 1.5-day tour includes a half-day outside the park, with a visit to a bat cave and a sunset viewing of the millions of bats streaming out to hunt, plus a full day hiking, sightseeing and wildlife viewing inside the park.
Tip: Greenleaf offers accommodation as well. The company's guesthouse has rooms go for THB300 per night (no air-conditioning or hot water), or can arrange for you to stay at a nearby hotel with more amenities for THB1,000 per night.
Getting there: Greenleaf can help you get to Khao Yai from Bangkok but if you'd like to compare other options, check out this website for details on the different transportation options to get to the park.
Kuiburi National Park
If elephants are your thing, Kuiburi is the one park where you are practically guaranteed a sighting on every trip. Only one hour from popular beach destination Hua Hin, Kuiburi is known to be one of the best animal sanctuaries to see wild elephants and gaur in Thailand. They love to come to feed in the grasslands (actually reclaimed pineapple plantations) in the late afternoon and so can be found there nearly every day.
Because the roads are rough, the only way to view the wildlife is to take a private guided safari tour. They can be hired from the park's main visitor centre (THB950) or – the better option – the Huai Luek substation (THB850). They don't take reservations, so just show up in the afternoon and don't forget to bring binoculars!
Tip: Can't get enough in one day? Camp overnight. Tent rentals go for THB270 or you can bring your own and pay a minimal camping fee.
Getting there: Check out this website for more details on how to get to Kuiburi from Hua Hin or Bangkok.
Visit a (reputable) animal sanctuary
There are several wonderful organisations in Thailand dedicated to helping animals out of bad situations, be it a harmful tourist attraction or the wildlife trade. On the other hand, there are many others pretending to be responsible animal attractions that are actually part of the problem. A quick Google search can generally tell you if a place is on the up-and-up (and this is a good list of cruel attractions).
I look for places that don't let tourists interact with wild animals (it's not good for the animal, and sometimes not good for the tourists either), and that make animal rights and conservation advocacy a core part of their work. By those measures, these are two of the best animal sanctuaries in Thailand:
Elephant Nature Park
This is a bucket-list destination for many elephant lovers, and for good reason. The park's founder, Sangdeaun "Lek" Chailert is internationally renowned for her work to protect Asian elephants while providing sustainable alternatives to local communities that have traditionally depended on elephant labor.
Elephant Nature Park provides a safe haven for rescued performing elephants and promotes more ethical ways to interact with them. (You can learn more here about the abuse elephants suffer to be "broken" and controlled for performances and rides.) The elephants roam freely in small herds, with a local mahout (handler) to watch over each creature and supervise their interactions with tourists. Visitors can feed and bathe the elephants, but never ride them – but you'll be too caught up in connecting with the elephants and watching them play together to miss that. You can visit the project for a day or stay for weeks as a volunteer, but book in advance, because their calendar can fill up months in advance.
Getting there: Elephant Nature Park is just outside Chiang Mai, but they also now have locations in Kanchanaburi, Surin, and even Cambodia. For visitors to the Chiang Mai park, transportation from the city centre is included in visitor packages.
Wildlife Friends Foundation Thailand (WFFT)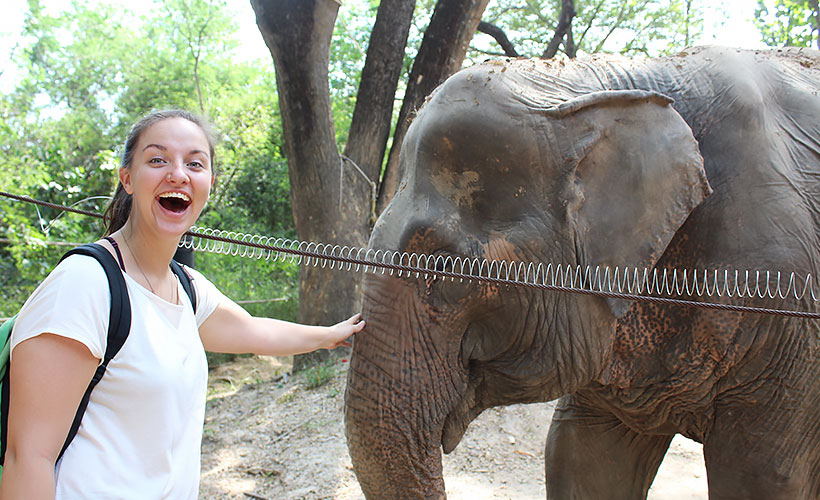 Wildlife Friends Foundation rescue, rehabilitate, and release wild animals, besides cares for those that can't be released. They also do great advocacy and education work to stop animal cruelty and promote conservation.
Tourists can visit their sanctuary in Petchaburi to see the hundreds of animals they've saved, including gibbons, macaques, lorises, bears, small wild cats, otters, civets, birds and many more, and interact with their herd of rescued elephants. If a day trip isn't enough for you, you can also volunteer at the sanctuary to help care for the animals.
Getting there: You can arrange your own transportation or book a taxi through WFFT from Bangkok (around 2.5 hours) or the nearby beach towns of Hua Hin or Cha Am. For more details, see WFFT's tour package details on their website.