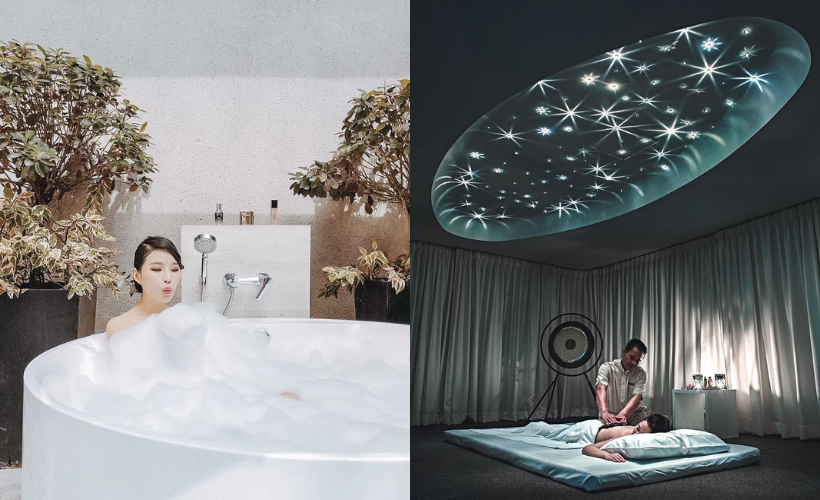 We're on Telegram now too! Subscribe to our channel for the latest updates.
There's no better way to commemorate the passing by of a hard year than the act of self-care. With dozens of home spa how-tos and spa memes saved on your phone, it might finally be time to venture out again to support the local industry. Now, whether you're looking for a full day of pampering at the best establishments that Kuala Lumpur and the Klang Valley or just a quick pick-me-up, here lies a list for your every need:
QUICK INDULGENCES
Beautifying Almond Massage, RM160 for 60 minutes
View this post on Instagram
To put the mind and body at complete ease, only the best-kept beauty secrets will suffice. Straight from provincial France, L'Occitane's Petit Spa takes full advantage of the natural splendour of the south. The outlet in 1 Utama, the first in Malaysia, introduces a luscious marriage of Swedish effleurage, Chinese acupuncture, and Balinese massage techniques to primp and preen the body, leaving it nourished and supple. Of course, the oils they use are just as lush, from the almond supple skin oil that's rich in omegas 3 and 6, and camelina oil.
Heavenly Hot Stone Massage, RM190 for 60 minutes
View this post on Instagram
Looking to relax and rejuvenate? How about surrender yourself to a good bout of hot stones therapy. A form of healing that dates back to ancient civilisations, Ozmosis Spa's Heavenly Hot Stone Massage will leave you tingling and absolutely de-stressed. With volcanic rocks heated and rubbed over your body, you'll be sure to walk out onto the streets of Bangsar feeling revitalised and refreshed. 

TO REBALANCE & RECALIBRATE
My Favourite Concubine Hammam, RM338 for 120 minutes
View this post on Instagram
A combination of several signature treatments, Hammam's Favourite Concubine package combines the best of the Hammam and Grommage (a detoxifying scrub and buff coupled with a purifying steam and shower) with the Moorish Body Envelopment and aromatic massage for pure tranquillity to wash over you.  Remember to request for light, medium, or deep pressure before your massage and just let the expert hands of Hammam's best therapists release the tension carried at various points of the body. Besides at their first location in Bangsar, you can also enjoy the same treatments at their Publika outlet. 
Urban Indulge, RM369 for 150 minutes
View this post on Instagram
More than just a one trick pony for their onsen treatments, the first in Malaysia no less, Urban Retreat Spa offers a full body pampering package with Urban Indulge. Complete with a foot soak, an invigorating aromatherapy message, body scrub, body wrap, and shower, you'll want to prepare yourself for some hard core indulgence that will leave you emerging from their cocoon of relaxation entirely refreshed.
Local Malay Urut, RM580 for 120 minutes
View this post on Instagram
A fresh take on a traditional classic, Away Spa's massage session takes inspiration from traditional Malay, Chinese, Indian, and Peranakan techniques that aim to promote better blood circulation and an improved lymphatic system. Let the expert stokes of the trained therapists of Away Spa take you, well, away from it all. Lying back and shutting off from the everyday hustle and bustle for two hours has never been easier.
UR A Goddess, RM590 for 90 minutes
View this post on Instagram
For an all-encompassing beauty therapy, look no further than The RuMa Hotel and Residences. With many signature packages, the top pick for the stressed city dweller has to be its indulgent UR A Goddess package. Beginning with a therapeutic Kabat Stretch, you just know you're in for a good time as the therapist works to relax tight muscles and pressure points. Then, the Sacred Nature Gommage full-body scrub is administered, followed by the Vital Foot Therapy. The treatment then comes full circle with an Essential Cleanse facial. Truly a top-to-toe wellness therapy tailored for urbanites.
LUXURY TREATS
Royal Banyan, RM795 for 150 minutes
View this post on Instagram
Utilising an East-meets-West massage technique, Royal Banyan delivers with a massage that doesn't just ease muscle aches, but also improves blood circulation and general body wellness. Featuring a relaxing foot ritual, a full-body scrub with all-natural ingredients, it all culminates with the Royal Banyan Herbal Pouch Massage. Utilising a warm herbal pouch dipped in sesame oil, the therapist alternates between the pouch and their palm to administer rhythmic blissful strokes, which makes the Banyan Tree signature so unique.  To cap it all off?  A Jade Face Massage that helps encourage lymphatic drainage and boosts circulation. After a full 150 minutes of pure pampering, we'd bet anything that you'll be walking out with an afterglow.

Chinese Peranakan Treatment, RM990 for 180 minutes
View this post on Instagram
The harmonious marriage of the Malay and Chinese culture inspires the Chinese Peranakan Treatment at The Ritz-Carlton, flawlessly blending the best of both worlds into a spa experience unlike any other. A Milk Nectar Meditation session centres the mind and calms the nerves, followed by a Pearl and Rice Cacial that incorporates the Traditional Egg Undulation and Mulberry Leaf Eye Treatment.  Experience a sense of lightness with the Moxa Naval Activation to ease digestion and improve your body's natural metabolism, before wrapping the three-hour session together with a custom oil massage utilising both Chinese acupressure and Malay massage techniques. The treatment ends with a custom oil massage using both Chinese acupressure and Malay massage and a luxurious soak in milk and flowers.
Sanctum Flora, RM1,088 for 180 minutes
View this post on Instagram
Touted as an enchanting beauty ritual, Sanctum Flora offers a three-hour body ritual that is sure to elevate your notions of gratification. The ritual itself begins with a gentle damascene rose body exfoliation – a treat for the mind as well as the body – followed by a calming aromatherapy massage that restores and nourishes. Finally, you're due for an anti-ageing facial that revitalises, leaving the skin plump and redefined. Working with high-performance brands for its treatments – namely Biologique Recherche from France, and Marzia Clinic from Italy – allow your mind, body, and soul to drift into serenity at the hands of the relaxation experts over at Sanctum.

Get all the latest travel stories from Zafigo. Follow us on Facebook, Twitter, and Instagram.