You know that feeling when you're getting ready for a trip and groan because you have to carry around a bulky, cumbersome, plain black bag? And then, when you're at the airport, you catch a glimpse of yourself in the mirror and internally cringe at how unflattering your bag makes you look.
This age-old problem haunts plenty of women travellers and makes us think: All we want is a fashionable travel bag that can hold a laptop, clothes, and other necessary items without making us resemble a hobbit with a backpack! Luckily, several brands have answered our prayers. From adorable to elegant, we've compiled the top 10 bag recommendations for female digital nomads who aspire to explore the world in style!
On-the-go laptop backpacks
The average female digital nomad constantly juggles multiple tasks and relies heavily on her laptop, especially when on the go. That's why a backpack that's functional as it is stylish is a must-have accessory.
1. Fjällräven: Kånken Laptop 15"
The classic Kånken backpack –– there's no other iconic travel backpack such as this! Crafted from hardwearing Vinylon F fabric and now fitted with comfortable shoulder straps with durable foam padding, the Kånken gets an upgrade in the 15-inch laptop version that we wholeheartedly recommend all women digital nomads try. Available in seven earth-toned colours, it's our top pick for a new backpack!
Shop for it here.
2. Dagne Dover: Dakota Neoprene Backpack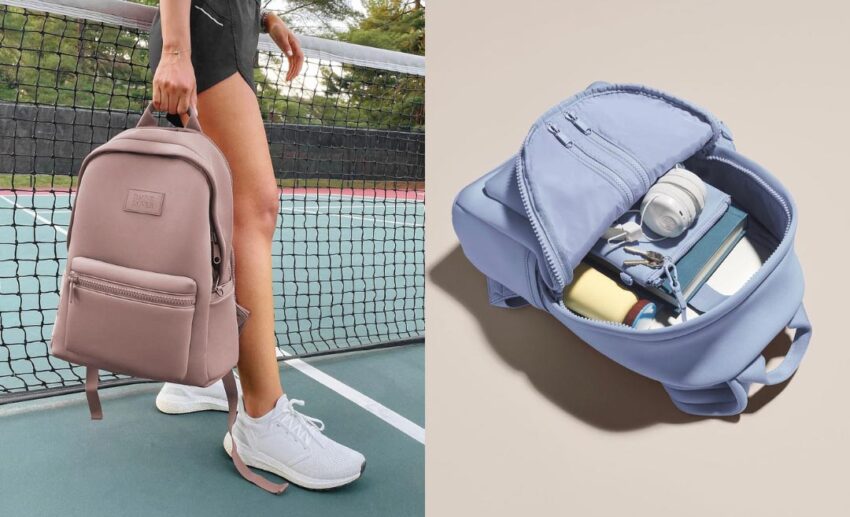 Dagne Dover's Dakota Neoprene Backpack has got to be the plushest-looking backpack available on the market! Made of hand-washable, insulating, and shock-absorbent neoprene, this water-resistant backpack is super easy to care for.
It fits most 16-inch laptops and has two inner sides, zippered compartments, and external slip and zipper pockets. The 100% vegan materials used to make this backpack is also an option for eco-conscious digital nomads!
Shop for it here.
3. Tumi: Voyaguer Celina Backpack
Crafting the sleekest and most-chic travel backpacks is what Tumi is great at — and the best-selling Voyaguer Celina Backpack is proof of their popularity amongst women travellers! The streamlined backpack boasts smart ways to access your essentials with the double-zip entry to the main compartment, a zip entry to the padded laptop compartment (fits up to a 15-inch laptop), and a quick-access phone pocket. It's ideal for digital nomads who prefer to access their items quickly without having to unzip their bags in public!
Shop for it here.
4. JanSport: Right Pack
For a classic backpack silhouette, you can't go wrong with JanSport. Known for their durability as it's made with Cordura fabric and a leather suede bottom, it's no wonder the Right Pack is a hit amongst travellers and students! The 31-litre bag has an internal padded sleeve that fits a 15.6-inch laptop and is still left with plenty of space to fit your travel items.
What's great is that this bag comes in many fun colours, textures, and prints to suit everyone's taste! JanSport believes in the quality of their backpacks so much they even offer a limited lifetime warranty on their bags.
Shop for it here.
5. Samsonite: Move 4.0 13.3'' Backpack
Samsonite has revamped its ever-popular Move backpack, which now comes with eco-friendly lining fabric! Akin to its predecessor, this compact backpack features multiple pockets (three zippered and two side pockets) for easy access.
It's light, washable, and easy to fold, making it a good choice for a day trip backpack when you need that extra space to hold more items. It's available in Black, Blue Denim (our preferred colour), and Light Taupe.
Shop for it here.
Travel backpacks to fit all essentials
Looking for a travel backpack that is both practical and stylish? Check out our top picks of backpacks that are designed for women and offer a slim silhouette.
1. Thule: Aion Backpack
Thule may be popular for sports accessories for cars and even baby strollers, but they also make great travel backpacks (and luggages) for all adventurers! Made with a waxed canvas fabric for its outer shell and TPU lining, Thule's Aion Backpack is water-resistant and can keep odour and moisture from spreading.
The 40-litre storage includes a padded compartment and zippered top pocket to keep a 15.6-inch laptop and other travel essentials. Double up on weight support with a Thule Aion Sling Bag, which can be attached and serves as a supportive hip belt! Did we also mention that it comes with a removable TPU roll-top bag and is carry-on compliant for most airlines?
Shop for it here.
2. Baboon To The Moon: Go-Bag Mini
Want to make a statement with your travel bag? Go with Baboon To The Moon's Go-Bag! The 32-litre Mini size fits up to three days worth of clothing and necessities, and is available in up to 11 hues to suit every personality.
We like that this size is suitable for carry-on and is waterproof, lockable, and adjustable. It also has ergonomic shoulder straps and a lifetime warranty. Cute, cool, and versatile! The Go-Bag is also available in Small (40L) and Big (60L) to suit extended stays.
Their Fannypack is hella cute too, and comes in 12 different colours, if you feel like pairing the Go-Bag with something smaller.
Shop for it here.
3. The North Face: Women's Borealis Backpack
When you're out in the great outdoors, it's essential to have a backpack that's well suited for rough terrains and that can also protect your shoulders from soreness. The North Face's Borealis Backpack is highly raved: featuring a women-specific FlexVent™ suspension system that is certified by the American Chiropractic Association, this backpack has segmented shoulder straps, a rounded back panel, comfortable stitch lines, and soft-touch chemise fabric for extra carrying comfort.
Moreover, the iconic bungee-compression system works as an organiser and makes the bag expendable. Not only does this backpack comes in cute colours and three sizes, but it also has 360-degree reflectivity. We love a bag that's an all-rounder!
Shop for it here.
Small bags for light excursions
Of course, being a digital nomad calls for daytime trips around the city or a fun night out with new friends after work is done! You shouldn't miss out on these small but handy bags for quick outings.
1. Lululemon: Everywhere Belt Bag 1L
Lululemon doesn't only offer functional leggings and quality athleisure apparel, but also cute belt bags, amongst others! One crowd favourite is their Everywhere Belt Bag 1L, which often sells out in North America and it's made for those on the move. It fits your wallet, keys, and phone. Its adjustable strap also allows you to use it as a sling or on your waist.
Trust us on this; the lightweight but soft material won't make it tiring to carry around for a whole day of exploring. For extra storage, add on the City Adventurer Nano Backpack as an adorable attachment!
Shop for it here.
2. Bellroy: Sling Mini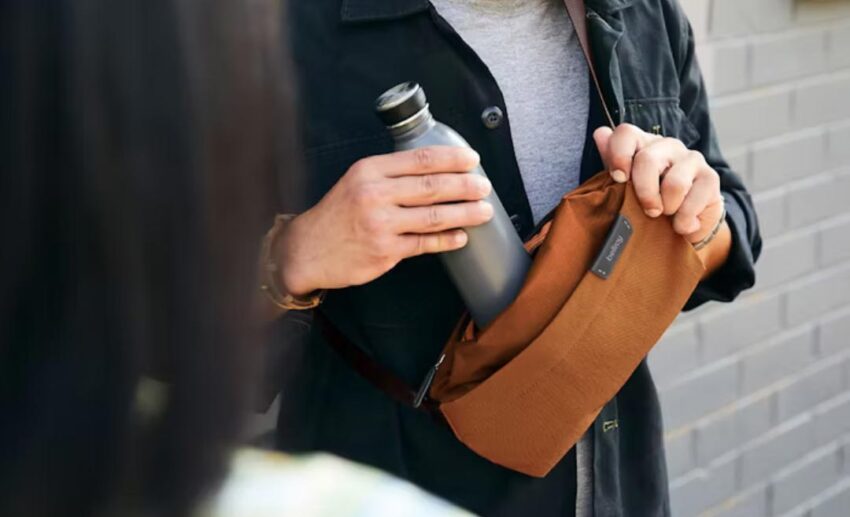 Last but not least, check out Bellroy's Sling in Mini. it's expendable, has a dedicated soft-lined pouch, and comes in classic and chic colours! Did we also mention that it's water-resistant and comes with a three-year warranty?
If you want more storage space or a fancier look, there's a larger version (7L) of this sling bag and also a premium version made from environmentally certified leather!
Shop for it here.