If there's one thing we hate about travelling, it's packing. Just wrapping our heads around the types of outfit we'll need (one for hiking, one for the beach, one for fancy dinners…) is frustrating enough, not to mention trying to prepare for every possible situation, panicking at the idea of forgetting something important, and being careful not to over pack.
Packing shouldn't be stressful. How do seasoned travellers do it?
We asked 13 women, from business travellers to mountain climbers, sea divers and new mothers what do they travel with. They share their top 10 travel essentials, plus tips on packing faster and better. We love that these women are so different and have such distinct reasons to trot the globe, yet are so similar when it comes to their travel styles.
If your boyfriend or husband thinks that a woman's travel essential is all make-up and shoes, he needs to meet these women.
1. Datin Paduka Marina Mahathir, social activist  
If there's a ribbon for beating jetlag, it goes to Datin Paduka Marina Mahathir –she recently travelled close to 50,000km in 30 days for both work and family.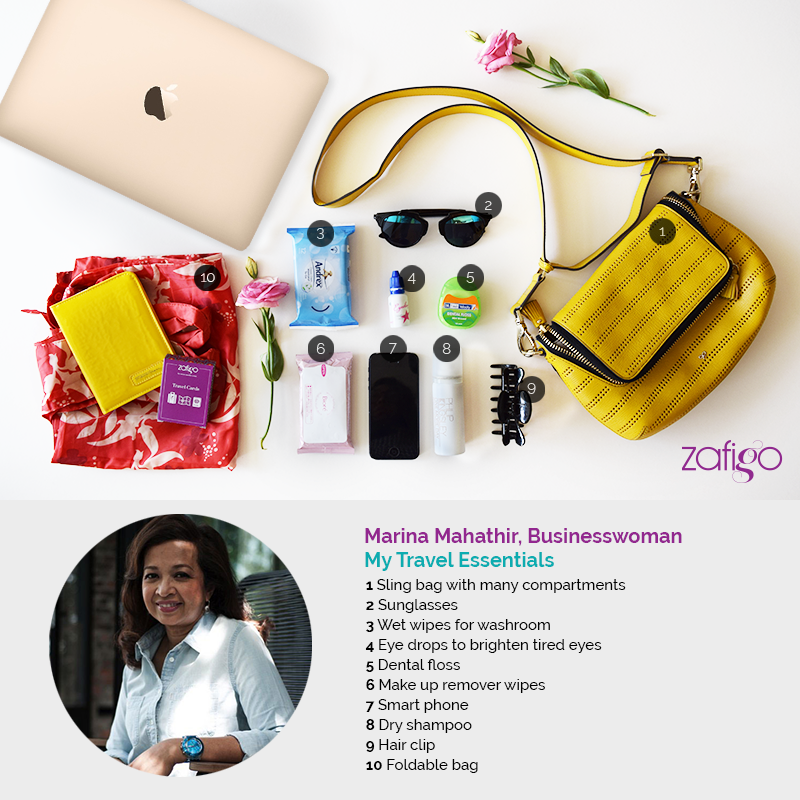 "I arrived late at night in Dhaka but my luggage didn't. As my travel clothes were too casual, I had to dash out in the morning before my first appointment to buy acceptable outfits for my meetings. Now I make sure to pack some easy-to-wear, non-crushable work clothes in my cabin bag, just in case."
Marina's top tip for long flights: Pack an extra set of underwear and toiletries in your cabin bag in case your luggage gets lost in transit.
2. Stephanie Ti, scuba diver 
A certified rescue diver, Stephanie is training to become an underwater photographer. Her training includes going on dive trips across the seven seas.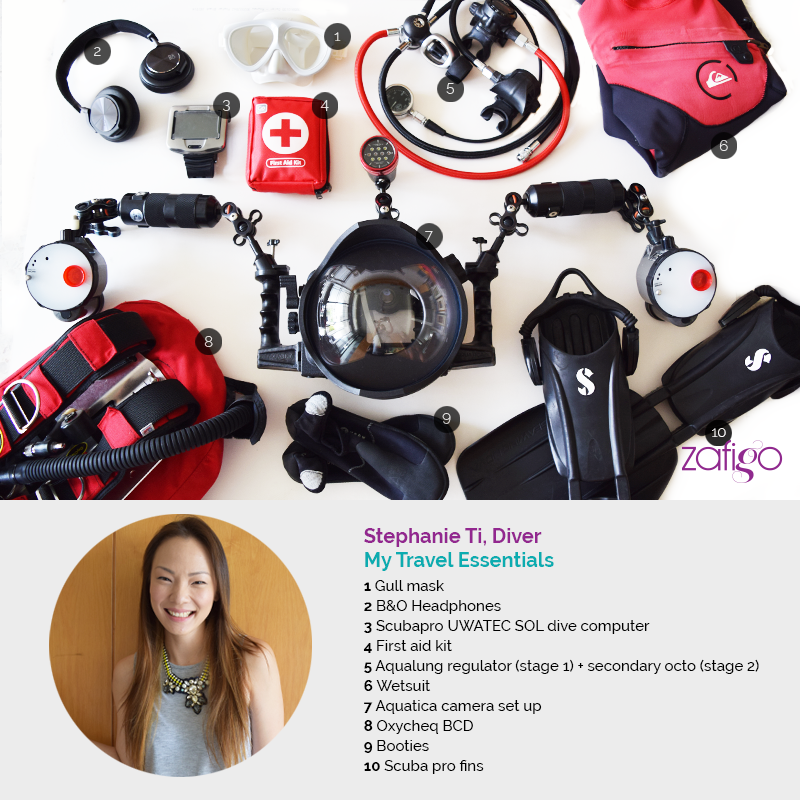 "I never realised how important it is to have a dive computer with an inbuilt compass until the day I got lost at sea!"
Stephanie's golden rule for packing medication: Always bring enough to last twice the length of your trip.
3. Anna-Rinna, wedding photographer 
Anna-Rinna is a professional wedding photographer who sneaks in time to hike and exercise on a work trips.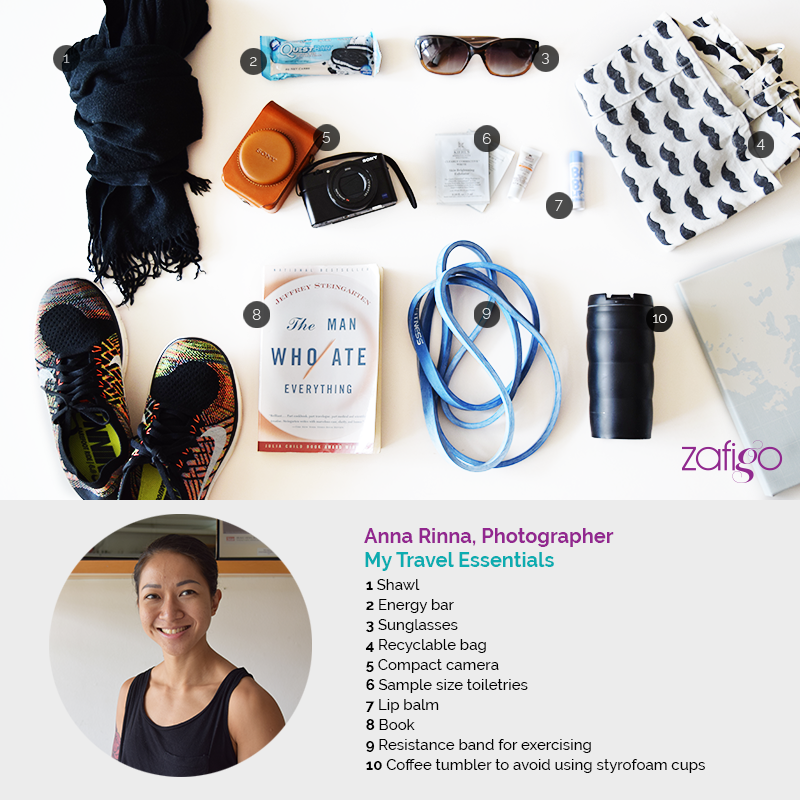 "I once went on a three-hour hike up the mountains with iced coffee in my tumbler. At the end of the hike, the coffee was still cold and the ice was still clinking! My friends were very jealous."
Anna's top tip for packing light: Roll everything up as small as possible and pack them into your luggage. After the first round of packing, remove half of everything you had packed.
4. Alexandra Wong, freelance writer 
The author of Made in Malaysia: Stories of Hometown Heroes and Hidden Gems, Alexandra Wong collects stories when she travels for writing assignments.
"I bring a few copies of my book with me when I travel. Whenever I meet friendly locals or stay in a nice hostel, I would give them my book so they can have a little piece of Malaysia in their library."
Alex's top packing tip: Bring foldable items and clothes that do not need ironing. That way, you can stuff everything into your luggage without creasing. 
5. Sarah Lim, outdoor junkie
A thrill seeker at heart, Sarah makes sure that every trip she takes has an element of adventure, be it rock climbing, inline skating, or surfing.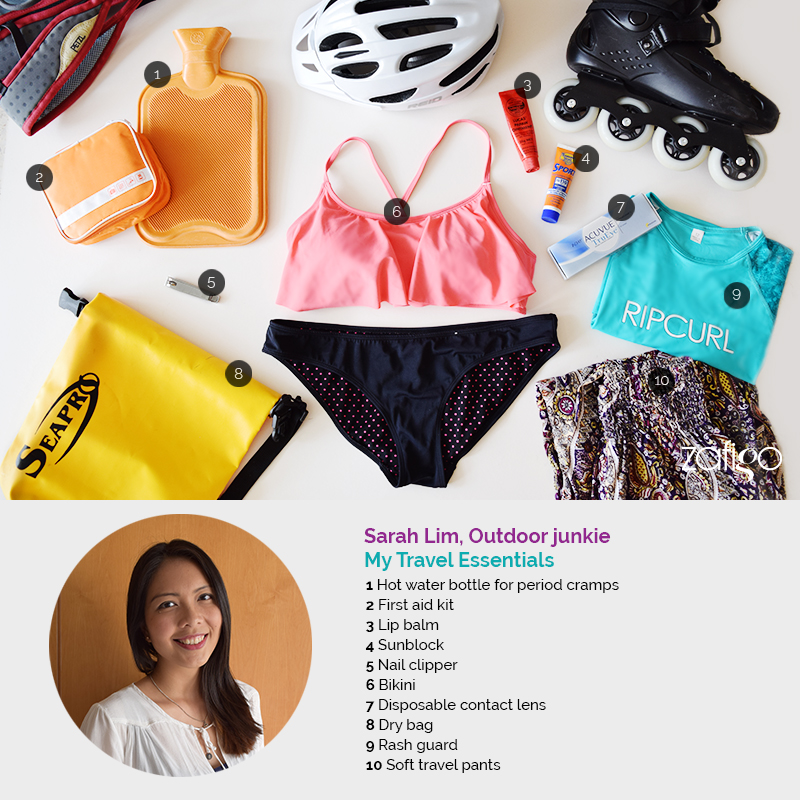 "As travellers, we take away valuable experiences from the places we visit. I've been thinking a lot about how I can give back and impact the local community. I'm going to start doing my homework to understand what the community I will be visiting needs before I travel."
Sarah's tip to avoid over packing: Use clothes pouches to limit the amount of clothes and toiletries that you bring with you. 
6. Suganthi Namasivayam, flight attendant 
After 24 years of flying, Malaysia Airlines leading flight attendant Suganthi is a professional at packing and unpacking. 
"I bought these rosary beads in Rome 15 years ago and had them blessed by the priest. I am not a Catholic, but I always carry it in case a crew member or passengers need something to comfort them when they are feeling anxious."
Sugar's top packing tip: Don't worry too much if you leave something behind. You can buy everything you need from the local stores. 
7. Grace Look, avid dancer 
An active member of Malaysia's swing dance community, Grace has travelled to countries like Taiwan, Melbourne, Korea, and Thailand specifically to attend dance camps. Her dream is to join the mecca of swing dancing dance camps in Herräng, Sweden.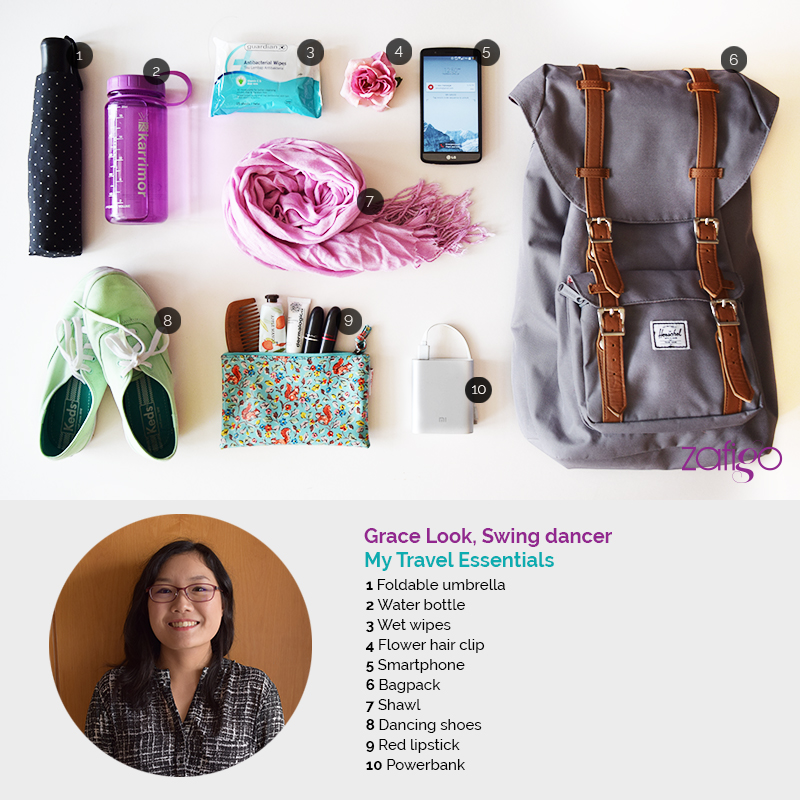 "These dance shoes are handmade! Dance shoes are really expensive, so I DIY-ed mine by glueing suede cloth to the bottom of a pair of comfortable walking shoes."
Grace's tip for looking glamorous without having to pack too much: You need just two things to look dressed up for a party – red lipstick and a pretty hair clip. 
8. Careen Tan & Tyler Jay Ng, blogger & baby
Blogger Careen Tan's travelling style has changed drastically ever since son Tyler came into the picture. Her travel essential has evolved from beauty products to baby products.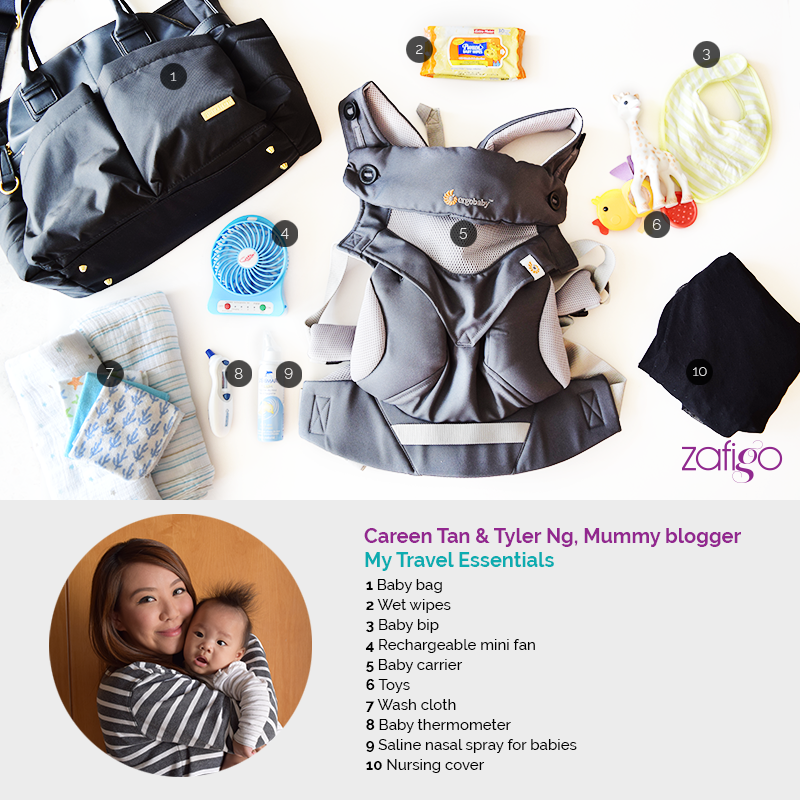 "We don't travel with strollers as they are really inconvenient. It's great for cities and malls, but imagine lugging a stroller up and down the stairs or at the beach. Baby wearing is more convenient."
Careen's advice for new mothers: Diapers are light, but bulky. You just have to bring enough diapers for the first few days as you can always buy more from the local stores.
9. Helen Lim, avid hiker 
From Nepal to Japan and Malaysia, Helen has summited countless peaks around the world. Her immediate goal is to reach the Everest base camp before she turns 45.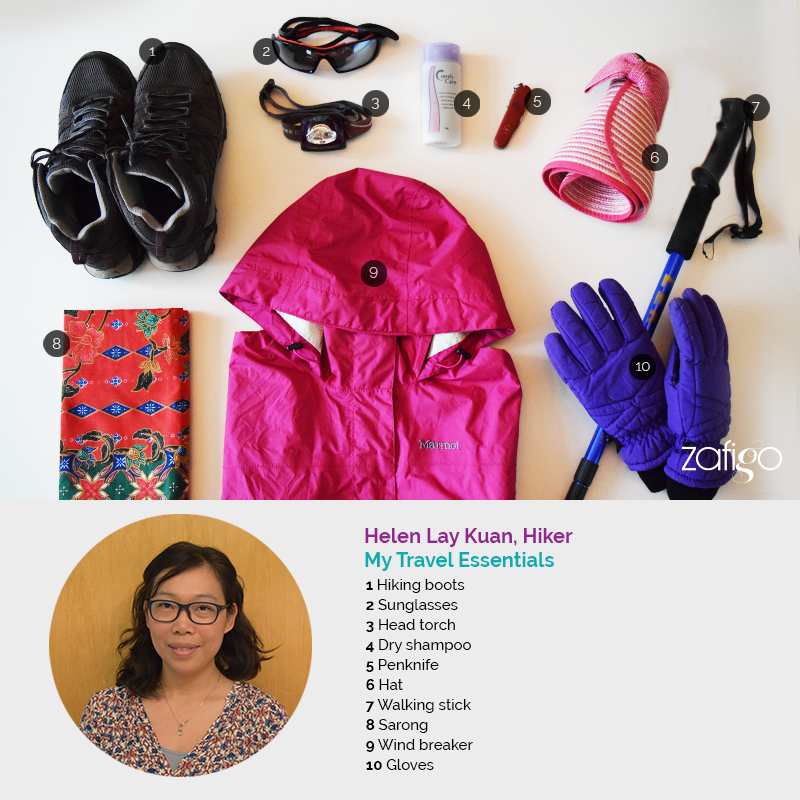 "As hikers, we believe that everything we do has to return to nature. We recycle and make full use of whatever that is available to us such as hotel soap bottles and Ziploc bags.
Helen's packing tip for cold climates: Invest in one good quality jacket. This way, you only have to carry one item to keep you warm and not lug around extra clothes.
10. Joni Lynne, makeup artist 
Professional makeup artist Joni Lynne is an expert when it comes to travelling in style while looking good.
"Almost everything I travel with is waterproof: All my make-up and even my power bank are waterproof so I never have to worry about ruining them."
Joni's must-have item: Invest in noise-cancelling in-ear headphones. It's the best thing for tuning out screaming children and loud passengers on a long flight.
11. Karen Tan, avid marathon runner  
Karen prides herself as a mid-life runner, having taken up running seven years ago. Besides local marathons, she has joined international runs across Singapore, Cambodia, Hong Kong, London and Tokyo.
"It sounds corny but I bring along a small Jalur Gemilang (the Malaysian flag) to international races. I'll either pin it on my running vest or wave it with pride when I cross the finish line."
Karen's safety tip: Wear a medical bracelet or carry details of your emergency contact, blood-type and allergies. You never know what can happen in a foreign country, especially during a high endurance race. 
12. Dr. Josephine Subramaniam, Radiologist 
Dr. Josephine travelled around the world to attend conferences, and hopes to visit these places next: Alaska, the Galapagos Island, Antartica, and the Aurora Borealis.
"South Africa should be on everyone's bucket list. Once you've been on a safari, you'll never want to go to a zoo again."
Dr. Josephine's style hack: Keep a small pouch of versatile accessories that you can quickly grab whenever you pack your luggage. This way, you have your go-to travel accessories and never have to fuss over which to bring. 
13. Francisca Turner Shaik, mother of 3 and founder of Frankitas 
Franki, the founder of artisan bag brand Frankitas, has different luggages for different trips. Business trips are filled with practical things; family holidays are dominated by things her children need; and girls' trips means making more room for vanity items.
"I think it's very important for women to go on a girls' trip with their best mates and get away from work, the husband, and children for a little bit. It's healthy for the men to have their own boys' trip too."
Franki's tip for packing sensibly: Women tend to accumulate a lot of unnecessary items that they dump into their big handbags. A small, compact bag helps you stay organised and makes finding things easier. 
One thing we've learnt from looking through these women's luggage is that you don't need a lot when you travel. The key is to pack versatile key items. As Franki said, "pack like a PRO – make Practical, Realistic, and Organised decisions on what to bring."  

Read more packing tips:
Get all the latest travel stories from Zafigo. Follow us on Facebook and Twitter.