It seems as though every other story you click on Instagram is of someone travelling somewhere near and far. And why not, since borders worldwide are opening, and we must live (carefully and responsibly) through this endemic stage of COVID-19. After all, we've been starved of holidays for a few years now, so it's about time we jump on a plane and see the world again.
Though exploring new places is nice and all, there are a few gadgets and gizmos that can make your travels a little bit better. We've made a list of a few things, from the practical to the witty — we love them all — and we're sure you will too. Whether you're travelling for work or travelling for the holidays, these recommendations are sure to come in handy.
Off-grid travels
Scrubba Wash Bag
Clean your clothes on the go with a pocket-sized hand washing machine. The Scrubba Wash Bag makes it easy to clean your clothes anywhere. It has a flexible inner washboard in a sealable waterproof bag that gives your clothes a machine-quality wash.
All you have to do is put your dirty clothes in the bag, add water and soap, seal, and deflate the bag. Then rub the clothes against the internal washboard for 30 seconds to three minutes before rinsing and drying.
Laundry detergent sheets
Instead of packing liquid or powder detergents that end up spilling all over your bag, why not bring a pack of dissolvable laundry detergent sheets instead? There is a variety to choose from online, but we recommend Earth Breeze.
It's a space-saver, hypoallergenic, free of bleach, phosphate, and parabens, and gives you up to 60 loads of wash. If you plan on using it with a Scrubba Wash Bag, you may need only half a sheet or a quarter of it, depending on your wash load.
Earth Breeze Laundry Detergent Sheets on Amazon
Solar panel chargers
Make full use of your day in the sun with a solar-powered USB charger. They are designed to charge your devices by using the sun's rays while on a hike or suntanning on the beach. Pro tip: Do not charge a smartphone if the sunlight is irregular.
Get the Biolite Solar Panel Charger available on Surfdome
Neck fan
Here's a cool tool to fend off the humidity while exploring the outdoors. Jisulife's portable neck fan is a bladeless turbo fan with two turbines on each side. It has a strong airflow and can be used over a long period without discomfort. The best part: it is also pet-friendly!
Available on Amazon
On-the-go hair styler
Now, we'll admit that this is more luxury than necessity, but there is nothing wrong with a girl wanting to wake with great hair, even if she's been slumming it in a tent. GHD Unplugged Styler is great for on-the-go styling and can be charged on any USB port. The battery life is under 30 minutes, but it is more of a touch-up tool than a styling essential.
Flight companions
Phone holder keyring
Another necessity travel hack is having a phone holder everywhere you go. IKEA makes one that is light, easy to carry, inexpensive, and comes in the form of a key ring, so you can attach it to your bag or keys without it taking up too much space.
Available on IKEA
TSA-approved luggage locks
Another travel hack worth noting is investing in a Transportation Security Administration (TSA) approved luggage lock. It has a keyhole at the bottom that allows the TSA to use a unique key to unlock your lock, allowing TSA to easily open and inspect your luggage without cutting off your suitcase lock. It's a nifty little investment that can save your luggage and locks from damage, especially if you are a frequent flyer.
Available on Decathlon
Trtl neck pillow
Neck pillows come in all shapes and sizes but can be bulky and inconvenient to carry if you want to travel light. The Trtl Pillow is an upgrade from your regular neck pillow. Light, easy to carry, functional, and machine washable. The hypoallergenic fleece and foam material are comfortable on your skin. Mommas, they also make kid-sized pillows!
Available on Amazon
For the water babies
Waterproof Bluetooth speaker
Who doesn't love having music while lounging by the pool? JBL's clip-on waterproof Bluetooth speaker may fit easily in your pool bag but still packs a punch with 10 hours of playtime and JBL's Original Pro Sound system. They also come in a range of fun colours.
JBL Portable Clip On Bluetooth Speaker available on JBL Online Store & Zalora
Pocket-sized picnic or sand-free mats
Make this your packing essential for any outdoor trip – a lightweight beach mat is an excellent addition to have with you at all times when exploring beaches, coves, nature parks, lakes, and more.
There are a few to choose from online, but we like Oceas Outdoor Pocket Blanket because they come with ground stakes and a carabiner attachment that help keep the mat in place. Another one worth getting is the Matador Pocket Blanket.
Oceas Outdoor Pocket Blanket available on Amazon
Matador Pocket Blanket available on Shopee
Dry bags
Dry bags are your best friend on coastal excursions. They keep all your belongings dry and secure whether you're spending the day on the beach, on a paddle board, or a speedboat island hopping; they also stay afloat if you trap air inside before sealing them. Sizes range from 2L to 90L bags.
Tip: We recommend a 2L-sized dry bag for solo travellers to keep precious belongings with you at all times, even while swimming in the ocean (ie phone, wallet, keys etc).
Matador Droplet XL Packable Dry Bag available on Shopee
Decathlon Dry Bag available on Decathlon
Hypergear Dry Bag available on Shopee
LifeProof FRĒ series waterproof phone case
A 360º waterproof case makes days by the sea stress-free, especially if you have kids. Buttons are easy to navigate, and you can take them into the pool or ocean to get better underwater photos and videos.
Available on Amazon & OtterBox.asia
Solo travellers & home comforts
Wacaco's mini portable espresso maker
The Wacaco Nanopress allows you to brew the perfect cup of coffee anywhere in the world. It requires no battery or electricity to use, but you will need to add hot water to enjoy a cuppa. It certainly makes a great travel companion for any coffee lover.
Available on Shopee, Lazada & Amazon
Travel door lock
A portable door lock should be a travel essential if you often find yourself on solo adventures. No need to barricade room doors with chairs and suitcases as this small contraption is an inexpensive way to give you a little peace of mind when staying in an unfamiliar place.
Available on Shopee, Lazada & Amazon
For the working traveller
Mini surge protector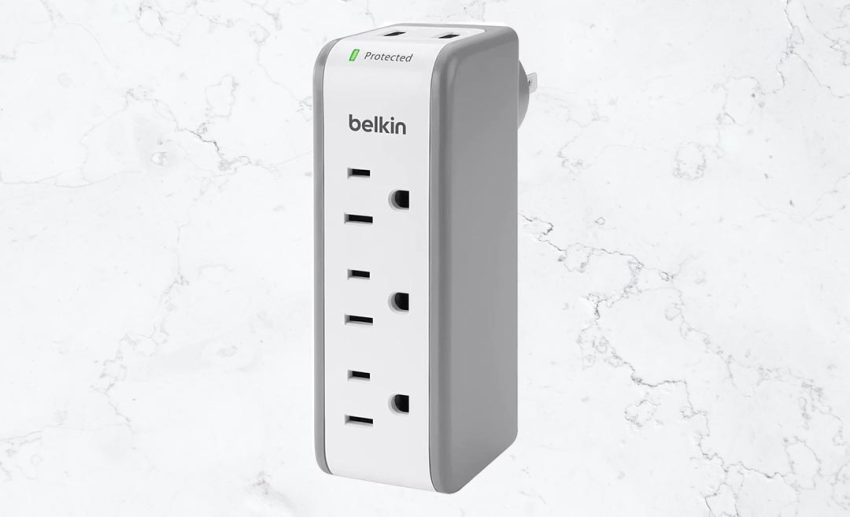 Carry a single portable charging station to have all your devices on safely. A surge protector safeguards your electronic devices from short circuits, power overload, lightning strikes, and electrical fluctuations so you can work comfortably. Apart from creating a clutter-free desk space, it also means that you won't forget to pack your devices before leaving.
Belkin Mini Surge on Amazon
Electronic cords ties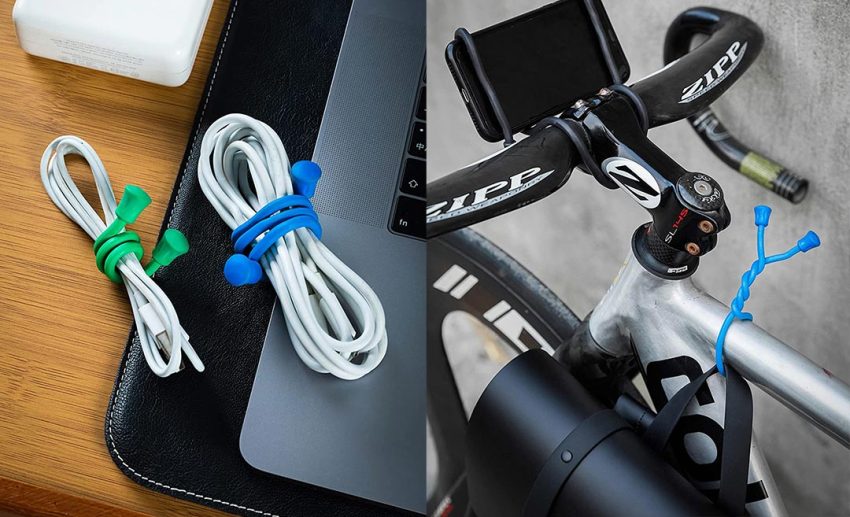 Keep all your cords tangle-free and pack with ease. Opt for bendable ties that come in a range of sizes and colours to be used for various devices.
Reusable Electric Cord Ties available on Amazon
Portable travel router
Get secure and private internet access with GL.iNet's Travel Router. Creating faster internet speed and a secure VPN of your choice makes for a great addition for working travellers.
GL.iNet Travel Router available on Amazon
Photography assistants
360º time-lapse camera head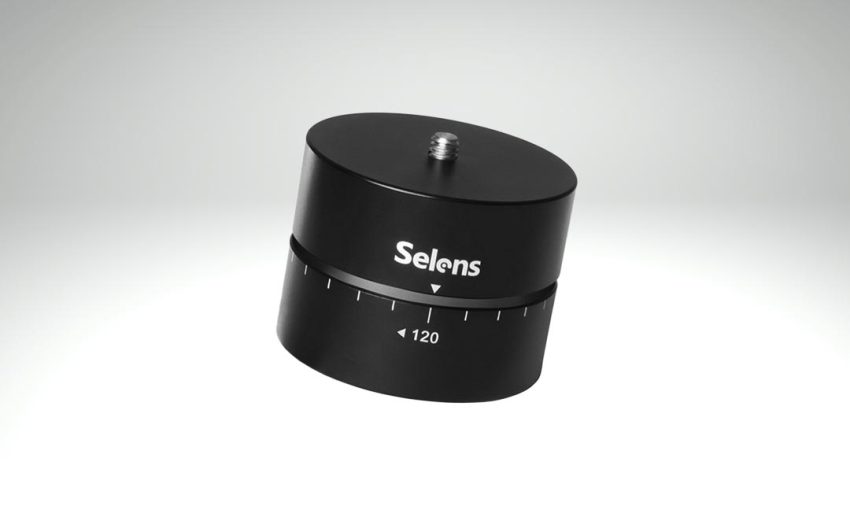 A fun photo tool to bring along on your next trip is a 360º time-lapse camera head, which is compatible with cameras, mobile devices, GoPro, and DSLR. Set up your recording device and let the photo head capture 360-degree videos of where you are for up to 60 minutes.
Available on Shopee
Shock and waterproof equipment bag insert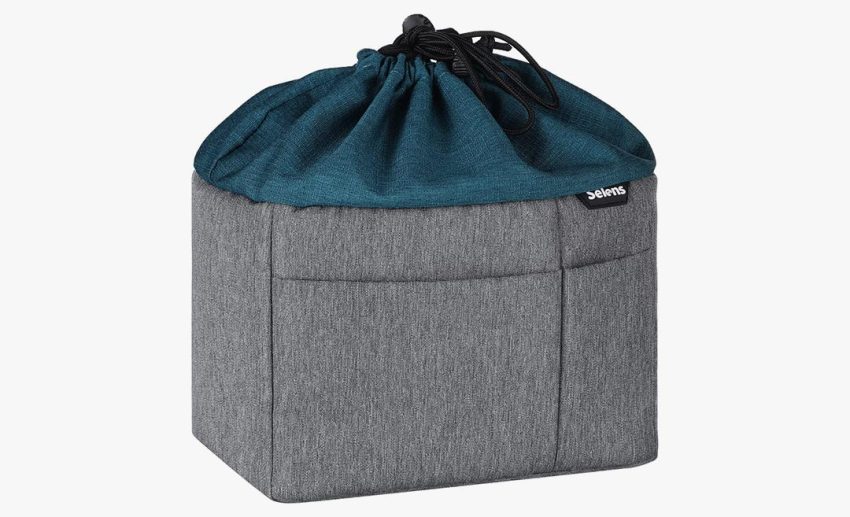 Protecting your photography gear is crucial when travelling, and while the options for camera bags, backpacks, and suitcases are endless, they can be limiting based on where you are going. Easily transfer camera gear from your suitcase to your backpack, tote bags, or carry-on luggage in a padded removable carrier to keep them safe yet accessible.