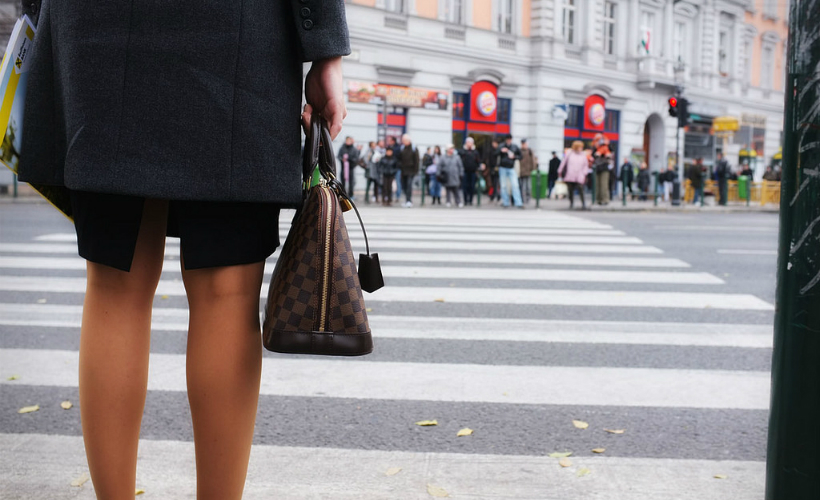 Let's just admit it, packing is a chore, whether you're travelling for work or fun. That said, packing mishaps on a business trip are worries you don't need on top of work commitments. It's difficult to feel confident in a day-old stained shirt when you're shaking hands with your biggest investors, or to find time to shop for a forgotten travel adaptor between meetings, conferences, and after work cocktails.
If you travel for work often, here's a checklist for everything you'll need. Assign one suitcase as your work luggage, and pre-pack some of these items in them so that you can shorten your packing time and ensure that nothing important is left behind.
Checklist 1: Bags, not burden
Carry-on suitcase
Forget check-in luggage; waiting for your bags takes time. Instead, opt for an aisle seat and carry-on luggage that will have you out of the plane and through immigration before your Uber pulls up.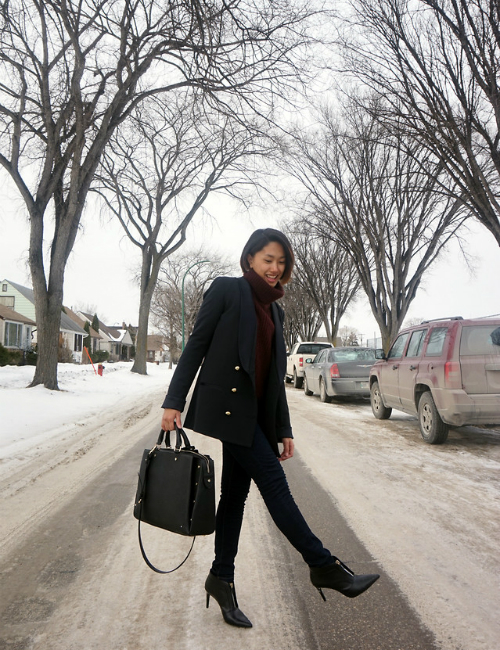 Large work tote
You'll need a large, professional tote that's roomy enough for a laptop, documents, and more. This should also be able to double up as a carry-all for airport essentials and casual outings. I love Zara's Office City bag, which looks just as great with jeans as it does with tailored slacks, but you can also get a stylish backpack if your work environment allows for it.
Sling bag or clutch
A small sling bag or clutch (that fits in your tote) will come in handy for quick coffee breaks or when meeting an old friend after work, while also making sure that the essentials – passport, money, phone – are always at hand.
Garment bag
If you've got a dress for a fancy event, keep them in a garment bag. Once on board, pass your garment bag to the flight attendant who'll be happy to hang it in the airplane's closet. You can do the same with your blazer so you don't get wrinkles in it.
Checklist 2: Flight and travel essentials
• Passport
• Boarding pass
• Money
• Credit cards
• Identification card
• Phone (with data roaming or country-appropriate SIM card)
• Powerbank
• Pen
• Kindle, tablet, or book
• Earphones
• Medication
• Hand sanitiser
• Breath mints
• Scarf
• Eye mask and ear plugs
• A touch up kit (wet wipes, contact lens solution, toothbrush and toothpaste, deodorant, comb, makeup, tampons, and panty liners)
Store these essentials separately. Your passport, boarding pass, money, cards, phone, powerbank, and pen, however, should go together in your sling bag or clutch as you'll need them nearby throughout your trip. Also note that for safety reasons, your powerbank cannot be stored in your check-in.
Other items can be kept in a travel pouch that you can switch with your laptop and work accessories once you get to the office.
If you absolutely have to, pair your mobile device with a foldable keyboard that will allow you to work on the go.
A touch up kit is especially useful if you've got an early morning or overnight flight, and don't want to head to your first appointment in a mess. I also prefer scarves as they leave your clothes less rumpled than jackets (and take up less space!)
Checklist 3: Work essentials
• Laptop and charger
• Travel adaptor with USB ports
• Phone and tablet cables
• Trade tools (DSLR camera, drafting kit, etc.)
• Printed documents and folder
• Business cards
• Notebook
• Pen drive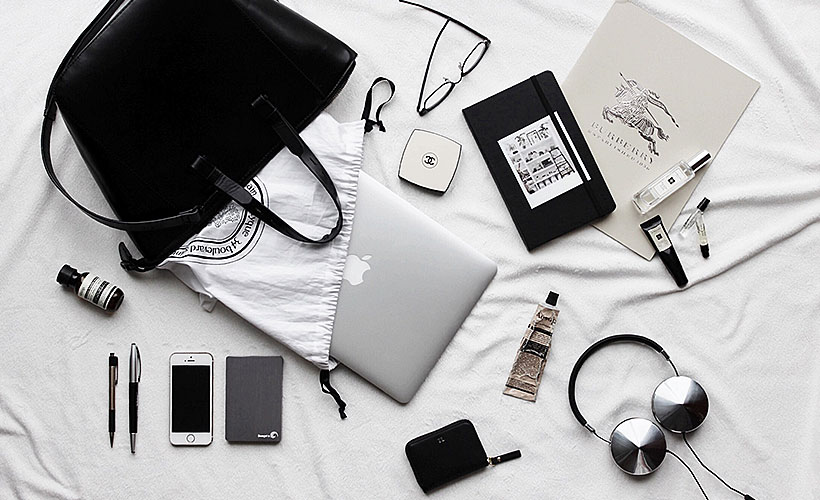 These can be stored in your suitcase, but make sure your laptop is in a well-padded case. While you may be able to print out your documents at the office or your hotel's business centre, I always find it better to have a set of hard copies on you, just in case. A pen drive is also useful for quickly transferring large files, especially if your internet connection is poor. Like your flight accessories, these should be kept in an easily transferable pouch.
Checklist 4: Other toiletries
• Shampoo and conditioner
• Skin and hair care products
• Hairdryer, curling iron, or flat iron
• Additional makeup and jewellery
If hotel shampoos give you major frizz, bring your own. The same goes for other hair and skincare essentials; you want to look your best, and sometimes the one-mode hairdryer just won't do.
Checklist 5: Clothes and shoes
• Wrinkle-free tops
• Work-appropriate skirts or pants
• Event-appropriate outfits
• Skinny or classic cut jeans
• Stylish flats or loafers
• Liner socks
• Pyjamas
• Underwear
• Packing cubes
• Laundry bag
• Workout/swimming gear (if you want to keep up your fitness routines)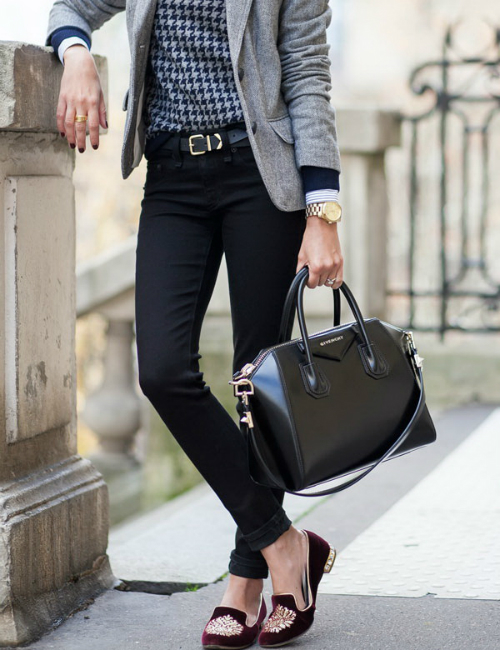 Ditch the crisp, white button-down, especially if you're heading for a pow-wow straight from the airport. Opt for silky or knitted wrinkle-free blouses instead. A blazer is also great for quickly pulling your look together.
Pair these with high- or mid-waist pants or skirts that fall below the knee (especially when visiting a conservative country). On the whole, you want clothes that are both appropriate for work and comfy enough to travel in. When in doubt, go for dark, solid neutrals that you can easily mix and match to create different ensembles.
Look through your trip itinerary for conferences or fancy events that will require more formal attire and pack accordingly. You should also pack jeans in a classic cut (black, skinny jeans is my default) for down time, comfortable outfits that can carry you through late night preps and after-hour drinks with the big wigs.
While you're at it, swap your painful high heels for square or pointed toe flats; they look dressier than round toe shoes but meld seamlessly with a casual outfit as well. Alternatively, slip into a pair of loafers which are making a fashion comeback this season.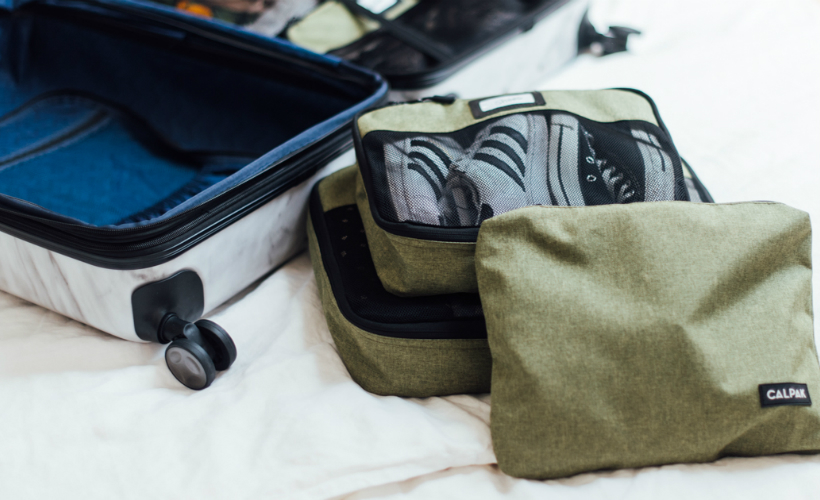 Pack your clothing in packing cubes; you may be transferring items from your larger suitcase to your tote and vice versa in public areas. This not only makes those switches easier, but also prevents your red, lacy bra from making an unexpected appearance in the office.
Tip: Don't forget your inner wear needs. Form-fitting skirts and dresses may require control underwear that can be uncomfortable when worn over a long period of time, in which case slacks or A-line skirts are a better bet.

Read Next: