Earphones — they're such an under-looked yet essential item on a travel packing list. For instance, I didn't see the point of having Active Noise Cancellation (ANC) until I started using a pair with this amazing function. As a frequent public transport user with auditory sensitivity issues, these things are a huge help in reducing sensory overload and managing focus.
Besides using them while commuting or on a flight, earphones are also useful in blocking out a fellow stranger's grunts and sighs while you're at the gym. It also provides an immersive experience for when you're listening to music, watching a movie, or indulging in some in-flight entertainment.
We've compiled a sweet list of earphones AND headphones for those who don't like the feeling of something sitting in your ear canal. These are based on the personal experiences of colleagues and friends, so we hope you'll finally find an ear companion that fits your needs!
Stylish & comfortable
Jabra Elite 5 (RP: RM 699)
River Huei, Jr Content Creator
The first thing I noticed about the Jabra Elite 5 in Gold Beige was how much I loved the colour! The matte plastic casing has a satisfying snap when it closes, and the earbuds magnetically snap into the case for charging.
Listening hours & charging:
With ANC on, you can listen for up to seven hours on the earbuds, with an additional 28 hours in the casing. A full charge for both casing and earbuds typically lasts me the entire week, which includes commuting twice a day and listening to music for a few hours in the office. When you run out of battery, a quick 10-minute fast charge gives you an hour of playback time. The Jabra Elite 5's Qi-certified case can be charged wirelessly or through USB-C.
Look and feel:
The Jabra Elite 5 is available in Black, Gold Beige, and Titanium Black. I personally love the matte finish.
Comfort:
The earbuds have a comfortable fit, though they do sit quite deep in the ear canal. My ear canals tend to hurt a little after a few hours of wear, though most earphones are like that for me anyway, as I have small ears.
Controls:
I personally love that the buttons are clickable. I've had earbuds with touch buttons before, and I'd always accidentally 'click' them when I touch my hair or move my hand near my ears, which unintentionally pauses my music.
App integration:
The Jabra Sound+ app allows me to customise the earbuds' button functions, play around with the equaliser, toggle between ANC and Hear-through, track my earbuds and casing's battery life, and find my earphones if I lose them. Google Assistant is responsive, and works great.
Sound:
Music is automatically paused when one earbud is taken out, which is standard for most earphones in the same price range. Your music doesn't automatically resume when you put the earbud back in your ears though. I have no complaints about the sound quality so far, and I can adjust how heavy I'd like the bass to be in the Jabra Sound+ app. No complaints for calls too.
Active noise cancellation (ANC):
It's pretty decent in the ANC department. Voices are muffled when someone speaks near me, and loud noises are slightly dampened, so I'd rate it a 6/10. By clicking once on the left earbud, you can easily switch between ANC and Hear-through modes.
Ease of connection:
Bluetooth connection pairs with my devices very quickly, and Bluetooth Multipoint allows me to connect to two devices simultaneously.
Bonus features:
Soundscape on the Jabra Sound+ app! The Soundscape feature has several white noise options, oceans sounds, rain and storm sounds, songbirds, and even sounds of a crowd to help get you through the day.
The game changer
AirPods Pro Gen 1 (RP for Gen 2: RM 1,099)
Xin Xin Lee, Head of Design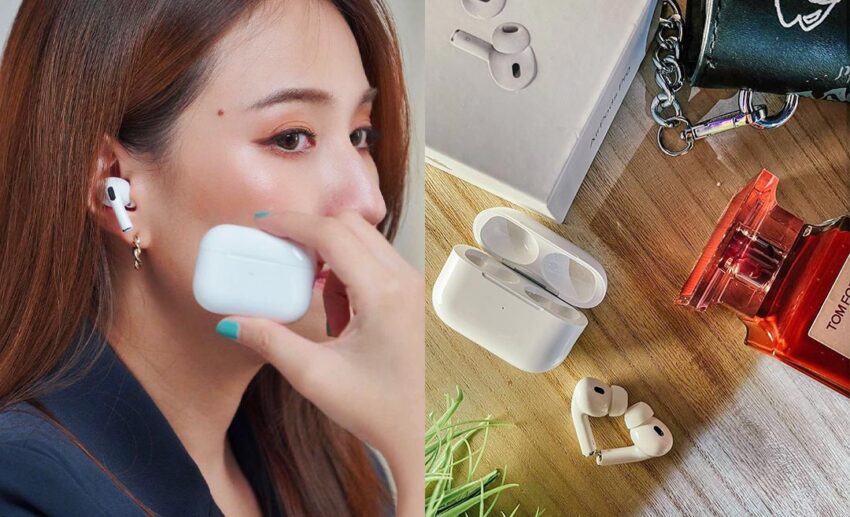 These small, easy-to-carry AirPods are packed with quality features and are definitely a game changer for me! If you're an Apple user, we highly recommend getting these as they will pair well with your other Apple products.
Listening hours & charging:
A full charge takes less than an hour, and although I can't pinpoint my exact listening hours, one charge can last me days, including using them at the gym, listening to music, and watching TV shows. As long as you have compatible Apple devices connected to your AirPods, checking its battery life is easy peasy.
Look and feel:
There's only one look and colour for the AirPods Pro, just like the AirPods and unlike the AirPods Max. I love the simplicity of the design and look of my AirPods, and if I feel like making things interesting, I'll just change my AirPods case cover.
Comfort:
There are three sizes of soft, tapered silicone tips for a customisable fit, and the smallest size fits perfectly for my ears for both short and long hours. They're great for short hours, but for long hours like binge-watching a show, not incredibly comfortable. But that's earphones in general. They also stay fitted in my ears when I practice my daily yoga.
Controls & app integration:
Like most earphones nowadays, voice assistant features are included. It reads out my messages to me during my workouts, and I can pause and unpause music with one click of the AirPods. If I take my AirPods out of my ears when watching a movie or TV show, whatever's playing will automatically pause; it'll resume once I re-insert the AirPods into my ears. How cool! Noise cancellation can be controlled directly from the AirPods too.
Sound:
I'm biased and also an Apple-devotee, so the sound quality, to me, is great. Crisp and clear, but there's no sound equaliser. Though if you're using Spotify, you can customise this no matter the earphones you're using.
Active noise cancellation (ANC):
This is my favourite feature and the main reason for my purchase. It filters out a lot of sounds, especially since I have young kids — the shrieking and screaming are ever-present. At the gym, it cancels out gym bros grunting whilst doing their weight training. So, I'd say Apple isn't playing when it comes to this technology of theirs.
Ease of connection:
All it takes is putting them in your ears and pressing a button. And done! Easily connects to any Apple or non-Apple devices.
Magic beans
Samsung Galaxy Buds Live (RP: RM 549)
Maggie De souza, Brand Experience Manager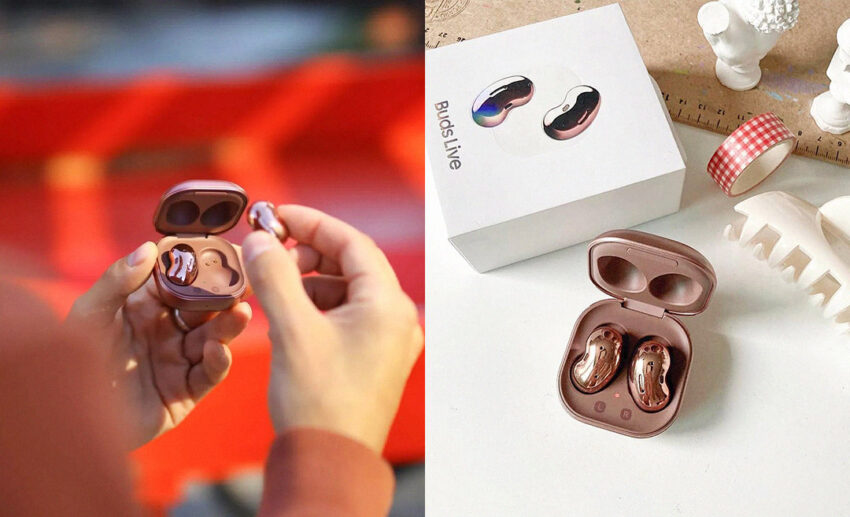 These iconic-shaped earbuds feel like magic beans placed in their little jewellery box-inspired case. The glossy finish stands out in the ear of the wearer, giving it a futuristic look.
Listening hours & charging:
Listening hours last about six to eight hours on their own, with an extended 20 hours more with a fully charged case. Five minutes of charging gives you a quick boost of one-hour listening, while it takes about 30 to 40 minutes for a full charge.
Look and feel:
There are five colours available: Mystic Bronze (mine), Mystic White, Mystic Black, Mystic Red, or Mystic Blue. All with a glossy finish. I like that it has a sleek look.
Comfort:
I wore them for three hours straight on a recent flight, and did not find them uncomfortable. The earbuds sit ergonomically in the ear, and they don't hurt.
Controls & app integration:
With the Galaxy Wearable app, you can configure settings for the earbuds. Audio/video stop/play and volume controls can be managed by tapping on the earbuds. The Samsung voice assistant, Bixby, can be used with the Galaxy Buds too.
Sound:
A sound equaliser is available via the Galaxy Wearable app. I've been using the earbuds primarily for video and audio calls, watching shows and listening to podcasts, so I can't say for sure which music genre sounds best with it, but so far, I have no complaints about the quality for music. As long as it does not have that tin can sound, I'm happy!
Active noise cancellation (ANC):
I'd say it blocks out about 70 to 80% of the noise around me. There was a baby crying next to me on my recent flight, and it worked well enough to drown out the wailing.
Ease of connection:
Super easy to connect via Bluetooth! Barely an inconvenience. Every time I pop them in my ears, I get a pop-up on my phone or tablet to connect to them.
Bonus features:
I like that it can read incoming text messages aloud to me.
The modern muse
Sudio T2 (RP: RM 459)
Fiona Thong, Sales & Marketing Lead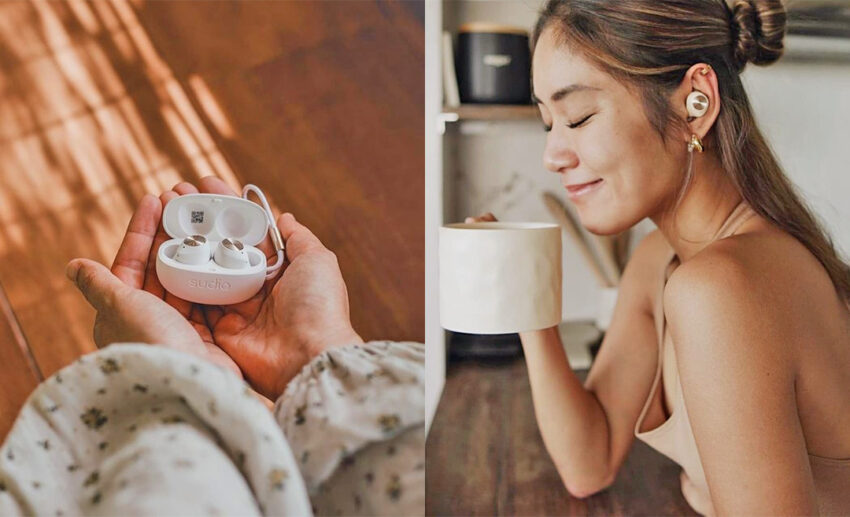 Sleek and comfortable, the Sudio T2 is perfect for the modern go-getter looking for a simple, no-fuss pair of earphones.
Listening hours & charging:
You'll get up to 7.5 hours of listening time on the earbuds on one charge, while the casing adds on another 35 hours of playback time. A 10-minute quick charge gives you two hours of listening time!
Look and feel:
Available in Sand, White, Black, and Jade. I like the sleek design and matte finish of the casing. The rounded design of the case makes it feel like you're holding a stone in your hands — it's small and comfortable to carry around.
Comfort:
I'd rate the comfort level 8/10 when wearing for both short and long hours.
Controls & app integration:
On the Sudio Personal Sound App, you can customise the equaliser and bass levels to your liking. The earbuds feature touch button panels, where you can control your music playback.
Sound:
Normally I'd only watch videos or listen to podcasts using the T2, and so far, I have no complaints. I've not listened to a lot of music on these earphones, so I can't tell you what music genres would sound best with them. You can always customise the equaliser through the Sudio Personal Sound App!
Active noise cancellation (ANC):
The noise cancellation is actually pretty impressive. It blocks out about 90% of my surrounding noise. According to their website, the Sudio T2 analyses ambient noise and cancels out noise before it even reaches your ear!
Ease of connection:
The earbuds connect to my devices easily. It only 'accidentally' disconnects if you unintentionally touch and hold the touch button on the earbuds.
Pillows for your ears
Bose QuietComfort® 45 Headphones (RP: RM 1,649)
Emma Mallaburn, Sub-Editor & Nora Faizul, Digital Marketer
For headphones, these are incredibly light on their own and aren't that heavy when stashed inside their protective case — a major plus when you're travelling and looking to store this in your backpack or hand-carry.
Listening hours & charging:
A single charge can last days — while the website states 22 hours of listening time, I feel like it's longer. Simply put, it will last you the longest long-haul flights (like Singapore to New York) and a little more. To extend its battery life, you can always opt for the audio cable, which is provided. The headphone prompts to tell you the battery percentage left as soon as they're turned on.
Look and feel:
Two colourways are available for these headphones, Black and White Smoke — both are pretty classic.
Comfort:
Many brands claim their headphones are comfortable, but sometimes they aren't. With Bose, it's the total opposite. The pillow-like headphone cushions are definitely easy on the ears even after hours of use — tried and tested during a flight from Kuala Lumpur to Brisbane, Australia.
Controls & app integration:
The Bose Music app guides you through the setup when you use the Bose QuietComfort® 45 for the first time. This is super helpful in getting you started on your new headphones. A simple press and hold of the multi-function button will give you direct access to your phone's voice assistant.
Sound:
You don't have to use Bose to know the quality will be superb — it is Bose after all, one of the world's leading audio gear brands! Its Adjustable EQ technology allows users to tune sounds just how you like them, making the experience totally personalised. Really, it's like having a cinema's sound system in your ears.
Active noise cancellation (ANC):
There are two modes to use these headphones in: Quiet Mode, which is essentially noise-cancellation, enough to block out the sounds of a bustling airport and young children; and Aware Mode, where you can hear your music and your surroundings at the same time. You can take a work call on the go and know that its Noise-Rejecting Mic System helps filter out surrounding noise. Hands down, these are the best noise-cancellation over-ear headphones in the market — but that's my personal PoV.
Ease of connection:
Its reliable Bluetooth connectivity lets you connect to not one but two devices at the same time, with ease of switching in between! One touch is all it takes for easy listening and high-quality sounds.
Chic & Classic
Apple AirPods Max (RP: RM 2,499)
Emma Mallaburn, Sub-Editor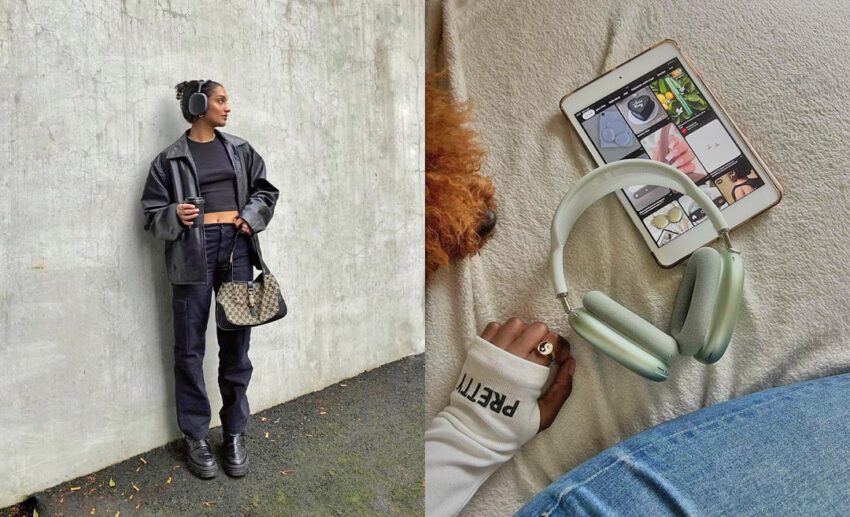 Apple's AirPods Max are slightly heavier than the Bose QuietComfort, but not substantial enough that you'd think twice about buying them. They're also a lot pricier than many of the headphones out there, but they are worth it if you want to be trendy or an Apple fiend.
Listening hours & charging:
A single charge that takes me less than an hour can give me days of listening time before I need to charge it again — keeping in mind that I use them a few hours or less than an hour daily. Checking battery life is easy on an Apple device.
Look and feel:
There are five colours available to choose from (Silver, Space Grey, Sky Blue, Pink, and Green), and I love how chic it looks. While headphones can be bulky, because they're headphones, you kind of don't mind.
We've seen them all over TikTok — whether it's for the gym gal, someone who's always on the go, or a wanderer of the world, these AirPods Max will suit those with any lifestyle. The stainless steel frame also adds a massive touch of luxe to the entire design of these headphones.
Comfort:
For general use, they're pretty comfortable, and you sort of forget about the weight of it on your head. But if you're working out in these, they tend to make your ears hot, even when you're in an air-conditioned gym; they stay on the head firmly (thanks to the 'canopy' design) while I weight train, so I'm not too fussed about it.
Controls & app integration:
The Digital Crown, much like the one on the Apple Watch, helps make switching songs easier, control the volume, and even answer calls. Want to do everything hands-free? Just say, "Hey, Siri…"
Sound:
I could use all the fancy jargon Apple puts on the website, but ultimately, their marketing is as good as the quality of the sounds coming out of the headphones. To put it dramatically, it's as though you're in the recording studio itself when listening to music. The sounds from movies and TV shows are so clear, it's almost as if it's happening around you.
Active noise cancellation (ANC):
Like the AirPods Pro, AirPods Max also comes with ANC. It blocks out most noises, so whether you're on the go or in an office, if you want to listen to the music of your choice and nothing else, this does the job.
Ease of connection:
One button is all it takes — gone are the days of unnecessarily complicated setups.
Bonus features:
I like that there's more than one colour option!