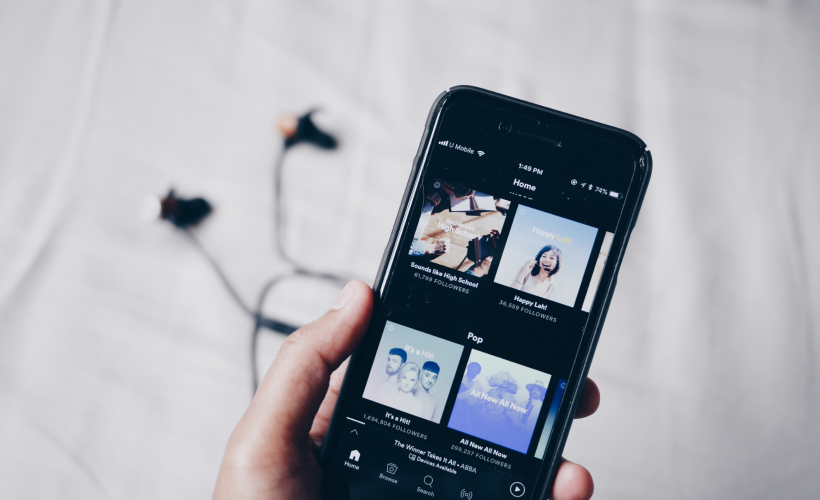 We're on Telegram now too! Subscribe to our channel for the latest updates.
It goes without saying that music really helps set the tone. Music affords a location its ambiance, gives it a mood, and can even be the decider on the overall vibe of a place. So while you're in quarantine or under strict rules not to leave home, why not set the tone at your abode? And if you're itching for meaningful conversation but can't arrange a girly brunch at the moment, there are some inspired podcasts worth listening to as well.
Kick back with a drink (it'll help if you happen to have those little colourful umbrellas in them), lounge on your balcony, or get some fresh air in the garden while listening to these holiday-themed playlists and podcasts on Spotify.
Island Vibes
With classics and favourites from Bob Marley, The Wailers, Jack Johnson, and even Enrique Iglesias, Island Vibes is a playlist of a whopping 202 songs. That's 12 hours and 40 minutes of tropical tunes for your listening pleasure! With this playlist on in the background, it'll always feel sunny indoors.
Winter Sounds
The jams on Winter Sounds are great for unwinding and are reminiscent of après-ski evenings curled up by a fire with a mug of hot cocoa. There are some upbeat tunes too though, such as LANY's "Thick And Thin", if your idea of what a winter holiday ought to be is fuelled by mulled wine and dancing.
Hip-Hop Drive
If hedonistic escapades to a city are more your kind of holiday, then you're going to enjoy grooving to the tunes on Hip-Hop Drive. Upbeat, fast-paced, and full of funk (just like the cities we love), this playlist is jam-packed with fun numbers such as "What We Do" by Freeway and "Roc The Mic" by Beanie Siegel – basically the songs you'd have as the soundtrack to your cruise around the city.
Crickets, Cicadas, & Frogs
Feeling the call of the wild? For our mountaineers, hikers, and all-around nature lovers, we've got Crickets, Cicadas, & Frogs. It has nearly three relaxing hours of tracks of nature sounds like "Peaceful Forest" by The Sleep Specialist and "Frog Pond" by Jeff Owens. Some people might think this one strange, but almost 20,000 playlist followers can't be wrong.
Wild Ideas Worth Living
"Conversations with people who took the path less travelled and brought their wildest ideas to life," – this is the description on Wild Ideas Worth Living's page. That should be enough of a sell in itself, but to further pique your interest, the most recent guest on this podcast is Grammy-nominated artist Mike Posner who recently went on a 4,588-kilometre walk across the USA to find himself. This show is hosted by journalist Shelby Stranger.
The Thought Card: A Travel Finance Podcast
With new episodes every Thursday, host Danielle Desir gives her listeners tips on world travel, settling debt, and building your wealth so that you can reach your travel and financial goals. With so many industries and freelancers taking a hit because of COVID-19, now's a good time to get financially-savvy with The Thought Card.
The Thoughtful Travel Podcast
Listen to the tales of fellow travel addicts that covers various travel topics like what we learn from our travels, anxiety and travel, and the fun in getting lost. Needless to say, The Thoughtful Travel Podcast is highly reflective. Hosted by Amanda Kendle, she also has some very noteworthy guests on her show, such as Lonely Planet Co-Founder Tony Wheeler.
In addition to the travel tunes and podcasts we'd originally shared, we're updating this awesome list with more inspiring tunes to get you ready for the year-end!
Dancing Dinner Party
We've brought together a list of over 80 chilled out tunes that's perfect to host to! Not too slow that it's a downer, but not too upbeat that you have a hard time digesting your food. Running for a solid four hours, by the tail-end of our specially-curated playlist, the music picks up so you can start boogying the night away with your pals.
Bring It On 2021
New year, new beginnings – these words have never rung with as much hope as they do this year for all of us who've had to survive the onslaughts of 2020. Get all the feels with this playlist that'll put you in a great state of mind and hype you up for the new year.
Originally published on 23 March 2020