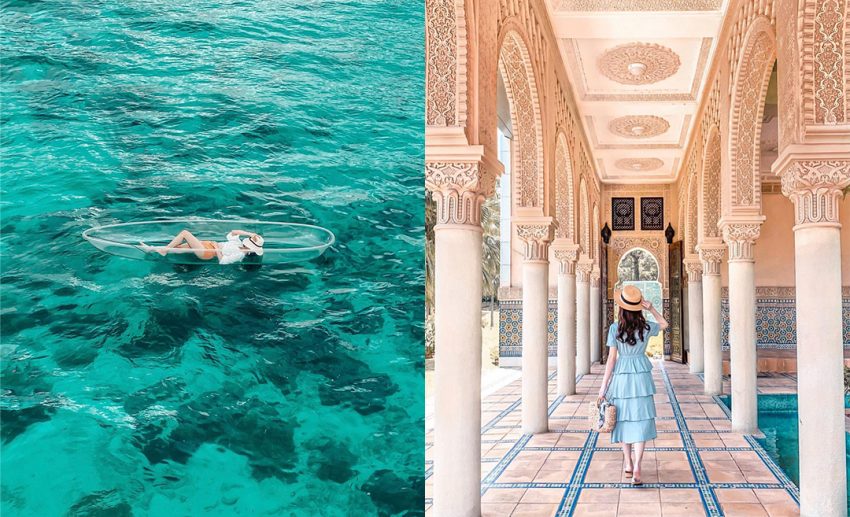 Subscribe to our new

Telegram

channel for the latest updates.



Even though borders have reopened, you may not be ready to jet off to another country just yet, given all the restrictions and hassles. Well, here in Malaysia, there are plenty of destinations whose backdrop will have your Instagram followers wondering if you've left the country.
Sipadan Kapalai Dive Resort, Semporna, Sabah
(Maldives)
This resort in Sabah, that looks like the Maldives, is a 'floating' paradise in the middle of the ocean. Only a few minutes by boat from the famed Sipadan Island, it feels worlds away as you gaze at the clear turquoise waters that seem to extend miles into the horizon. At Sipadan Kapalai Dive Resort, you can hear the waves lap under your chalet while you relax and unwind.
Water Activities: The resort is located in Semporna, a collection of islands with turquoise waters and white sandy beaches, and naturally home to some of the world's most beautiful diving sites. If you're not fond of diving, explore other activities like snorkelling and island hopping. You can rent a GoPro for your adventures, and pick it up from SS15, Subang Jaya, before your trip!
Getting there: From Kuala Lumpur, you can catch a flight to Tawau Airport, and Semporna Jetty will be about an hour's ride away. You can book a private airport transfer for the drive or contact the resort for more transport information.
---
Japanese Village, Berjaya Hills, Pahang
(Japan)
This tiny Japanese Village is located on a hilltop at Berjaya Hills, Pahang. Across a green landscape, you can explore various Japanese-themed activities and attractions, namely, the Japanese Tea House, Botanical Garden, Tatami Spa, Ume Tatami Suite, and Ryo Zan Tei Restaurant.
Activities: You will be surrounded by greenery, with rock pools, koi ponds, and flower gardens to explore in a Kimono, which you can rent from one of the Japanese huts there. The Japanese Tea House also conducts traditional tea ceremonies several times a day.
Getting there: A one-hour drive from Kuala Lumpur city.
---
Colmar Tropicale Resort, Berjaya Hills, Pahang
(Colmar, France)
A stone's throw from feeling like you're in Japan is a tiny French Village right here in Malaysia! This French-themed 'village' and resort is actually modelled after the 18th-century city of Colmar, France. With the chilly weather and cobblestone pathways, you'll definitely feel like you've been transported to France. The resort's rooms and facilities are housed inside these beautiful buildings. How's that for having a French balcony view every morning?
Resort: Starting from RM160.17 per night on Klook
Activities: If you're planning a day trip, take a packaged tour from Kuala Lumpur to visit Colmar Tropicale and the Japanese Village! Other activities include flying fox, paintball, a rabbit park, 6D motion ride, golf, and guided horse rides.
Getting there: A one-hour drive from Kuala Lumpur city.
---
The Chateau Spa & Organic Wellness Resort, Berjaya Hills, Pahang
(French Castle)
The third and final destination at Berjaya Hills is this luxe chateau. If you're yearning for something more luxurious to pamper yourself, this resort is inspired by an 11th-century medieval castle in Alsace, France.
Resort: Starting from RM338.00 per night on Klook
Activities: La Santé, the Organic Wellness Spa at The Chateau, will be the ultimate way to pamper yourself here. They have a comprehensive range of spa treatments that will make you feel cared for. The resort also houses a saltwater pool that has fantastic healing properties for your skin! What are you waiting for?
Getting there: A one-hour drive from Kuala Lumpur city.
---
Thean Hou Temple, Kuala Lumpur
(China)
A little visit to Thean Hou Temple will transport you to a temple in China. The intricate paintings, hanging red lanterns, and architectural details of the overhanging eaves make for a serene and humbling experience. We also featured this temple in our 'Must Visit Chinese Temples in Malaysia' article if you'd like to learn more about its history!
Getting there: Less than a 10-minute drive from Kuala Lumpur city.
---
Wat Machimmaram, Kelantan
(Thailand)
The northernmost part of Kelantan borders Thailand; hence, there are many Thai-influenced temples around the area. Wat Machimmaram is one of those temples, and it also houses a gigantic 30-metre sitting Buddha statue.
The curving eaves, murals, frescoes, and decorative details of the temple have significant Thai influence. The temple also has some Chinese influence, seen in the deity sculptures situated around the temple.
Getting there: About 30 minutes from Kota Bahru City, Kelantan.
---
Astaka Morocco, Putrajaya
(Morocco)
Astaka Morocco, or Moroccan Pavilion, is a mini Morocco located in the Putrajaya Botanical Gardens. This architectural beauty took two years to complete and was built as a cultural exchange between Malaysia and Morocco. Moroccan architecture's distinctive features are the ornate carvings of Arabic calligraphy, arabesque patterns, and intricate mosaic arrangements — all of which you'll find on this resplendent building.
Entrance Fees: There is an entrance fee of RM3 for adults and RM1 for students. That's Morocco on a budget!
Tour: If you're interested in the various Islamic architectures in Putrajaya, join this tour!
Getting there: Approximately a 40-minute drive from Kuala Lumpur city.
---
Kellie's Castle, Perak
(Scottish Castle)
I'm sure we've all heard some stories about this incomplete castle. The outlook of the building may resemble Scottish courts, but look carefully, and you'll realise that the windows and archways were actually inspired by Moorish style arches. William Kellie Smith wanted the castle to resemble his home in Scotland, which is why the castle is situated on top of a hill. Google Scottish castles, and you'll see why!
Activities: Now open for physical visits. They recently did a tour of secret rooms they've never shown to the public before here on Facebook. Every October, they seem to have night tours for those interested in the paranormal activities there. Keep your eyes peeled for that!
Getting there: Two-hour drive from Kuala Lumpur City or 20-minute drive from Ipoh, Perak.
---
Desa Dairy Farm, Kundasang, Sabah
(New Zealand)
Looks like the green pastures in New Zealand, huh? Dubbed Malaysia's 'Little New Zealand', The Desa Dairy Farm is located at the foothills of Mount Kinabalu, Sabah, 100 kilometres North of Kota Kinabalu.
Activities: According to their Facebook, as of 1 October 2021, they remain closed to visitors until further notice, but when open, visitors can enjoy the chilly weather and scenery, watch the milking process at certain times of the day, try out their dairy products, and bottle-feed calves or young dairy goats. Check out this Farms Tour package or this tour with a Paragliding Experience.
Getting there: A little more than a 2-hour drive from Kota Kinabalu International Airport.
---
Pantai Klebang Sand Dunes, Melaka
(Sahara)
Pantai Klebang is a mini Malaysian Sahara, located just 15 minutes from Melaka City. The sand dunes are the result of land reclamation activities from 10 years ago. Stability issues caused developments to be abandoned, leaving these 10- to 20-metre high sand dunes on the beach. Since then, it has become an attractive spot for both amateur and professional photographers. It can get sweltering here, so we suggest going there in the early mornings or late evenings. Otherwise, prepare your sunglasses, sunblock, and sun hats!
Activities: Besides the picturesque sand dunes, there are a variety of food trucks and stores along the beach. You can plan a picnic while watching the sunset, fly kites, or try horse-riding activities.
Getting there: 15 minutes drive from Melaka City.
47331, 47294, 47186
Follow Zafigo on Instagram, Facebook, and Twitter. Sign up for our bi-weekly newsletter and get your dose of travel tales, tips, updates, and inspiration to fuel your next adventure!