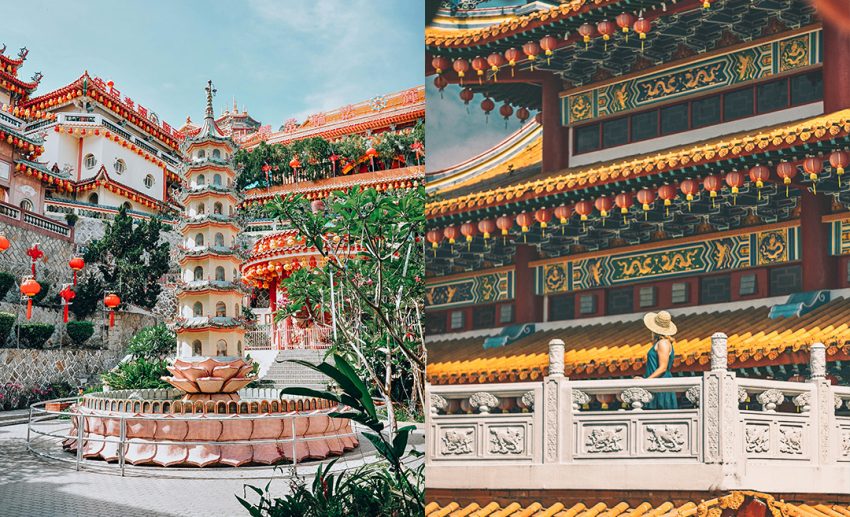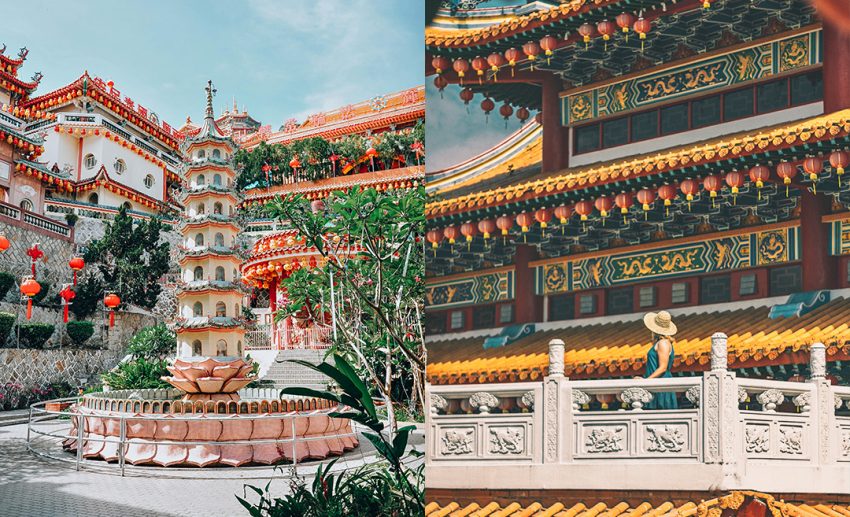 Subscribe to our new

Telegram

channel for the latest updates.



In the multi-cultural fabric of Malaysian society, each culture has their own daily rituals and religious celebrations. At the heart of many of them are the places of worship, and for the Chinese, it is its temples. Each temple naturally has its own unique history and architectural design. Should you be looking to learn more about these different practices (or maybe just snap some gorgeous 'gram shots) there's no better place to start than with these …
Thean Hou Temple, Kuala Lumpur (KL)
The six-tiered Buddhist temple is also known as the Temple of the Goddess of Heaven. A shrine for worshippers to pray to Guan Yin, the Goddess of Mercy, this temple in KL isn't just popular for the red lanterns adorning its external facade. A host to detailed elements of Buddhism, Taoism, and Confucianism along with contemporary architectural details and traditional ornate carvings, it houses a majestic entrance with red pillars, dragon-inspired columns and pagoda rooftops.
And as you delve deeper in, discover its modern pagoda and the octagonal hall enshrined with images of Buddha. Should you be looking for a bit of serenity in the sun, walk around the Chinese medicinal herb garden and relax by the tortoise pond.
Opening Hours: Daily, 9am to 6pm
Address: 65 Persiaran Endah, Off Jalan Syed Putra, Kuala Lumpur
---
Chetawan Buddhist Temple, Petaling Jaya
Built in 1957, Wat Chetawan, as it's also called, is a Thai Buddhist temple made famous by the late king of Thailand, King Bhumibol Adulyadej's royal donation for its construction. Gracing the temple itself during a state visit in 1962, the Chetawan Buddhist Temple is the only one of its kind to bear the late Thai king's royal insignia on the main temple building.
The temple is also the only Malaysian-Siamese temple which has been chosen as the custodian of Buddha's sacred relics for all Malaysian Buddhists. A religious centre for Malaysian Siamese and non-Thai devotees, the main shrine is gilded in gold leaves and intricately decorated with multi-coloured glass tiles. In the pavilion, you will also find the four-faced God, Phra Phrom, and the Bodhisattva of Compassion, Guan Yin.
Opening Hours: Daily, 9am to 2pm
Address: No 24, Jalan Pantai 9/7, Seksyen 10 Petaling Jaya, 46000, Selangor
---
Chin Swee Cave Temple, Genting Sempah
A Taoist temple that's set on a 28-acre plot of rocky forested land, locals often frequent the temple on their way up to the City of Entertainment or just as a day trip in itself. Erected in honour of Reverend Master Chin Swee, a Buddhist monk from the Fujian Province, who, as the stories note, was known for his ability to summon rain and drive away evil spirits.
Learn more about ancient Chinese traditions and beliefs here by exploring the depiction of the 10 Chambers of Hell. Climb up the nine-storey pagoda lit with 10,000 blessing lamps placed by devotees. Revel in the magnificent statues or simply head over to the observation deck to view the mesmerising panoramic view of the highlands.
Opening Hours: Daily, 9am to 6pm
Address: Exit 68, Genting Sempah, 28750 Bentong, Pahang
---
Ling Sen Tong Temple, Ipoh
A Taoist cave temple at the foot of a limestone hill in Ipoh, Perak, the temple's name is literally translated as 'rock of heavenly spirits'. Right next to the Sam Poh Tong Temple along Jalan Gopeng, the temple consists of many colourful pops of design — such as statues of animals, deities, and characters in Chinese folklore, including the legendary Monkey King from the popular classic tale Journey to the West.
Opening Hours: Daily, 9am to 6pm
Address: Gunung Rapat, 31350, Ipoh, Perak
---
Sam Poh Tong Temple, Ipoh
Built within a limestone hill of Gunung Rapat, this temple is amongst one of the oldest and biggest cave temples in Ipoh, Perak. A magnificent temple of art and faith, with various Buddhist statues among natural stalactites and stalagmites, it features a 246-step staircase and stunning views of the city below. Walk around the beautifully decorated pavilion and a mesmerising landscape garden with a fish pond. Feed the Japanese carp and turtles at the pond or make a wish over at the wishing well.
Opening Hours: Daily,7:30am to 2:30pm
Address: Kampung Gunung Rapat, 31350, Ipoh, Perak
---
Kek Lok Si, Penang
An ornate 19th-century Buddhist temple located at the top of the hills of Penang Island, the temple usually also sits at the top of the list for many who visit Penang. And for good reason!
The interior and exterior of the temple halls, pagodas, and archways are decorated with ornate images of Buddha and hundreds of outstanding detailed carvings, sculptures, and murals. Meanwhile, the pagoda itself is the result of a fusion of Chinese, Thai, and Burmese culture and history. The ground floor is built in a Chinese style, while the middle floor is built in Thai style, and the top floor in Burmese style.
On your climb to the top, you will see the different styles of Buddha, shrines, and decorations. Not up for getting up to greater heights? Take a stroll around the outdoor temple garden in which one can take walks while admiring the beautiful temple, the facade of the three-tiered Kek Lok Si Pagoda, and its other wonders.
Opening Hours: 8:30am to 5:30pm
Location: Air Itam, George Town, Penang
Temple: Entrance is free
Pagoda: RM2
Incline lift (takes you to the top of the Buddha statue): RM3
---
Snake Temple, Penang
One of the more peculiar temples in Southeast Asia, as the name suggests, you will find many slithering friends at this temple. Built in 1950, the temple is dedicated to a Buddhist priest and healer who, according to legend, provided shelter for the jungle snakes. It is believed that the snakes, who have become the priest's disciples, made the temple their own home when the priest passed away.
Walk through the temple entrance and you'll see a large incense burner in the middle of the temple hall with sculptures and carvings. Toward the back of the temple is a snake pool with fruit trees coiled with snakes. Most of the snakes today are living in transparent tanks and are defanged. If you're willing to pay a small fee, you can get up close and personal with the snakes at the small exhibition next door to take photographs.
Opening Hours: Daily, 7am to 6pm
Address: Jalan Sultan Azlan Shah, Bayan Lepas Industrial Park, 11900 Bayan Lepas, Penang
---
Cheng Hoon Temple, Melaka
One of the most notable landmarks in Melaka, the temple itself is just by the Hindu temple Sri Pogyatha Vinoyagar along Jalan Hang Lekiu (in Jonker Street). Billed as one of the oldest Buddhist places of worship in the country, it was built in 1646, and is also known as the 'Merciful Cloud Temple'.
Dedicated to Guan Yin, Goddess of Mercy, a black, gold, and red-robed statue of the goddess stands in the central prayer hall. Discover an inspiring story of faith and perseverance here, one that has stood the ravages of time, underscored by its UNESCO award for outstanding architectural restoration.
Opening Hours: Daily, 7am to 5pm
Address: 25, Jalan Tokong, Kampung Dua, 75200 Melaka
---
Wat Koh Wanararm Temple, Pulau Langkawi
This Thai Buddhist temple in Bukit Putih hosts eight gold and white Tibetan stupas in a manicured garden and a massive marble statue of Guan Yin overlooking the area. Large and small sculptures of the Buddha are scattered throughout the temple complex. As visitors to the island are rarely looking for more spiritual visits, the temple itself is rarely crowded, making it a serene and peaceful visit should you choose to explore its grounds during your island vacation.
Opening Hours: Daily, 24 hours.
Address: Jalan Ayer Hangat, Kuah, Langkawi, 07000 Kedah
Zafigo Tip: Admission to most temples in the country are free, but should there be donation boxes where altars or entrances are, visitors are encouraged to give what they can for the upkeep of these magnificent structures.
47331, 47186, 45252
Follow Zafigo on Instagram, Facebook, and Twitter. Sign up for our bi-weekly newsletter and get your dose of travel tales, tips, updates, and inspiration to fuel your next adventure!