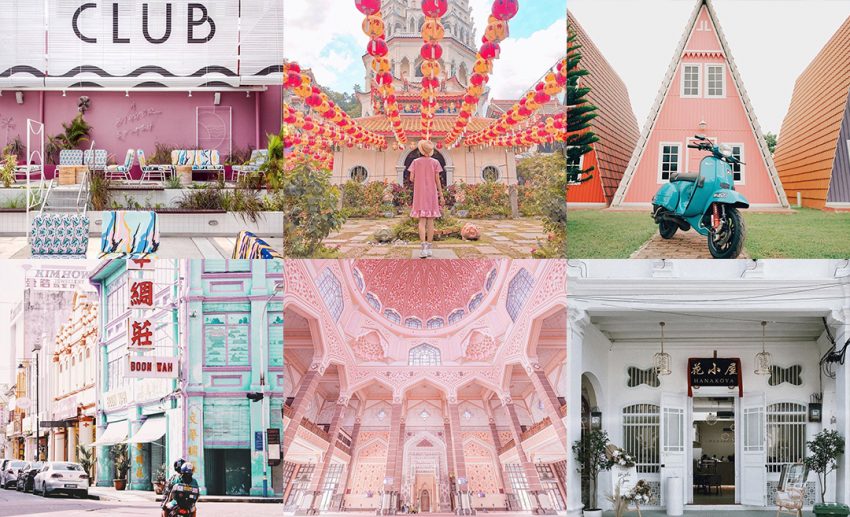 Subscribe to our new

Telegram

channel for the latest updates.
Dear Wes Anderson,
Greetings from the tropical land of Malaysia! The Zafigo team has been binge watching your movies on Netflix during lockdown, and there is no denying that the visual delight you've conjured up in your storytelling makes you The Wizard of Whimsy! Visions of dreamlike candy lands with soft filters, meticulously balanced architecture, and whimsical set designs come to mind when we think of your films. In a time of uncertainty, your movies brought the perfect balance. Cue in the score of, "Go Wes, life is peaceful there."
We are by no means cinephiles, but it doesn't take a movie buff to instantly recognise a scene from your iconic award-winning movies like The Darjeeling Limited and The Grand Budapest Hotel. You had us craving for Mendl's Courtesan au Chocolat. And while the chances of us, this tiny Southeast Asian nation, appearing in one of your movies is close to zero, we've been scouting some beautiful Wes-Anderson-y landmarks across Malaysia that you might want to consider for your next film. And we found 15 of them. If you do decide to make Malaysia your next movie destination, you know where to find us!
A Malaysian Fangirl,
Tersh from Team Zafigo
#1 Hanakoya Flower Cafe, Penang
George Town is where you'll find architecture that's the perfect mix of colonial vibes and oriental accents. There is also plenty of street food to delight in while you're there. Don't worry, there's plenty of quaint streets to walk around after a food binge!
#2 The Swimming Club, The KL Journal Hotel
Perhaps a follow up sequel of The Life Aquatic with Steve Zissou? It'll be a splash! The Swimming Club's pretty pinks sure sets the tone.
#3 Lebuh Pantai Fire & Rescue Station, Penang
Talk about symmetry! Checkout those tall window arches and vintage fonts. Wouldn't you say this fire station in George Town is a kick ash spot for your next movie?
#4 Kek Lok Si Temple, Penang
We believe this ticks all the checkbox for your #PastelAesthetic. It might look simple from the inside, but its exterior will surely whet your appetite for symmetry. We've really considered this list for you. We don't play, we slay!
#5 Vintage 1988 Lifestyle Cafe, Kuala Lumpur
We know you have a thing for cafe scenes and we believe this brew-tiful storefront at Vintage 1988 Lifestyle Cafe deserves a shot!​​
#6 Masbro Village, Melaka
Scoot over Budapest, here comes Masbro Village in Melaka! These colourful cone cottages should tickle your whimsy.
#7 Central Market, Kuala Lumpur
That hue of blue made us think of you, and we thought you might be rather fond of that font. #seewhatwedidthere #yeswerhymetoo
#8 Boon Wah, Penang
Imagine this shophouse in a dreamy slow motion scene. It would put the "Wah" in Boon Wah.
#9 Flats, Kuala Lumpur
Word of the day: Pastel
#10 Putra Mosque, Putrajaya
Arguably the prettiest mosque in Malaysia, and it sits in the heart of Putrajaya! Here's an exterior shot. Next is an equally impressive interior shot.
Talk about looking through rose-tinted granite glasses!
#11 Cheong Fatt Tze Mansion, Penang
You've probably seen this in the Crazy Rich Asians rom-com, but this could very well be another rendition of The Darjeeling Mansion. #justsaying
#12 Clock Tower at Alor Setar, Kedah
It's high time Malaysia is featured in one of your gorgeous movies! #prettyplease
#13 The Hall Coffee, Kepong
Clean lines and typography = Wes Anderson meets Muji.
#14 Timothy High Street, Kuala Lumpur
More colonial charms and Darjeeling vibes for your storyboard.
#15 Jalan Tan Hiok Nee, Johor
Will the minimalist shutters of this window win your heart? We hope so!