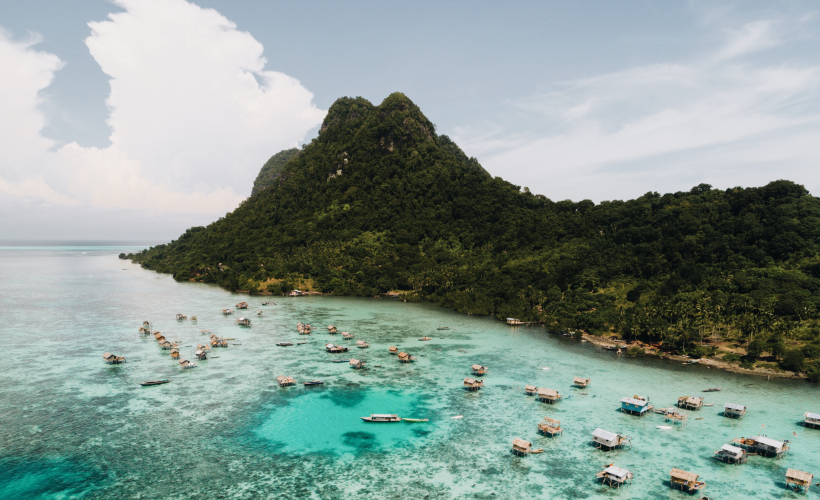 *Editor's note: A previous version of this article referred to Semporna as an island. We have amended it to reflect that Semporna is, in fact, a seaside town on the southeastern tip of the state of Sabah.
The seaside town of Semporna is exactly what its name suggests. A derivative of the word 'sempurna' which means 'perfect' in Malay, it is the perfect place to experience the beauty of the Celebes Sea, as it is part of the East Malaysian state of Sabah.
It also happens to be the gateway to Sipadan Island, which is often listed as one of the top dive sites in the world. As a non-diver and a weak swimmer, I was doubtful that I'd get to experience much of Semporna's underwater beauty, but I was still looking forward to island hopping and blue waters.
The sea at your fingertips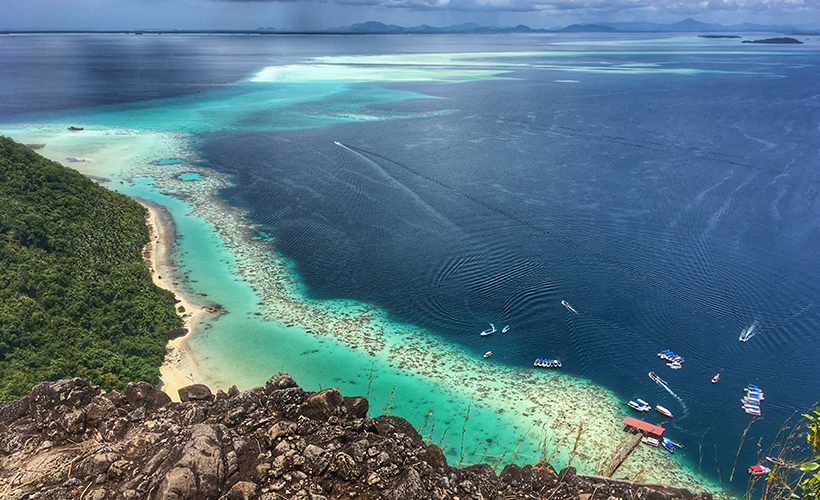 As one of Sabah's many gems, Semporna is accessible via Tawau Airport that's located roughly an hour away. I stayed at a homestay water chalet in Kampung Tampi-Tampi, 15 minutes away from Semporna town.
The laid back atmosphere was definitely fun and relaxing to take in. In the evenings, locals would congregate at the swimming areas with friends, family, and good food. Kids and adults alike summon the courage to dive off the many platforms around the jetties while enjoying the sea breeze. What a refreshing way to spend the weekend when you have the sea at your fingertips.
Of sea gypsies
My first day of island hopping began with the Bohey Dulang, Tatangan, Mantabuan, and Sibuan Island circuit. After slapping on a generous amount of sunscreen, I was ready for my ocean adventure and to meet the Bajau Laut people.
Dubbed as sea gypsies or sea nomads, this fascinating community lives almost entirely at sea, while some have made wooden homes on stilts around the islands. The Bajau Laut are probably one of the last living communities with such a strong relationship with the sea that makes up the fabric of their daily lives. Their prowess at sea is unbeatable as young kids swim, free dive, and row their wooden boats in total confidence.
As we approached Tatangan Island, I got a glimpse of what the Bajau Laut settlement looks like as swarms of little wooden boats flocked around to meet us. The faces of the women glowed yellow from the turmeric paste they apply as sunscreen. Their asking faces and hands were waiting, but we were told not to hand anything out to them to avoid a commotion. As we sped away, the encounter left me questioning the good and bad of interactions like this.
An uphill climb
At Bohey Dulang Island, I was told that there's a little bit of a hike to the top of the hill for a good view. This raised some alarm bells in my head, but the guide reassured me that it was only a 600-metre hike. It turns out that for someone unfit and unprepared like me, the elevated hike was actually quite challenging. However, the magnificent view of the Tun Sakaran Marine Park from the top made me forget the journey to the top almost immediately. Sometimes, the destination is all that matters.  
A frame of perfection
The next day started off with a stop at Kapalai Island, and I geared up with my life jacket and goggles. While snorkels would have been ideal, my terrible eyesight needed my prescription goggles, which meant I came up gasping for air every few seconds. And my oh my, I wasn't ready for the spectacle that met my eyes. The fishes and corals were so diverse and beautiful. Fishes swam below me in a rainbow of colours and movement as I framed the beautiful underwater scene in my mind. Never had I wished harder than this moment that I had a GoPro camera in hand.
What topped the experience was when a turtle showed up, and like hungry piranhas, every tourist within the vicinity swam to the spot in excitement. I managed to see the turtle chilling near the seabed, but it quickly swam away when a few tourists dived down for a closer look. As I floated amidst the captivating beauty, I started to relax and felt more at home in the water. It was unlike anything I've ever felt.
Mabul-ous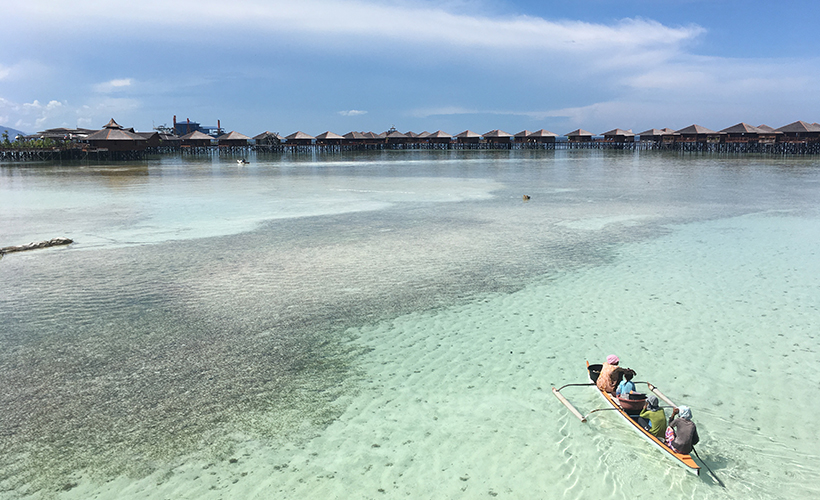 Mabul Island is often compared to the Maldives. With its luxurious water bungalows above the clear blue waters and white sandy beaches, it's not hard to wonder why. Surrounded by artificial reefs thriving with marine life, snorkellers and divers are afforded close and easy encounters.
I was surprised by the abundance of starfishes around, and had to take extra care to avoid stepping on them, and I definitely didn't want to step on a sea urchin. The guide insisted that I get the full snorkelling experience and taught me how to use the fins properly before guiding me into open sea.
It was then that I realised that despite being a non-diver and a weak swimmer, the islands of Semporna and its underwater beauty remained accessible to me. Above ground, I made a mental note that I will someday return and indulge myself with a Mabul-ous stay in one of the water bungalows.
Perfection interrupted
Amidst the natural beauty, there were other things that caught my eye. My boat had to stop a few times because rubbish got stuck to the engine. In the coming years, awareness and education about pollution will be of paramount importance to protect this little piece of paradise, on top of the issue of sustainable tourism.
Despite warnings, tourists often accidentally or intentionally step on corals while snorkelling or diving. As the sea is hurting from our actions, the livelihoods of the Bajau Laut are indirectly threatened too. It's easy to let the beauty of Semporna shroud your eyes, but if these issues go on, what makes Semporna sempurna may slowly fade away.
In full glory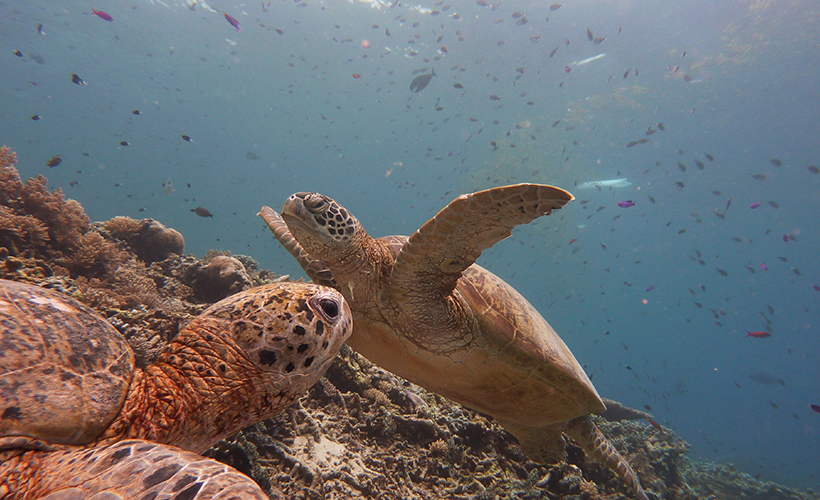 Not all is lost, however, as I learnt that NGOs and dive operators regularly come together to carry out conservation efforts. Organisations like Trash Hero Semporna, Scuba Junkie S.E.A.S, and Green Semporna conduct beach clean-ups and multiple educational efforts on the grassroots level. I was also told that the district council is also trying to organise a better rubbish collection system in town.
So what can we do as tourists? We can use licensed tour and dive operators who have shown commitments towards conservation. We can bring our own water bottles when island hopping. I was happy to see that reusable containers were used for the packed lunches, but the mineral water bottles and plastic cups often find its way into the sea.
Also, be sure to keep your waste secure with you as bins are hard to find on the islands, and on the boat, rubbish is easily blown overboard. When in the water, keep your body parts off the corals. We can also take some time to volunteer or educate ourselves through the ongoing conservation and awareness projects in Semporna.
Thanks to this trip, a new life goal of getting a dive license has been strongly cemented in me. Everything special in Semporna is connected to the sea, from the thriving marine life to the cheap seafood, to the Bajau Laut people. If one has any hesitation in immersing oneself in the middle of the sea, Semporna will entice you into her perfect waters just like she did me.
Get all the latest travel stories from Zafigo. Follow us on Facebook, Twitter, and Instagram.