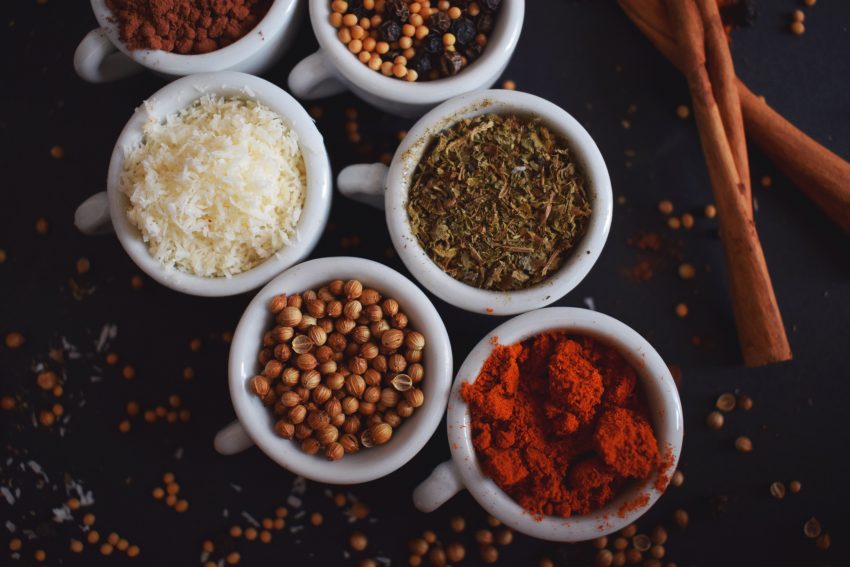 The Malaysian government has allowed for domestic travel to begin again starting 10 June 2020. We urge you to maintain social distancing, upkeep your personal hygiene, and adhere to all SOPs imposed to prevent the spread of COVID-19. If you're still not sure about travelling during this time, we hope you keep Zafigo as a source of inspiration for your future travels.


If there's one thing that unites Malaysian's, it's food. Can we start this article by saying how immensely difficult it was to only be able to pick ONE dish from each state? With Malaysia being a melting pot of cultures, we celebrate our mixed heritage, varied traditions, and colourful history through what we eat. 
Here, we take you on a gastronomic tour of our fair country and highlight a popular (and very loved) dish from each state, showcasing what makes it so special. You may want to have your phone on standby, though. By the time you're reading through this list, you're going to be famished!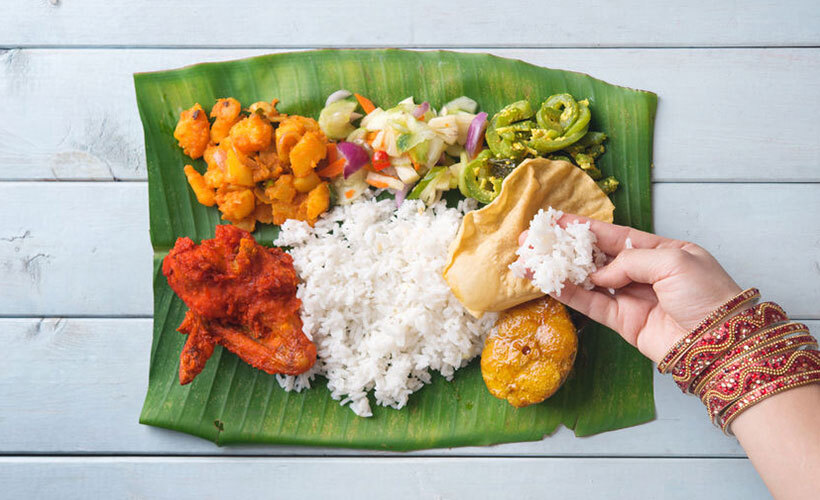 Selangor: Banana leaf rice
Traditionally a South Indian cuisine, this beautiful mess is enjoyed by all in Malaysia. It's become a Sunday staple, post-workout fuel, and one of the contentious meals there is. Why? Well, everyone had their favourite banana leaf joint, and touts their choice as being the best (the majority of them being in Petaling Jaya). Whichever banana leaf restaurant you opt for, get ready for a food coma-inducing meal of steaming white rice, vegetables served three ways, curries and dhal (lentils) of your choice, and also your side of choice ranging from fried chicken to fried squid. All served atop a banana leaf, of course. If there's one thing about banana leaf rice that everyone can agree on, however, it's that it's best eaten with your hands. 
Penang: Char kwey teow
Beaches aside, this island state is arguably most famous for its street eats, the most famous of which is the char kwey teow. 'Char' means to fry in Hokkien, while kwey teow refers to flat rice noodles in the dish. This fried rice noodle dish is *ahem* charred to perfection in a wok over a massive flame along with prawns, bean sprouts, clams, duck egg, and if you're having the non-halal version, some lard too.
Kedah: Dodol
This is one for the sweet tooths! Malaysia has many types of kuih (traditional cakes), but dodol is among the most popular for its toffee-like texture. It's a sweet, thick, and sticky 'candy' made of santan (coconut milk), gula Melaka (brown sugar), and rice flour. Typically brown in colour, you'll find many iterations in green or yellow, as flavours like durian and pandan are added to the mix.
Perak: Hainanese chicken rice
This is a dish synonymous with Perak's state capital city of Ipoh. Poached to perfection, the chicken is tender and so juicy, drizzled with soy sauce and aromatic oils, and finally garnished with herbs. The accompanying rice is super tasty too, as it's prepared with ginger, garlic, and chicken broth so no flavour is sacrificed. On the side, don't forget the freshly-cut chili dip and the taugeh (beansprouts). This entire dish is an explosion of flavour and so, so comforting.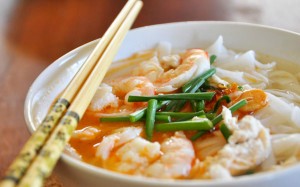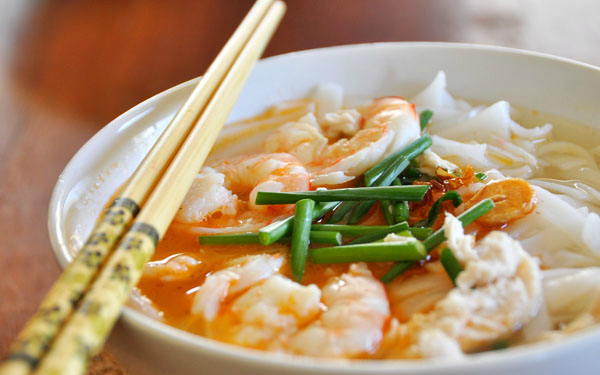 With so much food to choose from in Ipoh, where do you even begin? This curated list of the best 15 things to eat while in town has you covered. – 8 Malaysian Ocean Escapes To Plan Your Next Holiday At
Johor: Laksa Johor
Fusion at its finest. In this east-meets-west dish, a thick broth of coconut cream and flaked mackerel (or ikan parang) engulfs a bed of spaghetti. Yes, spaghetti. It's then topped with finely chopped long beans, shredded cucumber, chopped bunga kantan (ginger flower), chopped four-angled beans, and chopped daum kesum (Vietnamese mint leaves). The finishing touch is a side of sambal belacan (shrimp chili paste) with a squeeze of calamansi.
Pahang: Gulai tempoyak ikan patin
Ikan patin is a local freshwater fish that's similar in taste and texture to catfish and also quite fatty. Gulai tempoyak, on the other hand, is a thick, creamy, spicy gravy/curry made with fermented durian, chillis, turmeric, and a melange of other ingredients. Put the two together, and what you get is a delectable viand that'll keep you coming back for more.
Kelantan: Nasi kerabu (with ayam perchik)
The most striking feature of the nasi kerabu is its signature blue rice, made so thanks to the inclusion of butterfly pea flower during preparation. Besides this bright blue rice, the anatomy of a nasi kerabu includes an herb salad, salted egg, keropok ikan (fish crackers), coconut and fish relish, spicy sambal sauce, solok lada (stuffed green chili), and – this is an ABSOLUTE must – budu (fermented anchovy sauce).
If that's not enough, that's honestly just the rice. Nasi kerabu is also eaten with a viand, such as fried fish or grilled beef. However, the most famous pairing (and another Kelantanese classic) to have with your nasi kerabu is ayam percik (roasted spiced chicken). 
Terengganu: Nasi dagang
Literally translating to 'trader's rice, nasi dagang is sometimes referred to as the 'nasi lemak of the East Coast' because of how it's a staple in the eastern states, and of course, all the santan that goes into it. Of course, it's its own dish and nothing like nasi lemak. Terengganu's nasi dagang is made with a mix of jasmine and white sticky rice, giving it a unique texture. It's served with gulai ikan tongkol (curry using a local skipjack tuna), pickled cucumber, keropok ikan, and carrots.
Negeri Sembilan: Itik/daging salai masak cili api
If you like spicy food, you're going to love this! This fiery dish features duck or beef that's slow-smoked over coconut shells for several hours before it's eventually cooked with a spicy santan and kunyit (turmeric) gravy. Besides beef and duck, you'll also find duck eggs stewed in this delectable sauce.
Sabah: Tuaran mee
This springy noodle dish comes from Tuaran town in Sabah. Many say that Sabah's cuisine is seriously underrated, and if Tuaran mee is anything to go by, they're probably right. A simple-yet-hearty dish, Tuaran mee is best served hot off the wok, with egg roll slices, roasted pork slices, and a hint of veggies.
Surrounded by bountiful ocean, there's plenty to eat in the seaside state of Sabah in Malaysia. – Sashimi, Soto & Pork Noodles In The Seaside Town Of Tawau, Sabah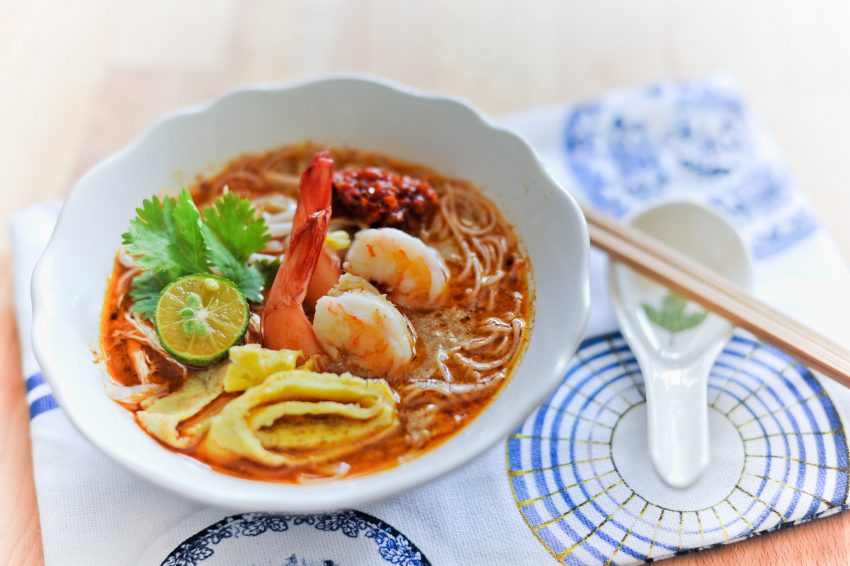 Sarawak: Sarawak laksa
Yes, another laksa dish. One of the things that really stands out in the Sarawak laksa is the use of local peppers that give the dish its heat rather than spiciness. A typical bowl of this Sarawakian staple consists of vermicelli, shredded beansprouts, and large prawns. The magic is really in the laksa itself, that (besides the peppers) is a reddish-brown concoction of laksa paste, tamarind, santan, herbs, and then some.
Perlis: Pulut mempelam with harum manis
A gastronomic symphony in two parts, you'll first notice slices of succulent local mangoes (called harum manis) paired with pulut sibar (sticky glutinous rice drenched in thick coconut milk). You'll often find other toppings too like bananas or mangoes, because everything goes with rice!
Melaka: Satay celup
Here's a fun one. This communal meal sees its eaters dunking skewers of raw or semi-cooked meat, fish cakes, and vegetables in a pot of boiling satay gravy. Particularly popular in Melaka, this is a meal that brings people together. The more, the merrier!

BONUS! Federal Territory of Kuala Lumpur: Nasi lemak
Consider this one a bonus! Nasi lemak is Malaysia's national dish, so we're letting this represent our capital city of Kuala Lumpur along with the federal territories. Usually enjoyed during breakfast, there's really no better way to start the day than with fragrant white rice cooked in santan and pandan leaves, and served with crunchy fried anchovies, fried peanuts, sliced cucumbers, spicy sambal, and a hard-boiled egg. To up the ante, have your nasi lemak with a fried chicken, sambal sotong (squid), or rendang (meat stewed in coconut milk and spices).
+++
Featured image by Andra Ion
Follow Zafigo on Instagram, Facebook, and Twitter. Sign up to our bi-weekly newsletter and get your dose of travel tales, tips, updates, and inspiration to fuel your next adventure!