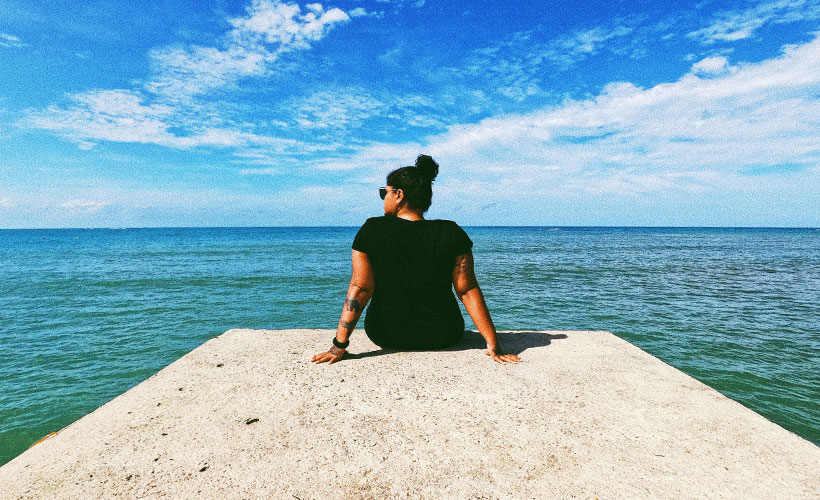 Just like the rest of the world, we are not travelling during this COVID-19 pandemic, but we hope you turn to Zafigo as a source of inspiration for your future travels. Please stay safe and adhere to any quarantine and movement control orders that have been imposed in your country.
Some of you may have heard of Belitung from author Andrea Hirata's 2005 novel, Laskar Pelangi or The Rainbow Troops, or maybe even its 2008 film adaptation of the same name. For those of you who are not familiar with Belitung, this island in Indonesia started booming in the early 18th century as a tin mining island. When you're flying in to Belitung, you can see from your airplane window large tin mining pools of bright green and blue dotting the landscape below. As tin mining is still very much the island's main industry, making it the second-largest tin producer in the world.
I visited Belitung in early February of this year along with my friend and colleague Maggie, before COVID-19 got the better of the world. This tiny island to the east of Sumatra, Indonesia is the place to be if you're looking to put a pause on your busy life as you know it and just take things as they come. Looking back, this trip was absolutely necessary as it forced Maggie and me to slow down, relax, and just be in the moment.
Kicking back
Belitung is the perfect long-weekend getaway. It's a short less-than two-hour flight over from Kuala Lumpur, very chill and quiet, and best of all, it's very affordable. Maggie and I were there for six days, and once we got an island hopping tour, and a tour of East Belitung out of the way, we could just unwind and relax for the rest of the trip. We recommend no more than four days if you're looking for a quick pick-me-up, but if you have time to kill and want to properly soak in days of nothingness and inactivity, you can even spend a whole week there without breaking the bank.
The island has the modernities you'd see in most places – some of the latest cars, great Wi-Fi connectivity, very reliable mobile phone service, and even ride-share and food delivery services like Grab and Gojek. It doesn't have huge malls and foreign franchises like you'd see in Kuala Lumpur or Jakarta, but it does have its fair share of local shops, and even a KFC and A&W. These two outlets are the only two fast-food restaurants in Belitung, and you'll do well to give those a miss because the local food available here is too good to pass up.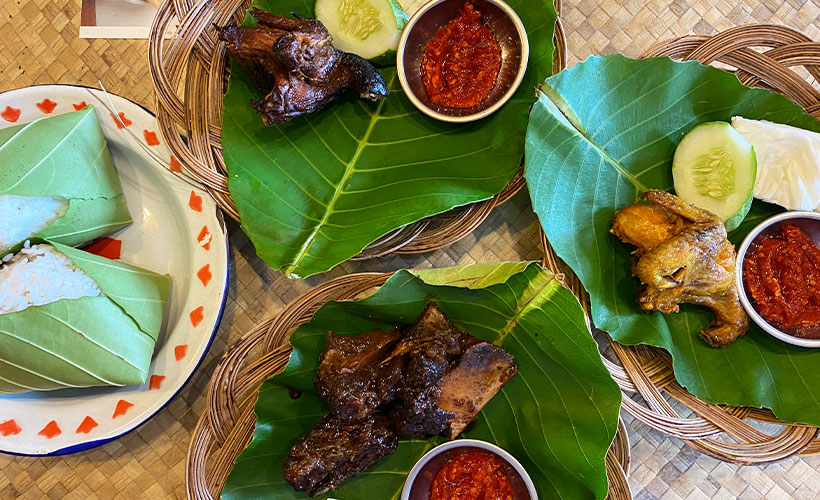 The local fare
Whether or not you're a foodie, you'll be extremely pleased with the delicious choices of grub available in Belitung. You have a large selection of mainly Indonesian fare available, and seafood is on the main menu everywhere you go. The use of a plethora of spices – Belitung is also known for its locally-grown pepper – and a generous amount of chillies, everything you eat is extremely tasty and satisfying. If you're not accustomed to spicy food, you can customise your order to be less spicy (but where's the fun in that?). Popular dishes include mi Belitung (noodles with sweet gravy), gangan (a fish curry with pineapple), and otak-otak (a grilled spice fishcake).
Maggie and I had our first meal on the island at a popular restaurant called Ruma Makan Belitong Timpo Duluk. Our meal consisted of ayam penyet (fried chicken), ayam panggang (barbecued chicken), and iga penyet (fried beef spare ribs), all served with white rice and spicy-but-very-tasty sambal that we absolutely could not get enough of. This meal set us back MYR41 (approximately USD9.50). To give you a rough idea, most meals anywhere here range between MYR20-42 (approximately USD4-10) for two people. Portions are generous, and most times, you will not be disappointed.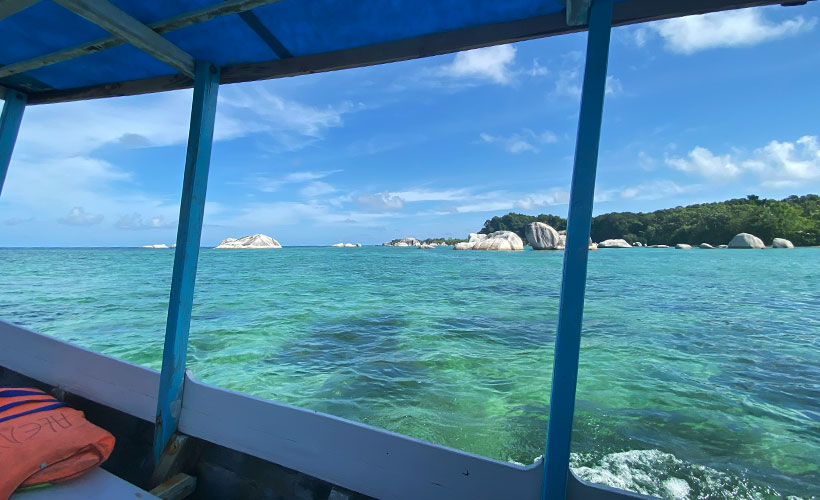 Budget-conscious travel
Now, let's circle back to the fact that Belitung is extremely affordable, and despite this, it is surprisingly not crawling with tourists. This was probably one of our favourite things about the island. Yes, our AirAsia flight to the island was full, but on the 4,800 square-kilometre landmass, we were hard-pressed to find fellow foreigners doing touristy things like us. The beaches are perpetually empty, and even on our island hopping tour, we crossed paths with maybe 30 other tourists at best. This was very much, unlike other places we've been to like Phuket, Thailand where you share a boat with 30 other people, and visit islands whose beaches are crowded by 20-plus boats, and hundreds of tourists.
Speaking of island hopping, a six-hour tour basically takes you across see-through blue-green waters to five very tiny islands in the vicinity. Maggie and I hired a private boat, just for the two of us, at about MYR120 (approximately USD28) per person, and this price included lunch. First, there was a brief photo stop at a rock formation called Batu Burung Garuda before we headed to our first stop at Lengkuas Island. This island is home to a 138-year-old,12-storey lighthouse built by the Dutch in 1882. After Lengkuas Island, our boatman took us out to the middle of the ocean where we snorkelled and played around in the clear waters for a bit, before heading to Kepayang Island where we were served a local seafood lunch.
After lunch, we boated off to Pasir Island and Batu Berlayar Island. Our last stop was at Kelayang Island that is also home to a beautiful grotto-like feature called the Kelayang Cave. One very important piece of advice we have for you about this trip is to make sure you wear and constantly reapply sunscreen during this trip. The sun is enjoyable to a certain extent before it becomes unforgiving. Maggie and I came back two shades away from being Oompa-Loompas.
From sea to land
The next day, at 10AM, we set out on a tour of East Belitung, about an hour's drive away from our hotel on the west coast of the island. Our hired driver took us through quaint villages and tiny towns to our first stop in Lenggang, where they built a replica of the school featured in the Laskar Pelangi film, which is said to be a somewhat autobiographical account of the life of the story's writer, Andrea Hirata.
From there, we headed to Gantung, where author Andrea Hirata's Museum of Words (Museum Kata) is located. Hirata, who was born and raised in Belitung, established this museum – the first and only museum of literature in Indonesia – to fulfil his promise of building something of lasting education value for Belitung with the profits from his novel.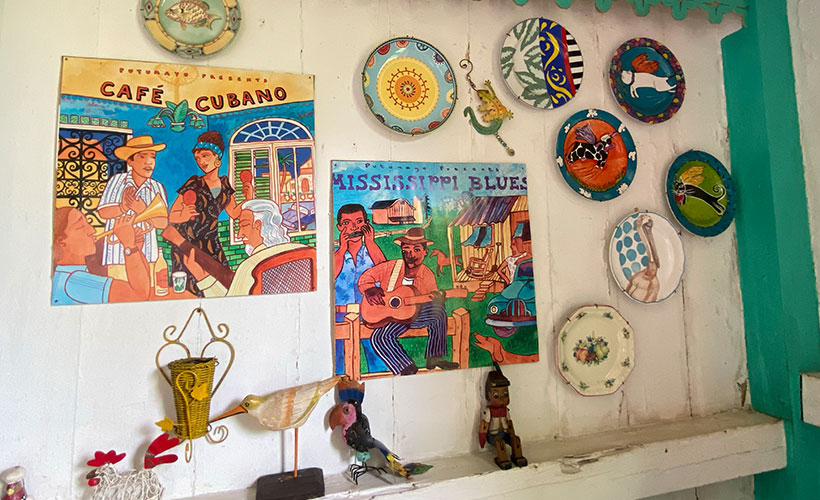 This Museum Of Words is painted in every colour imaginable – an ode to the rainbow troops in Hirata's award-winning novel. It features quotes and excerpts of works by Hirata's favourite artists, poets, writers, and musicians. There is a 'word room' filled with books, and plenty of educational and informational posters along the walls everywhere else in the building. The colours, odd structure, and overall serenity of the museum make it a great place for Instagram shots.
Our next stop after the museum was the East Belitung Tourism Center. Our host at the centre showed us their little menagerie of three animals native to Belitung – a couple of sugar gliders, a two-year-old freshwater crocodile, and an irresistibly cute tarsier named Momo. The centre also features a room with clothing, pottery, coins, and other cultural artefacts, some a few centuries old. He also told us some stories about Belitung's history.
For afternoon refreshments, we pulled over in Manggar, otherwise known as the town of 1001 coffee shops. They don't grow any coffee here, the people just love a good cup of joe. We stopped at Kedai Kupi 1001 to give the local coffee a shot, and found it to be delicious albeit strong and a tad bit too sweet.
The Vihara Dewi Kwan Im beckoned to us and so we head out further east to visit Belitung's biggest and oldest Vihara at 273 years old. Its main feature is a 12-metre high statue of the goddess Kwan Im or Guan Yin. Some 30 feet away is a small shrine where you can pray for blessings or make offerings for the goddess. After the temple, our driver took us to Burung Mandi beach on the east coast of the Belitung for a quick look-see of the calm and insanely blue waters, before heading out to the Nam Salu Open Pit. We hiked 20 minutes uphill to reach this 10-storey-deep crater pit – a remnant of open cast tin mining from the 70s. This vast pit still has open shafts that make it dangerous to climb down, and the gravelly ground up top also required us to be extra careful when walking around; one small slip would've sent us rolling down right into the crater below. Another hour's drive back to the hotel, made our day tour all of six hours long.
Coming full circle
The next couple of days were spent lounging by the poolside and on the beaches of the northern shore where our hotel was located. The part of the sea where Belitung is situated is rather shallow, so in some parts, the waters run low, even during high tide. On our last day, Maggie and I made one final stop at Kaolin Lake before heading to the airport, which is a mere 15-minute drive away.
Formed by mining activity, the massive Kaolin Lake is now abandoned and one of Belitung's prettiest attractions. It gets its name from the mineral kaolin which is used in numerous daily products and food. The lake is filled with clear, still turquoise waters that reflect the sky and clouds. The blue is set off perfectly by the blinding white sand dunes surrounding it, making for astounding imagery. Because it's so big, finding a good vantage point for photos is rather cumbersome as some pathways are closed due to work being conducted nearby. There are smaller pools of water that are just as pretty, but the sheer majesty of the main lake is unrivalled. The best time to visit Kaolin Lake is between 10AM and 2PM, with high noon making for the most spectacular reflection in the lake's surface. Again, don't forget your sunscreen and sunglasses to keep the sun rays away.
AirAsia flies from Kuala Lumpur to Belitung 4 times a week. Visit www.airasia.com to plan your trip!
34255, 29227, 28161
Get all the latest travel stories from Zafigo. Follow us on Facebook, Twitter, and Instagram.