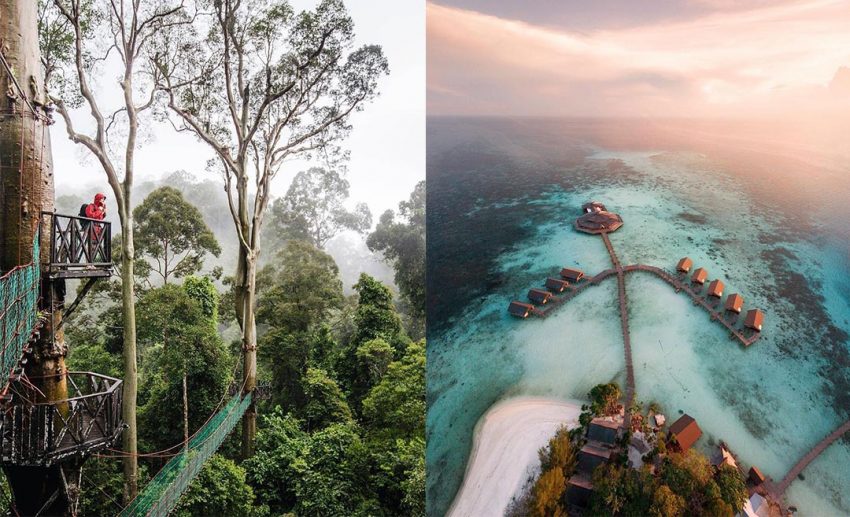 Subscribe to our new 

Telegram

 channel for the latest updates.
Since the lockdown began in Malaysia last March, how many of us find ourselves yearning to go back to Mother Nature? A lot of us had to make do, only limited to buying indoor plants with the hopes that these new green additions bring the essence of nature into our limited house-scapes. 
Somehow, these don't really scratch that proverbial itch, as nothing beats being in nature itself. 
And no, there won't be a need for international travel. Right in our backyard are these 14 national treasures that'll have you planning your next eco-trip faster than you can add hiking boots to cart.
Better yet, each location flaunts its own undisturbed flora and fauna, and the intention to keep it that way. Multiple efforts are taken to mitigate adverse effects such as deliberate emissions and lucrative poaching activities; and in some of these spots, it seems to be working. 
The Royal Belum, Perak
View this post on Instagram
At 130 million years old, Perak's Royal Belum is the oldest rainforest in the world. Yes, older even than the "Lungs of the Earth" Amazon. From Kuala Lumpur, it will take about five hours' travel. Once you're there, a boat departing from the Pulau Banding Jetty will take you to the resorts. 
Boat cruises will take you on an adventure of a lifetime, with sightings of elusive creatures such as Malaysian tigers, Sumatran rhinos, and white-handed gibbons. Be on the lookout for the largest flower in the world, rafflesias — you can't miss it — when heading into the forest for a jungle trekking session.
Birdwatchers will be happy to hear that it's said that the Royal Belum is the only place in the country where you can spot all of the hornbill species. Truly an all-rounder, this is also the perfect location to please adept anglers. Situated within the state park, Lake Temenggor is a manmade lake that hosts a variety of freshwater fish such as the kelah, toman, and baung. 

---
Mossy Forest, Pahang
View this post on Instagram
Even international tourists seem to revel in the beauty that is the Mossy Forest. So much so that it's ranked to be one of the most Instagram-able forests in the world! When you find yourself dusting off the crumbs from your hi-tea at the Sungei Palas Tea Garden and looking for the next tourist spot to check out, give the Mossy Forest boardwalk (which is only 5 kilometres away) a shot. 
This unique biotope, a result of low-level clouds shrouding the forest with omnipresent mist and moisture, is home to moss, ferns, the pitcher plant, and orchids. It's practically a botanist's paradise up here, with 600 species of orchid spread over multiple layers of altitude. And once you're up there, get ready for a sprawling view that will have you in a state of awe. 

---
Mount Mulu, Sarawak
View this post on Instagram
If you're tired of checking out this breathtaking mountainscape from digital screens, or at the back of the RM100 note, then it's time to get on a plane to Sarawak at the earliest convenience! 
Some level of explorations here comes with prerequisites, and a lot of those can be fixed with a quick appointment with professional guides. Once that's settled, the Bornean treasure is all yours to discover. 
However, reaching the summit of Sarawak's second-highest peak is no small feat: the climb takes four days and three nights, requiring both strength and stamina. The scenery will be completely worth the adventure though, and we're talking about stunning views from 2,377 metres above sea level. 
Aside from the unmistakable Pinnacles, the park has four show caves that have been chosen for their spectacular beauty. Of the four, one that would be a complete sin to miss is the Deer Cave. Should you be blessed with beautiful weather during your visit, you might get to witness a bat exodus: a showcase from the nocturnal free-tailed bats coming out of their slumber to hunt for their food, pouring out by the millions from the mouth of the cave. 

---
Tunku Abdul Rahman Marine Park, Sabah
View this post on Instagram
Longing for some fun in the sun? Tunku Abdul Rahman Marine Park (TARP) has five sunny islands, so that should cover it. 
Islands Gaya, Manukan, Sapi, Sulug, and Mamutik are all very popular spots for their accessibility from Sabah's capital city, Kota Kinabalu. Each island is a showcase of aquamarine waters, soft sand, and a diver's fantasy. 
Gaya Island is home to the Marine Ecology Research Centre. Wholesome fun for the entire family is definitely in store here, with activities such as Adopt-a-Coral. Young ones can take a glimpse into a day in the life of a marine biologist, where the experts reveal the laborious research and work that goes into producing giant clams — one of which is classified as 'locally extinct' — and restoring them to the reefs. 
TARP is clearly a great way to start on your eco-warrior journey: by educating yourself on the environment whilst unwinding.

---
Danum Valley, Sabah
View this post on Instagram
Does this remind you of Temple Run? This ancient tropical forest is the Danum Valley Conservation Area. It's home to some unique creatures like the slow loris and the proboscis monkey. Here, explorers can go on excursions such as guided trails, bird-watching, and night drives. Even if you're on vacay-mode, you can catch incredible sightings from the lodges' grounds. 
If you're into folklore and the mystical, you can visit an ancient Kadazandusun burial site, complete with ironwood coffins and ceramic spirit jars. One such ironwood coffin, placed at the highest ledge of a cliff, is reputed to be more than 250 years old. Though the remains have completely disintegrated, the coffin itself seems to be unmarred by harsh weather. 

---
Talang Satang National Park, Sarawak
View this post on Instagram
Sarawak's very first marine protected area. It covers four islands: Talang-Talang Besar, Talang-Talang Kecil, Satang Besar, and Satang Kecil. Established for the conservation of the turtle species, this quadruplet is open for nature tourism. However, due to the fragile nature of the marine turtles here, only day trips are allowed for the Satang Islands. The Talang-Talang Islands, on the other hand, are only open for those involved in volunteer work in the area. 
If you do find yourself here, be sure to take it all in – the stunning white sand beach, the deep emerald hue of the waters, and the quietude. 

---
Maliau Basin, Sabah
View this post on Instagram
Sabah's Lost World will stun you. Picture this: the basin is formed in an almost perfectly circular amphitheatre, 25 kilometres across. The only true lake you'll find in Sabah state, Lake Linumunsut is located at the northern rim of the basin. It's also a significant landmark of the lore of the indigenous people who live nearby. Legend says a dragon lives in the lake and holds back the body of water with its tail. 
Besides natural education, visitors are also offered recreational activities such as night drives, bird-watching, and jungle trekking. One caveat: you'll need special access to even enter the reserve, so plan ahead. 

---
Mount Gading National Park, Sarawak
View this post on Instagram
Two hours drive away from Kuching, Mount Gading National Park is a must-visit for any naturalist. It's home to the world's largest flower, the rafflesia. The flower takes nine long months to mature, and can only last up to five days after that. If you're planning to catch a sight of the giant blooms, you can actually call the park ahead of your trip. The park staff are familiar with the area and can feel out when a bloom is coming. 
However, if you lucked out on that, the park offers a jungle trekking adventure for both newbies and expert hikers. The shortest trail, called the Waterfall Trail, is beautiful and will take you through a series of seven waterfalls. 

---
Kilim Geoforest Park, Kedah
View this post on Instagram
Too busy to whip up a travel itinerary? Pay Kilim Geoforest Park a visit and pick a package with the Official Park Manager. 
The Kilim Mangrove Tour has offerings from a short two-hour tour of the geopark to a comprehensive four-hour one. The latter includes a serene river cruise, a tour of the floating fish farm, eagle-watching, plus a trip to both Bat Cave and Crocodile Cave. 
On top of that, visitors are allowed to select two other activities: a look at the Langsir Cave, a ride to the fossil island of Anak Tikus, swimming at a beach, or the light and breezy fish feeding option. 

---
Sepilok Sanctuary, Sabah
View this post on Instagram
A stop at this rehabilitation centre is absolutely necessary to complete your Sabahan tourist experience. It's home for orphaned orangutans, and the staff here work hard to prepare them for rerelease into the nearby reserve. 
The process of teaching the orphans the necessary skills to survive in the wild is a long and expensive one. The sanctuary hopes to educate both tourists and locals alike of the importance of protecting their habitat. Witness feeding sessions here, and remember not to touch the creatures, or let them touch you as human diseases affect them. 

---
Semenggoh Reserve, Sarawak
View this post on Instagram
Similar to the Sepilok Sanctuary, Semenggoh Nature Reserve houses orphaned orangutans. For the best experience, head over to the reserve to catch their feeding time. Do keep in mind, however, that the orangutans here have partially readapted to the wilderness. 
When there's plenty of food in the jungle, sometimes, these furry friends don't return to the wildlife centre for their regular free meal, which is an extremely good sign. If such is the case, visitors can explore the gallery and learn more about the animals. 

---
Labuk Bay Proboscis Monkey Sanctuary, Sabah
View this post on Instagram
In the centre of the mangrove forests of Semawang is the Labuk Bay Proboscis Monkey Sanctuary, where you can see Borneo's indigenous proboscis monkeys. Located within an oil palm estate, it gives you the chance to observe these animals up close and personal.
The males of the species are marked by their big, dangling noses, reddish flat-top hairstyles, whitetails and markings, and pot bellies. The females, on the other hand, are significantly petite and have up-turned noses.
That's not all that's on the table when you visit this sanctuary: take a night tour for a chance to see wild boars, flying squirrels, fireflies, and crocodiles.

---
Lankayan Island, Sabah
View this post on Instagram
This is simply a diver's paradise. The iridescent blue of the waters hosts faunas like the blacktip shark, giant clams, spider crabs, and rays. The island is also known for whale shark sightings, so if you're a thrill-seeker, then this is the island for you. 
Green and hawksbill sea turtles nest here as well, and local operators work to secure the eggs in order to preserve the species. There are quite a number of the reptile here, that even a quick snorkel will have a sighting of the otherwise rare underwater beings. 

---
Niah National Park, Sarawak
View this post on Instagram
Archaeology fans, rejoice. Aside from the impressive sights, the park is known for a site where 40,000-year-old human remains were discovered, making it one of the oldest of such discoveries in Southeast Asia. 
Take a look back in time with iron-age cave paintings, dated as far as 1,200 years ago. The serene and tranquil Painted Cave is covered with wall paintings depicting the boat journey of the dead into the afterlife, with death-ships' remnants on the floor. This macabre burial alternative gives us an idea of what traditional Bornean beliefs were like. 
Complete the experience with a stay in a longhouse, courtesy of the park management. 

Follow Zafigo on Instagram, Facebook, and Twitter. Sign up to our bi-weekly newsletter and get your dose of travel tales, tips, updates, and inspiration to fuel your next adventure! 
[zf_post_boxes widget_hide_desc="true" num_post="3″ post_id="37273, 35645, 39533″]