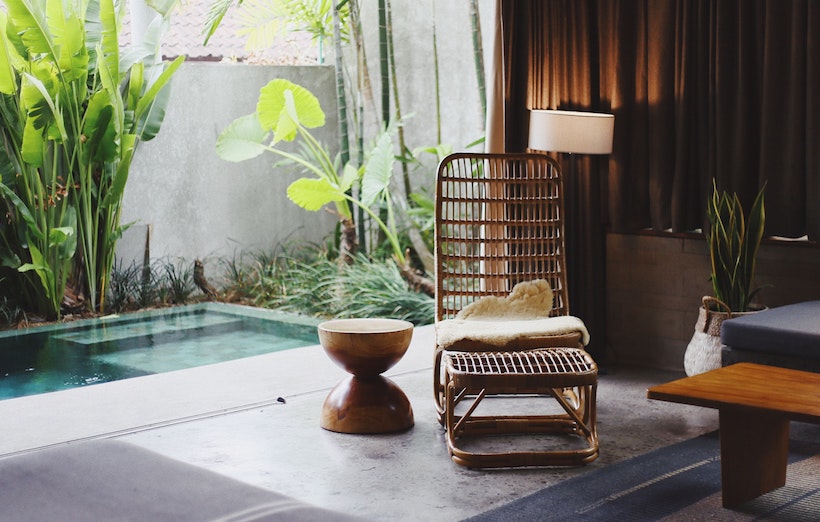 The Malaysian government has allowed for domestic travel to begin again starting 10 June 2020. We urge you to maintain social distancing, upkeep your personal hygiene, and adhere to all SOPs imposed to prevent the spread of COVID-19. If you're still not sure about travelling during this time, we hope you keep Zafigo as a source of inspiration for your future travels.
Itching to run away from the hectic stress of your everyday routine to jump into the inviting arms of a calming oasis without aggravating Mother Earth? With the growing demand for getaways that take the environment into proper consideration, these eco-friendly and sustainable hotels are beginning to pop up everywhere around Malaysia – deservedly so, as we have much flora and fauna to protect.
Turn those staycation daydreams into your environmentally-conscious reality by checking out (or rather, checking in at) these nine eco-savvy hotels when booking your next getaway:
Alila Bangsar, Kuala Lumpur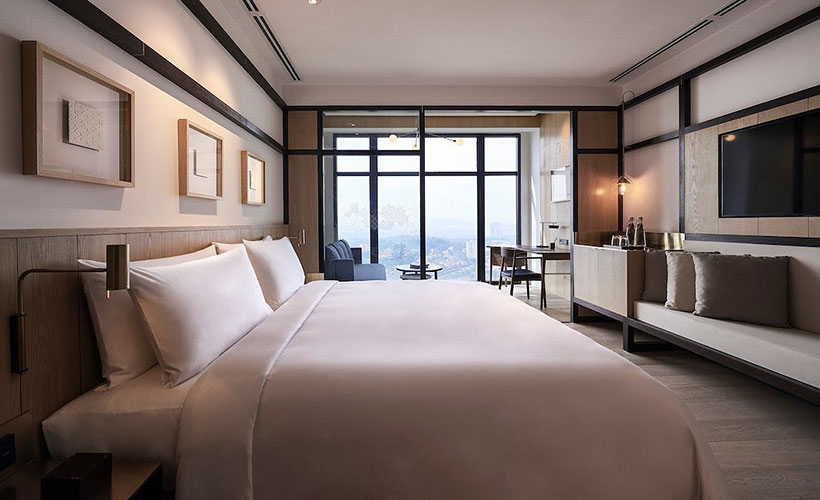 Armed with the ambition to eliminate single-use plastics, this establishment incorporates rainwater harvesting for watering plants, provides filtered drinking water through reusable glass bottles, and manages an in-house bottling plant that uses an enhanced UV filtration system. Even its beautiful swimming pool uses natural chlorine made from salt! Alila Bangsar also utilises tinted windows to reduce heat penetration and limits the operation of hotel lifts during off-peak hours. 
To top it off, it's conveniently located near the Bangsar LRT which connects to the hotel via a bridge – less pollution! Think of this establishment as the perfect choice for any sustainable business traveller. But here's the ultimate bonus: Alila Bangsar kicked off the 'Giving Bag' initiative in all guestrooms to spur guests into donating unwanted or pre-loved items to local charities. 
Element, Kuala Lumpur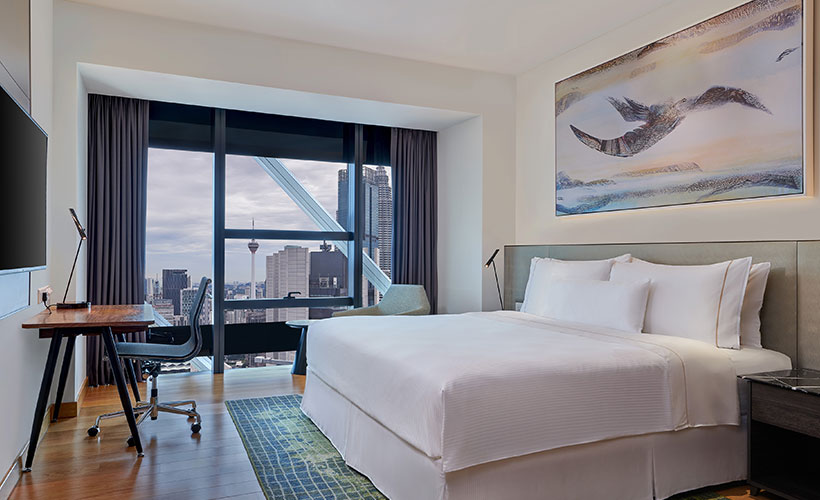 If a luxe yet sustainability-conscious staycation is on your to-do list, then seek out the futuristic wonder that is the Element, situated in the heart of Kuala Lumpur. It's constructed with eco-friendly practices from the get-go through sustainable construction materials such as 100 per cent non-PVC flooring, energy-efficient LED lighting, a rainwater harvesting system, indoor air quality CO 2 monitor, low-VOC wall paints, NSF-certified filtered tap water system (goodbye plastic mineral water bottles), in-room water purifier, and recycled-content carpeting. 
Besides providing natural bath and body care products in the bathrooms, Element also offers travellers the opportunity to join their Bikes-to-Borrow programme for greener means of exploring the city. Even their in-house restaurant, Trace, undertakes the concerted task of sourcing the finest local ingredients.
Banjaran Hotsprings Retreat, Perak
Nestled between limestone hills, lush rainforests, invigorating geothermal hot springs, natural caves, and cascading waterfalls is the majestic Banjaran Hotsprings Retreat. This luxury hideaway monitors their energy consumption with the help of LED lighting (timer-controlled in all public areas), has an in-house sewage treatment plant, installed water-saving devices in guest bathrooms, promotes a towel/linen reuse policy, and even has a recycling materials programme. 
One of the other environmentally-friendly highlights of this property is that they follow an ethical purchasing charter when it comes to seeking suppliers. So you'll find that their sustainable practices include featuring local seasonal produce in kitchens – nothing beats eating fresh produce! Other than this, you'll find the guest bathrooms well-stocked with locally-made natural skincare that's free from artificial perfumes, colourings, preservatives, and harmful chemicals. When zipping about, the hotel provides electric buggies and bikes for guests, as well as transportation services for local staff members.
The Frangipani Langkawi Resort & Spa, Kedah
Yearning to dip your toes in the cool waters of balmy, sandy beaches? Then, look no further than the eco-friendly Frangipani Langkawi Resort and Spa – a majestic paradise with many green practices in place. Other than reducing and recycling waste, some of their noble endeavours to promote sustainable tourism consist of employing environmentally-safe detergents, paper straws, and solar panels throughout the premises. The Frangipani also runs on a 100 per cent all-natural filtration system that uses aquatic plants to treat wastewater. Aside from repurposing old bottles as decorative art around the hotel, the Frangipani organises eco-walks to engage guests in environmental concerns.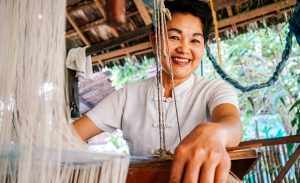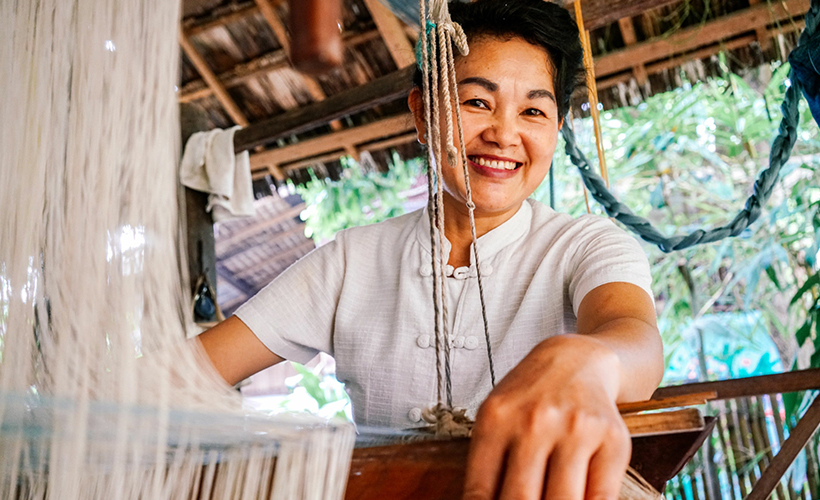 If there's one thing that goes hand-in-hand with opting to stay at sustainable and eco-friendly accommodations, it's going all the way by making ethical travel choices. Here are some examples of the positive outcomes of your decisions. 
Japamala Resort, Pahang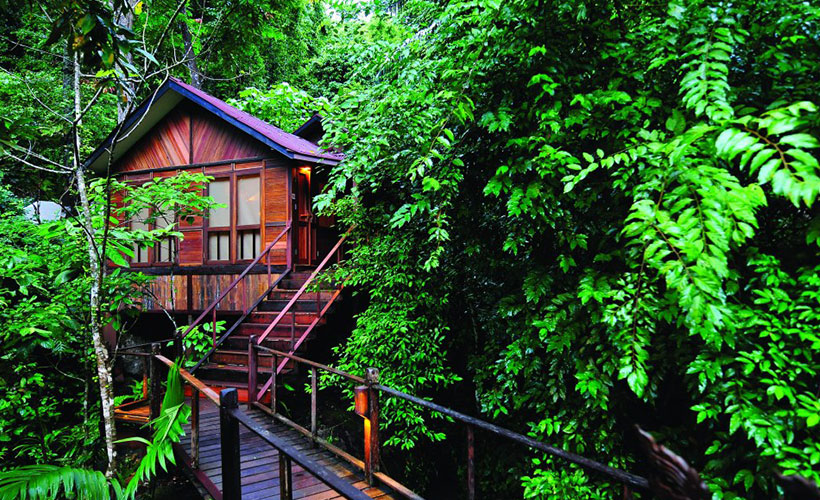 In need of a romantic escapade with bucolic views and ASMR-esque nature sounds playing in the background? Come experience 'upscale rustic' at its finest at Japamala Resort. With great consideration for Mother Nature, this luxury boutique hotel is meticulously modelled with the forethought of ensuring minimal interference of plant growth – which means no rock removal and deforestation occurred during development. This explains the uniquely crafted chalets, winding bridges, tree coiled wooden walkways, and giant boulders within the interiors of certain rooms. 
Each chalet is made with locally recycled and salvaged timber from old kampung (village) houses while bamboo and other naturally-derived construction materials acquired from Orang Asli (indigenous people). Additionally, biodegradable goods and non-chemical products that contain bacteria to decompose waste naturally are used while guaranteeing zero waste is funnelled into the stunning ocean the hotel opens up to.
Hotel Penaga, Penang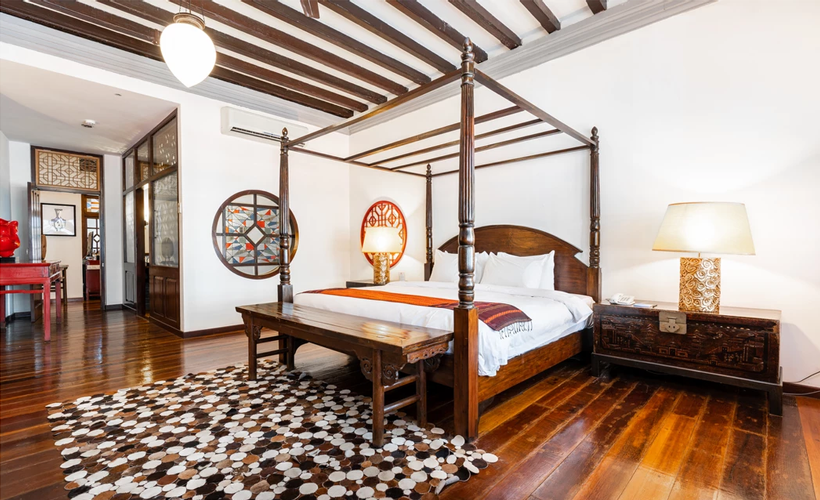 Travel back in time courtesy of the historically colourful Hotel Penaga. Originally constructed during the 1920s, this heritage site smack bang in the heart of Penang Island's George Town was renovated using some of the savviest sustainability tricks out there: second-hand timber and roof tiles from demolished colonial buildings, re-upholstered antique furniture, saltwater swimming pool (to reduce chemical use), mostly indigenous Malaysian species planted around the establishment (to cool the air and fertilise the soil), solar panels, eco-friendly hybrid water heater technology, LED bulbs, handmade decorations (like bamboo mats), and automatic power-cutting systems when guests are absent from their rooms. Now, that's what we call an eco-friendly upgrade!
Borneo Rainforest Lodge, Sabah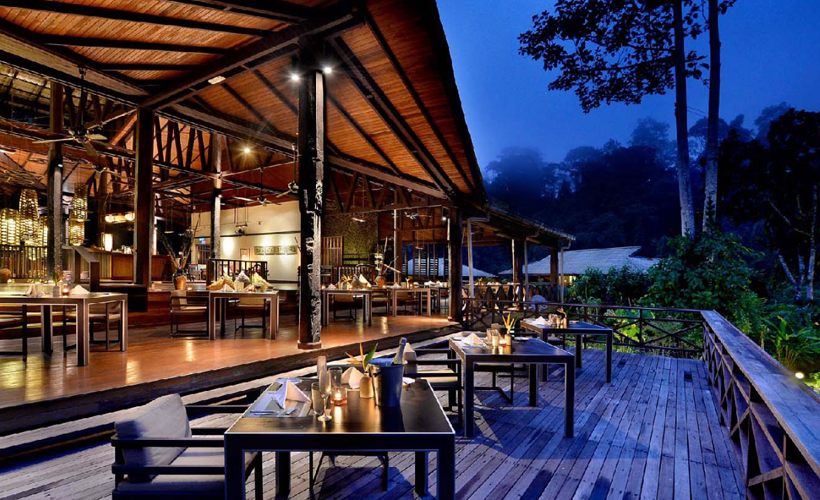 Cradled somewhere in between the Danum Valley Conservation Area (Sabah's largest protected lowland rainforest) lies the minimalist, treehouse-resembling Borneo Rainforest Lodge. Constructed with recycled wood and locally-sourced materials, this woodland hideaway lives and breathes sustainability with eco-friendly highlights like using biodegradable bags and lunch boxes, solar water heaters, LED lamps, and energy saver bulbs. 
What's more, refill stations for filtered water, shampoo, and body gels are installed throughout the property while non-toxic and eco-friendly insect repellents, detergents, and toiletries are used. The good people of the Borneo Rainforest Lodge also engage in homemade composting and insecticide along with reusing and recycling used or edible items. Did we mention that this establishment actively supports orangutan conservation?
Gaya Island Resort, Sabah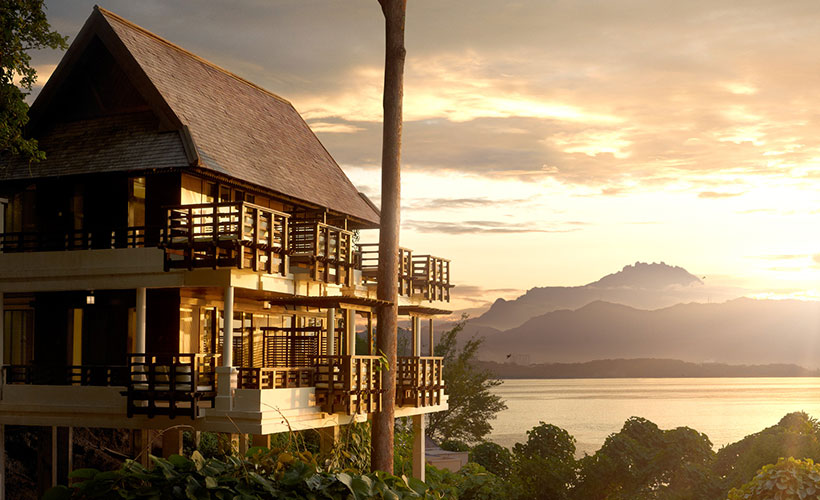 Blending harmoniously with acres of mangrove forests and coral reefs is the ultra-plush Gaya Island Resort. When it comes to being committed to protecting the environment, this paradise boasts its own marine centre that's dedicated to rescuing and rehabilitating endangered sea turtles, restoring coral reefs, and conserving through education. This includes encouraging guests to walk instead of employing motorised vehicles, and hosting weekly conservation talks. 
Similarly, the centre launched an outreach programme for local fishing communities that trains fishermen to use less harmful fishing practices and implement a recycling programme to limit floating debris. Also, the resort targets local primary schools to educate them on marine conservation with the help of Reef Check Malaysia and YTL Hotels. 
Permai Rainforest Resort, Sarawak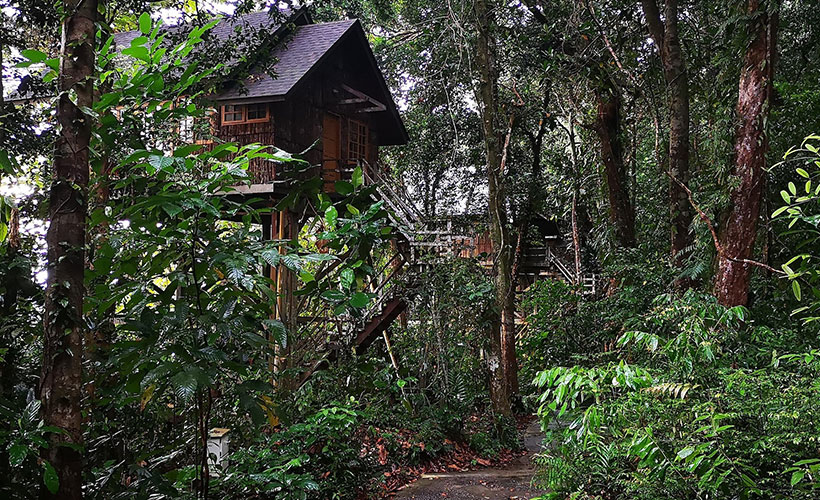 If you've ever fantasised about living in an upscale treehouse, here's your chance to bring that dream to fruition at the Permai Rainforest Resort. Discover the luscious green beauty of East Malaysia via the campsites, cabins, or the treehouses here that are lovingly decorated with furniture sourced from sustainable forests recognised by the Forest Steward Council, recycled timber, or made from sawmill offcuts. 
Apart from recycling, reusing, or donating, the resort has also adopted other green initiatives such as composting food waste, running trash collections on public walking tracks, growing vegetables with organic fertilisers and soil enhancers, and using four-stroke boat engines to reduce emissions and eliminate oil trails. On top of that, they sell handicrafts from different organisations, including the Sarawak School for Mentally Handicapped Children, with all proceeds returning to the community. 
Follow Zafigo on Instagram, Facebook, and Twitter. Sign up to our bi-weekly newsletter and get your dose of travel tales, tips, updates, and inspiration to fuel your next adventure!
[zf_post_boxes widget_hide_desc="true" num_post="3″ post_id="36429, 36893, 37248″]